The Buick Enclave is a midsize SUV that offers a smooth ride, an attractive interior, and excellent safety features.
It's one of the most comfortable vehicles in its class and offers plenty of cargo space for a family's needs.
The Buick Enclave has been around since 2008, meaning it's now been on the road for over a decade.
During this time, there have been many models of the SUV that have been great and others that were not.
The whole purpose of this article is to make you aware of the best and worst years for Buick Enclave.
Let's take a look at both lists first:
Worst Years for Buick Enclave:
2008
2009
2010
2011
2014
Best Years for Buick Enclave:
2017
2018
2019
2020
2021
You may be seeing a pattern here. Once the Enclave has a good or a bad model on the market that continues for many years, regardless, let's not waste any time, and let's get into the details of the article.
What Are The Worst Years For The Buick Enclave? Which Years To Avoid
That's right; I will discuss the Buick Enclave's worst models first. All of those which were mentioned in the introduction will be talked about here today.
The best decision for anyone is to avoid these models altogether, as they are unreliable. I will let you judge for yourself.
1. 2008 Buick Enclave
When it comes to older SUVs, the 2008 Buick Enclave is one of the oldest models on this list, and, as you will see, it's also one of the worst.
The Enclave has had many issues over the years, and transmission failure is by far the most common problem.
Power steering failure is another common issue with this model, which could completely lead to you losing control over the SUV.
Another serious issue was complete engine failure. If you are unaware, all of them cost thousands of dollars to fix.
I've written about these problems before but have never seen them together in a single model, so you should not even consider buying this one!
2. 2009 Buick Enclave
There were a lot of engine issues with the 2009 Buick Enclave. First, the check engine light would be on.
This meant that there was something seriously wrong with the engine. Many people also reported problems with the car's timing chain, which was pretty loose.
Second, the transmission would also fail; again, this had not been fixed when it should have been.
This issue was common, and the only way to fix it is by replacing it altogether. That is something that costs thousands of dollars.
Even when it would not fail, the transmission was a pain to use. It would slip from time to time, which is pretty dangerous.
3. 2010 Buick Enclave
The 2010 Buick Enclave was a vehicle with many problems, but it can be seen that the company did take a few steps to fix them. But they were not enough.
The transmission issues had been fixed by 20110, but there were other problems with the Enclave.
The timing chain was stretched, which caused the engine to stop working completely. Moreover, the power steering was still failing, which was dangerous and even life-threatening.
Another annoying issue was that the air conditioner would only blow out hot air, making driving in warm weather difficult.
4. 2011 Buick Enclave
The 2011 Buick Enclave had a few problems that had been known for years, but Buick has never addressed them. The first issue is complete timing chain failure.
This can cause the engine to lose power, which could be incredibly dangerous when driving on a highway. It could lead to a serious accident.
The second issue is steering failure. Sometimes, the power steering rack will leak, and noises will occur when you turn the wheel.
The third issue is an alternator failure many people have experienced with this model year of Buick Enclave. This means that the battery cannot be charged.
5. 2014 Buick Enclave
The 2014 Buick Enclave was a real disappointment for Buick fans. It came three years later than the previous one on this list and had a lot of issues.
The transmission would jerk, making the driving experience not smooth.
The air conditioner would stop working completely, and there were issues with the timing chain failure. And these are just to name a few.
The 2014 model was filled with many other issues, making driving it a straight-up headache.
If you are looking for a reliable model of the SUV, you should choose one that was released in recent years. The next section will cover all of those models in detail.
What Are The Best Years For The Buick Enclave? Which Years To Buy
The Buick Enclave can be a great SUV, and I will show you that. The five models listed here today have had close to zero complaints. What this means is that they are extremely reliable.
Let's take a look at what makes them so good.
1. 2017 Buick Enclave
The 2017 Buick Enclave is a great vehicle for families because it has a large and comfortable cabin and great noise isolation.
The 2017 Enclave also features an interior made of high-quality materials, which makes it feel like pure luxury.
Moreover, this model has many safety features that help keep you safe while driving with your family.
Finally, I'd say it is an amazing SUV and should be considered if you want something reliable and long-lasting.
2. 2018 Buick Enclave
The 2018 Buick Enclave is a great SUV. It has a stylish look and high-quality interior materials, making traveling with it a much more pleasant experience.
Alongside the comfortable experience, the seating arrangement is versatile, so you can use it for family outings and road trips.
It also has spacious cargo space, so you can fit your luggage and other items in the back of your car.
The drive quality is extremely good, so you will have a smooth driving experience, no matter which terrain you are driving on.
3. 2019 Buick Enclave
The 2019 Buick Enclave is great if you want a comfortable ride and a loaded-with-technology SUV.
It's also got a wide array of safety features, so you can rest assured that your family is safe on the road.
But what makes this SUV stand out more than its comfort and technology?
The V6 engine can produce up to 310 HP! That is pretty good and means you will not feel like it is underpowered.
4. 2020 Buick Enclave
If you're looking for a used and reliable SUV, the 2020 Buick Enclave is a great option.
It has many features make it a joy to drive, including smooth shifting and an excellent infotainment system.
The Enclave is also packed with cargo space and all-wheel drive, so you can take your family on adventures without worrying about not taking all the cargo you need with you.
The Enclave Avenir trim offers luxury amenities and upgraded features that put it in the luxurious category. Overall, the 2020 model is a solid SUV and should be considered.
5. 2021 Buick Enclave
The 2021 Buick Enclave is a great family vehicle. It has the latest and greatest safety features, is filled with the latest technology.
Moreover, it offers a comfortable drive and ride and comes with switchable all-wheel drive, so you can go off-roading if you'd like.
The 2021 Buick Enclave has a great look that will turn heads in your direction wherever you go, thanks to its sleek and stylish look.
It is stylish and practical too! It has 23.6 cubic feet of cargo capacity, which makes it perfect for those who need to carry lots of stuff around regularly.
How Reliable Is A Buick Enclave?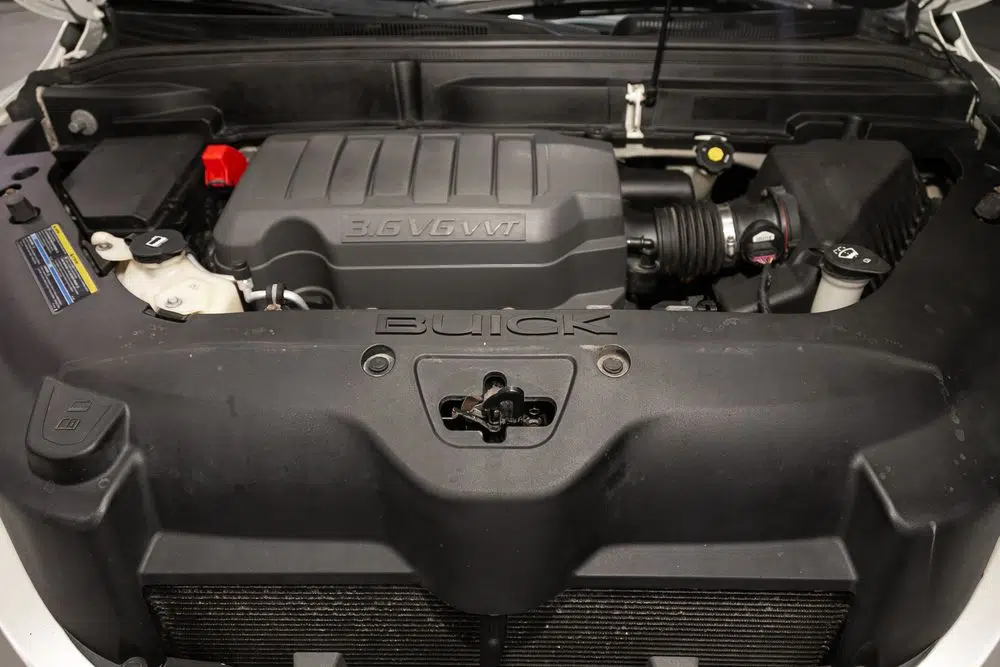 If you're considering a Buick Enclave, there are two things you should know:
First, the reliability is not bad. RepairPal gives it a rating of 3/5, which isn't bad but isn't very good. You can expect to have some issues with your SUV, but overall, the SUV is pretty decent.
Secondly, the answer solely depends on the model you are talking about.
As it has been made clear by the two sections above, the newer models are much better and more reliable than the older ones.
So, do proper research before choosing the model you will buy.
How Long Do Buick Enclaves Last?
The Enclave has an average life expectancy of 200,000 to 250,000 miles. This is pretty decent and is on par with other SUVs on the market.
However, if you take good care of your Buick, it should last even longer! For more tips on improving your Enclave's lifespan, read more below.
What To Do To Lengthen The Life Of Your Buick Enclave
Take away all of the SUV's features, and the Buick Enclave is simply a vehicle. It needs to be taken care of to last for as long as possible.
Here are the best ways to ensure you can get every mile from your Buick Enclave.
The Buick Enclave is designed to last, but it's not invincible. To lengthen the life of your vehicle, I recommend you change the oil and filter regularly.
This will prevent engine problems and keep your SUV running smoothly for years to come.
Buick Enclaves are built to last—but only when you use high-quality replacement parts from Buick itself.
Their replacement parts are made from the best materials; they are designed to be the perfect fit.
So, make sure to buy from them. You could install them from a different service, but ensure you get OEM parts only.
If you notice anything wrong with your SUV, don't wait too long before getting it fixed!
The longer you wait, the more likely it is that something more serious could happen—which could mean thousands of dollars in repairs down the line.
These tips will help ensure your SUV will drive for a longer period. They also ensure that the driving experience will not degrade over the years!
Things That Shorten The Lifespan Of Your Buick Enclave
Here are three things that can shorten the lifespan of your vehicle. Make sure you don't do them, or your Enclave will not last nearly as long as advertised.
Not changing fluids include oil, coolant, transmission fluid, and brake fluid.
If you haven't changed your car's fluids in the past 30k miles, it's time to check them out.
You might be surprised at how much of a performance difference you will feel.
Overworking your engine—you don't want to put too much strain on anything mechanical in your SUV by driving too fast or too much at once.
Your engine needs time to recover from all that hard work!
Driving over potholes—this one is obvious: if you hit a pothole, even if there isn't visible damage, there could be unseen damage that will affect how long your Enclave lasts. The suspension could be damaged or even the tires too.
Make sure you properly treat your SUV by not doing the things that have been mentioned here. This will allow it to last for as long as possible before needing any major repair.
3 Most Common Buick Enclave Problems You Should Know
The Buick Enclave is not even close to being a very good vehicle. This is especially the case with the older models of the SUV.
Since its inception, the Enclave has had many issues, and this section will look at the most common ones.
1. Transmission Issues
The most common Buick Enclave problems relate to the vehicle's transmission, which is a part of the drivetrain and consists of several components that move when you shift gears.
Transmission failure is one of the most common Buick Enclave problems. Transmission failure can occur in all models from 2008 to 2011. So, make sure that you avoid this model at all costs.
2. Timing Chain Stretched Out
Timing chains are responsible for keeping your engine's valves in sync and preventing them from moving out of alignment.
If the timing chain stretches too far, it can lead to engine damage and loss of control over the vehicle.
This is a common problem for Buicks from 2002 to 2008 but can also occur in other GM vehicles with similar engines.
3. Power Steering Failure
Power steering failures can lead to losing control over your vehicle, which can be dangerous if driving at high speeds or on a busy highway.
If you experience this issue with your Buick Enclave, especially if you have a 2008 to 2011 model, make sure you get the SUV towed to a mechanic as soon as possible.
Frequently Asked Questions
Q1: Is Buick Enclave A Good SUV?
The short answer is "yes." If you're looking for an older Enclave model that's still available to buy, it's certainly not worth considering!
Older models are unreliable and filled to the brim with issues. The same is not the case with the newer models, as they are the opposite.
Q2: Do Buick Enclaves Hold Their Value?
If you're looking to hold onto your Buick Enclave for a few years and sell it back at a not too steep of a loss when the time comes, you may be disappointed.
According to my research, the Buick Enclave will lose an estimated 39% of its value after five years, which is not very impressive.
Q3: How Many Buick Enclaves Have Been Sold?
The Buick Enclave has enjoyed a modest sales history since its release in 2008.
It was not the most popular SUV on the market, but it has sold anywhere from 30,000 to 60,000 vehicles since its release.
The Buick Enclave is still being produced, so there is never an exact number of sales.
Q4: Which Buick Enclave Engine Is The Most Reliable?
The most reliable engine for the Buick Enclave is the 3.6L LFY V6 engine, which has been present in the second generation of the SUV.
This engine has been around for a few years, and it's extremely reliable and has close to zero issues. It is also a decent performer, so you won't feel like your Enclave is underpowered.
Q5: Is Buick Enclave Expensive To Maintain?
The average maintenance cost for a Buick Enclave is $8660 for ten years, which is lower than the industry average of $473.
This is not a huge difference, but it is technically cheaper to maintain than other models on the market. So, it will not cost a fortune to keep it for a long period.
Conclusion
The Buick Enclave is an amazing crossover SUV that has been around for many years.
It's been on the market since 2007 and will be around for many more years. Although it had a bumpy start, the Enclave is extremely reliable nowadays.
All in all, if you're after a consistent SUV, the Enclave is a good bet. It has a decent safety record and is known for its reliability.
However, if you want something sportier, you may want to look elsewhere. I hope this article on the best and worst years for Buick Enclave has all the information you were looking for.