Toyota 4Runner entered the market back in 1984 and has successfully portrayed its versatility to its target market.
It has gained immense popularity among those who wanted something more from a car than just a medium of traveling. This car's hard-wearing and sturdy outlook has made many people fall for it.
Like any other car, the Toyota 4Runner has had quite an amusing journey. There have been many best and worst years for Toyota 4Runner.
I have listed all the years for this particular model down below:
Worst Years for Toyota 4Runner:
1995
2003
2005
2014
2015
Best Years for Toyota 4Runner:
2000
2006
2008
2013
2017
I will now look into all these years individually for Toyota 4Runner to expand our knowledge in this domain.
What Are The Worst Years For The Toyota 4Runner? Which Years To Avoid
Even though the Toyota 4Runner is a revolutionary model, it has experienced several problematic years.
In this section, I have mentioned and developed insights on all the worst years faced by this car model down below.
1. 1995 Toyota 4Runner
After some research I found out that the first few years for Toyota 4Runner like 1995 was not in its favor.
Customers were constantly complaining about rusting of various internal components of the car. These cars belong to the second generation of Toyota 4Runner.
Apart from that, the engines were reported to have issues with their head gasket.
Even after the engines were repaired, the same issues were reported a few weeks or months later.
After all of this, when the car was used for a few months, the car's suspension used to decrease.
Drivers complained about losing control of the steering of their car; this then reduced the reliability of this model.
2. 2003 Toyota 4Runner
The 2003 Toyota 4Runner was one of those models that received the highest complaints. The main issue was rust.
It was not fit for driving during winters because salt was used to melt the snow on the roads. This caused rusting of internal and external components.
The rusting issue made the car unsafe to drive. If the car was taken out for repair, the mechanic used to hand over a hefty amount of bill to you. The maintenance of this car is hence difficult.
The issue got so bad that several car accidents were reported as the brakes failed and the steering stiffened. The driver tends to lose control of the car.
Lastly, in my opinion the seats of this car are not comfortable either, which leads to body pain after some hours of traveling.
3. 2005 Toyota 4Runner
These cars belong to the fourth generation of Toyota 4Runners.
I have concluded 4Runner 2005 is said to be the most unsafe car to drive out of all the models of Toyota 4Runner that came into the market.
The issue of rust was not resolved in this model either. It got so bad that the car's exterior used to show signs of rusting at a very early stage.
The repair and maintenance cost of this car kept emptying the pockets of its users.
Around 400 complaints were registered about the head gasket of this car as well. This means the drivers were not experiencing a comfortable drive with this car.
Finally, I'd say the dashboard is something someone hardly pays attention to, but that was also faulty in this mode.
4. 2014 Toyota 4Runner
Unlike other models of Toyota 4Runner, customers did not complain about rust in this 2014 model.
The customers also reported several electric problems. Your sound system can give up on you at any point because of this, and so can your doors.
Another issue the customers experienced was that when they stopped their cars at a traffic signal, it used to give up on them.
Their entire operating system used to stop working. They had to call a mechanic to fix the electric wires inside of it to start the car again.
The speed of this car cannot take you beyond 70mph because then the car would start to vibrate, and you can hear loud noises.
Lastly, I am pretty sure it is not suitable for a drive in rainy weather as well.
5. 2015 Toyota 4Runner
The main issue with this 2015 Toyota 4Runner model lies within its infotainment center.
Imagine having to drive without it when you cannot even see your driving speed.
The sound system of this model is also not satisfying enough because the Bluetooth does not seem to connect. You might have to restart your car every time you try to use the radio.
Drivers can also lose control of this model because when you apply brakes on this car, the steering gets out of control, and it takes a lot of manual power to regain control.
What Are The Best Years For The Toyota 4Runner? Which Years To Buy
A car as spearheaded as Toyota 4Runner has faced many successful years throughout its journey.
To develop better understanding, these have been explained down below.
1. 2000 Toyota 4Runner
In my opinion, this 2000 model of Toyota 4Runner is one of the best ones.
This is because this model experienced a lot of redesigning and remodeling as the models before it faced a lot of backlash from the audience.
Another reason why this model gained a lot of popularity was that the transmission changed.
The manual car became automatic, and the buyers were really happy about it. Out of all the models, this one also has the lowest maintenance cost.
Furthermore, I think this car is also safe and perfect enough for you if you have a big family.
You would not have to take extra care of this one like the other models. The 4WD of this car is another reason to buy it in my opinion.
2. 2006 Toyota 4Runner
Looking for a car with high reliability and satisfaction to offer its customers?
This 2006 model of Toyota 4Runner is the solution you are seeking. This model belongs to the fourth generation.
The customer complained about the issue of rust and loud vibration noises. All these issues have been fixed in this model and this is why I have listed this model here.
It provides a comfortable ride throughout. The off-road capability of this car is also high, which means that you can travel to any place with it.
The seats of this car are quite comfortable, and the tall body makes the SUV look quite spacious from the inside.
Moreover, the interior of this car is quite aesthetic to look at.
3. 2008 Toyota 4Runner
This 2008 Toyota 4Runner model's on and off-road capability is quite satisfying for the users.
The driver does not have to exert manual power to take control of the car while driving off-road.
The seats are also quite comfortable, and those who purchase this car often travel.
They would not experience body aches after traveling in it for a few hours. The V6 engine of this car is built to complement its rugged personality.
This car's horsepower ranges from 236-260, which is commendable as the competitors have the lower horsepower to offer in their SUVs.
This car has also passed several reliability tests, making it safe to drive.
4. 2013 Toyota 4Runner
Where other models of Toyota 4Runner were heavy on fuel, the 2013 model found a solution for it.
The fuel economy is budget-friendly for this car, so you do not have to worry about rising petrol rates. This was another year in favor of Toyota 4runner.
The off-road capability of this car is higher than its competitors, which is a strong selling point of this car.
They redesigned the car to be more rugged and sturdy. There is no doubt in the fact that they were able to portray that brand image to the customers.
This model of Toyota 4Runner provides you with quite a comfortable ride as all the controls are within your reach.
These controls are also not complex, so you do not have to worry about connecting to Bluetooth while driving.
5. 2017 Toyota 4Runner
The first and foremost advantage of buying this model is that you can get it at a rate cheaper than what its competitors are asking.
The infotainment system of many models of Toyota 4Runner has reported different issues. However, in their 2017 Toyota 4Runner model, this issue has been taken care of.
The redesigned infotainment system is quite eye-catching in this car. This made the car more responsive to its users and was quite easy to use.
I think one should definitely consider purchasing it because it offers the best off-road driving experience and is perfect for traveling with your family.
The high level of security and reliability it has to offer cannot be missed out on.
How Reliable Is A Toyota 4Runner?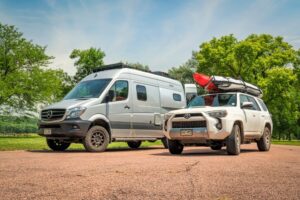 A model as dynamic as Toyota 4Runner has had its fair share of volatility in terms of reliability.
The latest reliability reports have provided astonishing results for this model. In every aspect of reliability, Toyota 4Runner has achieved a full rating (five out of five).
This is only because of their consistency and hard work in making the driving experience as comfortable and reliable for the audience as they possibly can.
If you are thinking of purchasing a car to meet your family's needs, then this is the solution for you.
No one will have to stay at home because it is quite spacious from the inside. It is perfect for traveling in places where high off-road capability is required.
How Long Do Toyota 4Runners Last?
Like every other car, if the Toyota 4Runner is well maintained, it tends to last up to 200,000 miles.
Some cars have been reported to last as long as 300,000 miles which is extraordinarily exceptional for an SUV.
While you are reading my article, researchers are proving that it can even last more than that if care is taken.
The maintenance cost of this car is lower than its competitors. However, in the beginning, this was not the case.
What To Do To Lengthen The Life Of Your Toyota 4Runner
In case you are wondering how you can lengthen the life of your Toyota 4Runner, there are certain tips and tricks that can help you do that.
I have explained all these in detail down below:
The engines of SUVs warm up faster than any other car. It would be best for you to cool the engine down before you start driving.
Use proper vacuuming techniques to remove any sort of dust from your car.
Invest in a cleaning brush for your vents to reach the corners.
Do not forget the maintenance schedule of your car.
Avoid standing in the sun to prevent rusting.
If your filters are clean, your engine would not have to exert more energy than required.
Oil changing from time to time would help in achieving a smooth drive.
Ensure you do not use low-quality spare products for your car, as they might not integrate well into the system.
Do not integrate any low-quality products into the car when buying spare parts.
These few steps can help you increase your car's life span without having to let go of some of its resale value.
Things That Shorten The Lifespan Of Your Toyota 4Runner
Pure negligence towards the car, minimal maintenance, and lack of care can reduce the lifespan of your Toyota 4Runner.
I have listed a few situations that can add fuel to this problem:
Not consulting registered companies while buying spare products and becoming a target of fraud.
Being lazy with the car service appointments or ignoring the minor issues that might take place in your car.
Even though those SUVs have a high off-road driving capability, you still need to take care of their tires and prevent bumpy roads in your daily routine.
I know how expensive fuel is but looking for alternatives to feed your car would do more harm than good in the long run.
All of these factors can reduce the life span of your car. Not only that, but you might also lose out on most of the car's resale value.
What is the point of investing in a fixed asset when you cannot get a good price for it at the time of sale?
3 Most Toyota 4Runner Common Problems You Should Know
Toyota 4Runner experienced several problems throughout its journey. These problems have been categorized under three different headings, which tell about the most prevalent ones.
I have listed these common problems down below:
1. Rusting
This is something that most of the models have in common. For many years, Toyota 4Runner did not cater to this issue.
Due to this, the car was unfit for driving. It was not only confined to the exterior of the car. The internal components of the car were being affected as well.
This made the driver lose control of the car. The main cause of this problem was the salted roads in the winter season.
2. Electrical Issues
In the initial models, the electrical issues were so extreme that the cars' infotainment system stopped working.
The brakes, car doors, sound system, etc, everything related to the car's electric system used to get affected by this.
If the car was taken to a mechanic, they used to hand over a hefty amount of bills to the customers.
3. Transmission Issues
After 2000, the transmission was changed from manual to automatic. This was praised by most of the users of Toyota 4Runner. However, this reduced the off-road capability of this car.
This was one of the unique selling points of this car which they had to fix no matter what. The automatic drive-in mode was not as comfortable as reported by many users.
Frequently Asked Questions
Q1: Is Toyota 4Runner A Good Car?
Yes, it is a good car. That is because this Toyota 4Runner has achieved a lot of success.
Its peculiar features make it stand out among its competitors. It really depends on what you are using this car for.
If you are using it for a trip to the mountains, its rugged personality would really suit you.
If you are looking for a family car, it has got you covered. The high reliability and security being offered by this car just add to it.
Q2: Do Toyota 4Runners Hold Their Value?
In my opinion, the Toyota 4Runner does hold its value. The depreciation rate of this car is only 19% which is not much for an SUV.
It has both a resale value and a resale market. So, you do not have anything to worry about. Although, this does not mean that you stop taking care of your car.
Q3: How Many Toyota 4Runners Have Been Sold?
Around 1,500,000 units of Toyota 4Runner have been sold since the last 18 years.
I believe this figure would only increase because of the increasing popularity of this car. Out of all the years, they faced the lowest amount of sales in 2011.
Q4: Which Toyota 4Runner Engine Is The Most Reliable?
In my opinion, the most reliable engine for Toyota 4Runner is its 4.0L V6. It is used in almost every model of Toyota 4Runner.
The horsepower it delivers is more than 270, which is commendable for an SUV.
Combined with Toyota's dual independent Variable Valve Timing with Intelligence (VVT-I) means that the engine provides decent mileage as well, which makes it a good family car.
Q5: Is Toyota 4Runner Expensive To Maintain?
Toyota 4Runner is expensive to maintain as the total maintenance cost of this car is more than $5000 every 10 years.
The industry average falls near $3000 which tells you that it is an expensive option for you.
In the beginning, the maintenance cost used to be extremely high. They have tried to bring it down a little.
Conclusion
In my opinion, Toyota 4Runner has had its fair share of problems.
In this article about the best and worst years for Toyota 4Runner, we have established that this car has a rugged personality which allows it to stand out.
However, it has its own issues, which the company has constantly worked on to make the care more reliable for its customers.
Even though the Toyota 4Runner has a high maintenance cost, that is compensated with its ability to retain value. At the time of the sale, you will be able to get a good amount for your car.
References:
https://www.4runners.com/threads/bad-4runner-years.1007/
https://www.surecritic.com/vehicles/reviews/toyota/4runner/2005
https://www.consumerreports.org/cars/toyota/4runner/2003/reliability/