Introduced in the market in 1998, ford focus has been serving its customers for more than 20 years.
It provides an easy and inexpensive solution to driving beginners, trainees, metropolitans, and all those who require a hatchback.
As you will notice in this article, Ford Focus has had quite a riveting journey.
All odds were never in favor of Ford Focus. Like any other car, there have been many best and worst years for Ford Focus.
Below is a list of the models that Ford Focus has experienced.
Worst Years for Ford Focus:
2002
2003
2008
2012
2014
Best Years for Ford Focus:
2000
2006
2007
2010
2018
Now that I have listed these models for Ford Focus, I will be tapping them individually to develop better insights.
What Are The Worst Years For The Ford Focus? Which Years To Avoid
A car as spearheaded as Ford Focus has also experienced some troublesome years.
In this section, I will be providing insights into all the models of Ford Focus.
I have gathered this information from multiple car reviews by the general public and other reviewing companies.
1. 2002 Ford Focus
This 2002 model of Ford Focus received the most complaints from its customers which is why it's on the number one place.
Some customers complained about their engines failing.
They also experienced issues with their transmission system as there were issues with the alternator.
Ford Focus also became a culprit of several other alternator problems, such as loud noises as there were issues with the pulley.
The car also experienced battery issues as it used to remain low.
Furthermore, this also reduced the reliability of this model as the car faced several electrical issues.
The headlights provided dim lights, making the car unsafe to drive.
2. 2003 Ford Focus
Ford Focus could not fix the issues in the 2003 model as most customers complained about the same things.
The main issues were with the alternator. Apart from the engine and transmission issues, this model also experienced issues with its ignition key.
Moreover, countless complaints were registered about the exterior and interior components of the car.
This model also faced fuel vaporization as power loss was another issue that the customers pointed out.
The fuel used to heat up in the system and their cooling systems were not up to date. This reduced the EGR value.
3. 2008 Ford Focus
Fewer than in other years, this model of Ford Focus also heard some complaints. The main issue was with the fuel pipe.
Customers talked about the pipe leaking, which led to them having to refill their tanks repeatedly.
The wiper motor of the 2008 Ford Focus model was also faulty. The motor used to overheat due to a short circuit when water made its way inside it from the arm spindle.
The engines of this model also used to seize because of the misalignment of the oil feeds. This happened as the flow of oil was hurdled by this.
Moreover, the brake pedals freeze during the winter season, making the car unreliable and unsafe to drive.
4. 2012 Ford Focus
The main issue with this 2012 Ford Focus model was in its transmission system.
This causes shuddering and shifting. Loud noises of vibration were reported because of this as well.
The cost of getting this model fixed by the mechanic was also really high. It used to be more than $1600.
This created a huge expense on the customers' end. The company experienced several lawsuits due to this.
Moreover, another issue with this model is its steering. It used to become stiff. The customers have reported several car crashes as the drivers used to find it difficult to steer the car.
The windows, headlights, wipers, etc., used to bring about several complaints.
In addition, the electrical system in the car's interior components was faulty. This might be because of rusting as well.
The car's sound system was also not satisfying enough, in my opinion.
The speakers used to become faulty at some point, and the radio system had to be completely removed to be fixed.
Lastly, another alarming situation that this model created was with its horn.
It used to stop working from time to time, and several car crashes have also been reported due to this particular issue.
5. 2014 Ford Focus
Just like in 2002, the customers did not have anything nice to say about the 2014 model of Ford Focus.
How unsafe would a car be for you if the doors just open while you are driving at 110 km/h?
This is exactly what Ford Focus had to provide with this model. The National Highway Traffic Safety Administration reported several emergency cases related to this issue.
The car's cooling system was extremely outdated and needed replacing from time to time. If this was ignored, it used to overheat, which could even lead to an explosion.
Not only that, but the power steering also used to become stiff, making the driver lose control.
Another major issue was with the dual-clutch transmission system. Instead of making things better and accelerating, the car used to create issues when the gas pedal was tapped on.
Imagine your car still running even after the ignition key has been removed. How close would you be to a rollaway? This was what this model had to offer to its customers.
What Are The Best Years For The Ford Focus? Which Years To Buy
It goes without saying that a car as revolutionary as Ford Focus would have had some best years throughout its journey as well.
I will now discuss all these years, developing greater insights.
1. 2000 Ford Focus
In my opinion, if you are looking for a car this is small in size, this 2000 Ford Focus model would be your best purchase.
The car's design is commendable, and this model provides a smooth drive for you as well.
The interior components of the car are extremely up-to-date as well. The 130 horsepower and Zentec engine for a car as small as this one is commendable.
Moreover, if you want a family car, it has child safety seat anchors.
The seats of this model are comfortable, in my opinion. It has a 60 by 40 split-folding seat and cushion.
The back seats have a glow-in-the-dark element to avoid any sort of trunk entrapment as well.
2. 2006 Ford Focus
This model turned out to be in Ford's favor. The steering of many Ford Focus models is faulty, but not in this case.
The 2006 Ford Focus model offers stiff steering, allowing the driver to retain full control of the car.
They worked on providing more comfort to the customers. It was made possible with the help of making the seats comfortable enough for them.
The padding they used in their seats was commendable.
The car is also quite safe to drive, and it has been backed up by the government through different crash tests.
The car's interior seems quite spacious. It can be both a family car and a roomy sports car.
The fuel economy of this car is more than 20 MPG which is appreciable considering its competitors.
Overall, this model of Ford Focus provides good value for money.
3. 2007 Ford Focus
This 2007 Ford Focus model is not only fun to drive for you but also good for the environment.
The PZEV, which is a partial zero-emissions vehicle model of this car, allows cleaner emissions.
Some customers might not like the way this model is styled, but the seats that it has to offer would make them satisfied.
It provides a very practical solution for the price that this model asks for.
The interior of the car is user-friendly as all the controls are easy to access, and also the steering is stiff enough for the driver to drive smoothly.
Its tall body makes it look spacious from the inside.
It is not heavy on fuel either which makes provides a cost-effective solution for those who are on a budget. It is also easy to maintain this particular model of Ford Focus.
4. 2010 Ford Focus
This was another year in favor of Ford Focus. With its 135-140 horsepower, this car achieved a lot of success.
The comfortable back seats and supportive steering make this car a good purchase.
The 2010 Ford Focus model offers an excellent fuel economy which means that this car saved the hefty expenses experienced by other models of constant refueling.
The cargo space of this model is quite spacious as well.
Furthermore, this car is also quite safe to drive due to its anti-lock brakes.
To add more to it, the electronic stability control allows you to set speed limits in case your children are learning how to drive.
5. 2018 Ford Focus
In 2018, Ford Focus came out with its best model. Its stylish exterior and interior, comfortable seating, steering control, etc., make it worth your extra dollar.
You can avail it in sedan and a hatchback model as well.
This model came out with the SYNC infotainment system, which was the need of the hour at that point.
This made the car more responsive to its users and was quite easy to use as well. It is quite reliable for the users.
In my opinion, one should definitely consider purchasing it because it offers more than one driving mode, and strong engines and the increased ride height also make the driving experience comfier for the users.
How Reliable Is A Ford Focus?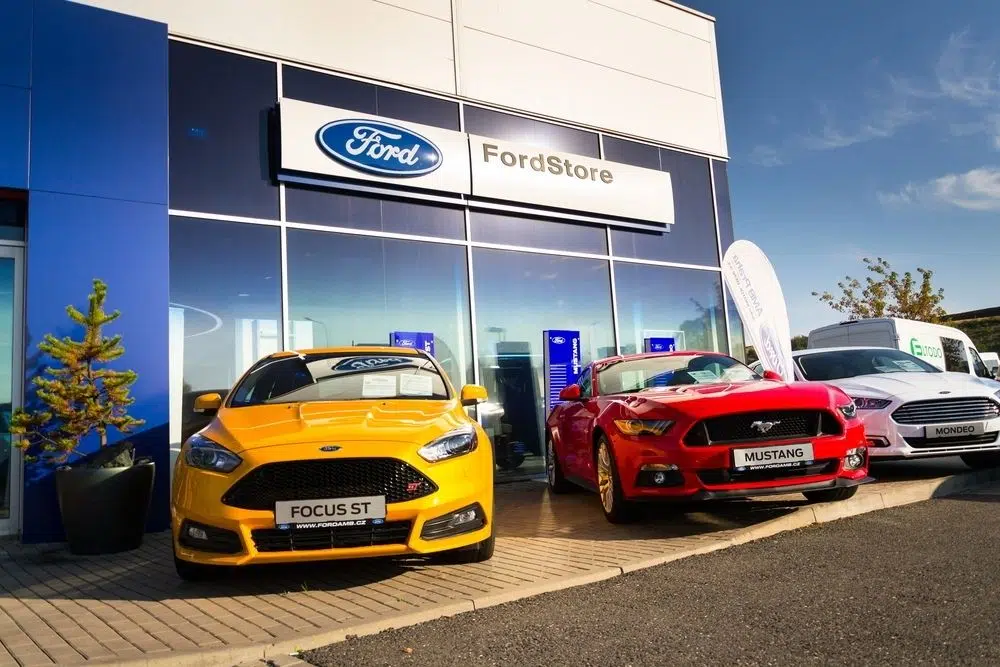 Considering that Ford Focus has experienced the worst and best years, its journey in terms of reliability has varied from time to time.
Recently, in 2022, Ford Focus achieved a rating of 4 stars out of a total of 5 stars.
In my opinion, they have worked hard on improving the reliability of this car, enhancing the overall driving experience.
When compared to other models, the amount of times their models require repairing is moderate.
This car is quite safe for you if you are looking for a family car that also offers a sporty drive. They have enhanced their engines and safety measures throughout, which increases reliability.
How Long Do Ford Focuses Last?
Just like every other car, if Ford Focus is well maintained, it can last more than 15 years. This is quite good as they offer inexpensive stylish models.
Try not to drive more than 15000 miles in one year, and you are good to go. It tends to last up to 200,000 to 250,000 miles in total.
If you are worried about rusting, then after two years of buying it, you must consider the different options that lead to rusting, as that might become an issue for you.
Ford Focus warranty in case of rusting would not cover any expenses that take place after five years.
It is important to know that the maintenance cost of Ford Focus is higher than its competitors.
What To Do To Lengthen The Life Of Your Ford Focus
In order to make sure that you take advantage of all the years that a Ford Focus can last, you need to take certain measures.
Let's talk about them below:
Keep up with your car's maintenance schedule.
Avoid it from rusting by avoiding salt that sits on roads.
Cleanliness is very important to make sure dirt does not enter the electrical system.
Air filters must be cleaned up so that extra energy is not supplied by the car.
Oil changing must be a priority from time to time.
The tire pressure must be optimal at all times to ensure efficient operations.
Give the manual cars good 5-10 minutes to cool down when started.
If you see the 'check engine light, do not neglect it at any point.
Do not park your car under the scorching heat of the sun, as it can damage several internal and external components of the car.
When buying spare parts, do not integrate any low-quality products into the car.
Take care of your exhaust system as any heat buildup can reduce the lifespan.
If you follow these given steps, you will be able to make the most out of your car at all times.
Things That Shorten The Lifespan Of Your Ford Focus
If you show negligence towards your car, the chances of it deteriorating faster would be high.
In this section, I am going to list some of the things that shorten the lifespan of a Ford Focus:
Using low-quality spare parts at the time of replacement of components.
Avoiding oil changes, car service appointments, etc., can create bigger problems.
Driving on an uneven road can reduce the car's efficiency and ruin the tires, or the brake fluid can run out faster.
Not driving the car and just admiring it from afar can also ruin the car.
Cheaper alternatives to car fuels can cause problems as well.
If you want to make sure your Ford Focus survives longer than expected, consider the measures given above, or its resell value would reduce.
Moreover, it can create bigger issues which would bring in higher expenses as well.
3 Most Ford Focus Common Problems You Should Know
When it comes to Ford Focus, it has had its fair share of problems.
These problems have persisted in its models for so long that they lie in the subconscious mind of the user when they think about purchasing a Ford Focus.
I have listed these common problems down below:
1. Problems With The Alternator
The alternator of any car acts as its CNS. If there is an issue with the alternator, the engine and transmission system of the car would be faulty as well. The electrical system of the car would be at risk as well.
2. Safety Issues
Several models of Ford Focus have reported safety issues. Their doors tend to open while the user is driving the car.
The side-view mirrors are smaller than what the competitors have to offer. The airbags do not work efficiently either. There are issues with their seat belts as well.
3. Losing Control Of The Car
It has been reported quite a few times that the driver loses control of the steering as it becomes too stiff. Moreover, in many models, the clutch stops responding as well.
The windows of the car get stuck midway as well. The ignition key creates issues, and all of this makes driving it a hassle.
Frequently Asked Questions
Q1: Is Ford Focus A Good Car?
Yes, it provides value for money. If you are purchasing your first car and are low on budget, this is the car for you.
Over the years, the reliability and safety measures of this car have evolved, making it a good purchase.
The overall driving experience of this car makes it the best choice for a family car with a sporty aura.
Q2: Do Ford Focuses Hold Their Value?
No, the Ford Focus does not hold its value. Even though it really depends on how well you maintain your car, like every other car, this car also tends to lose its resale value.
It is behind its competitors in this scenario. This car tends to depreciate at a high rate of 40%, which might show resentment from the audience.
Q3: How Many Ford Focuses Have Been Sold?
Since 2005, in the US, more than 3,000,000 units of Ford Focus have been sold. This figure is expected to increase further.
Moreover, out of all the years, 2019 experienced the lowest sales due to the pandemic.
Q4: Which Ford Focus Engine Is The Most Reliable?
Ford Focus has engines that suit both petrol and diesel.
For their petrol range, they have a 1.0-liter three-cylinder engine with 123bhp unit and mild-hybrid assistance through its 123bhp-153bhp variants.
In a matter of 10 seconds, up to 62mph can be covered.
For its diesel range, the 118bhp Eco-Blue diesel engine is the most reliable. Their petrol range Eco-Boost engine is the best one out there due to its 998 cc three-cylinder shape.
Q5: Is Ford Focus Expensive To Maintain?
Ford's focus is not that expensive to maintain. This is because it has gone through different lawsuits, due to which most of the repairing is done at a very low cost.
Annually, it would take $570 to be maintained. Other cars take slightly less, around $530.
Moreover, they have worked on increasing the car's reliability, due to which it is not that expensive to maintain now.
Conclusion
It can be analyzed that Ford Focus has experienced quite a rollercoaster ride, as I have discussed in this article about the best and worst years for Ford Focus.
Where models like 2002 and 2012 experienced major backlash, other models like 2000 and 2018 experienced massive success.
Some may argue that the Ford Focus has a low sale out value, but that does not mean that it is not worth buying.
They have constantly invested in their models to make them more reliable and valuable for you. This has definitely resulted in it being worth your extra dollar.
References:
https://www.cars.com/research/ford-focus/
https://www.carsguide.com.au/ford/focus/problems/2003
https://carfromjapan.com/article/car-maintenance/ford-focus-transmission-problems/
https://www.thecarconnection.com/overview/ford_focus_2010