Toyota Avalon is a mid-size sedan that offers a comfortable and refined ride with a lot of space. It was introduced in 1994 and has been in continuous production ever since.
The Avalon has always been a flagship model of Toyota and boasts many features that make it stand out from the crowd.
The Avalon has long been trusted by people all around the globe for its reliability. The harsh truth is that Toyota has not always met those expectations.
There have been best and worst years for Toyota Avalon, which potential buyers should know.
This article will discuss them in detail, but before it gets to that, it would be better to list them.
Worst Years for Toyota Avalon:
2005
2006
2007
2008
2011
Best Years for Toyota Avalon:
2016
2017
2018
2020
2021
Don't you worry! Each of these ten models will be discussed properly, so you can know exactly why they have been placed on their respective lists.
All I ask from you is not to skip over anything in this article. Let's get started!
What Are The Worst Years For The Toyota Avalon? Which Years To Avoid
The most awaited section of this article is finally here. Let's take a detailed look into the models of the Toyota Avalon that one must avoid at all costs.
All these models have been listed in chronological order, so please read the details to find out which one tops the list.
1. 2005 Toyota Avalon
The 2005 Toyota Avalon is the oldest model on this list, and it's not a good vehicle to choose if you want reliability.
Owners reported that the check engine light would turn on unexpectedly, resulting in serious issues.
There were also reports of oil leaks in the engine, which can result in early wear of parts. Other owners complained that the dashboard cracked after being in an accident.
And several owners reported that they experienced oil leaks within the first few months of ownership.
All in all, I think this model should not be considered. It is pretty old, and the issues do not make it worth purchasing.
2. 2006 Toyota Avalon
If you're considering buying a 2006 Toyota Avalon, I recommend that you search for another model.
It is the most complained about model in the vehicle's history, and you are about to find out why.
The 2006 Avalon has been identified as having a serious engine oil loss problem without warning. This can cause the engine to knock or even fail, which is dangerous.
There were also reports of the dashboard cracking; implying low-quality materials were used.
Once again, I don't think this model is worth the money because of its endless issues.
3. 2007 Toyota Avalon
The 2007 Toyota Avalon model is a bad car. It's filled with similar issues to the previous models, and Toyota didn't do anything to fix them.
First came news of a recall involving faulty ignition coils on some models; then reports started coming in about cracks developing on dashboards; finally, there were reports that oil leaks could cause engine failure.
All these issues made it a nightmare to own this model, which is why I recommend that you stay away from it, regardless of the condition you find one in.
4. 2008 Toyota Avalon
With the introduction of the 2008 Avalon, Toyota had a lot to prove.
The previous models were failures, and they needed to ensure they kept up with their reputation for quality. Unfortunately, 2008 was not one of them.
There were a variety of issues that led to this model ending up on this list. The headlights would often go out, making driving at night difficult and dangerous.
The dashboard also cracked easily—an issue that had been present for several years.
There were also reports of rack and pinion leaks, which would make steering the sedan nearly impossible. This model is one you should stay away from at all costs.
5. 2011 Toyota Avalon
The final model on this list was also plagued with issues.
The paint on the roof can peel off easily, which is especially concerning if you want to keep your vehicle with you for the long term.
The sunshade also occasionally malfunctions, so you may have to drive without using it.
And lastly, the power door locks can malfunction—not ideal when trying to lock yourself in before hitting the road!
This 2011 Toyota Avalon model is much newer than the others, but there were still too many issues.
It may be a bit better than the other but is still not worth considering.
What Are The Best Years For The Toyota Avalon? Which Years To Buy
The best years for the Toyota Avalon are those that have been tried and tested by thousands of people.
So, I will be discussing their best features instead of explaining why they are better than the other models.
1. 2016 Toyota Avalon
The 2016 Toyota Avalon is a great choice for anyone who needs a car with a lot of space.
It has an interior that can comfortably fit up to five passengers, and the trunk is large enough to store most cargo you'll need on your way to work or a trip.
The Avalon also gets decent fuel economy, with 21 mpg in the city and 30 on the highway.
So, you will be spending less on fuel every month, which is appreciated due to the rising fuel prices nowadays.
2. 2017 Toyota Avalon
The 2017 Toyota Avalon is a reliable and high-performing sedan that will make an excellent addition to your garage.
It can output 268 HP and has a 6-speed automatic transmission, giving you the power and speed you need to get from point A to point B without hassle.
The Avalon also offers precision steering, which means you can take corners at high speeds without worrying about losing control of the vehicle.
In addition, this model has been engineered for smooth driving, so you don't have to worry about bumps or potholes ruining your day.
3. 2018 Toyota Avalon
The 2018 Toyota Avalon offers a great mix of power and efficiency and a stylish and eye-catching design.
It's filled with the latest features that make your ride more comfortable and enjoyable.
It's powered by a V6 engine that provides power while delivering decent fuel economy. The Avalon also has a sleek exterior design that will turn heads wherever you go.
All in all, it is an excellent vehicle and is certainly an option I would recommend.
4. 2020 Toyota Avalon
The 2020 Toyota Avalon is a great choice for those who want to travel in style and comfort.
The V6 engine offers more than 300 HP, so you can have an excellent time on the road.
This car also offers slightly better fuel economy than previous models, which will help you save money on gas.
The drive is comfortable, so you won't feel like you're driving a vehicle that's too big or too small for your needs.
It also has ample space, so even when this vehicle is filled with passengers, they will not feel too constrained.
5. 2021 Toyota Avalon
When looking for a new car, you want one that can handle whatever life throws. That's why I think the 2021 Toyota Avalon is a great choice for you.
The 2021 Avalon is a great car. It's got a hybrid option that can do 40 miles per gallon, which is better than the average.
It's also available with all-wheel drive, which is good if you live in an area where it snows. And it's filled with safety features, so you're always protected on the road.
I recommend you all if you are looking for a more recent model.
How Reliable Is A Toyota Avalon?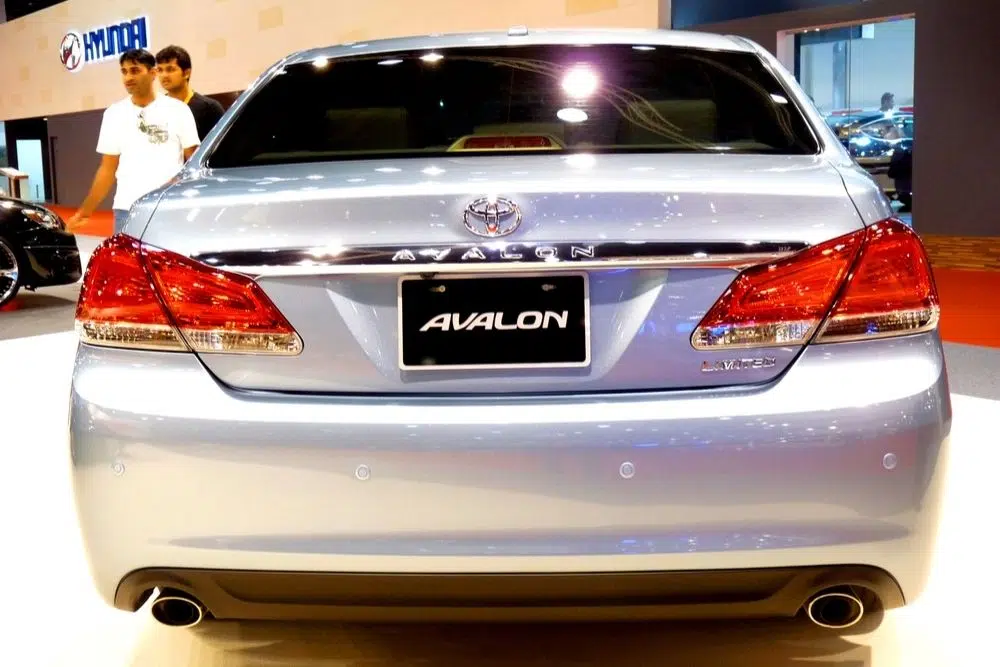 The Toyota Avalon is a pretty reliable car. While it's not the most reliable car on the market, you can count on Toyota's cars running well for many years.
The Avalon also has a pretty good track record for quality, so you should be able to get a lot of miles out of it before something starts going wrong.
If you are wondering about buying one, I think it is a great decision. Take a look at the best and worst models that were discussed above.
Although the older models were filled with problems, Toyota has constantly been making better models with the newer ones.
How Long Do Toyota Avalons Last?
The Toyota Avalon is a great car that can last a long time. If you decide to buy one, you will want to know how long it will last.
The answer to that question depends on how well you take care of your vehicle, but most Avalon's last between 150000 and 200000 miles.
Toyota has been making cars since 1936, so they know what they're doing when making things like engines that are durable and long-lasting.
What To Do To Lengthen The Life Of Your Toyota Avalon
It's no secret that Toyota Avalon vehicles are some of the most reliable cars on the market.
But even with that in mind, you still need to take steps to protect your vehicle from wear and tear and keep it in good shape for as long as possible.
Some of the top tips for this are:
Toyota Avalon owners can avoid many common problems with this model by following the manufacturer's recommendations: sticking to the service schedule.
The Avalon has many moving parts that need to be lubricated and inspected regularly. If you don't do this, you'll pay much more for repairs later.
As soon as you notice something is going wrong with your vehicle, you must get it replaced before it's too late. If you don't replace worn-out parts quickly, then there's no telling how much damage could occur before you realize something is wrong!
Third, improve driving habits. You may not realize how much of an impact your driving style has on your car's life span, but it's important to be aware to avoid unnecessary wear and tear. So, always try to improve your driving style. It can make a huge difference in the future.
These were some of the commonly known tips for improving the lifespan of the Toyota Avalon.
They may seem repeated, but they are extremely important, and I cannot stress them enough.
Things That Shorten The Lifespan Of Your Toyota Avalon
Now that we have discussed what can be done to improve the lifespan of this sedan let's also take a look at the things that can degrade it.
When your car runs low on gas, it's more likely to experience engine issues. That's because when the engine isn't getting enough fuel, it has to work harder to create a spark that ignites the fuel in the cylinder.
This puts more stress on the engine, which can cause damage if you don't fill up immediately.
If you're ignoring dashboard lights and warning signs like "check engine" or "service soon," you could be putting yourself at risk for serious engine problems down the road.
Not only does this cost money in repairs now, but it also means that you'll have to spend more money later on when those repairs are needed again—or worse still, when something breaks completely and needs to be replaced entirely!
Oil is one of the most important parts of your car's engine because it helps keep everything running smoothly by keeping air pressure within normal limits and acting as a lubricant between moving parts such as pistons, valves, bearings, and camshafts. So, changing it in a timely fashion is important.
These are some of the many things or factors that can adversely affect the lifespan of the Toyota Avalon.
You should be aware of them so it does not die sooner than expected.
3 Most Common Toyota Avalon Problems You Should Know
Despite being rated as reliable, the Toyota Avalon is not free from issues.
There have been reports of things failing or malfunctioning, which have been the source of headaches for hundreds of people.
Let's see three of the most common ones.
1. Issues With Acceleration
The Toyota Avalon has several different issues with the speed control, including malfunctioning cruise control and an inability to accelerate or decelerate properly.
The problem is pretty dangerous because it can result in serious accidents. There can be many reasons why this could happen, and it is something to be aware of.
So, if you think your Avalon is accelerating abnormally, turn it off and get it to a certified professional as soon as possible.
Driving it could prove fatal, as you may not even have control over your vehicle.
2. Airbag Issues
Airbags are supposed to deploy in accidents to protect occupants from injury or death. Some Avalon owners have reported that their airbags failed to deploy while driving.
Airbags are a part of the safety system of the sedan. If they fail to deploy during an accident, it can result in serious injuries or even death.
Others have complained about airbag lights flashing while driving, which scared them of deploying at the wrong moment.
This can also prove fatal and is something to be worried about.
3. Steering Issues
Many people who drive Toyota Avalon's have complained about the car's steering. It can fail or malfunction, which is pretty serious.
It seems to be a pretty common problem with this car, and it can be caused by a faulty steering column or a rack and pinion leak.
The good news is that it can be fixed, and if you see any indications of this problem, you should call a professional ASAP.
Steering issues can lead to loss of control of your Avalon, which almost always results in a fatal accident.
Frequently Asked Questions
Q1: Is Toyota Avalon A Good Car?
Yes, Toyota Avalon is a good car. This is a very reliable vehicle with great features. It has a smooth ride and has decent fuel economy.
The car also has a spacious cabin and offers ample space for passengers to sit comfortably.
It checks all the right boxes, and it will be a fantastic daily driver for you in the upcoming years.
Q2: Do Toyota Avalons Hold Their Value?
I looked into how much value the Avalon loses over time, and I found that, on average, the sedan will depreciate by 27% after five years of usage.
However, if you buy a hybrid variant, which has become increasingly popular in recent years, your car will depreciate by 24%, which is even better!
Q3: How Many Toyota Avalons Have Been Sold?
Toyota Avalon has been around for a while, and sales have dropped significantly in the last few years. In 2021, they only sold 20,000.
The 2005 model had around 95,000 sales (which is a huge difference). This may very possibly be the main reason for Toyota discontinuing this amazing sedan in 2022.
Q4: Which Toyota Avalon Engine Is The Most Reliable?
The 3.5L V6 engine is the most reliable engine in the Toyota Avalon lineup. This engine has been in use since 2018 and is powerful.
It can produce 301 HP, which is plenty of power for a sedan. The 2022 model, the last one, also features this engine. It was a fantastic piece of engineering.
Q5: Is Toyota Avalon Expensive To Maintain?
The Toyota Avalon is one of the most reliable vehicles on the road. It's also very inexpensive to maintain, with an average cost of $4400 for its first ten years.
To put this number into perspective, let's compare it against the general average cost of maintaining a car over ten years.
In that scenario, Avalon owners would be paying $2690 less than their peers. This is because of how reliable it is and how long it lasts before needing repairs.
Conclusion
I hope you've enjoyed our look back at the best and worst years for Toyota Avalon.
We know that it's a difficult decision to buy a new car and that you want to make sure the car you get is going to last.
With this overview of trends and patterns, I hope you feel more confident about what you need to do next.
You can save this article for reference any time because all of the research you had to do, I did, and it is on this page.
You can be certain that every piece of information about the Avalon over here is accurate, and you can trust it before finalizing your purchase.
References:
https://www.car-buying-strategies.com/Toyota/2021-Avalon.html
https://www.carindigo.com/toyota/avalon-trd-sedan/reliability
https://www.edmunds.com/toyota/avalon/2016/review/