The Mazda Miata has been running in the market for quite some time now. It has been known to be the best-selling 2-seat convertible sports vehicle in the market for the longest time.
This is a big achievement for a 2-seater vehicle like the Mazda Miata. So far, the Mazda Miata has gone through 4 generation model years.
But for you to decide which one is the best sports model year for you there are some things you need to learn about first.
Here I will be talking about the best and worst years for Mazda Miata so you can clearly understand and decide easily which one you like the most.
So with that being said, here are the list below:
Worst Years for Mazda Miata:
1990
2001
2007
2008
2010
Best Years for Mazda Miata:
1996
1999
2003
2018
2020
Now that you know the years, it will be easier to decide which model years to avoid and which ones to buy.
However, you should read in-depth about them to find the perfect model according to your preferences.
What Are The Worst Years For The Mazda Miata? Which Years To Avoid
Let's begin this article by discussing some of the worst Mazda Miata automobiles ever made.
Many buyers regarded these cars as the worst ones available due to various issues that made it difficult for drivers to deal with.
These are only a few elements that contributed to these cars obtaining the lowest ratings.
Let's discuss them further now.
1. 1990 Mazda Miata
Starting, the 1990 Mazda Miata falls in the top worst list because of its various issues.
According to the website carcomplaints.com, the most common issues found on the 1990 Mazda Miata are said to be with the air conditioner and heater system as well as with the electrical system that we're too difficult to deal with.
It is explained that the lack of power, current in the fuel pump, improper operation of the air conditioner, and compressor failure were problems that customers experienced and forced them to file a complaint.
Many people had no choice but to replace the A/C and heater system and some electronic parts multiple times to fix the issue completely.
But you should know since the model is quite old, it is likely to have severe issues and can make things worse if components are replaced multiple times.
Besides, you must also know that issues like these can grow bigger as time goes by and can be a lot harder to deal with. Therefore, it is best if you avoid purchasing this model year.
2. 2001 Mazda Miata
When it comes to the 2001 Mazda Miata, many issues can affect how this sports vehicle runs, which can ruin the entire experience for you.
Remember that a batch of this Mazda Miatas was distributed with the wrong part, and the thrust bearing appears to break early.
Since they normally malfunction after 40k miles, this problem should have been resolved by now.
Unfortunately, a new engine is required if it breaks down. There is probably nothing to worry about if you consider a higher NB mileage.
Other than that, the coil pack also tends to fail in the 2001 model year.
If your vehicle malfunctions, you may experience a rough idle, misfires, and splatters while under load. A high-quality aftermarket component with positive reviews would take its place.
3. 2007 Mazda Miata
Moving on to the 2007 Mazda Miata, you must know that this model, like the previous ones, also received numerous complaints from owners, which is why this model year is considered the worst.
To make things easier for you to understand, it is said that most of the concerns found in the 2007 Mazda Miata were leveled at the inside trim, exterior finish, and electrical system of the car.
Various other issues were also reported by the drivers, including problems with the sun visor not working, electrical accessories on components not functioning properly, and charging failure.
Other than that, there were issues, including water leaking into the automobile's interior, making it difficult for drivers to deal with and drive on the road.
4. 2008 Mazda Miata
According to various car reviews websites, the 2008 Mazda Miata has around eight most concerning issues that made many users hive up on this vehicle because it was too much to deal with and cost a lot to fix or replace.
To make it easier for you to understand, it is clarified that the most common complaints were about issues with the body or paint, electrical systems, clutches, seatbelts, airbags, windows, and windshields.
Additionally, the most prominent signs include a battery that frequently drains, convertible top seams that are faulty or torn, and uncommon window discoloration caused by defrosting wires.
The battery issue can be the most costly because when it does, it will need to be replaced, which can cost more than $1000 or so.
Other than that, airbags issues can be quite dangerous if they do not deploy during an accident or even explode.
5. 2010 Mazda Miata
Lastly, the 2010 Mazda Miata is the worst model year, according to the carcomplaints.com website.
Although it does not have such serious issues as the previous models I have discussed, the 2010 Mazda Miata still has issues that can be annoying for users to deal with.
There are various complaints made by the owners saying there are issues with the air conditioner, heater, interior, and exterior accessories.
It is also worth mentioning that the radio doesn't work or respond properly, the A/C high sideline has pinholes, as well as the soft top of the car is splitting at the front crease, which can be quite dangerous to drive with on the road and must be looked into immediately.
What Are The Best Years For The Mazda Miata? Which Years To Buy
Since the worst car models have already been covered, let's talk about the Mazda Miata's best years.
The vehicles I'll be highlighting are all safe and include a variety of amenities that deliver a smooth and secure ride so let's get started.
1. 1996 Mazda Miata
In 1996, the first generation of the Mazda Miata was introduced, known to be the best-selling sports car of all time. It is also the most potent variant one can ride in.
The automobile's two-year-old 1.8-liter four-cylinder engine now had OBD-II engine management system software.
It is also worth mentioning that this increased the power from 128 horsepower to 133 horsepower, which is quite an accomplishment for this model year.
If you are someone who loves vintage sports cars, then the 1996 Mazda Miata is the perfect choice for you as it has the power to deliver you with the best performance and is also able to last long without any serious issues.
2. 1999 Mazda Miata
Coming over to the 1999 Mazda Miata, it is said that a digital clock, leather seats, and a sunroof were included with the 1999 Version.
The 1999 Mazda Miata was also safe because it had modern technologies, including an anti-lock braking system and a foldable steering wheel.
Due to its fast powertrain, entertaining driving, and simple controls, the 1999 Miata is considered to be one of the top-class vehicles to drive.
By switching to steel-reinforced plastic and adopting a more aerodynamic design, the model is said to have a more athletic body style than the previous iterations.
Driving this Miata makes you feel as if you are going back in time to the first Mazda Miata model, but with a more upscale body and greater safety.
3. 2003 Mazda Miata
A new power plant was one of the small improvements to the 2003 Mazda Miata model year.
The suspension was made considerably sturdier, and it is also worth mentioning that the Mazda Company revamped the engine with 142 horsepower.
Furthermore, the interior had more powerful climate controls and greater ergonomics. It is also mentioned that the model with modern features was the 2003 Mazda Miata.
Airbags and a CD player were replaced by cassette decks when Mazda updated their vehicles' technology.
However, the modern carbon fiber roof drop and the trunk lid system, which put in five pounds of weight and gave the vehicle a more contemporary look, was the most significant change.
There were other styling adjustments as well.
4. 2018 Mazda Miata
When it comes to the 2018 Mazda Miata, you must know that it is said to be one of the best model years because of its outstanding features and various upgrades that make driving so reliable and powerful.
This vehicle has various features that make it more appealing, such as a sport-tuned suspension system, front shock tower brace, driving mode selection system, and Bilstein dampers.
The vehicle also had a hybrid system that allowed for torque vectoring, dynamic engine mounts, six-speed manual transmission that includes paddle shifters, and 1 55 horsepower.
The 2018 Mazda Miata Grand Touring Launch Edition is one of the most enjoyable Miata models to drive if you're in the market for it.
It is a sports vehicle that handles and performs superbly and is reasonably priced.
5. 2020 Mazda Miata
The 2.0-liter engine in the 2020 Mazda Miata Sport produces 181 horsepower and 151 pound-feet of torque, making it one of the best vehicles to drive in.
It also has a 6-speed manual transmission that is discretionary.
Other features include a sports suspension and technology collection that contains lane-keeping assistance, adaptive cruise control, and a full surround traffic monitoring system.
Moreover, it is also worth mentioning that one of the top models on the market is known to be the 2020 Mazda Miata Sport because it is an economical and useful vehicle.
Particularly for novice drivers, it combines good performance and elegance without breaking the bank.
How Reliable Is A Mazda Miata?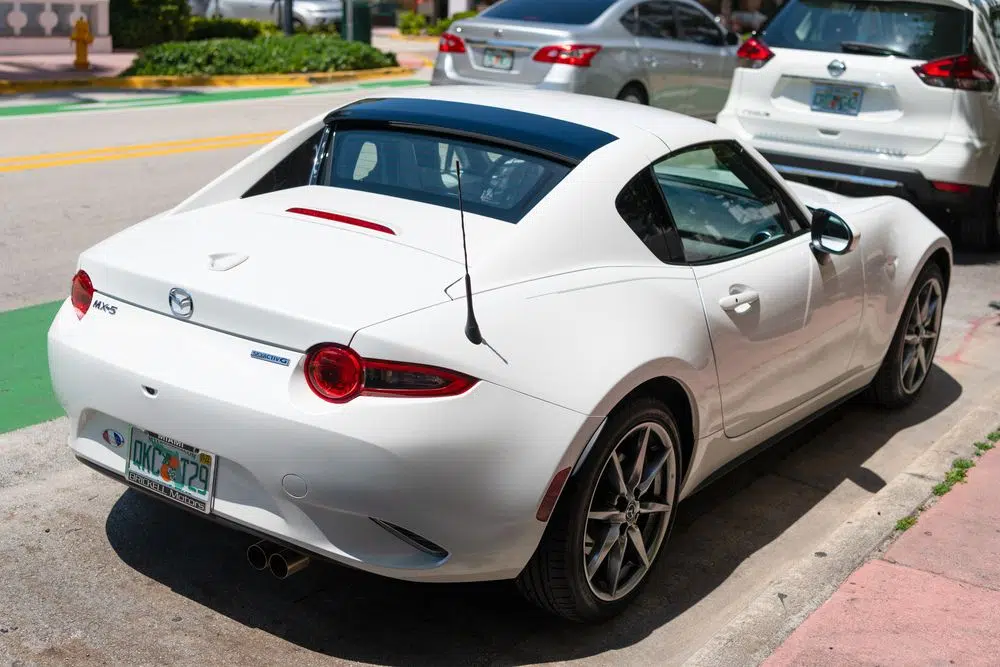 Mazda Miata is a well-known two-seater sports vehicle on the market.
It is also one of the most reliable vehicles according to various car review websites, so you can certainly trust the Mazda Miata.
You need to know that the Mazda Miata is more reliable than the industry average, while some model years are more reliable than others.
It was rated 4.0 out of 5.0 on RepairPal, placing it eighth out of the 21 subcompact automobiles in its classification.
The 2019 Mazda Miata was given a 73 out of 100 rating by J.D. Power which is a pretty great rating for a subcompact vehicle.
How Long Do Mazda Miatas Last?
The Mazda Miata has a very lengthy lifespan, as evidenced by iSeeCars' analysis of more than 15.8 million vehicles sold in 2019 to determine which prototypes have the greatest percentage of vehicles that have traveled 200,000 miles.
iSeeCars reports that 2.1% of Mazda Miata cars sold in 2019 reached 200,000 kilometers easily.
However, you must know that extra maintenance is required to see the Mazda Miata last that long.
It is also said that if you change the TB, WP, and oil as well as the VGC, then it can also go beyond 300,000 miles on the odometer.
What To Do To Lengthen The Life Of Your Mazda Miata
Now when it comes to extending the life of the Mazda Miata, you can easily achieve it if you follow these simple tips.
Make sure to change the oil and filter every 5000 miles.
Check the engine and transmission system are working properly.
Change the engine air filter, cabin filter as well as wiper blades by around 30,000 miles.
Make sure you avoid driving harshly or on uneven roads, so it does not damage the tires.
Take the vehicle for regular maintenance to the mechanics and get it checked to see if everything is working smoothly.
With these tips, you will certainly see big changes in the way your Miata performs. Just be patient and persistent.
Things That Shorten The Lifespan Of Your Mazda Miata
Here I will talk about things that can shorten the life of your Mazda Miata, which is something you need to avoid, so read through to find out how to prevent it from happening.
If your car's parts aren't functioning properly, it won't take much for the vehicle to run out of gas.
To prevent the engine system from burning or malfunctioning entirely, it is strongly advised that you change the oil.
To prevent quick tire damage, rotate your tires regularly and avoid driving over choppy terrain.
Avoid using low-quality products for your vehicle; instead, consult the owner's manual to find the products that are suggested for the Mazda Miata components.
Ensure that there are no rusty areas in the car as they can also harm its performance.
I hope these tips help you in fixing the issues so you can make your Mazda Miata last longer.
3 Most Mazda Miata Common Problems You Should Know
If you want to protect your Mazda Miata from problems, then reading this part will help you deal with its most common issues more quickly and easily.
1. A/C Compressor Issue
Many 2012 Mazda Miata owners claim that certain of these vehicles frequently experience problems with the A/C compressor.
The component's frequent exposure to the elements as a result of its position raises the possibility of premature wear, which will require replacement.
2. Fuel Filler Pipe
One of the most prevalent 2007 Mazda Miata problem is the fuel filler piping.
There is a frequent complaint from owners about the check engine light coming on as a result of the gasoline filler cap losing by itself.
3. Clear Coat Delamination
Clear coat delamination has been a common complaint among 2000 Mazda Miata owners. Bubbles, as well as white splotches on your car's outside paint, are common signs.
This problem is typical of outdated models and is typically brought on by employing paint materials that are incompatible with a vehicle's clear coat and subjecting it to sudden and excessive temperature changes.
Frequently Asked Questions
Q1: Is Mazda Miata A Good Car?
Yes, Mazda Miata is a good car that has a lot of great features to offer buyers so they can always have the best experience in this sports vehicle.
It is known to have the best steering as well as outstanding handling, making it a thrill ride.
Q2: Do Mazda Miatas Hold Their Value?
It is said that the five-year resale value of a Mazda Miata is around $19,532, with a 38 percent depreciation rate.
Q3: How Many Mazda Miatas Have Been Sold?
16,897 sales were made in 2006, which was the year with the most sales.
A total of 15,075 investments were made in the next year, 2007, which was quite close. However, with the 2008 model year, sales began to fall below the 10,000 threshold.
For many years following that, the sales figures remained dreadful. But with 11,294 sales in 2017, Mazda saw resurgence for the Mazda Miata.
Sadly, it only lasted a year, and after that, sales started to decline once more. 8,807 people bought the Miata in 2020. Mazda sold 3,976 Miata vehicles so far in 2021.
Q4: Which Mazda Miata Engine Is The Most Reliable?
Both the 1.6 liters and the 1.8 liters Mazda Miata engine are reliable. This is because it will assure you reach 200,000 miles without having to replace any parts.
Q5: Is Mazda Miata Expensive To Maintain?
The annual cost of car maintenance for a Mazda Miata is $429. In comparison to the typical vehicle, which costs $651 annually to maintain.
The Mazda Miata has a standard yearly maintenance expense of $429, which makes it a cheaper vehicle to maintain.
Conclusion
If you've made it this far, you've hopefully learned everything you needed to know about the best and worst years for Mazda Miata.
This two-seater subcompact sports vehicle is the perfect choice for you if you love fast-performing vehicles.
You will be able to enjoy various features it has to offer to make driving more reliable and convenient, especially if you choose the model years from the best years.
Just make sure you do proper research on the model year you are sure about purchasing and also go for a test drive so you can be 100 percent confident with your decision and avoid purchasing a problematic model.
References:
https://forum.miata.net/vb/showthread.php?t=271117
https://www.carparts.com/blog/mazda-miata-reliability-and-common-problems/
https://www.bountifulmazda.com/blogs/1734/research/mazda-mx-5-miata-maintenance-schedule/