If you're looking for a vehicle that's as reliable as fun to drive, you might be looking for the Mazda CX-5.
This compact SUV has been a top seller since its introduction, thanks to its vast array of features and solid performance.
To put it in simpler words, it is a solid SUV, and it is hard to go wrong with it.
With more than 100,000 vehicles being sold annually, the SUV is certainly popular.
The number of buyers, in some years, might have been lower if they knew that those specific years were not so great.
Regardless, this article will cover the best and worst years for Mazda CX-5 so you don't choose the wrong model of the SUV for daily driving.
With ten models being put under the spotlight here today, let's take a look at them first:
Worst Years for Mazda CX-5:
2013
2014
2015
2016
2018
Best Years for Mazda CX5:
2022
2021
2020
2019
2017
By looking at this list, you might think it would be safe to buy a newer model rather than an older one.
Well, you could do that and be potentially safe, but it is still better to see why each model of the CX-5 has been put in their respective lists.
What Are The Worst Years For The Mazda CX-5? Which Years To Avoid
As of writing this article, there have been 10 model years for the Mazda CX-5, out of which five have been great while the remaining five have not performed up to par.
The latter will be the focus of this section, so you can understand exactly what is wrong with them.
1. 2013 Mazda CX-5
The 2013 Mazda CX-5 was the SUV's first-ever mode. It had a bumpy start. This almost decade-old model had various issues, which made owning it a headache.
Its engine would lose power while driving, which is pretty dangerous. This could result in serious accidents.
This could be due to a faulty fuel pump or critical engine component. The engine would also hesitate when stepping on the pedal, which made the driving experience subpar.
Finally, the engine also had the issue of unintended acceleration, which could result in you rear-ending someone.
The brakes and rotors would wear out quickly, which caused owners to experience a reduced braking force when they needed it most—like when driving up a hill or trying to avoid an accident.
This is a serious issue, as brakes are the only way to slow down the engine.
With more issues, such as easily cracking windshields, this model of the CX-5 is not recommended for anyone to buy.
2. 2014 Mazda CX-5
The 2014 Mazda CX-5 was a mixed bag. While some aspects of this vehicle were great, others left much to be desired.
Reports of the vehicle not starting up were also common, possibly due to an electrical issue.
The SUV would refuse to shut off, resulting from a shifter issue. It's easily fixed with a new one, but it's still annoying and scary if you're not expecting it to happen.
Another issue with this SUV is that it can sometimes lurch forward unexpectedly when coming to a complete stop.
This could be dangerous if you're trying to park or if there are other cars around you at the time.
Finally, there have been reports of premature brake wear on CX-5s, which means you'll need to replace them sooner than normal to ensure the braking capability of the SUV is not affected.
3. 2015 Mazda CX-5
The 2015 Mazda CX-5 is better than its predecessors, but it's not good enough to buy.
The most commonly reported problem was that the windshield cracks easily. This is due to poor quality glass used in the windshields.
This was experienced by many owners and is an extremely frustrating problem.
There were critical systems of the 2015 CX-5 that would not work properly. The transmission would not shift properly.
It would also produce a whining or clicking noise when changing gears. This meant that it was not only faulty but also that the driving experience would be severely degraded.
Even the infotainment system was not without its issues. The Bluetooth would disconnect, and the sound system would also not work sometimes, which could mean boring drives.
Lastly, brakes are not reliable on this model of car. They can cause problems, and you don't want to leave things at chance, especially when it risks your SUV's braking capability.
4. 2016 Mazda CX-5
The 2016 Mazda CX-5 is easily the worst model of the SUV ever to be released. It has so many issues that it's hard to believe Mazda was able to introduce it for daily use.
Moreover, the most common issue with the 2016 Mazda CX-5 is that the daytime running LED light would fail.
This is not a major issue, but it certainly is something that should not fail at all.
The next issue I'd like to share is brakes; these would wear out prematurely, needing frequent replacements.
They would also work unreliably, which meant they were not dependable. They also make squeaking noises when applied, making the riding experience subpar.
That's not all. Side windows also leak in road noise and wind noise, which can be very annoying while driving. The infotainment system was also known to be glitchy at times.
5. 2018 Mazda CX-5
This 2018 Mazda CX-5 model is a good SUV with a lot of potentials but there are some issues that you should be aware of before considering this vehicle.
The engine alone had many issues such as; the engine head was defective. Its O ring would also leak, causing the engine to leak oil.
It was also known to rev a lot and produce too much noise, which could be annoying.
The higher RPM also means increased wear and tear on the moving parts, which is not good.
The windshield was also known to crack easily, surprising since the issue popped up five years ago.
There was no proper explanation for why it would crack, which drove many owners mad.
Finally, there were issues with acceleration while braking, making it extremely dangerous if you need to quickly stop your vehicle.
What Are The Best Years For The Mazda CX-5? Which Years To Buy
Now, it's time to cover the best models. These remaining ones have been proven to be great and far superior to the other five, which were discussed in the section above.
Besides their solid reliability, let's look at what Mazda put in these SUV models.
1. 2022 Mazda CX-5
The 2022 Mazda CX-5 is a fantastic choice if you're looking for a new compact crossover SUV.
It's the latest model, so it has all of the latest technology and safety features that have been added over the years.
The best part is that it also has an optional turbo engine that can produce up to 250 HP.
Also, even if you're not interested in performance, you will appreciate this SUV's excellent handling and control—even if you don't know much about driving!
Moreover, the cabin is comfortable and looks luxurious, thanks to the use of high-end materials.
Many safety features, such as automatic emergency braking and lane keep assist, should make even drivers feel safe on the road.
Overall, this model of the SUV is certainly the best one yet. I cannot wait for what Mazda cooks up with the next models in the coming years.
2. 2021 Mazda CX-5
The 2021 model year saw some incremental upgrades to the CX-5 that weren't as drastic as some other vehicles, but they're still worth mentioning because they make the experience more enjoyable than before.
The major update was an increase in the touchscreen size in all variants of this vehicle—it's now larger than before! It is 10.25 inches on all variants!
The 2.5L turbocharged engine is available in the top trims of this vehicle, which can produce up to 250 HP.
This makes the engine excellent for any road condition, whether rough terrain or smooth driving on highways and city streets.
Moreover, the G-Vector Control Plus system allows for better turning capabilities around corners. This is a great feature.
Finally, the cabin is made of high-quality materials that make for a luxurious experience inside whenever you sit down behind the wheel.
3. 2020 Mazda CX-5
The 2020 Mazda CX-5 is a great SUV and even better than its predecessor. Why? Because it's improved in all the ways that matter.
For one thing, the new touchscreen was added to the top tiers of this model, making it easier for drivers to connect with their friends and family while on the go.
The base model was also equipped with driver assist features, so you can feel safe in your SUV even if you don't spend much on the more expensive trims.
Moreover, the 2.5-litre turbo engine that powers this vehicle can produce up to 250 HP while providing fuel efficiency of up to 31 mpg, which is pretty good if you ask me!
Plus, the six-speed automatic transmission makes sure that shifting is smooth and responsive at all times.
4. 2019 Mazda CX-5
The 2019 Mazda CX-5 has a lot of improvements over the previous model, and it's now better than ever!
This model is powered by a 2.5L turbocharged engine, producing up to 250 HP. That's an amazing jump from the 187 HP in the previous model.
This allows for better acceleration and quicker response times when needed.
The 2019 Mazda CX-5 also has an upgraded G-Vectoring Control Plus system, which builds upon its predecessor and allows for precise steering at all times.
You will be able to make sharp turns with this SUV with ease. With up to 5 seats available, families will love this car!
Lastly, it can hold up to 59.6 cubic feet of cargo with all seats folded down, so you'll have plenty of space for everything you need on your next adventure!
5. 2017 Mazda CX-5
The 2017 Mazda CX-5 is a great-looking SUV, thanks to its sleek and sophisticated design.
Its 2.5L engine produces 187 HP, which may look weak on paper but is certainly more than enough to provide an enjoyable driving experience.
It also comes equipped with G-Vector Control technology, allowing for better responsive steering.
This feature is available on all trims and makes this SUV safe and fun for any road trip!
In addition to its safety features, such as blind spot monitoring and radar cruise control, several extras are available, such as a lane departure warning system and automatic high beams.
You'll also get up to 31 mpg fuel economy, which is very impressive for a crossover SUV of this size!
How Reliable Is A Mazda CX-5?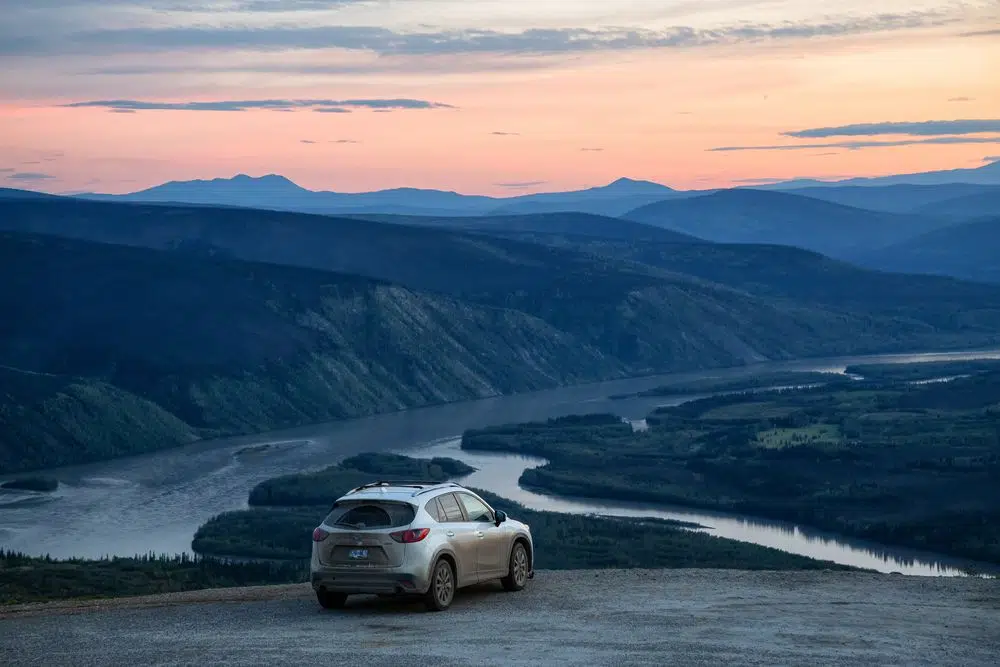 The Mazda CX-5 has been one of the most reliable vehicles on the market in recent years. This is because of its solid build quality, attention to detail, and fine-tuning.
The older models were not so reliable and had many issues. But the manufacturer addressed all of them to create something that can be bought and trusted with eyes closed.
How Long Do Mazda CX-5s Last?
The Mazda CX-5 is built to last and can be expected to last up to 250,000 miles—which is pretty good for an SUV.
This means it will easily last you for more than 15 years, with 15,000 miles of annual driving. That is amazing.
What To Do To Lengthen The Life Of Your Mazda CX-5
If you want to lengthen the life of your Mazda CX-5, you're in luck! You can do some simple things to ensure that your vehicle gets the best possible care.
Don't overwork the engine. If your SUV is running hot, it's probably because you are overworking it. If this happens, try driving a little more conservatively.
Your engine will last longer if it has enough lubrication—and you can give it that lubrication with a timely oil change. Refer to your CX-5's user manual for an exact time interval.
The only way for your Mazda CX-5 to last longer is if its components are replaced with high-quality replacements that match each other well. Buy OEM parts only so you don't run into issues.
These practices will ensure the CX-5 can reach its maximum number of miles.
Things That Shorten The Lifespan Of Your Mazda CX-5
Unfortunately, some things shorten the lifespan of your Mazda CX-5. Some of these things will be discussed below.
Slamming on the brakes can cause serious damage to your brake pads, which will need replacing if you want to get the most out of your car's brakes.
Not changing your vehicle's fluids regularly can increase wear on parts such as the transmission, resulting in costly repairs.
Low-quality fuel results in poor combustion, so it is important to use high-quality fuel whenever possible!
Make sure never to do these things. Even if you do, it is never too late to make a change.
3 Most Common Mazda CX-5 Problems You Should Know
Here are the most common Mazda CX-5 problems you should know about so you could decide accordingly before buying.
1. Windshield Cracking
The most common Mazda CX-5 problem is a cracked windshield in 2013 to 2018 models. There is no apparent reason for the problem happening.
2. Daytime Running Lamp Failure
The lamps are known to fail, which can mean that other vehicle drivers may fail to see you, especially if you forget to turn on your headlights.
3. Sunroof Shatters
While this isn't quite as common as cracking windshields or failing daytime running lamps, several owners of older models have reported sunroofs shattering.
Frequently Asked Questions
Q1: Is Mazda CX-5 A Good SUV?
The CX-5 is a great SUV. It checks all the right boxes and is perfect for families. With looks and practicality all rolled into one, you will love it as a daily driver.
Q2: Do Mazda CX-5s Hold Their Value?
The value will depreciate by only 25% in five years. That is pretty good and is one of the best resale values I have seen while reviewing vehicles.
Q3: How Many Mazda CX-5s Have Been Sold?
The CX-5 has consistently sold more than 100,000 vehicles since 2015. This means that it is popular. 2021 saw 163,000 sales, which was a massive improvement over previous years.
Q4: Which Mazda CX-5 Engine Is The Most Reliable?
The turbocharged engine found in the top tiers of the latest models of the SUV is certainly the best. It has little to no issues and outputs decent amounts of power.
Q5: Is Mazda CX-5 Expensive To Maintain?
Yes, it is. It needs around $1800 less to maintain over ten years compared to other similar SUVs, bringing the expected cost to around $7339.
Conclusion
Finally, I hope you found the best and worst years for Mazda CX-5 review useful! I tried to cover everything you need to know about the SUV, from its reliability to its issue.
I hope this information will help you decide whether or not it's the right SUV for you—and if so, which model is best for your needs.
Overall, the CX-5 is a great choice for families who want a stylish and reliable vehicle with plenty of cargo space and passenger comfort.
It had a bumpy start, but Mazda slowly improved its formula to give us the CX-5 we all know and love today.