The Toyota Sienna has been on the market for 25 years. It's a minivan known for its spacious interior, comfortable ride, and overall reliability. It also does not break the bank, which is why it is so famous.
There have been many vehicle models over the years, and this article will discuss the absolute best and worst years for Toyota Sienna.
Although it is reliable and can be trusted for a decent driving experience, some models cannot be relied upon.
Let's list them down before diving into the details.
Worst Years for Toyota Sienna:
2004
2005
2006
2007
2008
Best Years for Toyota Sienna:
2010
2012
2014
2016
2021
Don't worry! The models that have been listed above; will be discussed in detail in this article. Strap in, as this will be a fun article to read.
So, without any further ado, let's get started.
What Are The Worst Years For The Toyota Sienna? Which Years To Avoid
I will start this article by discussing the Sienna models that should be avoided first. These have had the most complaints and are simply unfit for daily use.
They are not dependable, which means they are not worth buying. You are going to find out why.
1. 2004 Toyota Sienna
Let's face it: the 2004 Toyota Sienna is getting old. It was first released over a decade ago and was filled with various issues, all of which helped it get onto this list today.
The most common problem is the cracking of the dashboard. The dashboard is made from soft plastic that can crack due to extreme heat or cold.
This may have even caused pieces of the dashboard to break off, which can be dangerous.
Another issue that has been reported is with sliding doors not working as intended, which would result in difficulty getting in out of the car.
Buyers also reported that the doors had broken welds, which may pose a safety issue.
2. 2005 Toyota Sienna
The 2005 Toyota Sienna has many of the same issues as its predecessor.
The main problem with this vehicle is that the doors, particularly the sliding doors, do not work properly. They may not open, or they may not close properly after being opened.
Another problem is that the steering wheel can become difficult to turn. This makes it hard to drive in city traffic and can lead to accidents.
The door welding was also prone to breaking, as seen in 2004. This issue alone is enough to not consider this aging model for daily driving.
3. 2006 Toyota Sienna
If you own a 2006 Toyota Sienna, it's important to know that several parts of the vehicle have been known to fail.
One issue is that the dashboard can crack. This may seem like a minor issue, but it can lead to problems with the airbag system and other dashboard parts.
Another issue with this car is that its sliding doors can fail to open or close properly.
This could be dangerous if you're in an accident and need to get out quickly—it could cause trouble getting out of your car after an accident.
4. 2007 Toyota Sienna
One of the most common issues with the 2007 Toyota Sienna is decelerating the loss of power.
This can cause jerky starts and stops, leading to accidents if not addressed immediately. This issue has been discussed in detail further below.
Another common issue with the 2007 Sienna is complete transmission failure.
If this happens on your vehicle, it's best to have it towed immediately so repairs can begin as soon as possible.
And because this type of failure often leads to engine damage if left unchecked too long or not addressed quickly enough!
Burns oil and smoke from the exhaust are also common problems with this minivan model.
5. 2008 Toyota Sienna
The first thing you need to know about this 2008 Toyota Sienna model is that its radio can glitch at any time.
This can be annoying when you're trying to listen to your favorite pop song or talk radio show>
But it can also be dangerous when you're driving in heavy traffic and need to hear an important message over the radio (for example).
The second issue with this vehicle is that its battery needs replacement prematurely compared to other vehicles on the road today.
Finally, we need to talk about complete transmission failure. Even though it's rare for this problem to happen in a Toyota Sienna, it is common enough to be mentioned here.
What Are The Best Years For The Toyota Sienna? Which Years To Buy
Now that the worst models have been covered let's move on to the models that can be trusted blindly.
Most of them are more recent, as Toyota improved their quality quite a lot in recent years.
1. 2010 Toyota Sienna
The 2010 Toyota Sienna is a great choice for families with small children.
It features an all-wheel-drive variant, perfect for driving in all kinds of terrains, and a powerful V6 engine that will get you there quickly and safely.
The Sienna comfortably seats seven to eight people and has plenty of room for luggage.
It also has good safety ratings, so you can feel good about taking your family on long road trips in this vehicle.
2. 2012 Toyota Sienna
The 2012 Toyota Sienna is a great choice for people who need a full-sized vehicle but don't want to sacrifice fuel economy or comfort.
The Sienna comes with a V6 engine that is powerful and can produce 266 HP. It also has several safety features, including traction control and ABS brakes.
When you're looking for an affordable family car, the 2012 Toyota Sienna might be the one you've been searching for. It checks all the right boxes and may not even break the bank.
3. 2014 Toyota Sienna
The 2014 Toyota Sienna is a great family vehicle. It's available in various trim levels, and all of the options are reliable and good-looking.
There's plenty of room for passengers and cargo, even on long trips. The second thing that stands out about this vehicle is its fuel economy.
The engine produces 266 horsepower, so it has plenty of power when needed, but it also gets good gas mileage when driven around town or on long road trips across the country!
4. 2016 Toyota Sienna
The 2016 Toyota Sienna has been on the market for a little while now, but it's still one of the best minivans you can buy.
Another reason why the 2016 Toyota Sienna is great is that high-quality materials are used for the interior.
Kids can get messy quickly, so it's important that your vehicle has materials that can stand up to their messiness without getting ruined.
The Toyota Sienna 2016 also offers an all-wheel-drive option, which is perfect for families that live in areas with steep slopes or rocky terrains.
5. 2021 Toyota Sienna
The 2021 Toyota Sienna is a great choice if you're looking for a minivan with an efficient hybrid engine, a comfortable and roomy interior, and tons of storage space.
The Sienna is one of the most fuel-efficient minivans on the market, with a 2.5L hybrid engine that provides excellent fuel efficiency without sacrificing power or performance.
And with seating for up to eight people, you'll have plenty of room for your family's needs. Overall, it is the best model of the minivan that has been released to date.
How Reliable Is A Toyota Sienna?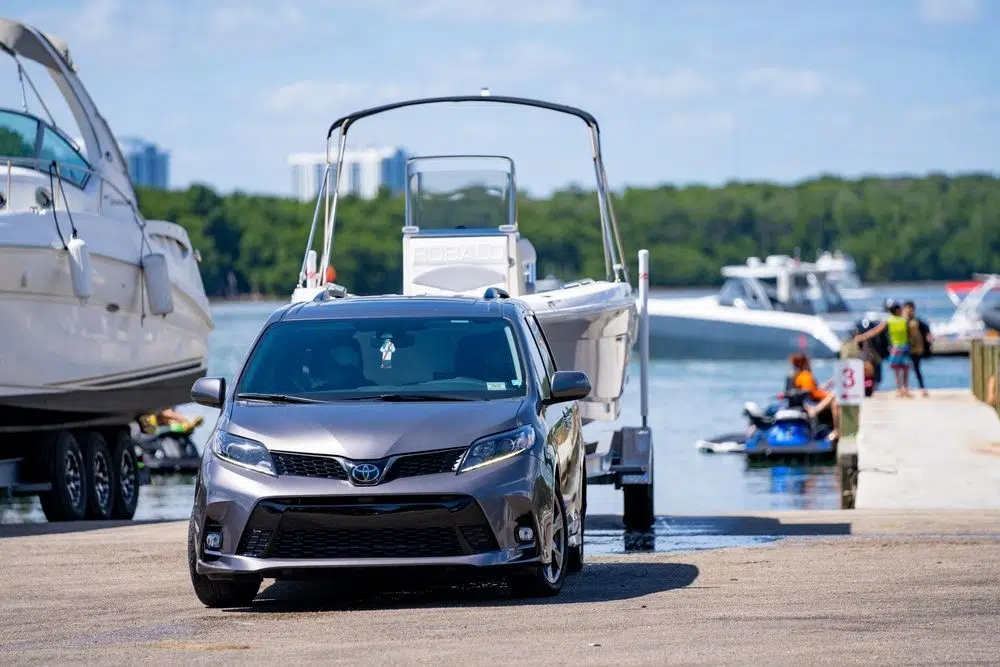 The Toyota Sienna is one of the most reliable minivans on the market today, right alongside big names such as the Dodge Grand Caravan and the Honda Odyssey.
It's perfect for families who need to get their kids from point A to point B safely, and it's also great for people who want to enjoy a smooth ride.
The Sienna has won several awards for its being a safe and a great vehicle overall.
How Long Do Toyota Siennas Last?
Toyota Sienna's are pretty decent cars, and they can last you a long time.
They're built to last at least 200,000 or 250,000 miles, so if you take good care of them and have them serviced regularly, you should be able to get a lot of use out of them.
A typical American vehicle is driven for around 15000 miles annually. If you keep that number in mind, the Sienna can last for a minimum of 13 years, which is honestly pretty good.
What To Do To Lengthen The Life Of Your Toyota Sienna
The Toyota Sienna is a great vehicle. It's reliable, comfortable, and has a long history of being a family-friendly choice.
But just like any other vehicle on the road, its needs must be met in order to keep it running smoothly for years to come.
Some tips to increase the lifespan of the Toyota Sienna are:
Regularly scheduled maintenance is one way to ensure that your minivan runs efficiently for as long as possible.
And when it comes to keeping your Toyota Sienna in tip-top shape, there are plenty of ways for you to do so without breaking the bank.
A simple oil change costs about $60 at most car repair shops, which is far less than what it would cost if something went wrong with your car during an unexpected breakdown.
It's important that you only use genuine Toyota parts on your Sienna when performing maintenance or repairs on it.
These parts have been engineered specifically for use with your vehicle and can greatly reduce the risk of problems occurring down the road due to poor fitment or inferior materials being used instead (which could be susceptible to corrosion or other issues).
If you want to lengthen the life of your Toyota Sienna, it's important to keep up with repairs.
When you schedule routine maintenance, you'll be able to catch defects before they get worse. This can help you avoid accidents and even save you money on repairs in the long run.
Regardless of the fact that it is a solid minivan, you should make sure to follow these tips. There are many more, and you should conduct proper research.
Things That Shorten The Lifespan Of Your Toyota Sienna
When it comes to your Toyota Sienna, you want to make sure you're keeping it in tip-top shape.
But sometimes, even the best-intentioned drivers can cause damage to their vehicle's engine or other parts.
Here are some things that shorten the lifespan of your Sienna:
Improper tire alignment is a common cause of premature wear on your Toyota Sienna tires. If you notice that your tires are wearing out faster than they used to, it's a good idea to get them checked by a professional.
The mechanic will be able to check the alignment of all four wheels and make adjustments if necessary.
Drive enough! It might seem counterintuitive, but driving often will actually help keep your car running smoothly for longer—just like taking care of yourself by exercising regularly will help keep you healthy in the long run.
The fluids keep on flowing, and you won't have to worry about things such as sludge buildup.
Step on the pedal with the intention only when necessary! If you're driving around town at low speeds and not using any extra power from the engine at all, then don't step on the pedal hard at all—just use a light touch so that no extra strain gets put on your engine (or brakes!).
There are many things that can severely reduce the lifespan of your Toyota Sienna. Only three have been mentioned above, and there are many more things that can affect it.
So, be careful with your minivan, especially if you want it to last long.
3 Most Toyota Sienna Common Problems You Should Know
It may be one of the most reliable minivans on the market, but it definitely does not mean that the Toyota Sienna is free from all issues. In reality, it is far from it.
Let's take a look at the top three common issues that owners of this vehicle have had to face.
1. Issues With The Electric Doors
The electric sliding doors on the Toyota Sienna are a great feature, but they can be prone to trouble.
The most common issue is that the door will not open or close properly, which can be caused by a number of issues.
It could be that your cables are worn out, or it could be that there is an electrical problem in the door itself.
If you have this problem, you should bring your vehicle to a Toyota service center immediately so they can diagnose the issue and repair it as soon as possible.
2. Malfunctioning Oxygen Sensor
The oxygen sensor in your Toyota Sienna measures how much oxygen your car's engine needs to burn fuel more efficiently.
When this sensor fails, it can cause problems with acceleration and fuel economy.
This is usually an easy fix for most mechanics, but it's important to get it fixed as soon as possible so that you don't experience any major problems down the line!
3. Power Loss After Decelerating
Power loss after deceleration is one of the most common problems with the Toyota Sienna.
This problem occurs when your vehicle loses power before you have come to a stop, and it can be caused by a few different things.
There is no fixed reason as to why this happens, but it does take a toll on the transmission.
Sudden shifting can cause it to wear out much faster. This is a problem to keep an eye out for, as it can affect your driving routine.
Frequently Asked Questions
Q1: Is Toyota Sienna A Good Minivan?
Toyota Sienna is a great minivan for families. It has enough space for all the kids, pets, and luggage you could want. It's easy to drive, and it's really up-to-date with all the latest technology.
The best part? It's affordable! The Sienna comes in six different trims, with the lowest one starting at just $35000. That is pretty decent and is one of the reasons why it is popular among families.
Q2: Do Toyota Siennas Hold Their Value?
Depreciation is a big concern for car buyers, and it's why you might want to consider buying the Toyota Sienna.
According to CarEdge, the Sienna will depreciate by 23% in five years, which is amazing.
That means that if you buy new Sienna today and drive it for five years, it's likely to be worth more than half of what you paid for it!
Q3: How Many Toyota Siennas Have Been Sold?
The Toyota Sienna has been around for a long time, and it's no surprise that it's grown to be one of the most popular minivans on the market.
Although it hasn't always been the highest-selling vehicle, its sales have usually hovered around 100000 every year.
However, 2020 saw a steep decline to around 43000 units sold. 2021 came back with a vengeance, with 103000 sales.
Q4: Which Toyota Sienna Engine Is The Most Reliable?
The 2.5L four-cylinder engine is the most reliable engine available in the Sienna. It can produce 245 HP, which is plenty for a minivan.
The engine is also very fuel-efficient, getting up to 36 mpg on the highway, thanks to its hybrid design.
The 2.5L has been praised by owners and reviewers alike, and there is no denying that it is a solid engine and the best that has ever been under the hood of this minivan.
Q5: Is Toyota Sienna Expensive To Maintain?
When you're looking for a new car, it's tempting to focus on the sticker price and forget about the maintenance costs. $5800 for the first ten years of owning your Toyota Sienna is pretty affordable.
It'll cost you less than some other vehicles in its class. The difference is around $3500, which is pretty significant.
Conclusion
So, there you have it; the best and worst years for Toyota Sienna. Overall, we think the Sienna checks all the right boxes.
It's fuel-efficient, low maintenance, reliable, and a decent performer—all at a price that's not going to break the bank.
I highly recommend this minivan as an all-around good choice for families with kids on the go!
If you are considering getting one, you should not spend another second researching it. The Sienna is simply amazing, and you simply cannot go wrong with it.
All you need to do is be aware of the model you are looking for, and you will be good to go.
References:
https://caredge.com/toyota/sienna/maintenance
https://www.toyotapaloalto.com/blog/how-fuel-efficient-is-the-2022-toyota-sienna-hybrid
https://www.carcomplaints.com/Toyota/Sienna/