Tacoma evolved from a compact truck in its first generation to a midsize pickup throughout its next two iterations.
It is very well suited for off-road travels and thus faces criticism regarding its lack of finesse and being jittery at times.
That should not deter you from the potential and value it brings out.
However, all that is because Tacoma is not designed to be pretty. It is sturdy and reliable for off-the-road travels on steep slopes, deserts, etc.
Even then, there have been best and worst years for Toyota Tacoma, as nothing can always remain on a high note.
Here I am going to list them down below:
Worst Years for Toyota Tacoma:
2006
2007
2009
2016
2017
Best Years for Toyota Tacoma:
1995
1998
2004
2015
2020
In the remaining article, I will give a more detailed explanation of each of these model years as to why they are categorized as best or worst.
What Are The Worst Years For The Toyota Tacoma? Which Years To Avoid
No matter how reliable a vehicle may be, it will still have bad years. The same is the case with Toyota Tacoma.
Here are the top 5 worst years and why they are models to avoid buying.
1. 2006 Toyota Tacoma
One of the earliest cars of the second generation, this model year of Tacoma had many underlying problems. Its main complaint was regarding its body and paint.
The problem was that paint quite easily flaked and peeled off the car's body. This was the number one complaint regarding the Toyota Tacoma model year 2006 on carcomplaints.com.
Other than having this model of Toyota Tacoma repainted every so often, there were some more severe issues as well, though reported less in number.
The engine had a fault that caused sudden unintended acceleration.
Similarly, it had transmission problems that caused a movement delay, leading to potential accidents and loss of life.
When this model year of Tacoma crossed 100,000 miles, the model frame tended to either get rust or sometimes break completely. Repairing this would cost at least $3500.
2. 2007 Toyota Tacoma
This 2007 year model of the Toyota Tacoma faced many of the same issues that the previous model year dealt with.
The quality of paint on the car's body was still poor, leading to a need to repaint the car more often than you would like.
Transmission problems were lesser in number in this model. However, that was compensated by the increased number of engine problems.
Particularly bad was the engine surging in high gears, which needed a reprogramming of the entire software system of the car, and throttle control failure.
For the latter issue, Toyota recalled cars in later years.
The suspension mechanism of this model of Tacoma was also poor in design and execution. It received nearly 95 complaints on NHTSA on all fronts: rear, front, wheel bearing, etc.
Other minor issues plagued this car, like sticky accelerators, but they happened frequently and would cause up to $10,000 in repairs, making maintenance of this model of the Toyota Tacoma unnecessarily expensive.
3. 2009 Toyota Tacoma
There were lesser problems and complaints reported for this 2009 year model of Toyota Tacoma.
However, a larger percentage of more harmful and potentially life-threatening problems, like sudden acceleration and clutch slipping.
Both are extremely dangerous in any situation and can easily cause a car crash.
Furthermore, there were issues with the interior design of the car.
Many problems were reported for this, especially for the radio, which had reported complaints of going off without warning, volume and display malfunctions, etc.
Radio was just not a good part of this model of Toyota Tacoma.
Previous model's issues also remained, especially the paint peeling off. This time, however, the painting on the roof was specifically reported as having paint chipping off.
Along with this, the parking lights were also reported by some owners as faulty, with the main complaint being overheating and sometimes even cracking.
4. 2016 Toyota Tacoma
This 2016 Toyota Tacoma model received the highest number of complaints of any Tacoma model ever on carcomplaints.com. There is a good reason for that.
Not only is this model of the Tacoma riddled with minor cumbersome issues that cost unnecessary money in repairs, but it had some pretty big major issues as well.
One of the biggest faults lay in the engine. The 2016 model of Tacoma is said to have an infamously faulty engine.
This is because it was plagued with various problems like vibration caused in the floor and steering of the car, excessive engine noise (which is a big sign of a faulty engine), oil leakage, and so on.
The other big problem was the transmission, which the displaced throttle position center causes.
This caused rough and hard shifting, a big inconvenience, especially when driving on a rough off-road route where driving and shifting become automatically different.
5. 2017 Toyota Tacoma
Issues were lesser in number as compared to the previous 2016 model year. However, the overall theme of the problems and their categorization remained the same.
The concentration of where the problems lay did change, though.
Unlike the previous model, this one had fewer engine problems but more transmission problems. The biggest one was not shifting properly.
This was such a nuisance that not shifting properly was the most complained about issue in the entirety of Toyota Tacoma's history. No other specific fault had this many numbers of complaints.
Engine problems, although lesser in number, did remain. Engine surging at high speeds was of particular concern.
Acceleration often required pushing the entirety of the pedal, causing wastage of petrol. Body paint problems also lingered on.
What Are The Best Years For The Toyota Tacoma? Which Years To Buy
There are bound to be numerous great years for Toyota Tacoma since it has been in production since 1995.
I am going to explain them here below:
1. 1995 Toyota Tacoma
The first model that went commercial, the 1995 Toyota Tacoma, made a great first impression for this series going forward.
Let's start with its reliability. Even after 2 and half decades, the reliability of this model cannot be understated.
On comparing with the great modern models, this one stands above as the most reliable. This is backed up by the fact that it has very few reported complaints.
Even the complained about problems are relatively minor compared to some of the worse model years, and do not become prominent until the car has crossed 100,000 miles.
You might hear some customers saying faults arose within the first 50,000 miles of Tacoma's usage, but these complaints are far, and few in between, and also can be fixed in and under 500 dollars.
2. 1998 Toyota Tacoma
Similar to the previous first-generation models of Toyota Tacoma, there are little to no complaints regarding this model.
Mainly the problems stated about this 1998 model year were minor, like body paint problems, and even though serious problems were reported regarding seat belts, airbags, engine, etc., they were very small in number, almost negligible, or insignificant.
The price tag was also not that hefty. You can get this extremely reliable and safe compact truck for around $5000.
It is also not that expensive to maintain, as minor flaws, which are majorly reported, can be fixed for about $500.
It also comes with a passenger-side airbag shut-off switch. This makes the car much safer to be used for traveling with children.
3. 2004 Toyota Tacoma
The last car of the first-generation model series of Toyota Tacoma kept up the high standard that this entire generation had kept up diligently.
However, some issues did begin manifesting here. This 2004 Toyota Tacoma had very few complaints about it.
But of the complaints received, the majority was of the body paint.
It might be a minor problem but can cause frustration and unnecessary expenditure. This caused the owner satisfaction rating to be lesser than the ones for the previous models.
Even then, the car was a success. Not only was it affordable, but it also provided the proper features required for a vehicle of its nature.
It is rated 4.6 stars out of 5 on Edmunds.com, and many people that bought this vehicle when it first came out still have it.
4. 2015 Toyota Tacoma
Very few complaints were received for this 2015 model of the Toyota Tacoma, especially after some disastrous model years in the mid-2000s.
For the year and time it was received, the 2015 model year of Tacoma is reasonably priced. It is billed at $27,000 on average.
This truck runs smoothly with barely any hiccups. Coupled with its low number of complaints, you get one of the more popular Tacoma trucks out there. Multiple sources even list it as the most popular Tacoma car.
Apart from an engine issue, saying that there is a strange grinding noise when the engine is turned off, there is not anything you would need to worry about at all when purchasing this car.
5. 2020 Toyota Tacoma
There have been barely any problems regarding the 2020 model year of the Toyota Tacoma.
It is probably the most reliable Toyota Tacoma series after the first generation of model years.
In fact, according to Consumer Reports, this vehicle has a reliability rating of 5 out of 5. This is very rare. Cars may get high 4 at best, but never the full 5 out of 5.
Minor problems like interior design problems, there is not much wrong with this truck.
You might see some people having transmission or engine or brake issues, but they are far and few in between, not enough to make a significant impact on the reputation of this vehicle.
How Reliable Is A Toyota Tacoma?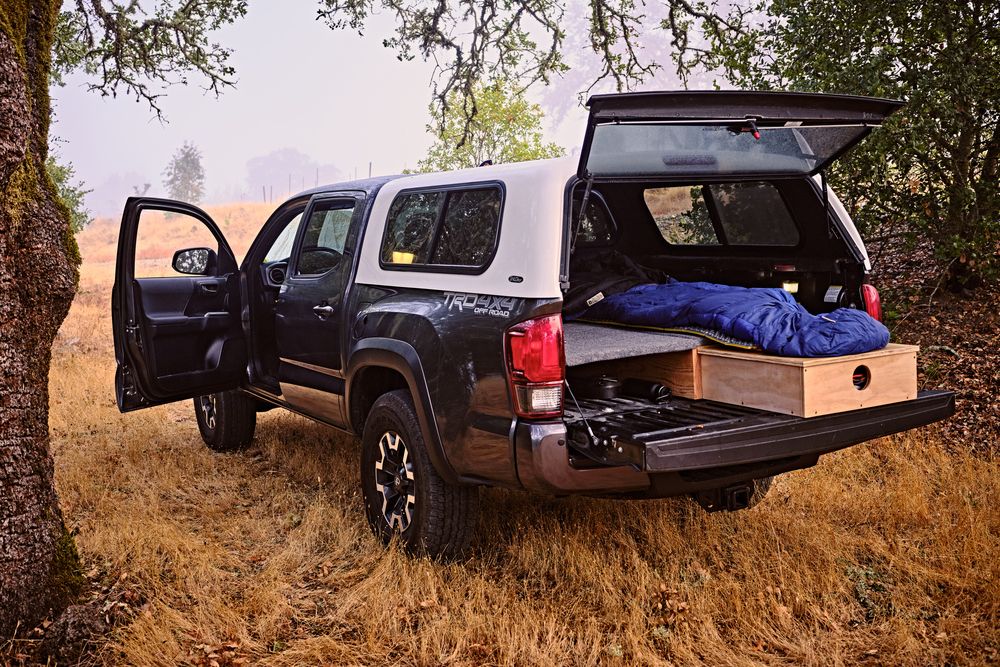 This might be one of the most reliable vehicles ever. It has to be like that because of the nature of this car and where it is made to be driven.
Even bad model years have an above-average rating. People have kept the Tacoma they bought for many years without it ever breaking down to the point of needing to replace it.
How Long Do Toyota Tacomas Last?
A well-maintained Toyota Tacoma can easily last up to even 400,000 miles.
Even if that does not happen, you can expect your Tacoma to last between 200,000 miles and 300,000 miles.
This means that even the models sold during the first-generation period of Tacoma are going strong today.
What To Do To Lengthen The Life Of Your Toyota Tacoma
It is important to take certain precautionary measures to ensure that your Tacoma lives to its full lifespan.
Here are a few tips to follow:
It is important to make sure you get your entire vehicle checked up at least once a year. Even if you are in a state that does not require by law yearly checkups, it is better to get the yearly inspection done.
You should get your vehicle's oil changed at regular inspections as specified by the manufacturer of said vehicle.
This is very important for keeping a healthy and efficient working engine. Toyota recommends changing Tacoma's oil and oil filter every 10,000 miles.
Make sure to always keep the fluid levels of your vehicle full. These include transmission fluid (which needs to be changed every 30,000 to 60,000 miles), coolant (changed every five years), and brake fluid (also should be changed every 4 to 5 years).
All these fluid levels should be checked every 500 miles as per the Toyota Maintenance Schedule.
Other aspects can also be added here, but these are the basics that need to be covered first to prolong the life expectancy of your Toyota Tacoma. After doing these you may look into more advanced maintenance methods.
Things That Shorten The Lifespan Of Your Toyota Tacoma
Just like there are activities that can increase your vehicle's lifespan, there are those which can reduce it as well.
Let's take a look at some of them:
Not adhering to maintenance schedule: Toyota has given a maintenance schedule for its vehicles.
If it is not followed strictly, it can cause damage to the car and shorten its lifespan.
Suspension: Tacoma has experienced issues with its suspension in some model years. Suspension needs to be maintained properly.
It is connected to many other parts and thus can seriously affect the life expectancy of your Tacoma.
Battery: battery needs to be replaced every 4 to 5 years. It is important to make sure the battery is always in good condition.
If these things are kept out of your practices for your vehicle, then you have a good chance of spending all that quality time with your vehicle.
3 Most Toyota Tacoma Common Problems You Should Know
Because of all the bad model years, there are bound to be some common problems throughout the history of Toyota Tacoma.
Here I will list the three most common problems:
1. Peeling Paint
Many Tacoma trucks have experienced this problem heavily, which has been a nuisance since the beginning of Toyota Tacoma.
Many people reported that Tacoma's roof painting peeled off without any apparent reason. Repaint costs you about $3000.
2. Faulty Transmission
This problem has affected even the high mileage cars of Tacoma. Main reasons stated for this problem are defective solenoid and/or throttle position sensor not being properly adjusted.
3. Lower Ball Joint Issues
This was the premature wear and tear of the lower ball joint. This made the steering wheel difficult to maneuver and self-center.
Front suspension also became faulty, as many users reported a strange noise coming from it.
Frequently Asked Questions
Q1: Is Toyota Tacoma A Good Car?
For the purpose for which it was built, Toyota Tacoma is an excellent truck. It has stayed strong in the market for 27 years and counting.
Not only is it extremely reliable, but also really affordable. It is fuel-efficient and provides value for every penny it is billed at.
Many people that bought the first and second generation of Tacoma's when they came out still continue to use them.
Q2: Do Toyota Tacomas Hold Their Value?
Toyota Tacoma has one of the best resale values for any midsize truck.
While the average midsize truck will hold about only half of its value after five years, Tacoma will hold around 67% of its value after five years.
Coupled with the fact that Tacoma's can last you a lifetime even, this resale value figure becomes even more impressive.
Q3: How Many Toyota Tacomas Have Been Sold?
Since 2005, Toyota has sold about 3.1 million units of Tacoma trucks. This is in the United States alone. This is not completely surprising considering its reliability and resale value of it.
Q4: Which Toyota Tacoma Engine Is The Most Reliable?
The four-cylinder4x4 double cab 3.5L V6 engine is the best and most reliable engine of the Toyota Tacoma.
It is perfect for the off-road traveling Tacoma has too so often do. It can tow up to 6800 pounds.
Q5: Is Toyota Tacoma Expensive To Maintain?
No, it really is not. The average cost for repairs for all vehicles is $652 and $548 for midsize trucks per year.
Whereas in contrast, the average cost of repair for a Toyota Tacoma is only a measly $478. This makes Tacoma just overall a cheap, affordable, and reliable vehicle to purchase.
Conclusion
Toyota Tacoma has been an influential vehicle, especially for midsize trucks.
Since its inception, it has always accomplished the purpose for which it was created in the first place.
Even after all the ups and downs throughout the years, overall, the quality of these trucks has been stable.
The best and worst years for Toyota Tacoma have been discussed, but you can still safely go out and buy whatever version or model you want of this truck.
It will more likely than not end up being there with you for the next decade, at least. Even your children can learn to drive in your Tacoma!
References:
https://www.yourmechanic.com/estimates/toyota/tacoma
https://www.edmunds.com/toyota/tacoma/2020/cost-to-own/
https://www.torquenews.com/17612/toyota-tacoma-least-depreciating-vehicle-2022-here-s-why