Owning a car comes with a few responsibilities and duties. Including being a responsible driver, making sure the car is taken care of, and giving it the proper maintenance it needs, keeping the car roadworthy is vital to maintaining optimum performance.
Having a reliable and efficient charger for automotive batteries is advisable for car owners, especially the newbies out there.
My all-inclusive buying guide will help you get the best car battery charger to suit your needs and provide additional information about automotive battery chargers.
In A Hurry? Here's My Top Picks…
Table could not be displayed.
Top 10 Best Car Battery Chargers Reviews
To help you in your search for the ideal car battery charger, I have made a list of my top ten picks for this year.
In this guide, I reviewed each of the products by taking a closer look at their features, strengths, weaknesses, and prices.
I assure you that all of them passed our criteria and all the models included on the list are only the best ones.
1. Jump-N-Carry JNC660 From Clore Automotive
Manufactured by Clore Automotive, one of the leading brands in the automotive equipment aftermarket.
The Jump-N-Carry JNC660 model is a reliable product, and it promises optimized performance and absolute power as a jump starter.
Equipped with the patented performer battery of Clore, its equipment is designed to deliver outstanding power, lengthened cranking duration, and more jumps for every full charge.
Additionally, this model is engineered to have a longer service life, and that makes it worthy of being called a smart investment.
The Jump-N-Carry JNC660 is built with a lot of amazing features. Apart from the solidly built unit, it also includes 46-inch heavy-duty cables.
The cables are long enough to make it convenient for users to go around any type of vehicle.
At the end of the cables, there are clamps that are designed to ensure a secure connection — even when corrosion is present.
Equipped with Clore's battery technology, it delivers the maximum amount of power. The design also gives the durability it needs to endure the test of time.
Another great feature is the model's automated recharging, which allows the unit to be left plugged in and always ready to be used.
With its impressive power, sleek design, and durability, this charger is considered to be one of the best chargers today.
Despite being a portable unit, this model does not fit in the car's glove box. It should be stored at the back of the car, making it a little inconvenient to use. The Jump-N-Carry JNC660 also has a built-in compressor, and it's known as the most vulnerable part of the unit.
Pros
Great longevity
Extremely durable
Efficient energy transfer
Automatic charging feature
Cons
Simple design
No built-in light
Unreliable compressor
TOP PICK
2. Plus 021-0128 From Battery Tender
The Plus 021-0128 Battery Charger, or jump starter,manufactured by Battery Tender is a cleverly built device that boasts a sleek and compact design.
Despite its small size, the 021-0128 model is engineered to efficiently recharge a car battery and to keep it at its optimum voltage.
With this feature, the charger protects the battery from any damage caused by trickle charging.
As a very reliable and battery charger that offers a lot of amazing features, this model is one of the most sought after chargers today.
One of this charger's most awesome features is the option that allows users to choose between full or float charging modes.
The model is also a 1.25-ampere battery charger that can charge a battery faster than a normal 3-ampere charger.
It's also designed with a feature that protects the battery from reversed polarity.
As one of the most recommended battery chargers today, this unit from Battery Tender also includes a 10-year warranty policy, making it a sound investment.
So if you are looking for a compact, durable, reliable, and feature-packed battery charger, this one should be on your list.
What would make this charger model even more perfect? The alligator clams at the end of the cables could be made a little bigger. Small clamps, like the ones on this unit, are at risk of sudden disconnection.
Pros
Sleek and compact design
Excellent warranty
High charging rate
Reverse polarity protection
Cons
Small clamps
Unreliable cables
High disconnection risk
I earn a commission if you click this link and make a purchase at no additional cost to you.
3. Genius G3500 From Noco
The Genius G3500 Battery Charger comes from another household brand that has crossed over to the automotive equipment industry.
Noco is popular because its products are engineered with advanced technology, and they are very safe to use.
The Genius G3500 is a sophisticated 3.5-ampere battery charger designed to recharge both 6 and 12 volts batteries of any type.
That is why this model is recommended for several battery types.
Built with a technology that allows the Genius G3500, it is engineered to charge batteries two times faster than regular chargers.
The unit is also built to work on both CANBUS systems as well as hybrid vehicles.
This model has "Genius" in its name because it has an onboard computer that ensures the safety and monitors the charging process.
Coming with a full five-year warranty policy, this is a feature-packed battery charger. It's one of the most recommended units on the market today.
So, if you are a car owner looking to invest in a solid battery charger, this model from Noco should be on your list.
There's one thing you have to be concerned about this battery charger or jump starter kit model. Based on some of the user reviews I've read, it struggles to consistently perform on extremely cold temperatures.
Pros
Wide range compatibility
Fast charging
Efficient and safe
Water and UV resistant
Cons
Unfit for flat cells
Struggles in cold
Low CCA
I earn a commission if you click this link and make a purchase at no additional cost to you.
4. BM3B Battery Charger From Black + Decker
Manufactured by one of the household names in the tech industry, the BM3B battery charger is another feature-packed unit to keep in mind.
Just like other Black & Decker products, the BM3B Model promises optimum performance, efficiency, safety and excellent service life.
Regardless of its reputation, reliability is one of the reasons this model is recommended by a lot of seasoned drivers.
The BM3B model is engineered to work with a wide range of vehicles, and it's virtually universal. It can charge 6V to 12V batteries of any type.
It's also designed to protect the battery from overcharging, reverse polarity, and shorting.
The battery charger's technology also makes it one of the safest units you can find on the market.
With all the innovations and modern advancements used to manufacture this battery charger, it's one unit that every driver today should check out.
Much like the other compact devices in my list, the BM3B from Black & Decker also struggles to perform in severe conditions. Its battery is also vulnerable to damages when used with low charge remaining.
Pros
Wide range compatibility
Circuit protection system
Versatile and flexible
Durable and reliable
Cons
Poor LED lights
Inefficient battery
Low CCA
I earn a commission if you click this link and make a purchase at no additional cost to you.
5. DBPower 600A Portable Car Jump Starter
If you are a driver looking for a compact and reliable jump starter or battery charger, the DBPower 600A model is the one for you.
Despite its small size, this device is unlike any other jump starter kit on the market.
With its innovative construction and clever engineering, it's widely recommended by seasoned drivers.
Regardless of its size, this innovative kit is designed to deliver a powerful output that can come up to 600 amps.
Enough power to start petrol engines or diesel engines twenty times with a single full charge.
It also has a built-in USB port for charging other electronic gadgets, making it great for a number of uses.
Another amazing thing about the DBPower 600A is that it has a smart feature that allows the device to protect batteries from issues like overcharging and shorting.
It also comes with a three-year warranty plan that makes it a smart investment for drivers who use a lot of gadgets.
Designed to be used in a fully charged state to avoid performance issues, it is a powerful and small device. But using it with a low amount of charge runs the risk of damaging its battery.
Pros
Compact and portable
Powerful output
Can charge devices
Circuit protection feature
Cons
Unreliable with low charge
No manual included
I earn a commission if you click this link and make a purchase at no additional cost to you.
6. SC-1200A-CA SpeedCharger From Schumacher
Next on the list is a device from Schumacher called the SC-1200A-CA SpeedCharger. A battery charger capable of charging batteries a lot faster than regular chargers.
This model is a fully automated battery charger packed with plenty of amazing features.
Aside from its fast charging capabilities, it's also built with the latest technological features that every driver will find useful.
The SC-1200A-CA SpeedCharger is engineered with a sophisticated microprocessor that serves as its brain.
It allows the charger to monitor the status of the battery and to detect its entire status.
It's also built to be capable of performing different types of charging, which makes it suitable for various applications.
The build and construction of this unit are very innovative; it has a sleek design that makes it portable and space saving. It's also durable enough to offer a longer service life.
With a reliable performance level, this particular unit is very well worth the price listed on the tag.
If used with a few remaining charges left, the battery charger can be inconsistent. This is one of this unit's only downsides, but it's a handy device for both battery charging and jump starting.
Pros
Portable and compact
Powerful output
Wide range compatibility
Convenient to use
Cons
Inconsistent output
Low durability
High self-discharge rate
I earn a commission if you click this link and make a purchase at no additional cost to you.
7. BT-D11 800A Portable Jump Starter From BeatIt
Beaty's BT-D11 portable battery charger is perfect for drivers looking for a portable kit with a lot of power.
It is a reliable unit powerful enough to jump-start any type of vehicle as long as they have a diesel or petrol engine.
It's a device that every driver should have in their toolboxes.
The BT-D11 portable battery charger is built to deliver absolute power and to have thirty jump starts for every single full charge.
Plus, its compact design allows users to store it in the glove box of the car, making it one of the most convenient devices out there.
A very innovative unit, its smart design system offers protection from issues like short circuit, reverse polarity, overcharging, and power surge.
With a peak output that climbs up to 800 amperes, it's one of the safest units to use.
Additionally, the unit features LCD lights that indicate the status of the remaining power, and it also has built with a handy SOS flashlight.
As a cleverly designed jump starter kit, this is a great device to invest for both experienced and new drivers alike.
As a kit that can be used as a power bank and apart from primarily being a jump starter, there is a risk of being misplaced. This unit is easily affected by temperature, and using it on a really cold morning or a very hot day may cause it to struggle.
Pros
Compact and portable
Powerful output
Safe to use
Charges gadgets and devices
Cons
Low durability
Unreliable USB ports
I earn a commission if you click this link and make a purchase at no additional cost to you.
8. GooLoo 12V Car Jump Starter And Power Bank
The Gooloo 800A is a two-in-one charger that can function as a jump start kit or as a power bank to charge electronic devices.
It's a cleverly designed, compact tool that packs a lot of power, and it's reliable for jump-starting any type of vehicle.
Tech-savvy drivers can also use it to charge their gadgets while driving because it's small enough to fit in the glove box.
A sophisticated jump start kit, it's engineered to have a lot of safety features.
Despite its size, it comes equipped with a smart system that prevents issues like overloading, overcharging, and short-circuiting.
The built-in flashlight also makes it handy in dark places, and it can run for at least twelve hours, with three different light modes.
As a very compact device, the portability of the GooLoo Jump Starter Kit is considered only one of its assets.
However, it is a device that is unable to function well in extreme temperatures.
There are some minor drawbacks to this device. One of them is the fact that it is only capable of four jump-start attempts for every 120 seconds, and the performance of this jump starter kit is easily affected by extreme temperatures.
Pros
Compact and portable
Very safe unit to use
Delivers absolute power
I earn a commission if you click this link and make a purchase at no additional cost to you.
9. MP00205A Fully Automatic Battery Charger From MotorPower
MotorPower's MP00205A is a fully automated charger model that also functions as a jump starter.
As one of the most reliable devices on this list, this tool delivers great power enough for starting a wide range of vehicles.
One of the things that sets it apart is that users can leave it plugged in to boost convenience.
The charger is equipped with a microprocessor that allows it to detect the charge of the battery.
Once the battery is fully charged, the charging process stops; then, it maintains the battery's charge with a steady current.
Simply put, it means that users won't have to worry about overcharging the battery.
The charger's microprocessor also prevents reverse polarity and short-circuiting.
Also built with a Constant Pulse Current Maintenance feature that allows it to offer longer service life.
The device is also CE, RoHS, UL, and CEC certified, assuring reliability.
Additionally, it comes with a one year warranty so drivers can trust that they have purchased a great deal.
The compact design of this charger model might somehow affect its performance as it is considered as average compared to its counterparts. However, it is still a very handy device that is useful in a lot of situations.
Pros
Wide range compatibility
Very safe to use
Energy-efficient
Cons
Unreliable light indicators
Not powerful enough
I earn a commission if you click this link and make a purchase at no additional cost to you.
10. U10 800A Peak Portable Car Jump Starter From Suaoki
A portable and compact jump starter kit like the U10 Model manufactured by Suaoki is a lifesaver for drivers experiencing battery issues.
A model that can be stored on the glove box, the device also has built-in USB ports that make it suitable for charging other electronic devices. Handy and reliable, this device is a great unit to invest in.
Suaoki's portable jump starter kit has a built-in LCD screen with LED backlights that help monitor the state of the battery.
It shows the battery's consumption and output that gives the user the idea of its status, and it has a built-in flashlight that can come in handy during emergencies.
The U10 model is built with sturdy and reliable cables with clamps that ensure strong connections.
The cables are colored making it easy for users to identify them and to make sure that the polarity is always correct when connecting.
This unit is an average performer, especially when it has a remaining charge that is below 75%. It also does not work well in cold temperatures, and it will require you to do several attempts to jump-start.
Pros
Charges devices
Compact and portable
Powerful and reliable
Cons
Durability issues
Unreliable if low charge
I earn a commission if you click this link and make a purchase at no additional cost to you.
Things To Consider In Buying A Car Battery Charger
Now that you've learned about the top models of battery chargers to check out this year, you may still have a bit of a problem in choosing the right one.
All of the models on the list above are considered to be the best, yet you will need to choose between them. Unless, of course, you have the money to buy all of them.
On that note, you have to come up with a wise decision in order to get the one that best suits your needs while complementing your style or preference.
To help you come up with that wise decision, here's a guide with a list of the significant things to consider in choosing a battery charger.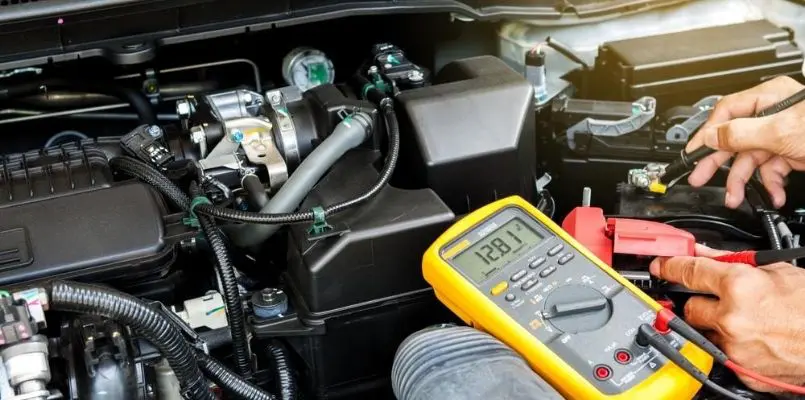 1. Safety Features
If you are looking for a battery charger, one of the things you have to ask yourself is, is the model safe to use?
You have to make sure that the product will be safe to use and that it has the features that will make the charging process safe for both the charger and the battery.
A battery charger model that has protection against reverse polarity overcharging, power surge, and other similar issues will be one of your greatest investments.
2. Power And Output Rating
Another important thing you have to consider is the amount of power your vehicle or devices need.
If you are looking for a charger just to take care of your car battery, then you might need a unit that produces enough power for your battery alone.
However, if you are a driver that looks for a charger that can also support various gadgets, or to be used for other larger vehicles, you will have to go for a charger that promises more power.
3. Unit's Portability And Design
When looking for a battery charger, you also have to consider the design of the unit.
Do you want a portable and compact unit, or do you want a bulky unit that ensures performance?
As you can see, most of the units on the list are portable and safe to use.
So going for these units presents a lot of benefits because you can carry them around and you can also store them on the glove box.
However, in the end, it will be up to you to decide what you really need.
4. Manual Vs. Automatic Charger
You will also have to decide between a manual charging unit or an automatic unit.
A manual battery charger may cost less compared to an automatic charger, but automatic chargers offer more benefits.
Automatic chargers are usually built with more security features, so they can protect your battery from issues like shorting, overcharging, reverse polarity, and overvoltage.
Spending a bit of money for those features will be a smart decision. However, the decision will be yours in the end.
Conclusion
With all the information I've given you, you are now well equipped with the proper knowledge to help you make a smart decision — a decision that will lead you to the best car battery charger for your needs.
So, make sure to keep these things in mind and take some time to consider the list of models here.
Once you've compared each product and considered everything you need to think about, then you can be confident that you are going to invest in the right model for your specific needs.