Keeping a car in road-worthy shape is one of the most important responsibilities that comes with car ownership.
From the car's exterior to its interior, and down to every component of the car, routine checkups are the key to successful car maintenance.
Making sure the automotive battery is conditioned is also crucial to ensure a smooth drive and optimum vehicle performance.
As one of the main components that enable a vehicle to run, having a good and reliable battery is a must for car owners.
With that in mind, if you are a car owner, you have to make sure to get the best car battery — or at least a good one for your car.
Join me in this guide as I will help you pick the ideal model for you!
In A Hurry? Here's My Top Picks…
Table could not be displayed.
10 Top Rated Car Batteries Comparisons
In the list below, you will find what I think are the top-rated automotive battery models on the market because they offer top of the line quality.
They are also reasonably priced, promising you the best value for every penny you will spend. So feel free to check out the products that made it to our list!
1. Optima 34/78 RedTop Automotive Battery
The first product on my list comes from a household brand in the car battery industry; the 34/78 RedTop Car Battery from Optima.
Engineered for high-powered starting, this car battery is reliable and dependable in extreme weather conditions.
Due to its impressive cranking amps and even in cold weather, it's one of the most recommended batteries for trucks, off-road vehicles, SUVs, and hot rods.
Designed with a SPIRALCELL technology, this 12-volt car battery boasts a whopping 800 Cold Cranking Amps, which allow it to produce consistent high ignition power.
The RedTop starting battery is also built to have excellent vibration resistance that increases its service life and ensures optimal performance.
In addition to its top of the line performance, Optima batteries are designed for easy installation. It's also spill-proof and maintenance-free.
Apart from being a little pricey, one of the downsides of this Optima battery model is that it is not suitable for seasonal use. When this battery is left idle for a long time, its performance is greatly affected.
Pros
High CA and CCA
Wide-range compatibility
Maintenance-free
Spill and leak proof
Cons
Not for seasonal use
High self-discharge
TOP PICK
2. ACDelco Advantage AGM Battery Series – BCI Group 51
Another series from ACDelco, the Advantage Series is a product that every Prius owner should look out for on the market.
Designed for the unique energy requirements of Toyota's Prius models, the BCI Group 51 Advantage AGM is a reliable product that offers superb quality, excellent performance, and rugged durability for a reasonable price.
Engineered with valve-regulated oxygen recombination technology to minimize water loss, this automotive battery promises optimal performance with little upkeep.
It's built with calcium plates and pressurized, lead-proof valves that are constantly regulated for longer battery life.
With high safety ratings, it's also considered one of the safest car batteries available on the consumer market.
Additionally, this battery is also crafted for easy installation with spill-proof casing for minimal upkeep.
But you have to be careful because some of its external parts contain harmful chemicals like lead that can cause health issues.
Additionally, this battery is crafted for easy installation with spill-proof casing for minimal upkeep. But you have to be careful because some of its external parts contain harmful chemicals like lead that can cause health issues.
Pros
Maintenance-free
Longer battery cycles
Longer service life
Spill-proof
Good warranty
Cons
Harmful chemicals
Not eco-friendly
I earn a commission if you click this link and make a purchase at no additional cost to you.
3. Odyssey Model PC680 Automotive Battery
Coming from Odyssey's Extreme Series, my next entry is the PC680 Car Battery.
Manufactured with an AGM design, this powerful and rugged automotive battery is built to take any kind of punishment.
An extremely durable product, it doesn't have any problems working on the land, water, or even snow.
That is why it is well-suited for cars that need a lot of power like sport vehicles.
Compared to conventional batteries, this model from Odyssey has better shock protection and vibration resistance.
It has 70% more battery cycle than the normal deep cycle batteries on the market.
Boasting a battery cycle that can tower up to 400 with an 80% depth of discharge, this maintenance-free battery is surely worth every dime.
The problem with this Odyssey manufactured product is that it has the risk of ignition issues if it is subjected to seasonal use. Leaving this battery idle for long periods of time decreases its ability to put up a strong burst of energy.
Pros
Excellent performance
Recharge efficient (#1 in the market)
High CA and CCA
Versatile and flexible
Leak-proof
Cons
Not for seasonal use
High self-discharge rate
I earn a commission if you click this link and make a purchase at no additional cost to you.
4. Mighty Max ML35-12 Automotive Battery
This next entry is considered as one of the best and most frequently recommended solar batteries today.
Manufactured by Mighty Max, the ML35-12 is a deep cycle battery that's well regarded for its wide range of applications.
This reasonably priced SLA battery is widely used to power vehicles, tools, generators, and machines.
No matter what your needs are, this proven and tested product, will surely come in handy.
Built with a calcium-alloy grid for enhanced performance, this is a heavy-duty AGM battery.
With a valve-regulated design that prevents leakage for minimal upkeep, it's virtually maintenance-free.
Its deep cycle feature also allows it to have a longer battery life cycle for longer usage, as well as service life.
The battery also comes with a year-long Mighty Max warranty and a 30-day refund plan that makes it a sound investment.
However, you need to make sure that it will fit perfectly when installed. This automotive battery model will require you to double-check the size of the battery tray or compartment.
Pros
AGM technology
Wide-range compatibility
Impressive performance
Comes with a good warranty
Cons
Difficult installation
Low heat resistance
I earn a commission if you click this link and make a purchase at no additional cost to you.
5. Optima YellowTop D35 Dual-Purpose Car Battery
If you are in the market for a reliable and powerful battery for ignition that can support a heavier electronic system, then the D35 YellowTop Dual Purpose Battery from Optima is your best bet.
This beast of automotive equipment packs a lot of power and energy for ignition.
It's also adept at powering additional accessories like AV systems, aesthetic lighting, and gadgets.
It's perfect for modern vehicles — especially the ones with automatic transmissions.
With Optima's patented SpiralCell battery design, this 12V dual-purpose battery is a reliable power source with an extremely low rate of self-discharge, making it great for seasonal use.
Boasting a CCA that can climb up to 620 amps with a reserve capacity of 98 mins, this battery won't have any problems working on a hot or a cold day.
With regards to its built, the battery is engineered to resist intense vibrations and shocks, allowing it to last three times longer than conventional batteries.
Additionally, the battery is virtually spill-proof and mountable in any position.
As a dual-purpose AGM type of battery, this model from Optima has a high risk of overheating. Also, the battery's excellent features come with a cost that pushes its price to a higher range.
Pros
Very powerful
High energy density
Low self-discharge rate
Impressive longevity
Suits seasonal use
Cons
High risk of overheating
A bit pricey
I earn a commission if you click this link and make a purchase at no additional cost to you.
6. ACDelco's Professional AGM Line of Car Batteries
First to qualify on my list is the Professional AGM line of automotive batteries manufactured by ACDelco.
Coming from one of the most popular brands in the industry, these batteries are designed and engineered to deliver quality performance that meets lives up to "professional" standards.
Products under this ACDelco's line are built to exceed the OE specifications.
Featuring the AGM design and to enhance conductivity, these batteries are efficient in minimizing the loss of active mass within the grid.
The AGM engineering of these batteries also allows them to offer longer battery life and more improved acid circulation.
Apart from the impressive performance, these batteries are also spill-proof and leak-proof — features that further lengthen its service life.
Battery models under this product line of ACDelco are built with terminals that are not affected by corrosion. However, the external parts of the battery contain lead and other harmful substances that can lead to health issues.
Pros
Maintenance-free
High conductivity level
Spill-proof
Better longevity
Cons
With harmful chemicals
Not eco-friendly
I earn a commission if you click this link and make a purchase at no additional cost to you.
7. Soundquest SQB20000 AGM Power Battery
The SQB2000 AGM Power Battery from Soundquest is one of the most affordable options on my list.
As a powerful battery that has an excess of 2000 watts, it's a perfect replacement battery for vehicles with high-end speakers.
Aside from its reliable starting power, it also stores an ample amount of energy to support a car's electrical grid.
As a powerful battery that is designed with absorbent glass mat technology, the leak-proof power cell has three hundred plus full discharge cycles that gives it more service life.
As an affordable, yet powerful, car audio battery, this is a sound investment for a replacement battery.
However, this battery model should not be fully drained. Doing so will make it hard for the battery to return to its fully recharged state. It's the main reason this model is only recommended as a backup unit.
Pros
Highly recommended
Wide-range of applications
Vibration and heat resistant
Maintenance-free
AGM design
Cons
Low recovery rate
Mainly a backup
I earn a commission if you click this link and make a purchase at no additional cost to you.
8. Kinetik BLU Series HC600 AGM Car Audio Battery
Next on my list is the HC600 AGM Car Audio Battery from Kinetik's BLU Series.
This battery may look small, but don't let it deceive you. It has a crazy amount of power waiting to be unleashed.
This 600W battery can supply up to 800 amps of power. That's enough to start a V8 or a demanding sound system, making it perfect for the music lovers out there.
Small yet powerful, this unit is a 100% spill-proof AGM battery that boasts 600 CA on an 18 amp hour rating.
However, the best asset of this battery is its exceptional audio power cells that are considered as the most compact, robust, and well-built audio cells available today.
This battery has more plates that increase its energy density for better voltage under load.
As for its construction, the car audio battery is built to stand up to intense heat and endure extreme vibrations.
Thanks to its casing made from reinforced plastic and a cheaper price tag, this battery model is an excellent choice if you are looking for battery replacement packed with more power.
The weakness of this model is that it tends to supply all of its stored energy to the highest electronic load. This causes the other components to underperform because of insufficient supply of power.
Pros
Leak-free construction
Vibration and heat resistant
AGM design
Perfect for high-end sound systems
Cons
Mainly used as a backup
Unreliable output
I earn a commission if you click this link and make a purchase at no additional cost to you.
9. DieHard Gold Advanced AGM Battery – Group 34R
Considered as one of the best Gold AGM batteries today, this product manufactured by DieHard offers impressive power as well as reliability.
It has a cold-cranking amp that can go up to 772 amperes; that is why it is an excellent replacement battery for regular vehicles.
Careful AGM technology design makes it spill-proof, longer-lasting, and extremely resistant to vibration.
Another excellent thing about this product is that it is tagged at an affordable price. With this battery, customers get excellent value for their money.
Although this AGM car battery model promises high cranking power, using it on slightly larger vehicles lessens its efficiency. This is the type of car battery that only suits small vehicles with a smaller electrical grid.
Pros
Powerful and efficient
Wide-range compatibility
Excellent performance
Long service life
With good warranty
Cons
Longevity issues
Low power output
I earn a commission if you click this link and make a purchase at no additional cost to you.
10. Optima 8025-160 RedTop 34R Starting Battery
Considered as one of the high-performance AGM batteries today, the 8025-160 RedTop Battery from Optima promises excellent starting power, regardless of weather conditions.
As a well-built battery with rugged construction, it's designed for heavy-duty use like powering off-road vehicles, hot rods, and heavy-duty trucks.
It's revered for being one of the batteries that can keep up with the demands of modern vehicles.
Like other batteries manufactured by Optima, the 8025-160 model is built with patented SpiralCell technology.
This AGM powercell is made with pure lead plates that are precisely coated with lead oxide, allowing it to produce more power safely and furtherly extend its shelf life.
The battery's cold-cranking amps can rise up to 800 amperes with a 100-minute reserve capacity that consistently provides optimal performance.
The AGM technology of the battery makes it spill-proof and durable while giving it excellent resistance to vibrations and shocks.
As a sturdy battery model, this battery is a superb choice for trucks, SUVs, and hot rods alike.
With its excellent features, you might say that it is easily the best model in this list. Yes, it might be arguably the best, but those features come with a higher price tag that some drivers might think of as expensive.
Pros
High CA and CCA
Spill-proof and maintenance-free
Durable and rugged
High-performance battery
Cons
A bit expensive
Overheating risk
I earn a commission if you click this link and make a purchase at no additional cost to you.
Buying Guide For Car Batteries
Now that you've learned my top picks of the best car batteries available on the market today, you only have to pick the right one for your needs.
To make sure that the battery you buy is the perfect fit for your vehicle and to further help you in your search for the right product, I will impart a few helpful bits of advice.
In the guide below, I have included all the things you'll have to consider when you are shopping for the right automotive battery.
To avoid making common mistakes most people commit, feel free to check them out and to take some notes that you can bring with you.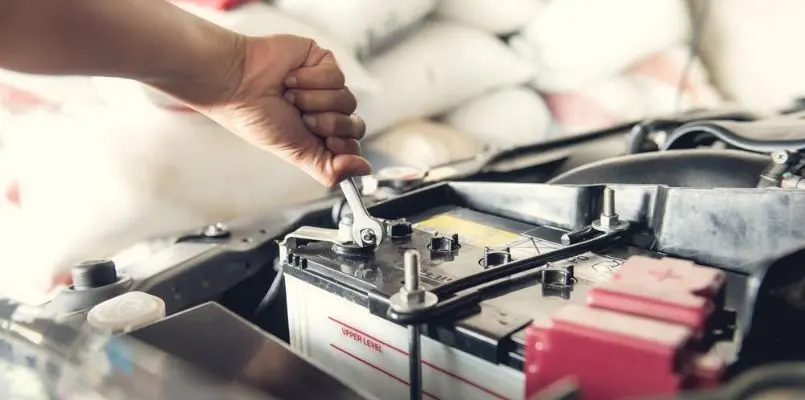 Essential Things To Think About When Buying A Car Battery
When it comes to shopping for the right car battery that will be perfect for your vehicle's needs, you'll have to do a little research.
You'll need to take some time to contemplate the things that will affect your decision, and to think about your car and its performance requirements.
Then, get yourself ready to go to the market and look for the potential candidates that pass your standards.
Once you have a list of the best candidates, you can narrow it down by comparing them.
Take a closer look at the details each of them has; then, from there, you can decide what will be the best product that will fit your needs.
To make it easier, here's a list of all the significant things you need to consider when buying a car battery.
1. Electrical Power Needs Or Requirements
If you are going to look for the best battery for your vehicle, the very first thing you have to consider is the amount of power your car needs.
To make sure that you can rely on the battery in whatever weather condition, you have to think about cranking amps (CA) and cold cranking amps (CCA).
You will also have to consider how much power your car's electric grid will support — think all the electronic gadgets you use on a daily basis.
Normally, a car battery supports the headlights, AC unit and the radio.
But if you are the type of driver that uses more additional gadgets or if your car has some additional electrical components like neon lights and hydraulics, your car's grid will definitely need more power.
2. Right Battery Size And Specifications
Obviously, the car battery you will buy should fit your car. You have to consider the size and specifications of the battery and its relative fit to your car's battery case.
In addition to the right length and width, you also have to make sure that the battery terminal location is correct for easier installation.
If you are unsure about this, you can consult a mechanic for advice.
3. Upkeep Requirements Of The Battery
Thinking about the maintenance requirements of the battery is important because the right choice will save you money in the long run because you won't have to pay a mechanic to do it for you.
A maintenance-free battery can also save you a lot of time and effort because they leave you with little to do.
4. Included Warranty Policy
Considering the warranty plan included in the battery is also important because it saves you money, and it will tell you how reliable the product is.
A good warranty policy means that the manufacturer is confident about its product — it's the company's way of assuring customers that their product is reliable.
Insurance policies can also save you money because they offer free replacements or repairs in the event of battery failure.
With it, you won't have to pay for any fees or buy a new one to replace it.
5. Other Additional Features
Taking some time taking a look at the additional features a car battery offers is extremely beneficial.
A car battery with extra features means that it can do a lot more than conventional batteries.
Conventional batteries are only designed for starting a vehicle and supporting its basic electrical needs. Batteries with extra features often offer more stored energy.
Various Types Of Automotive Batteries On The Market
Familiarizing yourself with the different types of car batteries on the market will influence you to make a wise decision.
A piece of knowledge about these batteries will be handy because you will know how each of the functions and what each battery technology has to offer.
To get to know these battery types, you can just reference our guide below.
1. SLI Automotive Battery
SLI stands for starting, lighting, and ignition, and it's the most common type of car battery on the market.
Its basic design supplies power to a car's starting and other basic electrical components. It has a short battery cycle, and it can only produce short bursts of power.
2. Flooded Automotive Battery
Also known as Wet Cell battery, the flooded automotive battery is considered the cheapest type car battery around the world. Using a liquid-form of electrolytes, it's prone to leakage.
It's also demanding when it comes to maintenance. The liquid inside this battery type needs to be replaced manually on a consistent basis to ensure reliability.
3. Valve Regulated Lead-Acid Automotive Battery
VRLA car batteries are very similar to the flooded type, but VRLA batteries do not require a lot of maintenance.
You won't have to replace the liquid inside this battery type because it cannot be serviced.
The VRLA type of battery is divided into two categories: Gel Type and AGM. It offers more power in short bursts, making it the most reliable in deep cycle operations.
4. Li-ion Automotive Batteries
A lithium-ion car battery is the most expensive type on the market.
Considered as the most technologically advanced battery technology, it has a higher tag price than other battery types.
Li-ion batteries store more power and offer more service life, but it's only compatible with a few new models of vehicles.
Top 10 Car Battery Brands You Can Depend On
Having a good car battery is very beneficial for a couple of reasons.
Not only will it keep your vehicle in good shape, it will also make sure that your car's electronics run smoothly.
However, there's an overwhelming amount of car battery choices available on the market right now.
Choosing a good one for your car can be a daunting task. Fortunately for you, I've provided you with a list of today's best brands.
1. DieHard
Retailed at Sears, DieHard is a brand that's popular for its innovative automotive power cells.
When released in 1967, it was recognized as America's most groundbreaking car battery.
Mainly engineered to last longer compared to the normal batteries back then, DieHard batteries were and are revolutionary in the vehicle industry
Priced at less than a hundred bucks, the demand for these batteries at Sears is off the charts.
Considering that DieHard batteries are "high-performance" power cells, the price is a bargain.
DieHard also offers a plethora of battery models, perfect for any type of vehicle out there.
Sears offers a three-year replacement warranty for DieHard, making this brand a smart choice.
2. Odyssey
Manufactured by one of the global leaders in stored energy innovations and solutions, EnerSys®, Odyssey is widely renowned for optimum performance, durability, and longevity.
Using modern advancements in technology, EnerSys® fabricates an array of batteries that are used in a wide range of applications.
Odyssey is a household brand in the stored energy industry, and most of its products are used in automatic, industrial, commercial, and military operations.
Odyssey's assortment of power cells is divided into three product lines: Extreme Series, Performance Series, and Marine Series.
All models are fabricated and engineered with patented battery technology that gives their batteries more cycles, and longer shelf and service lives.
To ensure their clients top of the line quality, all EnerSys® products also include excellent warranty policies.
3. NAPA
When it comes to replacement car batteries, NAPA is a brand that can be a smart choice.
NAPA specializes in manufacturing an "eighty-four" series of automotive batteries that are designed for all types of vehicles.
Engineered with the latest innovations in energy storage, NAPA's battery series are reliable in extreme temperatures. That's why it's one of the most recommended brands.
Ranging from a hundred bucks all the way to two hundred and including a twenty-four-month warranty, all NAPA batteries are reasonably priced.
Not too shabby price for high-performance batteries with excellent quality as well as durability!
4. KirkLand
The KirkLand battery brand is Costco's counterpart to the Sears Diehard line.
KirkLand is well known for being a low-cost, reliable automotive battery built with specifications on par with the more expensive brands.
KirkLand batteries are engineered to endure extreme vibrations and severe weather conditions without affecting performance.
Because KirkLand's products offer longer service life, the brand's cell innovations make it the epitome of longevity.
Apart from the awesome reliability KirkLand batteries offer, they are also very resilient with regards to the "wear and tear".
Priced at almost 50% lower than the premiere battery brands, KirkLand is a brand that gives better-known brands a run for their money.
KirkLand also promises a full refund if their manufactured product underperforms, regardless of the cause.
5. Optima
One of the most popular brands in the car battery industry right now is Optima.
On a global scale, this brand is famous for its SpiralCell battery technology, which is the core of its product design.
Optima batteries are also known for their heavy-duty build, which allows them to stand through the test of time, endure extreme vibrations, and hold up in extreme hot or cold temperatures.
Although batteries manufactured by Optima are within the high price range, I can assure you that they are well worth investments.
Its longer service life, unparalleled performance, and top of the line quality make it the best value for every penny spent.
6. AC Delco
Batteries manufactured by ACDelco are proven to have excellent quality and performance.
As a brand founded a century ago, the company witnessed how car batteries evolved.
The insight has allowed the company to produce power cells with the latest innovations and technology.
Seasoned drivers often recommend this brand because of its unique engineering that produces corrosion-free battery terminals.
These power cells are very reliable since the terminals ensure excellent connections and smooth energy transmission.
Well known for its Gold and Silver product lines of automotive batteries, ACDelco products have gone through multiple quality tests to ensure impressive reliability.
Their car batteries are engineered to deliver great power while saving energy.
ACDelco car batteries are also competitively priced, which makes it one of the hottest brands today.
7. Duralast
As one of the most affordable car battery brands, Duralas Gold and Platinum models are highly recognized as an industry leader.
Duralast manufactures its battery models to deliver impressive performance, unwavering efficiency, and sturdy construction.
Exclusively marketed by AutoZone, you can get any of the three battery models for a very affordable price.
Duralast batteries are the most sought after products for battery replacement.
Duralast car batteries are cleverly engineered because they managed to keep the cost of building their power cells low without sacrificing performance and reliability.
Despite their low price tags, these batteries can go head to head with the expensive brands, performance-wise.
If you're looking for a replacement car battery, this is a brand that you have to check out.
8. EverStart
Distributed by Walmart, EverStart is the most low-cost brand of car batteries in this list.
Created by one of the most popular car manufacturers in the US, Johnson Controls, EverStart guarantees high-performance batteries that start as low as $75.
It's the perfect, cost-efficient option for drivers looking to replace their car batteries.
EverStart batteries are designed to deliver high cranking amps needed to reliably work in extreme hot or cold temperatures.
All EverStart models are also built with a maintenance-free casing that's designed to endure heavy vibrations.
If you are on a tight budget and you need to replace your car battery, EverStart is the brand you'll find most budget friendly.
9. Interstate
Offered by Costco, Interstate that has a wide array of electrical supply products.
Apart from their selection of automotive batteries, Interstate also manufactures power cells for recreational use and other applications.
Widely known for its low-cost yet high performing battery models, you can easily get an Interstate model from any Costco branch.
As the brand's motto says, Interstate batteries are "outrageously dependable."
Well-crafted and innovatively engineered to consistently deliver optimum performance, these batteries offer longer service life than the normal batteries out there.
Interstate is a smart and an affordable battery choice.
10. Duracell
Started as a company manufacturing the small alkaline batteries we commonly see at home, Duracell is a household brand that has gone big.
Due to the company's efforts to continue innovating the battery technology, Duracell is the leading producer of alkaline batteries.
And it has expanded its reach by releasing its automotive battery product line.
With Duracell's impressive reputation, the automotive battery models they offer are sure to be safe to use.
The Duracell car battery product line offers four impressive models: Starter, Advanced, Extreme, and Extreme AGM.
All of them are built with sturdy construction and battery innovation that ensures the optimum performance and durability we've come to know from Duracell.
Car Battery Frequently Asked Questions
With the goal of helping car owners with my knowledge of car batteries in mind, here are some of the most frequent questions people ask about automotive cells.
I've also included logical answers from leading industry experts.
How Does A Car Battery Work?
A car battery is considered to be the heart of a vehicle. It provides life to a car by supplying a burst of power to start the engine.
An automotive battery also supports the vehicle's electrical grid.
By converting the chemical energy inside into electrical energy, it delivers power to the engine and the electrical components of the car.
What Are The Reasons Why A Car Battery Fails?
Various factors can cause the demise of a car battery. The list below will show the most common ones.
Poor upkeep on both the vehicle and the battery
Driving habits can cause the battery to fail
Extremely cold or hot temperatures
Corrosion
How Can I Tell If My Battery Is Charged?
You can tell the battery is fully charged by using a multimeter. If it reads 13.7 to 14.7 volts while the car's engine is running, it is charged.
If the engine is not running, the meter should read 12.4 to 12.6 volts.
Conclusion
There you are! Now that you are familiar with my list, you are ready to go shopping for the best car battery for your vehicle's needs.
Make sure to take some important notes from our buying guide, and you'll come up with a wise decision and a sound investment!