The BMW X5 is a midsize luxury SUV that has been on the market since 1999 and has undergone many updates.
It's one of the most popular vehicles in its class and is known for being reliable, comfortable, and spacious. It checks all the right boxes, and it is a general view that the X5 is a great buy.
If you are planning to buy one, I personally believe, you need to do proper research to figure out the best and worst years for BMW X5.
Fortunately for you, I have done exactly that. With a lot of models on the market, it can get confusing to choose one.
I am here to make your life easier. But before that is done, let's list down the top and worst models of the SUV.
Worst Years for BMW X5:
2001
2008
2011
2012
2013
Best Years for BMW X5:
2000
2016
2017
2018
2020
The article below will discuss each of these models in detail.
It is my recommendation that you sit down and read wholeheartedly, as the information can have a huge impact on which model of the X5 you are going to buy.
What Are The Worst Years For The BMW X5? Which Years To Avoid
Normally, in this article section, I suggest people should avoid the models mentioned in this list.
Let's find out what is wrong with these models.
1. 2001 BMW X5
When it comes to the 2001 BMW X5, not many issues make it bad. It's just that there are enough of them that I had to include them on this list!
The engine had a problem with sludge build-up. That caused the engine to have trouble starting and running.
Another major issue was that the expansion tank was prone to cracking, which could cause coolant leaks and eventually lead to the engine overheating.
The final issue is that the brake lights would stop working, which can be dangerous if the driver behind the SUV cannot see it.
2. 2008 BMW X5
The 2008 model of the BMW X5 came years later than the previous one, and unfortunately, it was worse than that one. Its list of issues is short but is more serious.
The first problem is that the engine will stall while driving. If this happens, it's likely that you'll be unable to stop in time and could crash into something or someone.
A serious accident could occur if this happens while you're driving at high speed or on a busy highway.
The second problem is that water will leak into the interior of your SUV from the sunroof when it rains heavily outside.
That's something you don't want happening while driving around town!
3. 2011 BMW X5
If you've been searching for a new SUV and are considering the 2011 BMW X5, I want to talk to you about it.
The 2011 BMW X5 is one of the worst-rated models of all its competitors.
This is largely due to excessive oil consumption, which leads to stalling while driving and engine overheating. The engine cannot function properly without oil.
We've also seen reports of fuel odor in the cabin, suggesting a leak.
This can be incredibly dangerous—and I think that if you're looking for a luxury SUV as a daily driver, it's best to look elsewhere.
4. 2012 BMW X5
The 2012 BMW X5 has a lot of problems. First, the engine would fail due to metal shavings in the oil.
This caused the SUV's engine to seize, and it could no longer be used.
Another problem was oil leaks. The engine would overheat, causing major damage to the vehicle. Overheating was also reported due to a failing cooling system.
The lifespan can also be significantly reduced due to this issue. The list of issues with the 2012 BMW X5 doesn't end there.
The transmission was also a source of frustration for some users. It would grind and jerk, leading to an uncomfortable driving experience.
5. 2013 BMW X5
Last but not least is the 2013 BMW X5. This is bad news for those considering purchasing the model—due to its various issues, which will be discussed.
First, the engine harness would become faulty. This could cause problems with the electrical system of the SUV.
The ignition coil could also fail, resulting in an engine that hesitates while starting up. Finally, some customers have reported that their engines would overheat too.
The transmission has been known to malfunction and shift into neutral while driving.
This prevents drivers from accelerating. It can be dangerous, especially if you are on a highway.
What Are The Best Years For The BMW X5? Which Years To Buy
The best models of the X5 are those that are not only reliable but are also packed with features.
Here I will be discussing the top five models of the BMW X5 that have been proven to be great.
1. 2000 BMW X5
The 2000 BMW X5 was a popular luxury SUV in its day, and it's still a great choice for those who want a safe, powerful vehicle that'll last them for years to come.
The X5's 4.4L eight-cylinder engine produces over 280 horsepower, making it one of the most powerful SUVs on the market.
It also has a less than 8 seconds time for 0 to 60 mph, which is pretty respectable for such an old model.
One of the X5's best qualities is its refined suspension system—it handles bumps and potholes easily and makes getting around town a breeze.
2. 2016 BMW X5
The 2016 BMW X5 is a great choice for any driver. It comes with a strong base engine that produces 300 HP and can be upgraded to a V8 model with an output of 445 HP.
It also has up to 31 mpg fuel economy, which is impressive.
The M Suspension built into the SUV ensures a smooth ride in any weather conditions and the excellent look will turn heads wherever you drive.
Overall, this model of the SUV is certainly worth considering. It is practical and stylish. What else would one want from an SUV?
3. 2017 BMW X5
The 2017 BMW X5 is an excellent choice for those looking for a luxury crossover SUV.
This model has received minor changes from 2016, but that is good. The predecessor was already a solid model.
All models of the SUV are excellent performers. The cabin is comfortable, and you will certainly love the riding experience of the SUV.
The large and easy-to-use central display makes it easy to navigate through all of the different options available on this vehicle.
Lastly, the wireless charging pad included with each variant is a nice addition.
4. 2018 BMW X5
The 2018 BMW X5 has been around for a few years, but it's still a great choice if you're looking for an SUV.
As the 2019 model was set to get a redesign, BMW didn't include any major changes to the 2018 model.
With that being said, it's still a great SUV—with multiple engine options, including one that can produce 567 HP!
All BMW X5 trims can comfortably reach 60 mph from a complete stop in under 6 seconds. That is pretty impressive.
It comes with high-quality materials and a spacious cabin and has excellent ride quality.
5. 2020 BMW X5
The 2020 BMW X5 is a great SUV. The manufacturer included a brand new sDrive40i trim with this model, which was pretty good.
It was the cheapest X5 variant while also maintaining the elegance and class of the SUV.
These trims are loaded with high-quality materials such as leather and fine wood.
They also have sophisticated design features that stand out from other vehicles on the road today.
Lastly, they have some of the best-in-class safety features available today. You can rest assured that this model is as safe as SUVs.
How Reliable Is A BMW X5?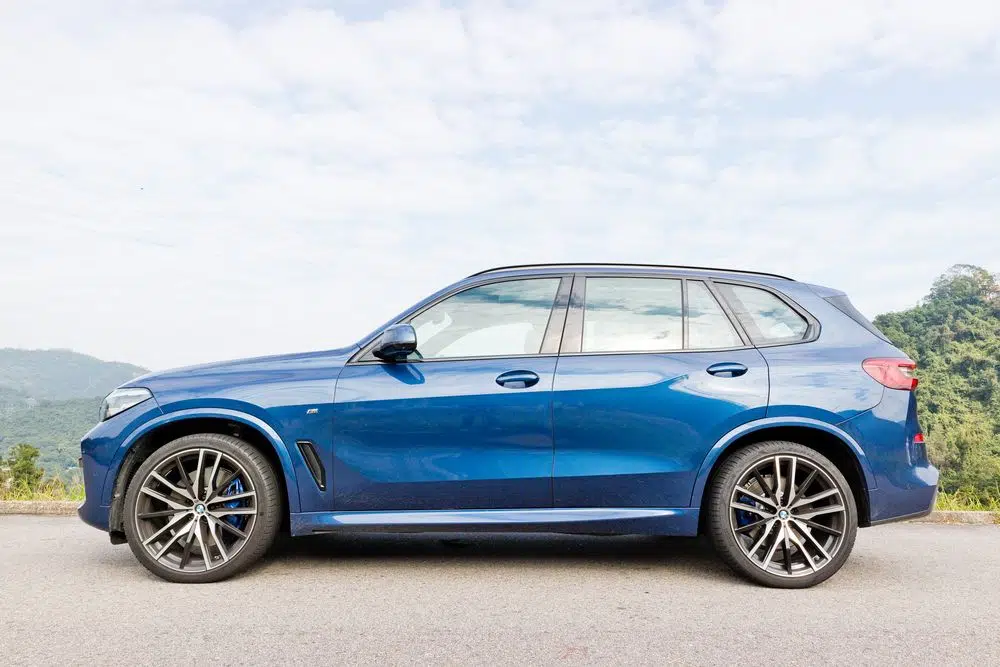 BMW's X5 is a reliable midsize SUV, according to JDPower's reliability score. It rates the BMW X5 at 77 out of 100, which isn't the highest score I've seen, but it's certainly not bad.
The X5 has a lot of positive reviews from owners who have driven it for many years without experiencing any major problems.
Its comfort level, excellent drive quality, and a host of features make sure that you get not only a reliable experience but an unparalleled one too.
How Long Do BMW X5 Last?
It has already been established that the BMW X5 is reliable, so you might be wondering how long it lasts. The answer is between 200,000 and 250,000 miles.
This is on par and even better than some SUVs in the same price category.
That's pretty good! But you can expect to start seeing more frequent repairs and maintenance after driving the SUV for 200,000 miles.
Regardless, if you take care of the SUV, you can rest assured that it will last for every one of those advertised miles while maintaining a great driving and riding experience.
What To Do To Lengthen The Life Of Your BMW X5
The life of your BMW X5 can be lengthened with these simple tips and tricks, which must already be followed in the first place. Let's take a look at them.
The first step is to ensure that you've followed all of the manufacturer's recommendations regarding regular maintenance.
You can do this by looking at your owner's manual or contacting a service provider working on BMWs.
A flat tire can be dangerous and cause extensive damage to your vehicle if it goes undetected for too long, so it's important to ensure that your tires are inflated properly.
This will also help you save money on gas because your SUV will be more efficient when driving on good tires with proper pressure levels.
If you feel like your engine isn't performing as well as it used to, try performing a throttle tune-up every few months or so—this will help increase efficiency and extend the life of your engine!
These are some of the many tips owners of the BMW X5 can follow to ensure the SUV lasts for as long as possible.
Things That Shorten The Lifespan Of Your BMW X5
If you're a BMW owner, you know that your SUV is more than just a mode of transportation.
It's an extension of your personality; naturally, you want to protect it as best as possible. But what are some things that can damage your SUV? Let's take a look.
One thing that shortens the lifespan of your BMW X5 is using regular fuel instead of 93-octane.
The engine needs to be able to work at optimal levels, and if you don't give it what it needs, then your SUV will suffer.
The filters on your BMW X5 need to be replaced regularly for them to run smoothly and efficiently.
If you don't replace them when needed, your engine will suffer and possibly even break down completely, as the combustion process cannot occur properly.
It's easy to find a cheap replacement online but be careful! Not all used parts are created equal.
This is important to remember, especially when talking about BMWs, including the X5. You need to make sure that you buy OEM replacement parts only.
There are some set rules for the BMW X5 or any other luxury SUV, for that matter, you need to follow.
If not, then there can be a drastic impact on the engine performance and, in many cases, the lifespan of the engine too. So, make sure to avoid breaking them.
3 Most Common BMW X5 Problems You Should Know
The BMW X5 is a popular SUV, but it has its share of problems.
I will take you through the most common issues, so you can be prepared for them before they happen.
1. Water Leakage Problem
Water leakage is the most common problem for BMW X5 owners. The problem was found in 2008 models and has been reported by many owners of that year.
The sunroof lets water inside when it rains, making it impossible to take the SUV into a carwash or drive in the rain.
2. Engine Stalling
The engine stalling problem has become a common one with the 2011 model of the BMW X5.
The issue is that the SUV would stall at low speeds, which could cause accidents and be annoying. The engine also was sometimes unable to restart after stalling, making it dangerous.
3. Engine Overheating
When it comes to BMW X5 problems, engine overheating is another common one.
The engine is kept cool thanks to its electric water pump, but it can malfunction, which can result in overheating.
This issue was found in the 2011 to 2013 models of the SUV. The problem can also cause damage to parts that are not designed to work at high temperatures.
Frequently Asked Questions
Q1: Is BMW X5 A Good SUV?
BMW X5 is a great SUV. It is a stylish, comfortable, and strong engine. This vehicle has a lot of features that you can enjoy while driving it.
It also has a good performance. Choosing to buy this luxury SUV is certainly a great decision, and no one can tell you otherwise.
Q2: Do BMW X5 Hold Their Value?
After five years, the BMW X5 will depreciate by about 46%.
This is pretty bad for an SUV with this reputation and price tag, but it's not unusual for luxury cars to depreciate rapidly.
If you're thinking about selling your BMW after a few years, you'll probably take a heavy loss.
Q3: How Many BMW X5 Have Been Sold?
The BMW X5 is still in production, but there is no exact number of how many have been sold.
According to official numbers, between 30,000 and 60,000 are sold every year.
The 2022 model has been on track to be the best year yet, with one of the highest sales out of all years, and still, a few months left before it ends!
Q4: Which BMW X5 Engine Is The Most Reliable?
If you're looking for the most reliable BMW X5 engine, your best bet is the sDrive40i.
It's found in the fourth generation of the SUV—which is the current one, as of writing this article—and it produces up to 335 HP.
It is a 3.0L Turbo Inline-6 Gas engine that will get you wherever you want to go.
Q5: Is BMW X5 Expensive To Maintain?
I know you've been wondering about this, so let's get right down to it. The answer is yes—the BMW X5 is a luxury SUV that comes with a high maintenance cost.
The first ten years of owning the X5 will cost you $18,000—that's a lot of money! That's higher than the industry average for luxury SUVs by $2675.
Conclusion
All in all, the BMW X5 is an impressive vehicle that has seen its share of ups and downs.
If you're looking for an SUV that will help you get where you need to go and provide comfort and practicality along the way, then this SUV is a good choice for you.
When it comes to the best and worst years for BMW X5, I can assure you that the list here has been written after proper research.
So, you have nothing to worry about. All you need to do is search for the model which you think will be suitable for you.