The Chevy Traverse is a mid-size SUV designed to be perfect for families. It's got the room to fit all your kids, friends, and stuff, and it's got the power to drive them wherever they want to go.
It's comfortable, drives well, and has lots of storage space. But what are the best and worst years for Chevy Traverse?
This is a question all potential owners of the SUV must ask, as the Traverse has not had an exactly clean history.
But before I get into the fun part of this article, let's take a look at the models of the SUV.
Worst Years for Chevy Traverse:
2009
2010
2011
2012
2014
Best Years for Chevy Traverse:
2013
2017
2019
2020
2021
You might think these models have been plopped down here without any research. I can assure you that nothing of the sort is the case here.
Every single one of them has been well-researched, which will become clear as the article progresses.
What Are The Worst Years For The Chevy Traverse? Which Years To Avoid
The Traverse has been a popular choice for those who need an SUV that can adapt to any situation, but it's important to know which years will give you the most bang for your buck.
Before I do that, I will discuss which years should be avoided and why so that you can make an educated decision when shopping for a used Chevy Traverse.
1. 2009 Chevy Traverse
The release of the 2009 Chevy Traverse was supposed to be the start of something great, but instead, what the company gave to the public was an unfinished SUV with many issues.
The most common issue was excessive oil consumption and spark plug failure. Both of these issues could result in serious engine damage, especially the first one.
In addition, the steering was also a problem on this model. It was incredibly hard to turn, and the power steering pump would also stop working.
If that wasn't enough, you could experience transmission issues where your vehicle will not shift properly or even engage in gear.
2. 2010 Chevy Traverse
The 2010 Chevy Traverse was a huge step back for the company. People hoped they could improve on their previous model, but they ended up making it worse.
It was reported that there were problems with the engine and power steering. The engine would stall while driving, and this could be very dangerous.
Moreover, the power steering was also prone to failure, which made it difficult for people to control the vehicle when trying to make turns.
The cherry on top was that the AC would blow hot air, and the compressor would also leak. This made driving the 2010 Traverse uncomfortable and impossible.
3. 2011 Chevy Traverse
Let's be real: the 2011 Chevy Traverse was a bad SUV. It was close to toppling the 2010 model as the worst Chevy Traverse ever produced, but it still got close enough.
No improvements were made to make the engine better or more reliable.
When you consider that complete engine failure was still common in these SUVs, it's no wonder that power steering failure was found in the third year of the Chevrolet Traverse too.
The steering wheel was also noisy when traveling at slow speeds. In short, it's best to avoid this vehicle at all costs.
Lastly, I'd say it did not bring any improvements compared to the 2010's model, but it had many issues.
4. 2012 Chevy Traverse
If you're looking for a vehicle that will have a ton of issues and you don't mind taking it to the dealership every few months then the 2012 Chevy Traverse is the right one for you.
The engine issues with this model are numerous, including reduced power and stalling while driving, as well as stalling.
This can be pretty dangerous, especially when driving at high speeds. The AC compressor would blow an issue that can be expensive to repair.
Even without it blowing, the air conditioner does not blow cold air, making rides on summer days uncomfortable.
5. 2014 Chevy Traverse
The 2014 Chevy Traverse is the final model on this list, and it's not a good one. It's better than the previous models but still not worth considering.
One major issue with this vehicle is that the engine would lose power while driving, which is also an issue in previous models.
Another issue some users noticed was that airbag lights would come on—the system was faulty. They could deploy at the wrong time, which could result in injuries.
The transmission also jerked when shifting gears, making the driving experience unreliable and uncomfortable for some users.
Finally, adding to the discomfort, the A/C also failed many users!
What Are The Best Years For The Chevy Traverse? Which Years To Buy
The above list may have told you that the Traverse also has a bad side. It is not all good, and all potential buyers should know about this. I am not going to leave you hanging like that.
This section of the article will now discuss the best models of the Traverse, ones you can buy with your eyes closed and never worry about reliability.
1. 2013 Chevy Traverse
The 2013 Chevy Traverse is a great option for families who like to take their kids on long road trips. It's got a spacious cargo area, making it easy to fit all your gear in one car.
It also has high safety scores, so you can rest assured that everyone in your family will be safe while riding around in this SUV.
The steering system is great too—it's easy to maneuver and makes driving a smooth experience. And there's nothing like the predecessors.
Finally, the 2013 Chevy Traverse is better in all regards, and there is no question about that.
2. 2017 Chevy Traverse
The 2017 Chevy Traverse is a great choice for those who need a large SUV that can tow up to 5200 pounds.
It also comes in an all-wheel drive variant, making it more capable in inclement weather and rough terrain.
The Traverse is also comfortable and quiet, which means you can relax while driving with your family or friends.
And if you're concerned about safety, this car received a five-star safety rating, which means you will be as safe as you can ever be when driving it.
Overall, this model is great and should be considered.
3. 2019 Chevy Traverse
The 2019 Chevy Traverse is great for families who need plenty of room to store their stuff and want comfortable seats to sit in while they drive around.
It's also got Apple CarPlay and Android Auto capabilities, which means you can easily connect your phone to the car's infotainment system.
You know what is the best part? The 2019 Chevy Traverse gives you 23 cubic feet of cargo space—that's better than any other SUV in its class!
So, you can take your cargo with you without ever having to choose between what is important and what is not.
4. 2020 Chevy Traverse
The 2020 Chevy Traverse is a great choice for anyone who wants a comfortable and reliable SUV.
This car has all the power you need, and it's packed with features that make your life easier.
Furthermore, the 2020 there is a V6 engine in Chevy Traverse that can produce up to 310 HP, so you'll have no problem getting where you need to go.
It also comes with an infotainment system that's better than ever before—you'll be able to connect your phone or play music from your favorite streaming services in style.
5. 2021 Chevy Traverse
The 2021 Chevy Traverse has a great V6 engine that can produce 310 HP and decent 25 mpg fuel efficiency.
It's also better to drive than a truck-based SUV, so you can get where you need to go easily and without worrying about stopping to refuel now and then.
The Traverse can tow up to 5000 pounds and has the latest and greatest safety features—including blind spot monitoring and automatic emergency braking.
It also has a high-quality infotainment system with Apple CarPlay and Android Auto compatibility. Overall, the 2021 Traverse is a solid SUV and the best in this article.
How Reliable Is A Chevy Traverse?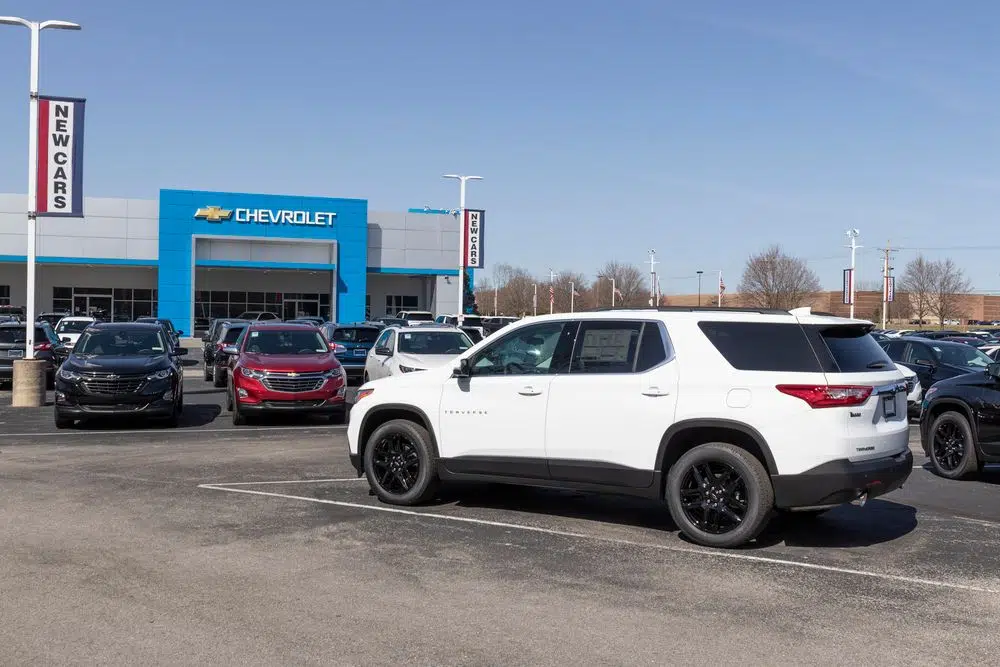 If you're in the market for a new vehicle, you'll want to know how reliable it is and when it comes to Chevy Traverses, you can rest assured that they are pretty reliable.
But here's the thing: I am only talking about the newer models of the Traverse here. The older ones? Not so much so.
If you are considering purchasing an older model, I don't recommend buying it at all. If you are asking why you should scroll up and check the worst year section of the Traverse.
How Long Do Chevy Traverses Last?
The Chevy Traverse is a midsize SUV that's been on the market since 2009. The fact that it has been in production for so long means that it will last for a long time. Let's see.
The Traverse has an average lifespan of approximately 200,000 miles.
That may not seem like much to some of you, but it's pretty decent—especially because most midsize SUVs on the market have similar lifespans.
What To Do To Lengthen The Life Of Your Chevy Traverse
The Chevy Traverse is a reliable car that can last a long time if you take good care of it.
Here are three ways to make your Chevy Traverse last longer:
Change the oil at regular intervals. Oil helps keep the engine running smoothly, so it's important to change it regularly (every 5,000 miles).
Don't use low-quality replacement parts. Cheap parts can cause problems with your car's engine and other systems, costing you more money in the long run than replacing them with quality parts from the start.
Change the oil and air filters after every 30,000 miles. This will ensure your engine stays clean and running efficiently for years!
These are some of the commonly known tips that can affect the lifespan of your Chevrolet Traverse.
Make sure to follow them to ensure a reliable experience with the SUV.
Things That Shorten The Lifespan Of Your Chevy Traverse
Driving your Chevy Traverse is a lot of fun but can also be stressful. If you're not careful, you can end up doing things that shorten the lifespan of your SUV.
Here are some of the most common ways to do that:
If you don't drive your Chevy Traverse often enough, the moving parts inside will wear down over time and eventually break down.
This would lead to expensive repairs that might not have been necessary if you'd driven more often.
When you drive over potholes or other bumps in the road, they can cause damage to your suspension system.
Moreover, the tires that have been damaged by driving over potholes will likely wear out faster than usual—so if you want to avoid spending money on new tires every couple of months or so, try avoiding potholes whenever possible!
You need to ensure that you don't do any of the things mentioned to reduce wear and tear of your Chevrolet Traverse parts.
3 Most Common Chevy Traverse Problems You Should Know
Before this article is drawn to a conclusion, I thought that you should be aware of some of the many problems that owners of the Chevy Traverse have faced over the years.
They should not affect your buying decision, but you should still be aware of them if they present themselves in the future.
1. AC Issues
One of the most common Chevy Traverse problems is an air conditioning system that won't blow cold air anymore.
There are several possible causes for this problem, including a blown compressor or a leak in the system.
The problem is commonly found in the 2012 to 2015 models of the SUV. It can get expensive to fix but nothing can be firmly said until a proper system examination is not done.
2. Transmission Failure
Transmission failure is one of the most common Chevy Traverse problems.
If you notice that your transmission is not shifting smoothly or if it makes a loud noise, this could indicate a problem with your transmission.
This could also indicate that it could be close to failing. A new transmission for the Chevy Traverse can set you back by thousands of dollars.
Unfortunately, with the transmission, it cannot be fixed. Replacement is the only option, and it can get expensive.
3. Steering Wheel Issues
The steering wheel in the Chevy Traverse has been known to have problems in models from 2009-2011.
This can lead to a loss of control, resulting in a serious or even lethal accident.
If you feel like the steering wheel on your Chevy Traverse is hard to turn or is too loose, it could indicate a serious failure imminent.
In cases like these, you should avoid driving the SUV altogether. You should get it towed to the mechanic of your choice, so he can fix your Traverse as soon as possible.
Frequently Asked Questions
Q1: Is Chevy Traverse A Good SUV?
The Chevy Traverse is spacious and versatile, making it ideal for families or anyone who needs to transport lots of people or cargo.
It's also comfortable, with a smooth ride that makes long trips less stressful. All in all, it is a great SUV, and you should not have any doubts about your decision to get one for daily use.
Q2: Do Chevy Traverses Hold Their Value?
Chevy Traverses hold their value pretty well, but they don't hold it as long as some other vehicles.
According to data from CarEdge, a Chevy Traverse will have depreciated 39% in value after five years. Once again, this number is not too bad but is far from impressive.
Q3: How Many Chevy Traverses Have Been Sold?
The Chevy Traverse is a pretty good-selling SUV. In the first four years since its release, it's sold around 90,000 to 150,000 units per year.
No exact numbers are available because the model is still in production, but I can say that it's doing pretty well! 100,000 people buying it every single year is pretty impressive.
Q4: Which Chevy Traverse Engine Is The Most Reliable?
If you're looking for a reliable engine in your Chevy Traverse, consider the 3.6L LFY V6 in the second generation of the SUV.
This engine can produce up to 305 HP and 260 lb. ft of torque. It is powerful and will not feel underpowered, regardless of your terrain.
Q5: Is Chevy Traverse Expensive To Maintain?
On average, the Traverse costs $8,790 to maintain and repair during its first ten years—less than the industry average of $343.
That's not bad! And technically, it is cheaper to maintain. Although a difference of $343 in ten years is not huge, the Traverse still earns the award of being cheap to maintain.
Conclusion
The Traverse has been around since 2009, and while it's had some ups and downs, it's still a solid choice for your family.
It's not the perfect SUV, but it's one of the best options if you want something versatile and reliable.
When it comes to the best and worst years for Chevy Traverse, you can rest assured that the detailed lists that have been provided above have classified models properly.
I hope this article had all the information you need to finally make an informed decision about which model of the SUV is good for you.