The Escalade is a full-size luxury SUV manufactured by Cadillac. It was Cadillac's first SUV and was warmly received by the public.
Its sleek and stylish look, updated with time, and solid drive have made it a good all-rounder.
Moreover, Escalade has been designed to ensure a comfortable and quiet ride, and you cannot go wrong with owning one.
The Cadillac Escalade has had such a reliable history that you can choose any one model produced in the last two decades, and you will not regret your decision.
But there are still some that are better than other model years. This is why I will review the best and worst years for Cadillac Escalade. This will help you figure out which model is better for you.
Let's start with listing all of the important years:
Worst Years for Cadillac Escalade:
2016
2007
2015
2008
2010
Best Years for Cadillac Escalade:
2011
2021
2012
2019
2020
This article will discuss all of these models in detail, so you can know which one is perfect for you.
Once again, you can choose either one, and it will not be a source of headache for you.
What Are The Worst Years For The Cadillac Escalade? Which Years To Avoid
Although there are no bad model years for the Cadillac Escalade, some have performed slightly worse than other models discussed in this article.
This section will discuss them, so you can know why they wound up on this list.
1. 2016 Cadillac Escalade
I know you're looking for an SUV that will last you a long time, and I know you want to get the most bang for your buck.
Unfortunately, the 2016 Cadillac Escalade isn't a great choice.
While the infotainment system is intuitive and easy to use, it has been known to glitch out occasionally.
This can be frustrating when you're in the middle of an important phone call or just trying to get directions.
While most Escalades have had no problems with their transmissions, there were a few units in which it failed.
The transmission in some Escalades has been reported as jerky or shutter-like at times, which can make driving less than pleasant.
Lastly, some owners also reported that the clear coating on the paint started to deteriorate after some usage.
2. 2007 Cadillac Escalade
The 2007 Cadillac Escalade is not a good model, especially if you're looking for an SUV that will last. The model is old and has not aged well.
Its door handles break easily, which can be a major annoyance when trying to get in or out of your vehicle.
You may resort to opening another door just to open another one. Yes, that is pretty frustrating.
Secondly, many owners reported that their engine would die while driving—which could result in an accident if the car isn't stopped safely.
This can be hazardous if you are driving on a highway.
Additionally, many people have reported problems with the stability track light remaining on at all times and dashboard cracking.
One owner even reported an electrical fire! These issues lead me to conclude that the 2007 Cadillac Escalade model is not a good buy.
3. 2015 Cadillac Escalade
The 2015 Cadillac Escalade model year offers a lot, but it's not a great buy.
First, the engine produces a loud tapping noise when driving. This is an annoying problem that can also be an indication of a major issue present.
Owners of the 2015 Cadillac Escalade reported that their engines would shut down while driving, which is very dangerous and could lead to an accident.
The transmission was also unreliable. Owners of this model said that their transmissions would shake and jerk while driving.
This reduces the pleasure of driving a luxury SUV like this one.
There were other issues present too. The paint on this model fades and peels easily. The air conditioner condenser also leaks fluid, which is something no one wants.
Although all units of this SUV might not be exposed to these issues, do you want to risk it by buying one?
4. 2008 Cadillac Escalade
The 2008 Cadillac Escalade is a pretty old model, which is not the only reason it's not a great model to buy.
For example, moisture can get inside the headlights and cause them to die.
If you are an unfortunate owner of a Cadillac Escalade with moisture in its headlights, it's probably best to replace them instead of repairing them.
Another issue with the 2008 Cadillac Escalade is that the door handles breaks easily.
The issue was also present in the 2007 model, but Cadillac did not fix it.
The same problem is present in this year's model too, so if you want an SUV with a strong door handle, look elsewhere!
Another issue worth mentioning is that the passenger-side AC blows hot air while the driver-side AC blows cold air.
This is an extremely annoying and potentially dangerous problem because exposure to varying temperatures could make you ill.
5. 2010 Cadillac Escalade
While the 2010 Cadillac Escalade is also almost a decade old, any redeeming qualities it had been tossed once you see the car's various issues.
The first major issue you will have to deal with is the rims being made of poor quality.
This would often cause the tire to slowly lose air, forcing you to stop the car entirely and swap out the tire.
Engine misfires are also quite common with this model, and no car owner wants to deal with those.
The engine was mostly in a decent place, but the lifter also tended to tick, which was not a good look.
This model also suffered at the hands of the Takata recall, which involved a lot of defective airbags.
These airbags would sometimes not work at all and explode, leading to injuries to the riders and passengers, so make sure you avoid this at all costs.
What Are The Best Years For The Cadillac Escalade? Which Years To Buy
The Cadillac Escalade is known for its great models. Now that I have shown you the worst models, it is only fair that I discuss with you the best models in the lineup.
This section will cover them all, so let's get into it without further waiting!
1. 2011 Cadillac Escalade
Sometimes all you need is an SUV with a powerful engine. If that is your bare minimum, it is safe to say that the 2011 Cadillac Escalade is perfect for you.
This year brought four different trims for car owners, each more exciting than the last.
The base model can offer many good features as standard, while the luxury and premium trims are more expensive but can prove their worth.
It is no secret that the 2011 Cadillac Escalade is a big car. You can feel that while you drive it. Some might see it as very exciting, while others will find it a bit cumbersome.
One thing that people will all love about this car is the fact that it has a luxurious cabin, even in the base trim.
The luxury features feel as if they are nearly endless, and the amount of standard safety equipment makes this a pretty good car.
2. 2021 Cadillac Escalade
If you are into the latest and greatest, look no further as I present to you the 2021 Cadillac Escalade, one of the more recent models of the lineup and a good one at that.
This model is available in 6 different trims, with the Premium Luxury Platinum trim costing over $100,000!
Whether or not you believe this is a good price is on you, but to me, this is the only drawback of such a wonderful car.
I can, however, understand such a price point. Not only does the car entrance you with its eye-catching digital dashboard and body.
It can keep you there with its extremely comfortable seats in all its rows.
One thing that surprised me was that this model was extremely punchy and powerful, but its engine was quiet!
This is great if you do not like listening to the rumbling of your engine or have a small child who can easily get afraid.
3. 2012 Cadillac Escalade
Not as loved as the 2011 model but just as appreciated, the 2012 Cadillac Escalade is another solid entry on this list. Here I will explain the reasons why.
Following in the footsteps of the 2011 Cadillac Escalade, this model has four different trims for you to choose from.
It features the same powerful engine and interior design with slight changes and additions.
Mostly, this car is simply the 2011 Cadillac Escalade with minor improvements.
This shows a lack of innovation, but since the car is already too good, I think I can give it a pass. This is especially considering the number of features this car has.
Boasting many safety features as standard and additional ones in all of its trims, the 2012 Cadillac Escalade model year is filled to the brim with unique gadgets and gizmos.
This makes the car very appealing to drive, despite being a copy of a previous model.
4. 2019 Cadillac Escalade
If you are into high-tech safety features, you might have your interest peaked in the 2019 Cadillac Escalade, which has many of them.
This year also followed the same pattern of 4 different trims, with the Platinum trim inching just shy of $100,000 by around $7,000.
This is likely due to the good quality materials used to make the interior.
The 2019 Cadillac Escalade model year also featured a lot of towing capacity, meaning you can tow more than you could with previous models.
This makes it much easier to haul trailers or boats if you have to.
This year also featured a new hands-free liftgate which was only found in the Sports Edition and is now standard.
You could get a lot of value for the sports trim due to the black exterior trim having 22-inch wheels, making it great for snowy roads.
5. 2020 Cadillac Escalade
The 2020 Cadillac Escalade does not feature any major improvements over the 2019 model, but with that year being so good, who can blame it?
You also have your standard four-trim model this year, with all of them having a great amount of interior quality due to good-quality materials.
On top of their amazing towing capacity, this makes the 2020 Cadillac Escalade model year a force to be reckoned with.
One thing that you will appreciate about this year's models is the fact that you can enjoy the peace of the car's interior without having to listen to outside interference. The cabin makes sure of this.
The only downside this car has is that it is a bit pricey for what is essentially a year-old model.
Given the quality you are receiving, I believe you should be able to spend good money on things that are worth it. The 2020 Cadillac Escalade is worth it.
How Reliable Is A Cadillac Escalade?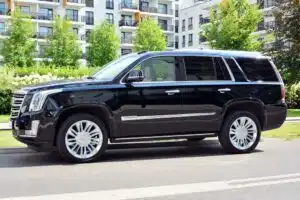 You generally do not want to buy a full-sized SUV if you are looking for a reliable vehicle.
The Cadillac Escalade is much more reliable when compared to other cars, but that is not saying much, considering larger SUVs are just not built to last.
If you are on the search for a daily driver that you can rely on, this might not be the car for you.
How Long Do Cadillac Escalades Last?
As I mentioned earlier, the Cadillac Escalade is not built to last long.
You should be able to squeeze out a bit over 250,000 miles, but you will have to put in a lot of maintenance and effort.
If not, it should last 200,000 miles, at the very least.
What To Do To Lengthen The Life Of Your Cadillac Escalade
Here are a few things you should be doing to increase the life of your Cadillac Escalade:
Drive slowly and carefully.
Remain within the towing limits for the car.
Drive with a full tank of fuel.
Clean the car every few weeks.
Get the car serviced every few months.
By following all the steps above, your Cadillac Escalade will have a much longer life.
Things That Shorten The Lifespan Of Your Cadillac Escalade
Here are a few things that you should avoid if you want your Cadillac Escalade to last for a long time:
Using cheap fuel.
Off-road driving.
Hard Breaking.
Keeping the car in the cold.
Driving for too long.
Make sure to avoid all of this; otherwise, your Cadillac Escalade will suffer.
3 Most Common Cadillac Escalade Problems You Should Know
I have talked a lot about the various issues all the Cadillac Escalade models have faced. Here are the most common ones.
1. Engine Issues
The engine is the most important part of the car, but some models of the Cadillac Escalade do not seem to understand this at all.
Instead, many engines seem to die randomly and give out ticking noises which is anything but luxury.
2. Interior Problems
Issues like the infotainment system messing up and not working are quite common today. This is also the case for some models of the Cadillac Escalade.
3. Exterior Problems
Being a large sports utility vehicle, it is only natural for you to face some issues that affect the car's body.
The first major issue will likely be the clear coat of the car coming off. Other issues can also pertain to the car's headlights, but this is more of an electrical issue.
Frequently Asked Questions
Q1: Is Cadillac Escalade A Good Car?
The Cadillac Escalade is an amazing car if you are willing to throw in the major cash needed to buy it.
Q2: Do Cadillac Escalades Hold Their Value?
A Cadillac Escalade is decent at holding its value. It should be able to retain more than 60% of its value after just five years.
Q3: How Many Cadillac Escalades Have Been Sold?
Since 2005, the Cadillac Escalade has sold well over 415,000 units just in the United States alone!
Q4: Which Cadillac Escalade Engine Is The Most Reliable?
Any Cadillac Escalade that uses the 6.2 L Vortec V8 is a good model, as that engine has little to no issues and pushes out power like nothing else.
Q5: Is Cadillac Escalade Expensive To Maintain?
The average large SUV costs around $1,100 to maintain per year. The Cadillac Escalade takes only $1,000, making it $100 cheaper.
Conclusion
Everyone wants to drive a huge SUV and tower over the rest of the compact cars on the road. You can easily fulfill this dream by getting yourself a Cadillac Escalade.
While it is no doubt an expensive brand to get, you get your money's worth and have a comfortable experience.
That said, you should be able to get the best model of the lineup now that I have told you all the best and worst years for Cadillac Escalade.
Make sure to take a closer look at the worst models so you do not accidentally buy them!