Compact luxury crossover sports utility vehicles are all the rage, and none are like the Audi Q5.
The car has been in production since 2008 and has been steadily putting out models yearly, each with varying degrees of quality.
The lineup started strong but, over time, developed a lot of issues that a lot of fans were able to pick up on.
While they would get fixed in a few years, people were still keen to ask about the best and worst years for Audi Q5.
If you are one of these people, look no further, as I will be discussing them in great detail.
Here is a list of all the years that I will be talking about.
Worst Years for Audi Q5:
2014
2012
2013
2015
2011
Best Years for Audi Q5:
2019
2017
2009
2010
2020
If you have been looking into any of these years, then make sure to read the article, as I will talk about all of the ones listed above and share other information about the Audi Q5.
What Are The Worst Years For The Audi Q5? Which Years To Avoid
If you want to avoid getting your cars repaired regularly, you should hold off on getting these particular models simply because they are full of issues.
1. 2014 Audi Q5
I will start this list out with the most obvious pick. The 2014 Audi Q5 received the most complaints in the entire lineup, and rightfully so.
The model was criticized mostly for its engine-related problems, which should not have existed in the first place.
By the frequency and amount of issues that you could get in the engine, it makes sense to place this model at the top of my list.
The most complained about problem with the engine was excessive oil consumption.
Owners were burning through their oil like there is no tomorrow and constantly found themselves spending a ton of money on getting more.
Additionally, the engine tended to have its timing chain worn off or sometimes fail. Water pump issues and crankshaft errors were also quite common.
Particularly unlucky people had to deal with all this while managing their power steering failure.
Overall, the car was quite problematic, and struggled to drive when all the issues were at their peak, making it a bad year for the lineup.
2. 2012 Audi Q5
The 2012 Audi Q5 was the worst in the entire lineup, not only did this model have engine issues, but it also had trouble with its windows and brakes and some minor complaints about its AC.
Issues had been going on since 2011 and only increased in the 2012 Audi Q5. This is why I just had to talk about it in second place.
Just like the 2014 model, the 2012 Audi Q5 had a bad case of excessive oil consumption.
This was often paired with timing chain issues as well. To make matters worse, the car's sunroof would sometimes shatter randomly and almost always let in outside noise.
Speaking of noise, there were a few complaints of the AC giving out some irregular noise as well, which is quite strange.
3. 2013 Audi Q5
Compared to the 2014 and 2012 Audi Q5, it was clear that the 2013 Audi Q5 was much tamer, but it was anything but perfect.
It had many of the flaws of both of the models but to less of an extent. As expected, engine issues, AC problems, and cooling system errors were rampant in this model.
This is why I decided to place it in 3rd place on this list.
The car itself was pretty okay, but due to the excessive oil consumption and timing chain issues, people simply could not start their car or did not have money to burn for the oil.
Finally, the car also had a bad case of dying while driving. Another fault was the AC, which would not work or eventually stop. It would have been fairly reliable had it not been for these faults.
4. 2015 Audi Q5
By 2015, the lineup had gotten a grip on the issues plaguing it for most of the previous models.
Unfortunately, the solution could not be applied in time for the 2015 Audi Q5, at least for many of the models, which had engine-related issues and some internal accessories-related problems.
This is yet another example of a good car ruined by a few problems and why I placed it at 4th place on this list.
The engine was still bad. It had the same problem people had suffered for the past five years; excessive oil consumption.
Some people even complained that the car had had its check engine light on since the initial purchase.
Another huge problem, at least in luxury cars, is uncomfortable seats. If you are paying top dollar for a luxury vehicle, the least you should have is a comfortable place to sit!
5. 2011 Audi Q5
The final model on this list is the 2011 Audi Q5. I decided to place this here simply because all engine-related problems were still in their infancy, and it was the first model to introduce them.
While this is no excuse for having the issues in the first place, it does make it more justifiable why they could not implement any fix, as opposed to the rest of the models, which should never have had those problems.
Aside from the typical engine problems you can probably guess, the 2011 Audi Q5 had some transmission and airbag-related issues.
Crankshaft issues and excessive oil consumption were first spotted this year.
The transmission was not looking too good either, as the car would get stuck in reverse and suffer from transmission failure.
Finally, you have the fact that the car suffered from the Takata recall due to its bad airbags.
What Are The Best Years For The Audi Q5? Which Years To Buy
If you are tired of bad models of the Audi Q5, here are some good ones you can consider purchasing to get some value.
1. 2019 Audi Q5
While it will cost you a pretty penny, the 2019 Audi Q5 is a marvel for luxury vehicles having exactly what you would expect from a luxury SUV and more.
Comfortable, versatile, and responsive, the 2019 Audi Q5 is the perfect car that should never cause any issues as long as you ensure it gets its maintenance.
This makes this model my top pick for the best year for the Audi Q5.
There are only three main trims for this model, but they all have various features you will love.
Power liftgates are standard in the base model, while premium models have even more features to dazzle you.
They have excellent visibility and space and can maintain punchy and powerful driving speeds.
The highlight is undoubtedly the SQ5 V6 performance version simply because of that fast and dominant engine.
Lastly, the model can easily compete against other lineups and give them a run for their money.
2. 2017 Audi Q5
While not as hyped as the 2019 model, the 2017 Audi Q5 is still something you should not write off.
The 2019 models overshadowed it, but during its prime, it was the hottest thing out there.
This was all due to its quality cabin materials and strong acceleration, which easily carried this model to second place on this list.
If you want to tow with this car, you are in luck as the 2017 Audi Q5 model has a great towing capacity.
The year brought four different trims into the mix, and all of them are gas models.
Finally, the prized SQ5 model is also available in this year's batch, another win for the 2017 Audi Q5.
3. 2009 Audi Q5
The third model in the lineup had the potential to quickly overtake all of the models above. It has all the new features you can expect from your SUV.
That said, the 2009 Audi Q5 can hold itself high where it matters the most; speed and comfortability. This and its older appeal make it a perfect fit for the 3rd spot on this list.
It would not be an Audi without the amazing acceleration and speed, and luckily the 2009 Audi Q5 model can deliver.
Not only this, but the entire car is seeping with quality, being made with quality materials and having excellent gas mileage.
The only downside was that the steering felt inconsistent, and the brakes were quite touchy.
All of this hurts the model's value, but when you compare these issues to the rest of the models, you can see that they are nothing too major.
4. 2010 Audi Q5
The car after the 2009 Audi Q5 was not as big of a hit, but it was still pretty great. The 2010 Audi Q5 proved to be a spectacular car once it scored solid crash test ratings.
The good amount of safety features, especially those that were standard, made the car stand out to me and place this at 4th place.
This was made even clearer once I saw the car's other features.
Once again, Audi does not disappoint with its pristine acceleration and quality cabin materials which provide not only a fast car to ride in but a comfortable vehicle to cruise in.
Furthermore, the inconsistencies and brake-related annoyances were still prevalent in this model, so I had to place it below the 2009 Audi Q5; otherwise, this model could have easily beaten it for 3rd place.
5. 2020 Audi Q5
The final car on this list that I will be talking about is the 2020 Audi Q5 model year.
This car is still a bit into its infancy and has to undergo a bit more usage before people can see if it develops any major issues.
However, for the past two years and many months, the 2020 Audi Q5 has been going quite well.
This year brought six different trims into the market, each of which is worth more than the last!
I mentioned that the last two models were not the best regarding handling, but the 2020 year model can provide an excellent ride due to its handling balance.
This, along with its sophisticated cabin and great visibility, makes it an enjoyable car to ride in.
It also introduced many new features as standard, many of which revolved around safety and the most exciting one; the turbocharger.
How Reliable Is An Audi Q5?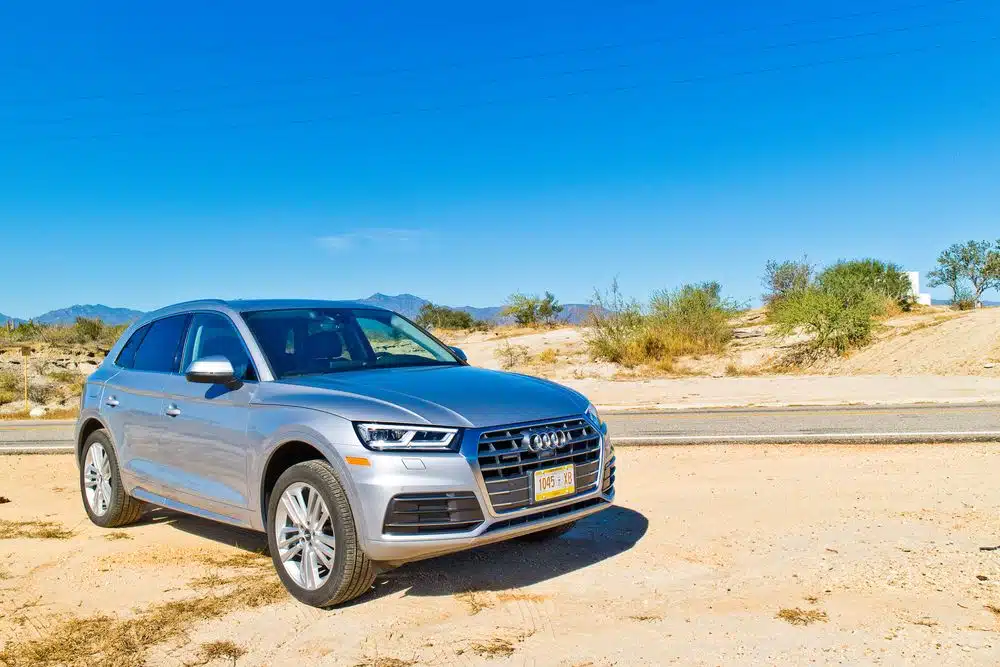 Regarding luxury midsized SUVs or crossover SUVs, the Audi Q5 is a solid choice if you want quality and comfort but not the best regarding reliability.
Compared to its competitors, the Audi Q5 was always at the tail end of the reliability scale. This makes it a pass if you are looking for a reliable car.
How Long Do Audi Q5 Last?
If you take good care of your Audi Q5, you should see it last well over 250,000 miles.
On average, you will see it lasting anywhere between 150,000 miles and 200,000 miles which is quite low when you compare it to other cars.
You will have to put in a good amount of effort if you want the car to last long.
What To Do To Lengthen The Life Of Your Audi Q5
Here is how you can extend the low lifespan of the Audi Q5:
Visit the mechanic immediately if there is any problem.
Use quality fuel.
Clean the car frequently.
Do not tow anything exceeding its max capacity.
Stick to regular and smooth roads.
Your Audi Q5 will easily be able to go over 250,000 miles if you are going to follow the above steps.
Things That Shorten The Lifespan Of Your Audi Q5
If you do not want to lower the already small lifespan, here are the habits you need to cut from your life:
Driving on rough terrain/off the road.
Using cheap parts for replacement.
Not keeping track of your fluid levels.
Not carrying out regular maintenance.
Not driving the car for extended periods.
By avoiding all of these, you will be able to reduce issues in the car, increasing its lifespan significantly.
3 Most Audi Q5 Common Problems You Should Know
Here are the most notorious issues you need to know when operating an Audi Q5. Many of these I have already discussed above.
1. Timing Chain Failure
The timing chain keeps all the car components working together in unison.
If it is ever broken or defective, the car will not be able to run or turn on properly. Issues with the timing chain can lead to the car not even starting.
2. Excessive Oil Consumption
The most common issue the Audi Q5 had to face was excessive oil consumption.
Owners of the car had to spend a lot of cash just to keep their oil reserves up otherwise. Failure to do so meant disaster for the engine.
3. Interior Problems
Interior-wise, most models of the Audi Q5 were spot on, but some models had issues with the materials or the components of certain systems.
In some cases, the seats were just not comfortable. In other instances, the AC would not work at all.
Frequently Asked Questions
Q1: Is Audi Q5 A Good Car?
If you are in the market for a luxury car that you will drive every other day, then yes, the Audi Q5 is a good car.
Q2: Do Audi Q5 Hold Their Value?
The Audi Q5 is not that great at holding its value. It will eventually lose half of its original value in 5 years which is quite a lot.
Q3: How Many Audi Q5 Have Been Sold?
While I could not find the first year's projections, the Audi Q5 has been able to sell more than 611,000 units from 2009 to 2022.
Q4: Which Audi Q5 Engine Is The Most Reliable?
The 2019 Audi Q5's V6 engine is, without a doubt the best engine in the lineup. It had virtually no issues and outputted a lot of power.
Q5: Is Audi Q5 Expensive To Maintain?
Being an Audi, you should expect to pay $300 – $400 more if you compare it with other SUVs. This forces you to spend $900 a year for maintenance.
Conclusion
In many ways, the Audi Q5 is much like the Audi A4. It has had many great models over the years and many bad ones.
The main issues have been the same, either around the engine or the transmission.
In either case, you should be able to avoid all of these problems now since you now know the best and worst years for Audi Q5.
Additionally, with all the information I have provided in this article, you should be able to assess whether or not the Audi Q5 is a good pick for you and if it is worth the price of admission.