The Ford Company has been a major manufacturer of vehicles for a very long time.
It has had the most popular vehicles created, along with some that were just not that good for the general audience.
It's a respectable company that people cannot go wrong with. The company eventually came out with the Ford Explorer, an impressive compact SUV suited for an everyday experience.
Knowing that it's an impressive vehicle is not enough. You need to dig deeper and figure out the best and worst years for Ford Explorer, and for that, here is the list below.
Worst Years for Ford Explorer:
2002
2003
2004
2005
2006
Best Years for Ford Explorer:
2010
2011
2016
2019
2020
Now that you have a list of the best and worst years, I'll help you understand why you should either buy the models suggested or try to avoid them.
What Are The Worst Years For The Ford Explorer? Which Years To Avoid
I'll get started by the worst years. Make sure you read everything within this article to fully understand why these Models are considered the worst in the Ford Explorer.
1. 2002 Ford Explorer
This 2002 Ford Explorer has been considered one of the worst vehicles on record due to a staggering number of complaints which were 3,956 in total.
It had a major transmission issue that cost around upwards of $3000 to repair, and the issue started around 100,000 miles usually.
A wheel bearing failure also appeared around the 90,000 miles mark and cost around $900 to repair.
The panel also often cracked under the rear window, which usually happened around 80,000 miles with a repair cost of $500.
Though the prices mentioned might be the worst possible outcome, bear in mind that the costs depend on the severity of an issue.
2. 2003 Ford Explorer
The 2003 Ford Explorer also had a transmission issue, which had not been fixed by the company and became increasingly concerning for many users.
It is said that this model of the car also received a huge amount of complaints, around 3000 in number, all relating to the transmission issue.
Specifically, the transmission had a problem of failing, slipping, or missing which caused many unfortunate events for the driver who faced this issue.
The model had engine issues, a rear window panel breaking issue, A/C and heater problems, and so forth.
Again, these issues started showing up around the 80,000 to 100,000 miles mark, just like the 2002 model.
Furthermore, the recurring transmission issue within the car made many loses their confidence in the company.
3. 2004 Ford Explorer
Following the trend, this 2004 Ford Explorer also came with a window panel cracking issue, with a whopping 770 complaints about the defect.
This one, in particular, started showing signs at around 75,000 miles and was to be repaired by around $450-$500, depending on the severity of the issue.
Surprisingly owners reported that the car also had a paint corrosion issue, with an average cost of around $500 to fix.
The paint usually started scraping off at 80,000 miles which were pretty early for any car.
Like its previous models, this car came with a transmission problem as well, this time, the car wouldn't even go on to reverse around the 100,000 miles mark, and even if it did, it was extremely difficult for the driver to change it.
4. 2005 Ford Explorer
Just like the previous car model, this 2005 Ford Explorer was no stranger to paint scrapping off or the paint job collecting rust at a very early stage of the car.
Other than that, the rear window panel broke like before at around 80,000 miles, costing around $500 to repair.
In addition, the car also came with its fair share of transmission issues, engine issues, and electric circuitry issues.
According to many car drivers, the transmission failed multiple times, the gears sometimes even jumped without a warning sign, and they were sometimes very difficult to change.
Since there were so many major transmission issues within the car, the braking system and the engine suffered.
The car used to halt suddenly and accelerate suddenly, showing abnormal acceleration and deacceleration.
5. 2006 Ford Explorer
This model came with a redesign; however, it wasn't properly able to fix the underlying issues within the car, and those issues haunted all the drivers that bought this model as well, just like before.
This 2006 Ford Explorer collected around 770 complaints about its transmission and cooling system because of difficulty in shifting and a faulty radiator.
The transmission issue got so bad that it started happening around 50,000 miles and cost owners around $2000 to repair.
Some complained about the car's radiator leaking as well, which happened around 60,000 miles with a cost of $700 to repair.
Regardless of this car returning with a redesign, it let many of its owners down since it had the same issues as before with little to minor changes.
Related: Where Are Ford Explorers Made?
What Are The Best Years For The Ford Explorer? Which Years To Buy
Now that you know the worst models of the car, how about we go through the best ones?
I have already listed the best models for the car, and now I'll be breaking them down each year with their best features.
Let's get started.
1. 2010 Ford Explorer
For starters, it was the last classic-looking Ford that had a very up-close physical driving experience.
Another reason many consider buying this car over the other models I will be going through is that it's the last model to have a V8 engine, which comes in handy when someone has to tow heavy weights or carry cargo.
Moreover, it's also the last explorer to have a rear-wheel-drive system, some have preferred this over newer models, and it just boils down to their preference as a driver.
Lastly, it is an extremely durable and long-lasting car that can withstand pretty much any weather, and the best part is that it's not plagued by the issues that the previous models have had.
2. 2011 Ford Explorer
The 2011 Ford Explorer was the first model of the fifth generation, and it was changed in many ways.
It also included having a push-to-start button and was quickly making its way to be called a cross-over vehicle.
Furthermore, it even came with an adaptive cruise control option, which tells you that this model was slowly becoming as advanced as the times needed it to be for the general audience looking for such a rugged, durable car for their daily or family use.
3. 2016 Ford Explorer
The 2016 Ford explorer comes with more technological advancements.
It comes with a standard 4.2-inch touch screen, a rear view camera, keyless entry, the cruise control option, and much more.
This car has a four-cylinder engine, a refreshed exterior, and even more upgrades within the interior.
It came with a dual climate control system and heated and ventilated seats for the front seats.
Furthermore, it even received a safety rating of 9.2/10, among the very reliable and safe vehicles a person could have for their daily use and their family.
The car even helps you look around through its cameras when driving on the road, especially when you're reversing back into a parking space.
Consequently, this vehicle has been a great pick for many due to its technological features and overall safety.
4. 2019 Ford Explorer
The 2019 Ford Explorer is a remarkable vehicle, equipped with new technological features and a better overall driving experience.
First and foremost, let's just go through its exterior; it comes with a signature LED Lighting system that, for the most part, has been a head-turner for the vehicle.
Apart from looks it has an amazing range of light that is efficient and covers distance easily.
Moreover, this car comes with Ford's safe package. It has several drivers assisting features and automatic high beams, cruise control, lane assist, and forward-collision monitoring.
From the short list above, you can already conclude that this car has multiple features that a modern car would be expected to have.
5. 2020 Ford Explorer
Now, coming over to the 2020 Ford Explorer, you get all the technological features that the previous model gave, with improvements.
You get active parking assist and an overall better experience with all the driver-assisted technological features the car has.
Furthermore, coming to the interior, you get a cozy 7-seater experience with 87 cubic feet of space, making it large and extra cozy for your needs.
It is also to note that this vehicle comes with an automatic brake assist system and even a blind spot monitoring feature where its 360-degree cameras keep an eye out for things that you might not be able to see in the first place yourself.
How Reliable Is A Ford Explorer?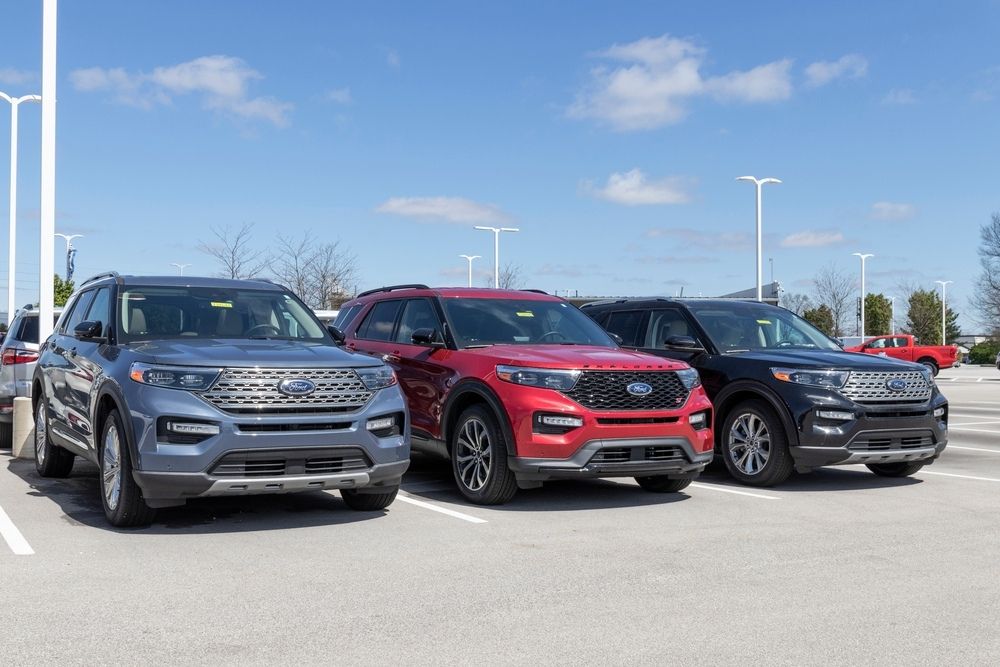 Though Ford is a reliable company with many great cars and even richer history, some of its cars don't live up to the mark of the name it has.
The Ford Explorer has 3.5 out of 5 scores on the reliability meter of the cars, which does not make it the most reliable car, but that doesn't mean that an individual can't rely on it.
How Long Do Ford Explorers Last?
The Ford Explorer can travel 200,000 miles if maintained with proper maintenance checks.
But significant issues in two distinct generations reduce their average lifespan to 100,000 miles or less.
All because of the issues that the car had that were slowly repaired.
What To Do To Lengthen The Life Of Your Ford Explorer
There are multiple things that a driver can do consistently to increase the life span of their car.
The only catch is that the driver has to treat this as a routine rather than just a mediocre task they can perform here and there.
Make sure to top up the brake fluids of the car.
Alter your driving style to suit the need of the car.
Maintain the car properly and consistently.
Always make appointments with the mechanic after a certain threshold mile driven has been reached.
Regularly check for any issues with the oil filter.
Check the air filter and Radiator of the car often.
To maintain your vehicle's engine operation, you should regularly change the oil, fuel, and air filter.
Now that you've gone through ways to increase your car's life span, I hope you're able to put these practices to good use.
And you get the best out of the tips that would help your car live longer for you and your chores.
Things That Shorten The Lifespan Of Your Ford Explorer
Just like having a constructive routine to increase the lifespan of your car is important, it is also just as important to be aware of the destructive behaviors that could damage your car.
If you do not rotate the tires of your vehicle. It is said that after every 5000 miles, the tires must be rotated, so they do not wear out.
It is highly recommended to inspect the brakes and coolant system. This should be done every 15,000 miles. And make sure to fill them up whenever required.
If you do not inspect the fuel system, it can cause the engine air filter to be clogged. Be sure to check and clean after every 30,000 miles.
After every 60,000 miles, it is your responsibility to check the transmission system. Change the fluids, and be sure to inspect every drive belt as well.
Since I listed so many ways by which people shorten the lifespan of their vehicle, I hope you're able to avoid all of these to make sure your car steers clear of any issues.
3 Most Ford Explorer Common Problems You Should Know
Here I will be discussing the top three most common problems that drivers face when riding in the Ford Explorer.
1. Transmission Problem
The transmission issue is the Ford Explorer problem that is most well-known. It was recognized as the worst three Explorer issues by Car Complaint.
The worst year model was the 2006 model, which was followed by the 2002 and 2004 Explorer models. That carried the trend of having this issue in them.
It's also important to mention that the Explorer from 2002 to 2005 has a history of expensive transmission breakdowns at little mileage, which has been well-documented.
And it happened before the car drove 100,000 miles.
2. Wheel Bearing Failure
Wheel bearings are crucial to the functionality of a vehicle. Because they facilitate the wheel's smooth rotation, they are crucial to the proper operation of any vehicle.
This issue often arises at roughly 90,000 miles, especially in the 2002 and 2003 Ford Explorers.
Though this issue was eventually fixed, it still turned out to be a prevalent issue in the older models of the Explorer.
3. Car Stall Issues
Persistent transmission issues may result in transmission failure. The transmission will seize, and the vehicle will come to an abrupt stop if a breakdown occurs.
And this is exactly what happened with the Ford Explorer so often that it became a very common problem, with the only solution being a gearbox replacement.
Frequently Asked Questions
Q1: Is Ford Explorer A Good Car?
Absolutely, The Ford Explorer is a top-notch SUV. It has a variety of powerful turbocharged engines, offers a comfortable ride, and gets decent gas efficiency.
Additionally, it boasts a large amount of cargo room and a comprehensive list of standard amenities, including several active safety measures and a user-friendly infotainment system.
Q2: Do Ford Explorers Hold Their Value?
A Ford Explorer will lose 37% of its value and have a market value of $30,870 after five years.
A new Ford Explorer will lose more than a quarter of its value in the first two years after you drive it off the lot.
Q3: How Many Ford Explorers Have Been Sold?
Though, of course, a simple number or value can't be presented but on average, about 243,000 units of the car are sold per year by the company. In 2021, for the first eleven months, ford sold 199,156 units.
Q4: Which Ford Explorer Engine Is The Most Reliable?
The most reliable engine for the Ford Explorer is its 2.3L Ecoboost four-cylinder which is the greatest option for drivers looking for the best of both worlds.
With an impressive and substantial towing capacity and the ability to tow up to 5,300 lbs.
Q5: Is Ford Explorer Expensive To Maintain?
The average cost of yearly repairs is $732. Major repairs are rare for the Explorer due to the average severity of faults and their low frequency.
That translates into the fact that it is not that expensive to own or maintain the Ford Explorer.
Conclusion
Now we have steadily reached the end of the best and worst years for Ford Explorer.
I hope that I was able to give you all the information you needed to make a choice that you will not regret, and I certainly hope that you do not own any of the mentioned worst models.
The Ford Explorer is a great SUV with amazing features and an amazing engine at times. The car can be your best friend, provided that you treat it properly.
Its powerful engine can help you transport heavy luggage and even help you tow huge weights; moreover, it can even work as a normal daily commuting SUV.
References:
https://www.autobytel.com/ford/sport-utility-vehicles/reviews/used-ford-explorer-pros-vs-cons-105157/
https://www.ford.com/suvs/explorer/
https://www.cartalk.com/blogs/car-talk-car-complaints/first-signs-carpocalypse-2016-ford-explorer