The Dodge Ram 1500 is the most popular truck in the United States, with over 2 million sold since 1993.
It's also one of the best-selling trucks in the world. It is a part of the Ram Series, which has been in production since 1981 and has a reputation for being reliable, stylish, and powerful.
With that said, the Ram 1500 is not perfect. If it was, this article would never have existed.
Well, it does, and it says that there are best and worst years for Dodge Ram 1500, which will be discussed today.
Before we discuss them, let's take a look at them.
Worst Years for Dodge RAM 1500:
1999
2001
2002
2003
2004
Best Years for Dodge RAM 1500:
1994
1995
1996
1997
2010
You may be wondering why no recent models are on the list above. Well, after 2011, the Ram brand pursued its path and separated from Dodge.
Plus, the final models of the Ram 1500 were neither good nor bad to end up on this list. Let's check how good the rest of them are.
What Are The Worst Years For The Dodge RAM 1500? Which Years To Avoid
Although the truck was first in production decades ago, it looks like Dodge did not do much to improve it in its first two decades. This is evident in the models on this list.
1. 1999 Dodge RAM 1500
It's the oldest model on this list and has been around for a long time—so there are a lot of issues that people have run into.
The most common was the cracked dashboard issue, where the plastic in the dash would crack over time.
Another common problem with the 1999 Dodge Ram 1500 is transmission failure, which various reasons can cause.
Other common problems include brake and ABS lights coming on, usually due to bad wiring or connections.
This can be fixed by replacing either of those parts, but it's still an expensive repair.
2. 2001 Dodge RAM 1500
The Dodge Ram 1500 was a popular pickup truck, but the 2001 model was not well-received by consumers. The most notable issue was that the dashboard could crack.
This happened to owners who were driving around in their trucks. It was random, and Dodge did not fix it.
Transmission issues also persisted in this model. Owners complained that it would fail or act erratically.
There were also reports of the AC system failing, which is completely unacceptable. All in all, this is another model that is not worth buying.
3. 2002 Dodge RAM 1500
If you're considering buying a 2002 Dodge Ram 1500 model, you may want to reconsider.
Although the truck looks great and performs well, it has some serious issues that can't be ignored.
The dashboard is prone to cracking if exposed to high heat or cold weather. This problem doesn't go away with time. It still was not fixed, even after two years.
The engine may also fail due to sludge build-up in the fuel lines—and this is something that will happen even if you take care of your truck and keep up with regular maintenance.
Buying this model is a risk not worth taking.
4. 2003 Dodge RAM 1500
The 2003 Dodge Ram 1500 was a bad vehicle, and it's not hard to see why. This Ram model is a car that has been notorious for its dashboard cracking issues.
And unfortunately, it's not just the 2003 RAM 1500 model that suffers from this problem. It was present in the previous ones too.
In addition to the dashboard cracking issue, the owners of this truck also complained about engine failure.
The paint job on these trucks was also not up to par with previous years' models, possibly due to a change in manufacturers or poor quality control overall.
5. 2004 Dodge RAM 1500
The 2004 Dodge Ram 1500 is the last model on this list. It is a bad choice for those looking for a truck that will stand the test of time.
The engine issues, such as stalling or dying while driving, are especially concerning. The dashboard would also crack easily, which is not good for your car's appearance.
Another issue with this vehicle is rack and pinion leaks, which can cause serious problems with your steering wheel and make it very difficult to drive safely.
These issues make purchasing this model not worth it.
What Are The Best Years For The Dodge RAM 1500? Which Years To Buy
Next up, we will be moving on to the models of the Ram 1500 that can be trusted blindly.
I have picked the five best ones, so you have different options to compare and choose from.
Let's begin!
1. 1994 Dodge RAM 1500
The 1994 Dodge Ram 1500 has a V6 engine producing 175 HP. It also has an optional V8 option that can produce 220 HP.
This may seem low compared to today's standards, but you cannot complain at this price.
That is not the best thing about this model. Although it is old, it is still an amazing vehicle on the road.
It has a comfortable and roomy interior, which is more than enough for most people. It can be found for pretty cheap and is worth it.
2. 1995 Dodge RAM 1500
The 1995 Dodge Ram 1500 is a great car for anyone looking to take their driving experience to the next level.
As there was a major redesign in 1994, the 1995 model kept the same features, but some kinks may have been worked out.
The vehicle provides an amazing ride experience and has a powerful engine.
The interior is spacious and comfortable, with plenty of room for five adults to sit comfortably inside. It is pretty old now, but as a secondary vehicle, it is worth it.
3. 1996 Dodge RAM 1500
You may be wondering what could be better about an already amazing truck. Well, Dodge answered your prayers when they added automatic transmissions to it in 1996.
Not only did they add automatic transmissions, but they also made some other improvements to make this truck even better than before.
The 1996 Dodge Ram 1500 V8 engine variant had better torque than its predecessors, making driving more fun on rough terrain and off-roading.
The new color offerings added more personality to this already great-looking pickup truck!
4. 1997 Dodge RAM 1500
Although the 1997 Dodge Ram 1500 did not undergo many major changes, this is good.
The optional keyless entry system was a huge hit for drivers and passengers, giving them peace of mind that their truck would be safe from theft.
The CD/Cassette stereo systems were popular back then, but not anymore. But it doesn't hurt to listen to classical music from time to time.
Overall, it is an excellent option for people looking for something powerful and light on the pocket.
5. 2010 Dodge RAM 1500
The 2010 Dodge Ram 1500 is a great choice for anyone looking for a truck ready to tackle any adventure. It offers an excellent ride quality, with a smooth, comfortable ride.
Moreover, the interior is also high quality and provides plenty of space for you and your passengers.
The powerful V8 engine will get you where you need to go quickly, so whether you're headed off on a road trip or driving in the city, this truck will get you there safely and on time.
How Reliable Is A Dodge RAM 1500?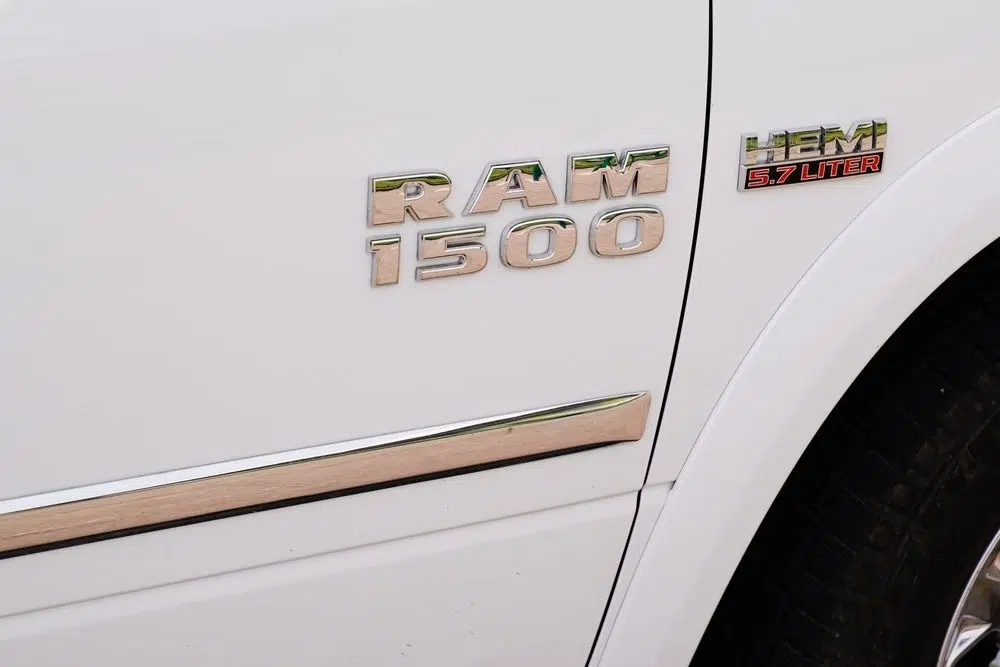 This one is a decently reliable truck. It's not at the top of the class, but owners were more than happy with their trucks, and many were surprised at how well they performed for them.
This means that the vehicle is neither too good at keeping problems at bay, but it is not too behind compared to some other trucks on the market.
Overall, it is a solid truck, but you must be careful about your chosen model.
How Long Do Dodge RAM 1500s Last?
If you're wondering how long your these will last, the answer is probably somewhere between 200,000 to 250,000 miles. That is a decent number and is, once again, not the best a truck offers.
The Dodge Ram 1500 is built to last, and it's often touted as one of the most durable trucks on the market. It has a reputation for being reliable and well-made.
You can rest assured that there is a high probability that your model will drive through that 250000 mile limit with ease without giving you too many issues.
What To Do To Lengthen The Life Of Your Dodge RAM 1500
The life of your Dodge Ram 1500 can be extended by following some simple steps.
Let's find out them below:
The engine is the most expensive part of your vehicle, so it's important to keep it running smoothly by changing your oil every 5,000 miles or so.
You'll also want to check the transmission fluid, coolant, brake fluid, and power steering fluid levels once a month or so.
If your check engine light comes on while you're driving, pull over immediately and shut off the vehicle.
This could indicate an issue with emissions or fuel efficiency that requires attention from a professional mechanic who specializes in diesel engines like yours! Even a small issue should not be taken lightly, as it could develop into something more.
One of the best ways to extend the life of your Ram 1500 is to improve your driving habits. The way you drive can have a huge impact on the longevity of your truck.
If you're not driving safely, you're putting yourself and others at risk, but you're also putting extra wear and tear on your vehicle.
If you want your truck to last as long as possible, make sure that you're safe while driving.
You may already be aware of these tips but enforcing them is never enough. So, you should make sure that you follow them.
Things That Shorten The Lifespan Of Your Dodge RAM 1500
The Dodge Ram 1500 is a great truck. It's built to last, and it can go the distance.
But there are some things that may shorten its lifespan if you're not careful.
If you're not getting your Dodge Ram 1500 serviced by a certified mechanic, it's easy for them to use cheap, low-quality replacement parts when they're doing maintenance or repairs.
These parts might seem like a good deal at first, but they can cause more problems down the road and shorten your truck's lifespan.
If you keep putting off getting maintenance done on your Ram 1500, eventually, you'll have more serious problems than if you got it done right away!
Plus, if something gets worse while you're driving (like an oil leak), it could cause damage to other parts of your vehicle or even put other people in danger.
This is one of those things that sound really simple—but if you don't do it often enough or well enough (like changing the filter when there's still some old gunk left in there), then this could cause problems with how well your truck runs over time.
The contaminants can harm the engine and cause irreversible and irreparable damage.
You should make sure to never do these things. They are pretty serious and can have a drastic impact on the lifespan of the truck you know and love.
Be careful with it, and it will last for as long as you want.
3 Most Dodge RAM 1500 Common Problems You Should Know
The Dodge Ram 1500 is a very popular vehicle. It has been around for decades, and thousands of people love it.
However, this does not mean that you won't run into trouble with it at some point.
Below are some of the most common problems you may experience with this truck.
1. Engine Producing A Lot Of Noise When Accelerating
One of the most common problems with the Dodge Ram 1500 is excessive engine noise, particularly when accelerating.
This can be caused by a number of issues, including worn-out spark plugs and wires, improperly installed exhaust systems, and clogged catalytic converters.
If you are experiencing this problem and have tried changing your spark plugs and wires without success, take your vehicle to a mechanic for further diagnosis.
2. Water Leaking From The Rear Window
If your rear window is leaking, it may be because the rubber gasket around the window seal has deteriorated and needs to be replaced.
This is an easy fix for most people who can do simple repairs on their own vehicle (although we recommend having a professional do it for you if you aren't comfortable doing this kind of work).
You can look up instructions online or in your owner's manual on how to replace this part yourself.
Dodge used a low-quality gasket as good ones last decades without ever causing any issue.
3. Engine Stalling
If the engine on your Dodge Ram 1500 is not turning over or stalls, it is likely that the battery is dead.
A dead battery can be caused by leaving the lights on or by a faulty alternator.
Try to start the truck, and if it turns over but does not start, then you may want to check your spark plugs and wires for any damage.
But you should still get the truck checked by a professional, as the issue can be much more serious.
These are the most common issues that have been faced by unfortunate owners of the Ram 1500. You should be aware of them before you purchase this truck.
Frequently Asked Questions
Q1: Is Dodge RAM 1500 A Good Truck?
Yes, Dodge Ram 1500 is a good truck. It is a full-size pickup with a V8 engine. It has plenty of power and torque to tow or haul loads.
The interior is very roomy and comfortable, with plenty of space for passengers. All in all, it is an excellent all-rounder.
Q2: Do Dodge RAM 1500s Hold Their Value?
The Dodge Ram 1500 is a great truck, but it doesn't hold its value as well as similar trucks from Ford and Chevy.
According to CarEdge, a Ram 1500 will depreciate 31% after five years, which is not great.
So, if you are buying one with hopes of it not getting depreciated too much, you should not consider it.
Q3: How Many Dodge RAMs 1500 Have Been Sold?
It's hard to get a handle on exactly how many Dodge Ram 1500 have been sold in the past decade.
We can, however, get a sense of how many were sold in any given year by looking at annual sales data.
In 2009, Dodge sold 177,000 Ram 1500 trucks. The following year they sold 400,000. These are the highest and lowest figures and are pretty impressive.
Q4: Which Dodge RAM 1500 Engine Is The Most Reliable?
The 5.7L Hemi is a reliable engine for your Ram 1500. It has been in production since 2003 and has a good track record for performance and reliability.
This engine will not let you down! It is powerful and will deliver amazing horsepower.
Q5: Is Dodge RAM 1500 Expensive To Maintain?
If you're worried about the cost of owning the Ram 1500, then you should know that it is more expensive to maintain than other trucks.
The first ten years of owning a Dodge Ram 1500 will cost about $17700 in repairs and maintenance, which is $7356 more than the average for similar trucks. That's a lot of money!
Conclusion
The Dodge Ram 1500 has been an icon of American trucking since the first model was produced in 1993.
This truck has gone through many changes over the years, and while some have been great, others have not been so good.
There have been many changes to this truck over the years, and not all of them were for the better.
So, when it comes to buying one, you should be aware of the best and worst years for Dodge Ram 1500.
The proper knowledge that has been provided in this article will make allow you to make an informed decision, so you don't make a decision that you will regret later on.
References:
https://www.edmunds.com/dodge/ram-pickup-1500/2010/review/
https://caredge.com/ram/1500/maintenance
https://www.carcomplaints.com/Dodge/Ram_1500/