GMC Sierra is a mid-sized pickup truck produced by General Motors. It is a solid truck and has been loved by people for decades.
The Sierra has undergone several redesigns throughout its lifetime; however, it has always retained its rugged appearance and focus on off-road capabilities.
The truck might be great or even outstanding at the time, but it is not perfect. With it being in the market for over 30 years, there have been many best and worst years for GMC Sierra.
Buyers today must make sure that they purchase a model worth considering. Let's take a look at them before we get into the details.
Worst Years for GMC Sierra:
2004
2014
2015
2017
2019
Best Years for GMC Sierra:
2012
2016
2018
2020
2021
So, let's not waste any time and get straight into it. The article does not end here! I will justify every model's position on its respective list, so you can know better.
What Are The Worst Years For The GMC Sierra? Which Years To Avoid
First, I will be taking a detailed look into the worst models mentioned in the introduction above.
These models have had various issues, making buying or considering them a not-so-great decision.
1. 2004 GMC Sierra
The 2004 GMC Sierra is the oldest model on this list and has had many issues. The air conditioner would malfunction, and the instrument panel often had problems.
Furthermore, the brakes were also faulty and would lock up when stopped at a light or stop sign. It does not end there. The 2004 model of the truck also had an issue with the steering column.
Lastly, it would produce a clunking noise while driving, which not only meant that there was a major fault but also made the driving experience less pleasurable.
2. 2014 GMC Sierra
The 2014 GMC Sierra had some serious problems. First, it came a whole decade later than the previous model on this list, yet it still couldn't get it right.
This model is also the highest-complained-about model in the truck's history, with low headlight visibility and bulbs burning out among the most common issues.
The air conditioner condenser would leak and cause the failure of the AC system (which already was not good at its job), as well as seat heaters that barely worked at all.
The infotainment system's touch screen was also unreliable and would stop working.
To top it all off, the 2014 model also had paint issues. It would peel off. The body and the frame were also very susceptible to rust.
3. 2015 GMC Sierra
If you're considering buying a 2015 GMC Sierra, you may have noticed that it has many of the same issues as the 2014 model.
The transmission was known to hesitate and skip, making the driving experience unreliable.
Moreover, the headlights were ineffective, and bulbs would blow out frequently, causing poor visibility at night.
The AC system would fail due to the compressor locking up or failing altogether, making for an uncomfortable ride in hot weather.
Similar paint issues were found in this truck model, with it peeling off. There was also the issue of proper sealing.
Water would leak into the interior, making it impossible to get it through a car wash or even in heavy rain.
4. 2017 GMC Sierra
If you're looking for a new truck and you've been considering the 2017 GMC Sierra, we're here to tell you why it might not be the best choice.
First, while this truck is better than the 2015 model, it's still not worth considering.
The transmission would shift hard when going in and out of first gear, it would also often slip and jerk, and the engine would run rough.
Additionally, owners have reported unusually high oil consumption and brake failure.
When you add all of this up, it can be concluded that the 2017 model of the Sierra is not safe to drive.
5. 2019 GMC Sierra
The 2019 GMC Sierra is the lowest complained about the model in the entire GMC lineup. But that doesn't mean it's great— it's far from it.
The electrical issues reported by the owners of this vehicle are among the worst we've seen.
They include the battery dying multiple times, sensors giving false readings (such as a collision warning), and ECM failure.
The worst complaint of this model by far was hard shifting. The list still keeps going on.
Lastly, the brakes were known to fail, which meant the truck could not be safely stopped. This is incredibly dangerous.
What Are The Best Years For The GMC Sierra? Which Years To Buy
I promised to discuss all models in the introduction. Now that I have discussed the worst models of the Sierra, I thought you should also get to know the other side of it.
These five truck models have the lowest number of complaints, making them the best ones too. So, let's see what makes them good.
1. 2012 GMC Sierra
You've got many options when looking for a used truck and the 2012 GMC Sierra is a great one.
This model has a smooth ride, so you can get where you need to go without feeling like you're on a roller coaster.
The noise isolation from the surroundings is also top-notch. You will not be disturbed by irrelevant ambient sounds wherever you are driving.
The interior is made from high-quality materials that are easy to clean and will last for years.
Finally, when it comes time for performance, this truck has all the features you need in an engine: powerful V8 engines that can produce up to 403 HP!
2. 2016 GMC Sierra
The 2016 GMC Sierra is a good truck for several reasons. It has many engine options, all of which are powerful and not too fuel-hungry.
Moreover, the 2016 GMC Sierra also comes with newer and better technology, making driving the truck much easier.
The comfortable interior is another great reason to buy this truck, as well as its extremely good ride quality on the Denali trim.
You can get a used 2016 Sierra at a significantly cheaper rate than a new one. So, why not invest in one?
3. 2018 GMC Sierra
The 2018 GMC Sierra is a great choice for anyone looking for a truck that can stand up to the rigors of work and play.
This truck is available in a wide range of trims, so you can customize it to your needs.
The cabin has proper noise isolation, so you can enjoy your music even when it's loud outside. The ride quality is pretty good, thanks to a high-quality suspension system.
Moreover, the fuel economy is decent, so you'll be able to keep costs down when driving long distances.
Combine this with the 420 HP maximum power; you will surely enjoy riding this 2018 Sierra.
4. 2020 GMC Sierra
If you're looking for a truck that can handle any task, look no further than the 2020 GMC Sierra.
This midsize pickup boasts a long cabin with a lot of legroom and a bed capacity that can hold everything from your camping gear to your gardening tools.
Thanks to the versatile tie-down points, you can haul just about anything in the bed of this pickup!
The 2020 GMC Sierra also comes with many powertrain options, so it's easy to find one that fits your needs.
For example, opt for one of its turbocharged engines if you need a little more power when hauling heavy loads.
Overall, the 2020 model is a solid truck and is worth considering.
5. 2021 GMC Sierra
The 2021 GMC Sierra is a good choice for anyone who needs a spacious, comfortable truck.
All trim options in the 2020 model are also available in 2021, so you can get all the bells and whistles you want without getting an older model.
The cabin is spacious and comfortable, with plenty of room for passengers and cargo alike. The bed is also massive—you can fit a lot into it!
Lastly, if you're looking for an infotainment system that works well with your phone, the 2021 Sierra has one of the best on the market.
How Reliable Is A GMC Sierra?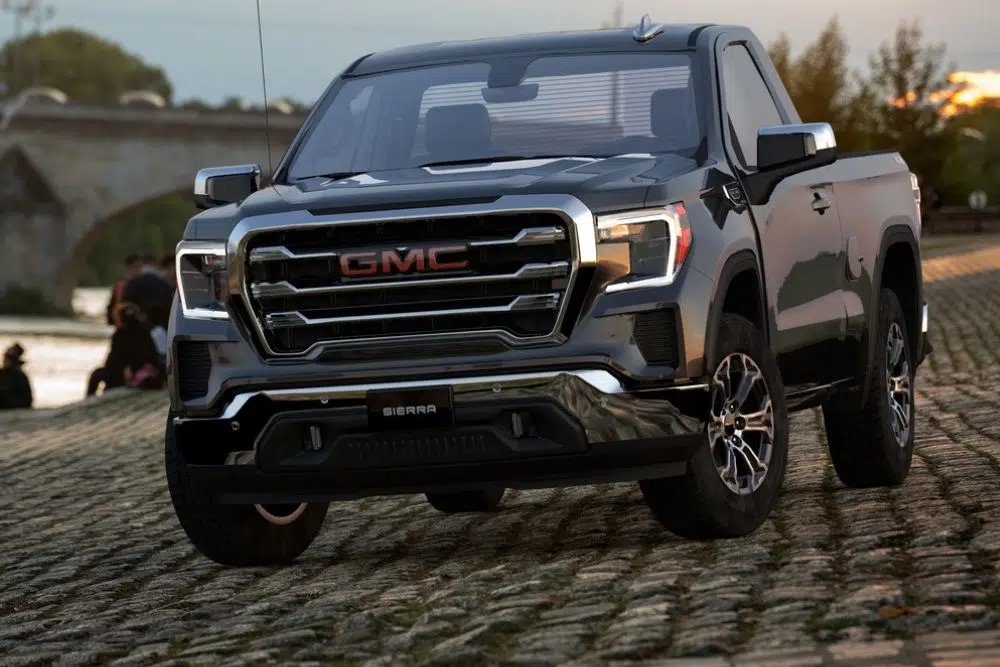 The GMC Sierra is very reliable, but it's important to know which model you're looking at before buying one.
The newest models are reliable, and the older ones have a few issues. But that does not mean that all the newest ones are great.
So, you must do proper research before deciding which model suits you.
The GMC Sierra has an excellent drive, solid build, and high-quality suspension. The interior is comfortable and spacious, with plenty of room for cargo and passengers.
How Long Do GMC Sierras Last?
In the world of cars, the GMC Sierra is a workhorse. It's built for long-term use, and it can last up to 300,000 miles.
That's amazing! If you're driving 15,000 miles annually, then it'll last you for at least 20 years. 20 years of constant use is something not all trucks and vehicles can handle.
Well, that is certainly not the case with the Sierra. You can buy it and rest assured that it will stay with you for a very long time.
What To Do To Lengthen The Life Of Your GMC Sierra
The life of your GMC Sierra is something you want to protect.
Here are three things you can do to lengthen the life of your truck:
Change oil in a timely fashion. You should change the oil every 3,000 miles.
If opting for synthetic oil, then you can go for as much as 7500 miles before needing to replace it.
Rotate tires every 5000 miles. This will ensure that the tires have an even wear.
This also applies to the suspension too, so you can get consistent shock-absorbing performance.
Cleaning filters regularly will make sure that air flows through your vehicle smoothly, reducing drag on its engine and extending its life by keeping it running efficiently.
Also, make sure to clean the fuel filter, as it may restrict the flow of fuel to the engine.
You need to make sure that these practices are a part of your truck's maintenance. This will allow it to maximize its advertised lifespan.
Things That Shorten The Lifespan Of Your GMC Sierra
You may not realize it, but there are certain things you do every day that shorten the lifespan of your GMC Sierra.
Here are three of the most common ones:
Don't drive on an empty fuel tank! This can cause sludge to form in your fuel system and leave residue on the fuel injectors, which can lead to engine failure.
Stepping too hard on the accelerator and brakes causes wear and tear on all moving parts of your vehicle, leading to more frequent repairs and more expensive repairs down the line. And don't forget that stepping too hard on those pedals can lead to accidents!
Using low-quality replacement parts is another big one—you can save money by buying cheap parts, but if they break down sooner than expected (or break at all), you'll end up paying more in repairs than if you had just gone for quality from the beginning.
Just as things can improve the lifespan of the truck, as discussed in the previous section, there can be those that can adversely affect it too. Well, you need to make sure not to let them happen.
3 Most Common GMC Sierra Problems You Should Know
The GMC Sierra has had many problems over the years. Now, most of them have not been too frequently reported but the three that are about to be discussed here are.
Let's take a look!
1. Faulty Fuel Level Sensor
The fuel level sensor tells the engine's computer how much gas is left in your tank and when to stop pumping.
If this sensor malfunctions, it can cause a variety of issues, including stalling and running out of gas while driving just because you did not know the exact amount present at all times.
2. Air Conditioner Failure
The air conditioner may not work properly if the compressor is broken or otherwise damaged. This can be dangerous in hot weather!
Unfortunately, this issue was pretty common with the GMC Sierra. It was mostly found in the 2014 and 2015 models and has been mentioned in the worst year's section.
3. Clunking Sound From The Steering Column
This issue often occurs when an owner fails to do routine maintenance on their vehicle or has neglected to replace worn parts as needed throughout its lifetime.
Regardless, the clunking sound was heard by users even after following all of these steps, which means there was something wrong with the entire column.
Even if there is a 1% chance of failure of the steering system, would you really want to take the risk?
Frequently Asked Questions
Q1: Is GMC Sierra A Good Truck?
The GMC Sierra is a good truck if you are looking for a pickup that's large, has lots of room in the cab, and can tow big loads.
The Sierra is also great if you need a vehicle that can handle difficult off-road conditions. It checks all the right boxes, making it a solid option to consider.
Q2: Do GMC Sierras Hold Their Value?
The Sierra has a reputation for holding its value, which means you can get into one of these beauties at an affordable price and then sell it down the line for a fair price.
In fact, according to CarEdge, only 22% of depreciation occurs after five years. This is one of the best numbers I've ever seen!
Q3: How Many GMC Sierras Have Been Sold?
The GMC Sierra has consistently over 200000 trucks sold every year since 2014. It is extremely popular, and this shows that it is one of the best trucks on the market today.
This is a great truck because it has many features that make it stand out from the rest.
Unfortunately, as this truck is still in production, there is no exact number to tell the total number of sales.
Q4: Which GMC Sierra Engine Is The Most Reliable?
The GMC Sierra has a variety of engine options that provide different combinations of power, efficiency, and fuel economy.
The most powerful and reliable engine is the 6.2L ECOTEC3 V8. This engine produces 420 HP and 460lb.-ft of torque. It comes standard with a 10-speed automatic transmission and 4WD.
Q5: Is GMC Sierra Expensive To Maintain?
The GMC Sierra is an expensive truck to maintain, but it's still cheaper than the industry average. The GMC Sierra costs $8948 over ten years.
This means that the average owner of a GMC Sierra will spend about $1300 less than the average owner of a pickup truck in general. That is a steep difference.
Conclusion
When you're looking to buy a new truck, it can be hard to know if you're making the right decision. Luckily, I've done all the research for you.
I've compared reviews from across the web and found out which years of GMC Sierra are more likely to be good.
I then took that data and ranked all of those years accordingly in this article of the best and worst years for GMC Sierra.
I hope you got all the information you wanted from this article. Now, you can rest assured that the information here is factually accurate.
So, now you can make a proper decision regarding which model of the truck is perfect for you.