The GMC Terrain is a compact SUV that's been around for a few years. It's got plenty of room for passengers and cargo, and it's got the power to get you where you need to go.
It has been loved by families due to its spacious room and is perfect for holiday trips or everyday uses.
It has been around since 2010 and has been in the market for over a decade. The unfortunate news is that this SUV has had an unstable history regarding annual releases.
This article will cover the best and worst years for GMC Terrain, so you don't have to research for yourself.
Let me list down all of the important model years below:
Worst Years for GMC Terrain:
2010
2011
2012
2013
2014
Best Years for GMC Terrain:
2017
2018
2020
2021
2022
I suggest you continue reading this article to know exactly why these models have been placed on their respective lists.
By looking at the list, you might be able to see that the Terrain was not off to a good start when it was introduced. But things changed after 2015.
So, without any further ado, let's get started.
What Are The Worst Years For The GMC Terrain? Which Years To Avoid
I am here to help you determine which years are the worst for GMC Terrain.
I've compiled this list of the worst years for GMC Terrain to help you make an informed decision whenever you buy this SUV.
That way, you can ensure the model you buy is good and avoid the most dangerous models.
1. 2010 GMC Terrain
If you're looking for a vehicle that will get you from point A to point B, then the 2010 GMC Terrain is not for you.
This model was the first of its kind, so expectations were high, but unfortunately, GMC could not deliver. Owners reported several issues which made owning this model incredibly difficult.
The engine would consume oil at a rapid rate, requiring more top-ups than normal. It would also give owners a rough drive, making the driving experience less than ideal.
Finally, this model also had many reports of complete transmission failure. This was unacceptable as GMC released a new SUV without testing it properly.
Regardless, if you are considering buying the GMC Terrain, you should consider some other model than 2010 one.
2. 2011 GMC Terrain
The 2011 GMC Terrain is not a model that I recommend. It has been named the most complained about the model in the history of the Terrain, and it's easy to see why.
Furthermore, the most common issue that owners have reported is excessive oil consumption. This can be a serious problem because you'll have to spend more on oil changes.
The frequent drop in oil levels can also result in quicker wear and tear of the engine. Another major issue with this model is engine stalling while driving, which can be dangerous.
Many owners also faced complete transmission failure and were left with a car that could not move.
Even the paint quality was low, resulting in peeling after some use—and this isn't something you want to deal with!
3. 2012 GMC Terrain
The 2012 GMC Terrain was a bad purchase for many people. Although it has fewer complaints than the 2011 model, it most probably may be due to people avoiding this problem-filled SUV altogether.
Although transmission failures were not reported, the system was still filled with many issues.
One of this model's most common transmission complaints was that it would clunk whenever changing gears.
This issue makes the driving experience very uncomfortable. The ones who bought it had to face similar issues such as engine consuming oil and stalling when low idling.
The given features were also glitchy. The navigation system was inaccurate, and the power seat would stop working.
The radio would also sometimes stop working, making owning this model a headache.
4. 2013 GMC Terrain
The 2013 GMC Terrain is a model that should be avoided at all costs. It had much more serious issues, in addition to the old ones.
The main seal on the engine would blow for many users. High oil consumption was once again reported in this model.
It does not end there. The Bluetooth system was buggy and would not work properly.
The transmission would produce a lot of vibration when driving, making the experience of owning this model not worth it.
Also, there was very poor isolation, resulting in noise entering the cabin. There was also one report of water leakage into the interior, which is simply unacceptable.
These issues make the 2013 GMC Terrain not worth investing in, as it will spend more time at the mechanic than with you.
5. 2014 GMC Terrain
The 2014 GMC Terrain is the fifth model in a row with similar issues. While it's not the worst vehicle on this list, it still has some serious flaws that should never have been there in the first place.
Moreover, the biggest issue is high oil consumption: if you drive around town all day in stop-and-go traffic, your car will use more oil than normal.
It's also known to have engine issues that shut it down while driving or cause uncontrolled acceleration, which can result in a serious accident.
Finally, the radio sometimes has issues with working. And when the wipers stop working in rainy conditions (which they often do), it can be dangerous to drive with no visibility!
The menu display was also known to be buggy and could become blank.
What Are The Best Years For The GMC Terrain? Which Years To Buy
Now that I am done with the worst models let's move on to the best ones.
The GMC Terrain has a reliable history, but this can only be said for the recent models. You will know exactly what makes them so good.
So, let's not waste any time and jump into it.
1. 2017 GMC Terrain
If you're looking for a stylish, reliable vehicle that won't break the bank, you'll love the 2017 GMC Terrain.
The interior is spacious and comfortable, with room for up to five passengers and 64 cubic feet of storage space when the seats are folded down.
That is a lot of space and is more than enough for most peoples' cargo. It also has six airbags and many safety features to keep you safe on the road.
The top-of-the-line GMC Terrain has a 3.6L V6 engine with enough power to make it easy to get around town or take long trips.
It is a decent performer, and you will not feel like the SUV is underpowered. This applies to all engines of the SUV.
2. 2018 GMC Terrain
The 2018 GMC Terrain is a completely new vehicle generation, bringing many changes to the table while retaining reliability.
The exterior has a great look, and the interior is a premium feel. The Denali model, the top-of-the-line variant, has an even better interior and uses leather.
The Terrain has a 28 mpg combined fuel economy, which is good for its class.
The ride is excellent, and the handling is also very good. It's relatively smooth, which makes it great for long drives and daily commutes.
The infotainment system, called the IntelliLink, is among the best in its class. It is also easy to use and versatile, allowing for customization and easy phone connectivity.
3. 2020 GMC Terrain
This year, GMC dropped the optional diesel engine for the 2020 Terrain. That's not the only thing that changed, though!
The 2020 model got a nice interior upgrade, with a more contemporary design and higher quality materials. The Terrain provides a great ride, thanks to a good suspension system.
The handling is also pretty good, allowing you to drive at high speeds without any danger of losing control.
There are two engine options: a 2.0L Turbo engine that can produce 252 HP and an available 1.5L engine that can produce 170 HP.
Both of them are pretty good, but I would recommend finding one that has the turbo engine equipped. The infotainment system is easy and fun to use as well!
All in all, the 2020 model of the GMC Terrain is pretty good, and you will certainly enjoy driving it.
4. 2021 GMC Terrain
The 2021 GMC Terrain is a great choice for those looking for a midsize SUV on a budget. It's similar to the 2020 model, which is a good thing.
The 2020 model was already pretty reliable, so if GMC played safe by not making any major changes, that was a good decision.
The exterior is still stylish and modern, with a sleek design that will make you want to take it for a drive every day. This version also offers decent fuel economy at 28 mpg.
The Denali trim has a 2.0L turbo engine that can output 252 HP—that's pretty good!
Although this model isn't designed for it, it can be equipped with a tow package to haul up to 3500 pounds.
5. 2022 GMC Terrain
The new GMC Terrain has been redesigned after four years, and it's a big improvement. I've looked at all of its trim options, and I've got to say—this SUV looks amazing.
The turbocharged engine is available in all variants, so you can get it no matter what model you choose.
Moreover, the All-Terrain models have the GMC Safety Suite, so you'll be able to keep your focus on driving instead of worrying about what could happen if you get in an accident.
And finally, this SUV has reduced road noise. It also utilizes a high-quality suspension system designed to absorb any shocks.
This is an issue that is present in older models of the SUV. So, it is great that GMC finally fixed it.
How Reliable Is A GMC Terrain?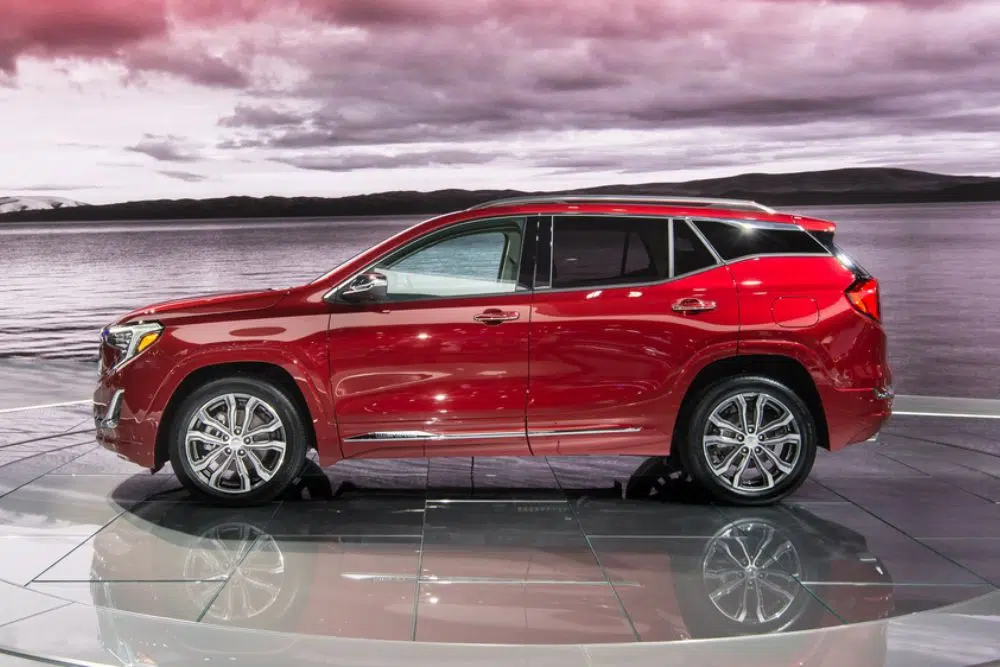 GMC Terrain is a great vehicle to own. The latest models are reliable, with little to no complaints.
However, the models released before 2015 had the opposite story. They had many issues and were a headache to own.
If you are looking at purchasing an older model of this vehicle, you should be aware that they have been known to have problems with the engine and transmission very early in their lives.
If you decide to purchase one of these vehicles, get a thorough inspection from a professional mechanic who can tell you if there's anything wrong with it before taking it home!
How Long Do GMC Terrains Last?
The GMC Terrain is a great choice for buying a new SUV. It has many great features and is built to last, so you can expect it to last you for up to 300000 miles (that's pretty good).
You can expect around 20 years of service life from this SUV, so if you're planning on keeping it for the long haul, this could be the right choice!
What To Do To Lengthen The Life Of Your GMC Terrain
The GMC Terrain is a decent SUV, but you can help it drive better.
This section will look at tips that can help the Terrain live longer.
Check the oil regularly. This is especially important if you drive in a lot of stop-and-go traffic or long distances on highways or freeways where there's not much opportunity for regular stops.
Keep your tires well-inflated. Underinflated tires will wear out more quickly and make the SUV harder to control.
You should avoid potholes and other obstacles that may damage your tires or other parts of the vehicle.
Tires must be rotated every six months to prevent them from wearing unevenly and prematurely.
Use premium fuel whenever possible. It may cost more per gallon than regular unleaded gasoline, but using premium will help keep your engine running smoothly and efficiently for longer periods.
These were some of the commonly known tips that can be used to improve the lifespan of the GMC Terrain.
Things That Shorten The Lifespan Of Your GMC Terrain
Many things can adversely affect the SUV's lifespan. This section will look at them, so you can understand what not to do.
The faster you go, the more your tires wear down. That means they'll have to be replaced more often, less money in your pocket. And who needs that?
Don't go off-roading with your Terrain. Even though it has rugged looks, this is not an off-road vehicle—it's an SUV built for comfort on smooth roads and highways.
Don't let your car sit for more than a few days without starting it up and putting some miles on it.
Don't try to push your GMC Terrain past its limits—if it starts to feel like its struggling, don't push further.
Keep an eye on your tire pressure—if it is low enough, the tires will start to wear down faster.
You should always be aware of these things and make sure that you avoid them to ensure it can reach that 300000-mile mark.
3 Most Common GMC Terrain Problems You Should Know
The GMC Terrain is a reliable SUV, but it is not perfect. It has had issues in the past, which you should be aware of.
This section will take look at the most common ones.
1. High Oil Consumption
The 2010 to 2014 GMC Terrain has been known to have high oil consumption issues.
This is most likely caused by a faulty valve stem seal, which can leak oil onto the cylinder wall and cause the engine to burn off at an abnormally fast rate.
If you suspect this is your problem, take it to your mechanic for inspection and repair as soon as possible.
2. Failed Transmission
The 2010-2012 GMC Terrain has failed transmission problems detected by some symptoms. The first sign of trouble is often a grinding noise when the vehicle accelerates.
The second sign is that the car will not turn smoothly into gear, signaling a serious issue with the transmission.
This issue is annoying and very expensive to fix. It costs a few thousand dollars. This is because the only solution is to replace the transmission completely.
3. Engine Stalling
Engine stalling is a common issue for GMC Terrain vehicles. It has been present in earlier models, but it's still important to be aware of.
Engine stalling is so dangerous because it can cause the vehicle to lose power while driving, which can lead to an accident.
If you're driving at high speed, this may be even more likely than driving normally on the highway.
The only way to avoid these kinds of accidents is by being aware of this problem and taking steps to prevent it when possible.
Unfortunately, this issue suddenly appears. This makes it unpredictable.
Frequently Asked Questions
Q1: Is GMC Terrain A Good SUV?
GMC Terrain is a great SUV, but you must ensure that you get a recent model. If you choose a newer model, then it is a fantastic SUV.
The same cannot be said for the older models. They were filled with issues, as is evident in the worst year list of this article.
Q2: Do GMC Terrains Hold Their Value?
Terrains depreciate 31% after five years, which is pretty good for a vehicle. That means you'll only retain 69% of the value of your car after five years, which is not too bad!
You'll still be able to get some decent money for it even after that time has elapsed—and that's what matters most when selling a used vehicle.
Q3: How Many GMC Terrains Have Been Sold?
GMC Terrain sales have been hovering around 100,000 yearly over the past few years. In 2018, they topped out at 114,000.
However, in 2021, they were significantly lower than usual, with only 47,000 sold. There is no figure for 2022 as this SUV is being sold daily.
Q4: Which GMC Terrain Engine Is The Most Reliable?
The GMC Terrain has had a lot of engine options in the past, but the 2.0L turbo engine is the most reliable. This engine, found in the Denali model, can produce 252 HP and is reliable.
There are no complaints about this engine, making it one of the best ones that have been under the hood of this SUV.
Q5: Is GMC Terrain Expensive To Maintain?
The GMC Terrain is a great option for someone who wants an SUV but doesn't want to spend much money on maintenance. While some SUVs cost less to maintain over their 10-year lifespan.
The GMC Terrain's maintenance costs are lower than the industry average for SUVs by $1400, with the total being around $7700. That's a huge difference!
Conclusion
The GMC Terrain has been a popular SUV for many years. It has continued to improve over time with new features and safety technology.
The good years for the GMC Terrain were those released after 2014. The bad years for the GMC Terrain were those manufactured before that.
GMC brought to market an unreliable SUV but finally made things right.
I hope this article, which discusses the best and worst years for GMC Terrain, was informational enough that you can finally make an informed decision before buying this SUV.
It is a great buy, as long as you choose one of the more recent models.
References:
https://www.consumerreports.org/cars/gmc/terrain/
https://www.gmc.com/suvs/terrain/technology-safety
https://gmauthority.com/blog/2019/12/5-reasons-to-buy-the-gmc-terrain-and-5-reasons-not-to/