If you're in the market for a new vehicle, you've got plenty of options.
But when it comes to finding one that can keep up with your active lifestyle, there's no better choice than the GMC Acadia.
It is spacious, powerful, and perfect for families. It has been the go-to midsize SUV for hundreds of thousands of users, and your choice to buy it is a fantastic decision.
Despite its reputation, the GMC Acadia is an SUV that is far from perfect.
That is evident because it has had many problems over the years, which have been a source of discontent for thousands of users.
This article will discuss the best and worst years for GMC Acadia to avoid the models with the most issues.
Before I get into the serious part of the article, let's look at all the models that will be in the spotlight today.
Worst Years for GMC Acadia:
2007
2008
2010
2012
2017
Best Years for GMC Acadia:
2013
2016
2019
2020
2021
Unlike other vehicles with a cluster of good or bad years, the GMC Acadia's performance is all over the place.
One year it can be a great SUV, while it can be the opposite the next year. That is why this article is extremely important for potential buyers such as you.
Let's not waste any time and get into the details.
What Are The Worst YearS For The GMC Acadia? Which Years To Avoid
This section will look at the worst models of the GMC Acadia that were ever in production.
These have been plagued with various issues, making them so bad that people had to raise their voices.
Let's take a look at what exactly is wrong with them.
1. 2007 GMC Acadia
The 2007 GMC Acadia was the oldest model on the market 2007 and was also one of the worst.
It had a transmission issue resulting in the system failing, and some users reported engine failure.
The power steering pump would fail, and some owners reported that the stereo system would stop working.
These are critical systems of the SUV, and GMC still released this model for public use.
The 2007 GMC Acadia is more than ten years old now, so it's no surprise that more problems would pop up.
It also has aging technology, which is evident by the fact that owners reported that the navigation system would glitch out and the stereo system would stop working.
All in all, this model is certainly not worth your consideration. It will cause you nothing but trouble, which is something no one wants with their new family SUV.
2. 2008 GMC Acadia
The 2008 GMC Acadia is a bad SUV. It carried over issues from the 2007 model and added some of its own. It is the worst model out there.
Its transmission failed dozens of owners, leading to thousands of dollars worth of repair costs because it could only be replaced and not repaired.
The list of major issues does not end there. The engine would shut down while driving, which is dangerous, especially if you are driving on a highway.
Moreover, the steering system would fail, leading to drivers having no control. Both of these issues can cause life-threatening accidents.
The sunroof seals were weak and would let water in, making driving in the rain and through a carwash impossible.
This is annoying, given that people would have to watch out, even when washing their SUVs themselves.
3. 2010 GMC Acadia
The 2010 GMC Acadia was supposed to be a solid family SUV that's unfortunately not as reliable as it should be.
The Acadia's engine is problematic, with some owners reporting complete engine failure and others reporting trouble with the timing chain wearing out prematurely.
Moreover, the power steering on the Acadia was unreliable and would stop working, leading to dangerous situations when turning.
Some users reported that their cars had complete steering failures, which is especially troubling considering that it is the only way to control the SUV's direction.
Finally, the air conditioner in this model is also unreliable—it'll stop working or produce a loud noise when it does work.
This can be a problem in hot weather as the driving experience would be severely degraded.
4. 2012 GMC Acadia
The 2012 GMC Acadia is a model filled to the brim with issues. One of the most common problems reported with this model was a non-functional AC.
Furthermore, the 2012 Acadia also had complete engine failure. This problem had been present for five years, and GMC had still not addressed it.
An engine failure can only be addressed by replacing or rebuilding, which can be expensive.
Another common problem with the 2012 Acadia was seats made of low-quality materials that would crack and break apart.
This is straight-up unacceptable since this issue has not been heard of before.
The steering also became stiff and produced a noise which meant a major component had failed.
This meant that the SUV could not be controlled on the road, which is incredibly dangerous.
5. 2017 GMC Acadia
The company had a lot to prove when they released this SUV, and by this time, all expected GMC to iron out all issues. But that was certainly not the case.
The transmission system software glitches would not recognize that the SUV was parked. This meant the engine could not be turned off.
This meant continuous oil consumption and excessive wear and tear on the engine due to running for extended periods.
When it comes to the interior, the quality of materials and the accessories was also very poor.
Owners reported that the horn stopped working for many people. The sunroof shade also broke. Finally, the radio would also stop working. These problems are annoying.
Starting issues were also common with this vehicle; some owners said their Acadia wouldn't start at all!
What Are The Best Years For The GMC Acadia? Which Years To Buy
There are many factors involved when choosing the top models of a vehicle. It should be a solid family SUV while remaining stylish and not compromising.
After extensive research, five models have been picked which are great. You cannot go wrong with them, and you will see why.
1. 2013 GMC Acadia
The 2013 GMC Acadia is a great choice for anyone in the market for an SUV. It is ranked as one of the best SUVs of its time.
This model had a new look at the time and looked great. That is not all. Even though the 2012 Acadia was full of problems, this one was the opposite.
The 2013 Acadia has 116 cubic feet of cargo capacity, which is more than enough for most families needs. Its 19 mpg combined fuel economy makes it efficient enough.
It also has a 281 HP V6 engine, which is powerful enough for most people but not overly powerful, so it will get expensive to maintain over time.
Lastly, the Acadia has many safety features, such as stability control and side-impact airbags, so you can drive confidently regardless of road conditions.
2. 2016 GMC Acadia
When you're looking for a crossover that can handle anything the road throws at you, look no further than the 2016 GMC Acadia.
The 3.6L V6 engine can produce up to 281 HP and tow up to 5200 pounds while still offering great fuel economy.
So, whether you're going across town or the country, this SUV will get you there safely and confidently.
The AWD system was one of the best of its time, providing excellent traction in all weather conditions and unexpected situations like snow.
It does all this without affecting your fuel economy!
The ride quality is also fantastic due to a properly tuned suspension system that provides a smooth ride even over rough terrain.
The SUV also easily turns corners thanks to its great handling characteristics.
Finally, the 2016 GMC Acadia has been given a five-star safety rating, which means you can drive in it with the peace of mind that you will be as safe as possible.
3. 2019 GMC Acadia
The 2019 GMC Acadia is a good option for those looking for an SUV with a vast array of features.
It is part of the second generation of this vehicle, which has many differences compared to the 2016 model.
The base engine is 2.5L, which generates 193 HP. It is not too underpowered and is pretty decent.
It also has an optional V6 engine that can generate up to 310 HP and reach 0 to 60 mph in just 6 seconds.
You should get that one if you are looking for something with a little bit more punch under the hood.
The ride quality of this vehicle is excellent because it has no road noise and high-quality shock absorbers. The steering is very good and allows for sharper turns as well.
4. 2020 GMC Acadia
The 2020 model did not bring any major changes, but GMC focused on ironing out existing issues. In other words, they focused on refining the SUV.
Their goal was simple: make the driving experience great and they certainly met their goal. The steering on this model is light and makes maneuvering not too difficult.
Moreover, the V6 engine accelerates and can reach 0-60 mph in 6 seconds. Both of these combined provide a fantastic driving experience.
Many tech features are easy to use. The infotainment system has an easy-to-use design.
The 2020 Acadia also comes with an all-terrain package that is perfect for people who want to do off-roading or just want their vehicle to be able to handle any type of terrain well.
Lastly, its suspension is great and makes handling rough roads a breeze.
5. 2021 GMC Acadia
The 2021 GMC Acadia is a perfect vehicle for anyone who needs a large SUV that is reliable and fun to use.
It's similar to the 2020 model, which is a good thing. GMC did not tinker with a successful formula, which can be respected.
The new features, such as automatic high beams and rear park assist, will make it easier for drivers to get the most out of their ride.
Moreover, the memorable user experience, thanks to heated and adjustable seats, will make driving more comfortable than ever before.
This model has Active Torque Control, which allows for great handling on any terrain. It will let you feel confident in your ability to drive through any situation.
There are some great quality-of-life features in this model. One of the best ones is the HUD for directions on the windscreen.
How Reliable Is A GMC Acadia?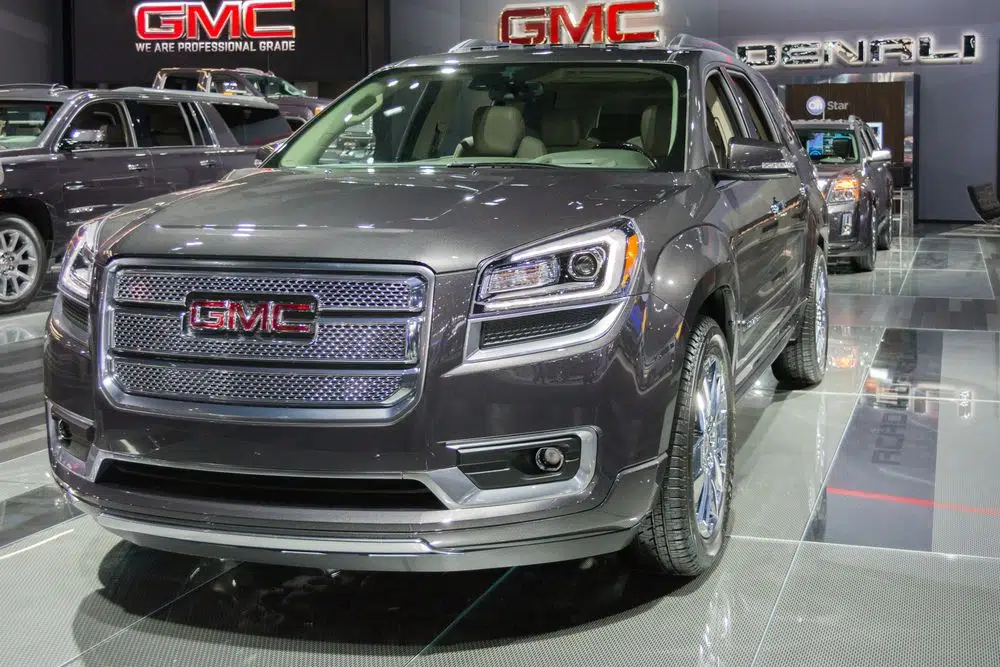 Recent models of the GMC Acadia are pretty reliable, but that has not always been the case.
There have been many years in which Acadia performed significantly worse than others. This is evident by the worst year list discussed in detail in this article.
How Long Do GMC Acadias Last?
The average lifespan of the GMC Acadia is around 200,000 miles. This is decent but not the best on the market.
Regardless, if you drive at an average rate of 15000 miles annually, the SUV will last for an easy 12 years or even more.
To learn how to get the most out of your GMC Acadia, read below on how to improve its lifespan.
What To Do To Lengthen The Life Of Your GMC Acadia
The GMC Acadia is a fantastic SUV, but it cannot take care of itself.
You need to make some practices a part of your life, so your GMC Acadia can provide not only a reliable driving experience but also a longer lifespan.
You can do this using these ways:
Make sure you change the oil at the correct intervals.
In the case of synthetic oil, that interval is usually 7500 miles. In the case of conventional oil, the interval is 5000 miles.
Apart from oil, make sure that you change all fluids of the engine every few months.
This includes the transmission fluid, the coolant, and even the wiper fluid too.
Finally, make sure to get the wheels aligned every 5000 miles. This will allow the suspension to wear evenly.
This applies to the tires too. Or else you will have to change one before the others.
These practices will allow owners to maximize the reliability and efficiency of the GMC Acadia.
Things That Shorten The Lifespan Of Your GMC Acadia
There are some practices that owners must not implement.
They have been known to reduce the lifespan and the performance of the engine, which means your Acadia driving experience, will be severely degraded.
Let's take a look at what they are:
Low-quality replacement parts have been designed to work with your GMC vehicle, but they are not designed to last as long as OEM ones.
Make sure to avoid them so you don't have to face frequent replacements.
Driving over potholes is also something that is not recommended.
This can damage the suspension and can also damage the wheels too. So, try to avoid them where possible.
Finally, using an oil of incorrect viscosity can result in engine issues such as knocking.
Make sure to double-check which one you are buying.
It is mandatory not to follow any of these practices, as they can result in serious degradation.
3 Most Common GMC Acadia Problems You Should Know
The GMC Acadia has had many problems, some of which need to be known by you. Let's take a brief look at them.
1. CEL Turned On
This is an annoying issue because the light turning on could mean a very serious issue.
Owners may have to get the vehicles inspected, only to find out that the light is on without reason.
2. Shift To Park Issue
This is another annoying issue in which the SUV does not recognize when the transmission is put in the park position. This results in the electronics not being able to be turned off.
3. Airbag Light On
Many owners reported that the Airbag light on their Acadia would be turned on. This can be dangerous as the system could deploy at the wrong time.
Frequently Asked Questions
Q1: Is GMC Acadia A Good SUV?
The GMC Acadia is a solid SUV. It is perfect for families and has been designed to ensure it is as practical as possible. To answer your question, yes it is a good SUV.
Q2: Do GMC Acadias Hold Their Value?
The GMC Acadia can be sold at 70% of its value after five years. That is pretty decent. You do not have too steep of a loss.
Q3: How Many GMC Acadias Have Been Sold?
The GMC Acadia has sold anywhere between 60,000 and 110,000 vehicles every year. That is a decent number and establishes the fact that it is a popular SUV.
Q4: Which GMC Acadia Engine Is The Most Reliable?
The 3.6L V6 engine is certainly the most reliable one in the Acadia. This one was introduced in the second generation of the SUV and can produce more than 300 HP.
Q5: Is GMC Acadia Expensive To Maintain?
You need to pay roughly $7800 to maintain the GMC Acadia in its first ten years. That is lesser than the industry average by more than $1300. This is pretty good.
Conclusion
There is no doubt that the GMC Acadia is a solid SUV. The more recent models check all the right boxes, making them no questions asked to buy for potential owners.
The same cannot be said for older models due to their many issues. This article on the best and worst years for GMC Acadia proved that in the first two sections.
I hope you got all the information you need. Now you can finally make an informed decision about buying this amazing SUV.
Buy the correct model, and you will certainly not regret your decision at all.