The Hyundai Sonata is a midsize sedan that offers great value for the money. It has a sleek design, comfortable interior and solid performance.
Its exterior styling is sporty, with angular lines and a sporty front grille. Thousands of people have loved it due to these features.
Although it has had a mixed history, the Hyundai Sonata is a pretty good sedan. It has had its quirks over the years, which begs the question, what are the best and worst years for Hyundai Sonata?
You don't need to waste any time on research as I will cover all those models.
But first, let's list them down before I get into the details:
Worst Years for Hyundai Sonata:
2010
2011
2012
2013
2015
Best Years for Hyundai Sonata:
2016
2018
2019
2020
2021
Don't you worry! All the models listed above will be discussed thoroughly, so you can understand why exactly they are good or bad.
So, without any further ado, let's get straight into it.
What Are The Worst Years For The Hyundai Sonata? Which Years To Avoid
I'll be jumping straight to the models of the Sonata that should be avoided at all costs. These models have been plagued with issues, and it will do you no good if you consider one of them.
Let's see exactly why they are considered to be the worst.
1. 2010 Hyundai Sonata
The 2010 Hyundai Sonata is the oldest model on this list, and it had a lot of issues.
Many owners reported that the door handles would fall off, making entering and exiting the car troublesome.
The low-quality paint job also caused problems for many owners, as it was prone to peeling.
Finally, there were reports of the starter failing too. The presence of this problem means that the sedan will not turn on at all.
It can be fixed by replacing the starter, but the issue is annoying.
2. 2011 Hyundai Sonata
The 2011 Hyundai Sonata is a bad car. It's the most complained about sedan in the history of the entire sedan industry.
It has the most reported issue that the engine will stall at random times. It also produces a lot of noise. Other models don't even come close.
The steering system is also at fault, producing a clicking sound whenever turned. It would also shake or wobble, which scared some drivers.
Owners also reported that the starter would fail an issue in the 2010 model. Overall, this model should be avoided at all costs.
3. 2012 Hyundai Sonata
The 2012 Hyundai Sonata was a great improvement over the previous model, but it still had some flaws.
It was the highest-selling model in Sonata's history, but it still had its share of issues.
The engine would stall completely, and reported cracks in the dashboard and radio shorting out were common.
These last two problems, alone, are pretty annoying and led to frustrated owners.
Steering issues still had not been fixed in 2012. This led to a lot of backlash. But still, this model sold in the hundreds of thousands, which was surprising.
That is because the 2011 model was a less than ideal choice for consumers. They still opted for it next year.
4. 2013 Hyundai Sonata
The 2013 Hyundai Sonata had some serious issues, and the manufacturer didn't fix them for the latest model.
First of all, the engine would seize up and die. That's dangerous when you're on the highway, especially traveling at high speeds.
Secondly, there were reports of unusually high oil consumption. This can be expensive to fix—and inconvenient! You shouldn't have to worry about this with a car.
Finally, the steering coupler was also known to wear out prematurely. Steering issues had been long present with the Sonata, and Hyundai did not do anything to alleviate them.
5. 2015 Hyundai Sonata
The 2015 Hyundai Sonata is the final model I will discuss on this list. It was a step up from the previous models but still had issues.
The engine was known to vibrate and make a lot of sounds, making the driving experience uncomfortable. It would also consume a lot of oil.
The quality of materials used for the interior was also not good. The seat panels would break, and even the fuel gauge was known for not showing accurate readings.
These issues add up quickly, making the experience of owning this model not worth it.
What Are The Best Years For The Hyundai Sonata? Which Years To Buy
Now that I have discussed the five worst models of the Hyundai Sonata let's move on to the best ones. These models are great and can be bought without any risk.
You will also notice that these are the most recent ones. Hyundai upped their game in the past few years.
Let's see how.
1. 2016 Hyundai Sonata
The 2016 Hyundai Sonata is a great choice if you're looking for a roomy sedan with plenty of power but don't want to spend a fortune.
The 2.4l engine that produces 185 hp is more than enough to get you around town, and it's backed up by 38mpg fuel efficiency.
You'll also get all the technology you could want in a modern car. So, you certainly will not feel that it is lacking in that regard.
The ride quality is good too—you won't feel jostled around even on bumpy roads or uneven terrain.
2. 2018 Hyundai Sonata
The 2018 Hyundai Sonata is a great car. It's comfortable, has a high-quality interior, and comes with all the tech features you'd expect.
The Sonata also comes equipped with Android Auto and Apple Carplay—two of the most popular infotainment systems on the market.
If you're looking for a midsize sedan with lots of power and bells and whistles, look no further than the 2018 Hyundai Sonata.
But that's not all that makes this car worth considering. The 2.0l turbocharged engine in the higher variant can produce 245 HP—that's a lot of power for a family car!
3. 2019 Hyundai Sonata
The 2019 Hyundai Sonata is a great car because of its shape, which has been loved by people all around the globe.
It also has excellent fuel economy, and it's available with an option for a 2.0L turbo engine that can produce close to 250 HP!
This makes it an excellent choice if you're looking for a car that handles well and offers plenty of power when needed.
Hyundai made massive improvements to it, making it excellent. The handling of this model is also fantastic.
You will certainly love the control you have over this sedan when driving.
4. 2020 Hyundai Sonata
The 2020 Hyundai Sonata is an excellent choice for anyone looking for a car that is stylish, spacious, and comfortable.
The latest shape is aggressive and stylish, but it still has the roominess you expect from a sedan.
The fuel efficiency of the Sonata is excellent—33 mpg combined. It also has excellent handling and control, so you can drive confidently.
You will certainly love this model, especially if you want the latest shape but don't want to shell out the money for a brand new car.
5. 2021 Hyundai Sonata
The 2021 Hyundai Sonata is a car that has a lot of similarities to the 2020 model, and that's a good thing.
The 2021 Sonata comes with many trim options, so you can find the right fit for your needs. It also includes semi-autonomous driving capabilities and smooth shifting without any jerks.
Instead of buying a brand new one, you can purchase this one. It is recent enough that you will find the most used ones in good condition.
This model is fuel efficient and has an excellent driving experience, making it an amazing model to consider.
How Reliable Is A Hyundai Sonata?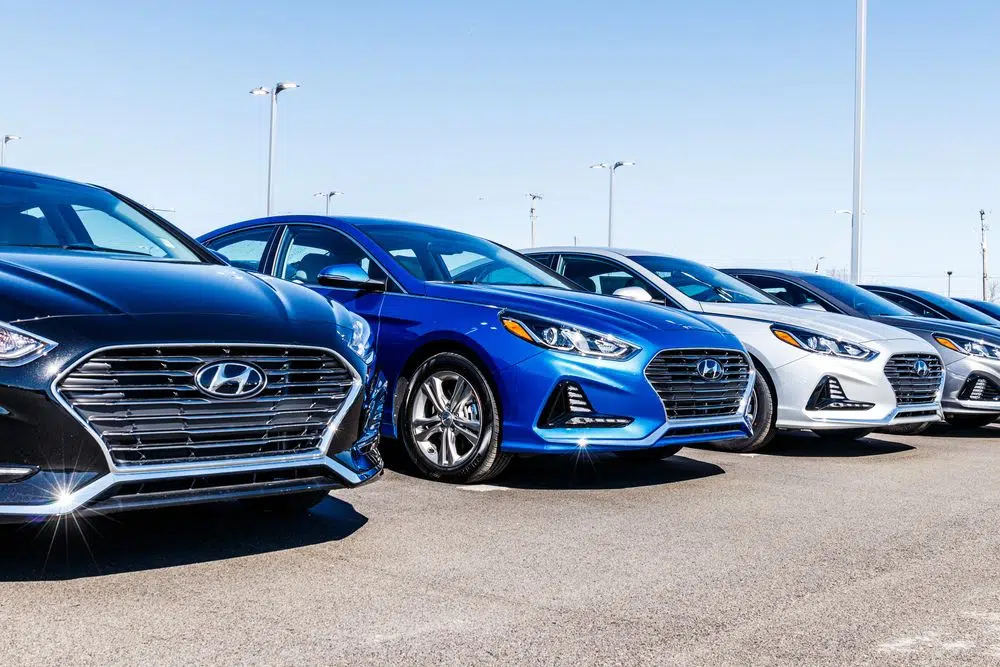 The Sonata has been one of Hyundai's most popular vehicles since it was first released in the 1980s.
It's a great car that has been reliable for many owners, but it's also the most complained-about vehicle in Hyundai's history, with over 2,000 complaints reported over three decades.
It may not be perfect, but there is no denying that the most recent models of the sedan have been great. They are indeed pretty reliable with little to no complaints, and no one can say otherwise.
How Long Do Hyundai Sonatas Last?
To keep your Hyundai Sonata in tip-top shape, you should drive it 15,000 miles annually.
This will allow you to drive your Sonata for more than 13 years! You can expect your Sonata's engine to last between 200,000 to 250,000 miles.
If you're looking for a car that will last you for a very long time without costing too much money, the Hyundai Sonata is an excellent choice.
What To Do To Lengthen The Life Of Your Hyundai Sonata
There is no way the Sonata can touch its lower limit if it is not maintained properly. You need to make sure it is taken care of.
This section will take a look at the top ways which can help in improving the life of the Hyundai Sonata:
Hyundai Sonata is a car that needs to be maintained regularly for long life.
It is recommended to do a thorough inspection and perform routine maintenance every six months or 7500 miles.
This will allow you to be fully aware of the engine's condition and the car's parts, so you can take appropriate action immediately.
High-quality replacement parts are an important part of Hyundai Sonata maintenance.
A high-quality replacement part will last longer than a cheap one and will not break as easily, so you won't have to spend money on frequently replacing them! So, you should invest more and use a genuine OEM part for your Sonata only.
Changing your air filter is essential for maintaining a clean environment inside your engine compartment and protecting it from harmful particles like dust, pollen, smoke, and other allergens that can damage sensitive components like gaskets over time.
These were some of the already known tips that I have listed here. You may not understand, but you must take these steps to ensure your Sonata can last for as long as possible.
Things That Shorten The Lifespan Of Your Hyundai Sonata
Now that I have discussed things that can improve the lifespan of the Sonata let's also take a look at those that can have an adverse effect on it.
The more you drive your Hyundai Sonata, the longer it will last. The engine needs to be used to keep it clean and run smoothly.
It is best to drive at least 5 miles daily, but if you can't do that, make sure to take a long drive at least once every week or two. This will allow the engine to remain in working condition.
Everyone does this, but when you empty out your fuel tank completely, you run into problems down the road.
This can potentially damage the fuel pump as it uses the fuel to cool itself. It may overheat and fail, resulting in the sedan stalling in the middle of the road.
This one seems obvious, but it's easy to get caught up in the excitement of being behind the wheel and forget what speed limit signs mean (or just not see them at all).
Keep your speed under control, so your engine doesn't overheat or wear out prematurely.
As you can see, these things can significantly reduce the Hyundai Sonata's lifespan.
You should ensure never to do them, and if you do, try to leave them. You will notice that your sedan will last much longer.
3 Most Hyundai Sonata Common Problems You Should Know
The Hyundai Sonata has had a few issues over the years, which you should know about.
These problems have caused a lot of headaches for owners, and if you know about them beforehand, you may be able to catch them at the right time.
Let's take a look.
1. Engine Stalling
The most common Hyundai Sonata problem is engine stalling.
If you're driving on the highway or even in a parking lot and your engine suddenly stops and won't start, it's likely that your car is experiencing an engine stall.
Unfortunately, this has been experienced by many Hyundai Sonata owners, which is pretty dangerous, especially if you are in the middle of the highway.
If you have a Sonata that has this issue, it is recommended to get it checked as soon as possible.
2. Faulty Speed Sensor
One of the most common Hyundai Sonata problems is the faulty speed sensor. This problem can cause shifting issues, which typically lead to a clunking noise or shuddering when you accelerate.
This is a serious issue as an incorrect shift at high speeds can result in the car stalling in the middle of the road.
If you have a Sonata that has similar behavior, you need to get the sensor checked and replaced as soon as possible.
3. Faulty Lights
Another common Hyundai Sonata problem are related to faulty lights. They would remain on, even when the car was powered off.
This can be annoying and a bit alarming because the constantly running lights can drain the battery completely.
It turns out that the issue is related to the fuse box and is relatively simple to fix.
Regardless, it is still an annoying issue that should never have existed in the first place.
Frequently Asked Questions
Q1: Is Hyundai Sonata A Good Car?
The Hyundai Sonata is an excellent car, despite the fact that it has many complaints. Hyundai has equipped it with a decently powerful engine and ample seating space.
This makes it perfect for families. It can be taken for road trips and vacations. It is also packed with technology, making it a fun and safe sedan to use.
Q2: Do Hyundai Sonatas Hold Their Value?
I looked up the depreciation rate for the Hyundai Sonata and found that in five years, it will depreciate by 35%. This number is fairly normal for cars that have been kept in neat condition.
However, if you have not taken care of your car and kept it in a not-so-excellent condition, this number might increase. Overall, though, this is a pretty decent depreciation rate!
Q3: How Many Hyundai Sonatas Have Been Sold?
The Hyundai Sonata has been a popular sedan in America for a long time. But, as with all cars, sales have been on the decline. 2012 saw the highest number of sales, which touched 230000.
The following years saw a steep drop-off: in 2013, there were only 203000 Sonatas sold. By 2020, that number had dropped to 77000.
Q4: Which Hyundai Sonata Engine Is The Most Reliable?
The 2.5L Smartstream G2.5 engine is what you want if you're looking for an engine that can handle a lot of different conditions with ease.
It's present in the eighth generation, which has been around since 2019, and it's a great option for drivers who want to get the most out of their vehicle.
Q5: Is Hyundai Sonata Expensive To Maintain?
The maintenance cost of the Hyundai Sonata is $6000 for its first ten years of ownership. This is pretty decent and is $1100 below the industry average for sedans in the same price tag.
This is a considerable difference and is one of the many reasons why people love the Hyundai Sonata.
Conclusion
I am wrapping up my review of this sedan after a detailed look at what I think are the best and worst years for Hyundai Sonata.
There have been some bad models, but they have definitely been trumped by the better ones.
The recent models are one of them and have had almost zero complaints, which is pretty impressive.
All in all, it is a pretty solid sedan, and you will definitely make the right decision if you choose to buy it.
I hope that this article helped you in finalizing your decision to consider this vehicle. Good luck with your purchase!
References:
https://wrench.com/vehicles/hyundai/sonata-mobile-mechanic/
https://www.thetruthaboutcars.com/2022/05/report-hyundai-sonata-is-on-the-way-out/
https://www.autoblog.com/2022/05/23/hyundai-sonata-dead-no-new-generation-report/