Nissan Titan is a pickup truck with a promising V8 engine and a muscular outlook. Even though it caught attention quickly in its initial years, it was not soon until its competitors removed its limelight.
The main reasons why it gained popularity were because of its reasonable price and comfortable interior.
Another reason for its popularity was its high-reliability score and the warranty card of Nissan Titan covering several aspects. This caught the attention of most North Americans in the United States.
On the other hand, many people believed that this was just an attempt to copy and make something similar to a Hilux, a pickup truck that has been praised for years now.
Considering the conflicting views, there have been different best and worst years for Nissan Titan.
I have gathered them all for your ease down below:
Worst Years for Nissan Titan:
2004
2006
2008
2010
2016
Best Years for Nissan Titan:
2009
2012
2015
2017
2021
From here onwards, I will be talking about these models in detail. If you are interested to know more, keep reading.
What Are The Worst Years For The Nissan Titan? Which Years To Avoid
After a lot of research into the domain, I have gathered some information about all the years you must avoid when it comes to Nissan Titan.
I will now be developing interesting insights into these.
1. 2004 Nissan Titan
The 2004 model of Nissan Titan was categorized as the worst model of this car. There are multiple reasons to support this statement.
This car was not as reliable as the users thought it would be. The NHTSA reported multiple accidents of Nissan Titan because of its power train incapability.
One of the issues was with the cooling system of this car. The car tended to malfunction at a very early stage.
Another issue with this car was the leakage in the seal of its tires, which can be extremely dangerous for all those driving a Nissan Titan.
At the same time, the car was really expensive to maintain. It would take above $100 for the minor things. Another thing wrong with this car is its engine.
The users have complained about the cranking and clicking sound that comes out of this car. Due to all of this, I would ask you to avoid this model in any case.
2. 2006 Nissan Titan
Even two years later, Nissan did not fix the issue in their engine. This indicated problems with the alternator or the ignition switch of this car.
It still used to produce the same disturbing sounds. A car as big and muscular as a Nissan Titan needs good vehicle speed control for the ease of the driver.
However, this model lacks this element, making this car unreliable for the users.
From time to time, the car's digital dashboard or the infotainment system asks you to check the engine, which can be troublesome if you are in a different city and do not know much about the car or the nearest mechanic.
Lastly, I would like to say, do not purchase the 2006 Nissan Titan model either as it is not worth the effort.
3. 2008 Nissan Titan
Multiple systems of the 2008 Nissan Titan model were faulty. This includes the electrical system, alternator, and even the transmission system.
This causes the car to not start or malfunction from time to time.
The cooling system of this model of Nissan Titan is faulty, which means that whenever this car was taken at an elevated place, the cooling system would give up on you.
The same consequences of extreme weather conditions can be noticed.
Furthermore, the suspension of this model of Nisan Titan is poor. The upper control arm of this car would fail to work from time to time.
This was also very expensive to get fixed despite people talking about how low maintenance this car is.
Considering this, you should not purchase the 2008 model of Nissan Titan as it would only eat up your savings.
4. 2010 Nissan Titan
The manufacturers of different car companies introduced ABS brakes, and the 2010 Nissan Titan model had these too.
However, the ABS brake was worse than the normal brakes, and many users expected accidents while driving this car.
The 2010 model went against the positioning of the Nissan Titan due to a lack of dependability.
Many users were unsatisfied because, at the same time, the mileage of this car was low. They were already experiencing hefty bills, and the low fuel economy was the cherry on top.
On the other hand, the fuel economy of this car is just too bad. This makes me believe you should not invest in the 2010 Nissan Titan model for your good.
5. 2016 Nissan Titan
A car that created its brand name and brand value on its strong V8 engine went against its morals with this model.
The engine of the 2016 Nissan Titan model was just not up to the mark. It is not suitable for anyone, no matter how cheap you get the car.
The 2016 Nissan Titan model also did not have a good resale value.
This meant that after taking care of immense expenses and low fuel economy, the car would not bring you good money when selling it.
The gearbox of this car was also very faulty, which troubled the transmission system to a great extent.
Keeping in mind all these issues, you must avoid the 2016 model as well.
What Are The Best Years For The Nissan Titan? Which Years To Buy
When all has been said and done about the years, you must avoid Nissan Titan; there are years that you must also invest in.
I have carefully handpicked these years for your ease. Take a look at them down below:
1. 2009 Nissan Titan
The engine of the 2009 Nissan Titan is commendable. It is a V8 engine with amazing on-the-road and off-the-road capability, making it perfect for use in North America.
The competitors it had at this time did not have an exterior style as 2009 Nissan titan to offer to its customers.
Having a strong engine that meets its customers' expectations also meant that this car's horsepower was really good.
It went as high as 317 horsepower. It is also very easy for you to find the spare parts for Nissan Titan.
This model is the best for Nissan Titan because of improved safety measures.
The antilock of this car, child safety measures, airbags, etc. everything makes it a safe car to drive.
Keeping this in mind, I think purchasing a 2009 model would be a good choice.
2. 2012 Nissan Titan
The 2012 model of Nissan Titan gives its users good control of the car.
All the internal accessories and control buttons are within reach of the driver, so they do not have to take their eyes off the road.
The styling of this car is another thing that one can easily appreciate. This car's solid white and bright red colors make it stand out.
Moreover, the speed of this car has a smooth drive to offer its drivers. Due to this, I think 2012 model will be suitable for everyone that wants a pickup truck.
3. 2015 Nissan Titan
The 2015 Nissan Titan model is another car that can also be used for towing.
It can pull as much as 9500 pounds which is worth the praise. It also has a high fuel economy of 15mpg.
Another plus point of this car is how reliable this car is in terms of providing safety. Moreover, this one has full curtain side and front airbags, making it safe to drive.
The antilock, ABS brake, and child safety controls make it easy to depend on this car.
Finally, if you ask me, do not think twice before buying the 2015 model. It is worth your money.
4. 2017 Nissan Titan
The 2017 model of Nissan Titan has been restructured and redesigned. This settled well in their favor because of how fine this car's internal accessories and outlook are.
The internal components of the engine and electrical systems have also been given a lot of attention.
The seats of this car are quite comfortable, and this car got a good reliability score and four stars.
Moreover, the engine of this car performs shockingly, giving you a high speed but an even better off-road capability. The control system of this car is quite driver-friendly.
Do buy this car if you get a chance because it would only add value to your life, in my opinion.
5. 2021 Nissan Titan
This version of Nissan Titan probably offers the latest technology and controls.
We know that when more technology is used, it makes the driving experience easier and more feasible for everyone.
The powertrain of the 2021 model offers you a smooth drive.
The towing ability of 2021 Nissan Titan is even better than the previous models that could pull up to 9500 pounds. It can pull more than 11000 pounds.
This makes 2021 year model worth your purchase, in my opinion. So, do purchase it and take it out for a drive.
How Reliable Is A Nissan Titan?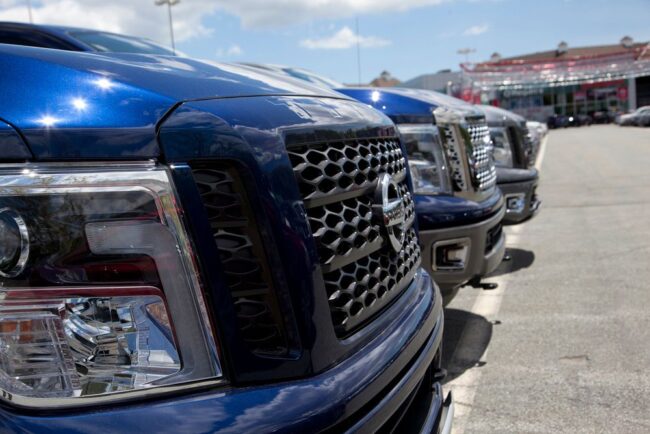 A car with a reliability score of 85 out of a total of 100 makes a car quite safe to drive and dependable.
Nissan Titan did have some models, such as 2016 or 2004, which were not that reliable.
However, most models, such as 2021 or 2009, are reliable and safe to drive as well.
How Long Do Nissan Titans Last?
It might be low for some models such as 2004, but the rest, Nissan Titan, can last more than 250,000 miles easily.
This means that if you purchase any model (except the ones you must avoid), that would easily last you more than 16 years. The good models are not that expensive to maintain either.
What To Do To Lengthen The Life Of Your Nissan Titan
Even though Nissan Titan is not that expensive to maintain, many users dislike taking care of their car. However, it is important because it would lose its value otherwise.
To increase the life of your Nissan Titan, you can take the following measures:
For secondarily rust protection, you must paint the deep scratches or different parts of your car.
Primarily, you need to provide regular oil changes for your car. That would provide a smooth drive and functioning of the components.
You need to offer high-quality gasoline to your car. That would increase the performance of your car.
Get your car's fuel filter cleaned from time to time so that more fuel can reach the engine as well.
Keep your car away from flooded areas as water might enter the internal components and destroy the electrical system.
The measures listed above are the most important ones in keeping your Nissan Titan in good health. Do not avoid any of these measures in any case.
Things That Shorten The Lifespan Of Your Nissan Titan
I know how some steps can increase the life of a Nissan Titan, but at the same time, if you do not follow certain steps, then you can also reduce the life of your car to a great extent.
All of these are listed below:
Not getting your car checked if any unnecessary light shows on the speedometer.
Mixing third-quality spare parts into your Nissan Titan can also hinder its performance.
The brake pads are not being changed from time to time.
Not taking care of the engine oil can also reduce the engine's performance.
If the air filters are not properly cleaned then they can cause the car to exert more energy.
If you follow these, you will definitely be able to reduce the lifespan of your car. I am sure you would not want that if you had invested so much in a car.
3 Most Nissan Titan Common Problems You Should Know
Among all the problems that Nissan Titan has experienced, the most common ones have been listed down below:
1. Reliability Issues
The Nissan Titans that I asked you to avoid above had one thing in common, which revolved around their user's safety.
Even though the reliability score of this car is high but that does not mean that there are not some models that do not have reliability issues.
Some cars' antilock and ABS brakes are faulty, which can create problems.
2. Engine Issues
The cars that are not fit for use all had engine issues. Even with a V8 engine, Nissan Titan tends to have issues providing a smooth drive.
Customers have complained about the clinking and cranking of the car, which directly indicates issues with the car's engine at use.
3. High Maintenance
Nissan Titan has some models which are difficult to maintain. The fuel economy of those models is not satisfactory either, which increases the car bills even more.
This means that you will be purchasing the models, maintaining them, and not getting a good resale value.
Frequently Asked Questions
Q1: Is Nissan Titan A Good Car?
There is no doubt that the fact that Nissan Titan is a good car. Yes, there are models that you need to avoid and that I have already talked about.
As far as the rest of them are concerned, those models are worth the purchase. The engine, styling, and internal components of the car make it worth your while.
Q2: Do Nissan Titans Hold Their Value?
Nissan Titan has models that do not hold their value. The car has a higher depreciating rate than other cars, which does not have a good resale value to offer to its owners.
Q3: How Many Nissan Titans Have Been Sold?
According to the new statistics, Nissan Titan increased its sales by 41%, and about 31,514 cars were sold in the last year in the US. This is not much compared to how many cars were sold by its competitors.
Q4: Which Nissan Titan Engine Is The Most Reliable?
Nissan Titan uses a V8 engine in most of its cars. The V6 engine was praised by many users for its smooth functioning as well, but the V8 engine gives a better powertrain and horsepower to the users.
Q5: Is Nissan Titan Expensive To Maintain?
If you consider $8500 – $9000 in the first 10 years of a Nissan Titan expensive to maintain, then yes, it is expensive to maintain this car. You must keep it maintained, or you would have to pay more than you otherwise would.
Conclusion
In this article about the best and worst years for Nissan Titan, I summed up all the important things you know about the different models of this car.
And also the most frequently asked questions by the users of this car or the ones who want to purchase it in the future. It would help you in making a wise decision.
Do not make the mistake of purchasing cars that I have asked to avoid, as those would not end up in your favor.
If you do experience some maintenance issues, you know what to do. So, purchase the ones praised and treat yourself to an adventure.
References:
https://caredge.com/nissan/titan/maintenance
https://www.edmunds.com/nissan/titan/2009/review/
https://www.thecarconnection.com/overview/nissan_titan_2012