In 2003, the Kia Sorento SUV made its premiere. This vehicle was developed to provide more space for heavy items and passengers inside and more power.
In its initial year, the Kia Sorento occupied a middle ground between compact and medium SUVs. This vehicle is still popular.
However, some issues with certain models need to be addressed, so you do not end up with a dangerous vehicle.
Now you probably wonder, what are the best and worst years for Kia Sorento?
Here are the models that you can look into and decide which ones to purchase and which to avoid.
Worst Years for Kia Sorento:
2011
2012
2013
2014
2016
Best Years for Kia Sorento:
2008
2017
2018
2019
2020
Now that the models list is out, you should continue reading to find out about them more in-depth.
I will also be discussing other important facts about the Kia Sorento, which I'm sure you do not want to miss out on.
Read this article until the end, so you do not miss the frequently asked questions.
What Are The Worst Years For The Kia Sorento? Which Years To Avoid
Here, I'll focus on the Kia Sorento model years with the most issues, including 2011, 2012, 2013, 2014, and 2016.
I am writing this article based on my research, users' visible concerns, and numerous assessments from automobile review websites to give you accurate and unbiased information.
So let's get started with the bad models.
1. 2011 Kia Sorento
Numerous transmission issues plagued the 2011 Kia Sorento. The 2011 Kia Sorento engine is the subject of numerous criticisms.
Finding a suitable temperature in this automobile can be challenging due to the air conditioners poor efficiency.
Other than that, it is also said that the CD player has occasionally skipped or stopped operating altogether for certain owners.
Moreover, the check engine light constantly blinks, and the vehicle's engine stalls.
It tends to stammer just before stopping. Some people assert that they as well have heard a loud ticking sound.
Numerous seat and airbag problems have been reported to NHTSA. These seriously threaten the driver and passengers.
Additionally, there is a difficulty with the lighting. The low beam assembly melting is the most noticeable.
2. 2012 Kia Sorento
When the brakes are engaged, the 2012 Kia Sorento has a propensity to scare other drivers. After it has been driven for a long time, there have been complaints of engines stalling.
According to some owners, it can be not very pleasant when a car's headlights intermittently turn on and off while you're driving at nighttime.
Furthermore, the front seats don't offer sufficient assistance for lengthy journeys. Some claim their fuel gauge is also faulty, forcing them to check it at the gas pump constantly.
You must also note that the engine problems with this model are the worst type.
Users stated that the engine sputtered, spat, misfired, noisily knocked, and eventually stopped working. Fuel economy is also disastrous, not simply a failure.
Along with changing altitude, the seat belt can also become caught.
Additionally, it can tighten, which might be uncomfortable for the driver. These are a few different problems.
3. 2013 Kia Sorento
The 2013 Kia Sorento has several faults, including jerky shifting rather frequently.
The engine system also has numerous issues, such as a damaged valve cover gasket or an oil pan gasket that is leaking.
In sweltering temperatures, the air conditioner is ineffective. Rear wheels and rotor surfaces have reportedly been covered in excessive brake dust.
It is worth mentioning that the engine stalls or shuts off when the motor blows.
Engine overheating, which may also result in severe vibrations, is another factor in engine failure.
There is a significant possibility that the acceleration could occasionally become uncontrollable.
Besides the engine issue, numerous failures in the electrical and accessory systems happen as well.
Among them are Bluetooth, a lever to open the seat back, seat warmers, cluster lights, and many others.
4. 2014 Kia Sorento
A potential problem with the front axle led to Kia recalling and replacing the 2014 Kia Sorento models. However, this was not Kia Sorento's only difficulty.
They also have issues with engine systems, such as completely failing caused by components that wore out too quickly, electrical issues like batteries that would lose power after being plugged in for a while or doors that would lock randomly.
You might want to remember that cylinder blowout occurs in the engine, particularly the fourth one. When accelerating, there can be a few glitches.
Though not typically, a hard start could also be a warning. Peeling or fading body paint indicates inadequate paint adhesive quality, which this vehicle faces.
5. 2016 Kia Sorento
The transmission in the 2016 Kia Sorento is defective and unable to shift gears. The electrical system has certain issues, which is why the automobile stalls out.
A few consumers have complained that their air conditioner is having problems. The engine frequently overheats and shuts down suddenly as a result.
Other issues include stalling during acceleration and excessive oil use. However, none of these issues are caused by a lit check engine light.
There is inadequate wiring, and the alternator frequently fails. The battery life on this model year likewise depletes unnaturally quickly.
What Are The Best Years For The Kia Sorento? Which Years To Buy
I hope you understand the worst years and avoid them at all costs. Moving on, I will discuss the best Kia Sorento models that you can look at and consider purchasing.
1. 2008 Kia Sorento
Since its first release in 2007, the Kia Sorento 2008 has been available for purchase till this date.
A 2.4 liters four-cylinder, 3.5 liters V6, and 3.3 liters diesel V6 are the three engine choices available in this model year that buyers can choose from.
Other than that, you must also know that LX, EX, SX Limited Edition, and SX Turbo are the four trim levels that can be purchased.
This vehicle has a lot to offer its customers. Although it is an older model year, it still has a lot of its power and the ability to run sufficiently and efficiently for a very long time.
2. 2017 Kia Sorento
The 2017 Kia Sorento is regarded as a reliable used midsize crossover SUV by U.S. News. It received some of the highest safety scores from used car reviewers in its category.
It is worth noting that a smooth ride and controlled handling are also strikingly balanced in this model year.
This 2017 Kia Sorento models interior features high-end soft-touch materials, also included in the later model years.
Moreover, it also provides passengers with the option of a third row in addition to the two roomy rows that are standard.
It's also worth mentioning that this model year has the lowest ownership costs in its category, which makes them well-known for being below average.
3. 2018 Kia Sorento
The 2018 Kia Sorento is among the best in its class for midsize crossover SUVs.
Thanks to its quiet, smooth ride, you will be happy to learn that it can easily compete with more upscale brands.
It also offers above-average fuel efficiency because of the conservative 4-cylinder engine system.
On average, you should get between 17 miles up to 21 miles per gallon in cities and between 23 miles up to 28 miles on the highways.
You should also remember that a 2018 Kia Sorento with four-wheel drive and 290 horsepower is available for those who are ready to pay more.
Last but not least, the 2018 Kia Sorento also has a stylish design and a contemporary interior, offering easy-to-use technologies and lots of space.
4. 2019 Kia Sorento
The new look of the 2019 Kia Sorento is a fantastic midsize crossover SUV for families and delivers a fresh look to used vehicle buyers.
If you see why it is one of the best model years, well, three rows of seating, a large amount of cargo space, and a rather high-quality cabin are all included in this vehicle.
For its class, the 2019 Kia Sorento has one of the most affordable starting costs available to customers.
In light of this, the more expensive ones aren't as nice as the 2019 Kia Sorento.
5. 2020 Kia Sorento
The 2020 Kia Sorento is a great option for many drivers. In addition to providing various creature comforts, the 2020 Kia Sorento enchants its power options.
Since it's one of the more economical options in the midsize SUV class, the 2020 Kia Sorento is all the more appealing.
The 2020 Sorento from Kia demonstrates that a family-friendly SUV does not need to forgo refinement to be more reasonably priced.
Moreover, the starting price of the 2020 model, $26,990, is listed by U.S. News and is $4,300 less than that of the typical three-row SUV.
As a result, the US News website expressly suggests the 2020 Kia Sorento as a dependable option for obtaining a roomy vehicle for less than $30,000.
How Reliable Is A Kia Sorento?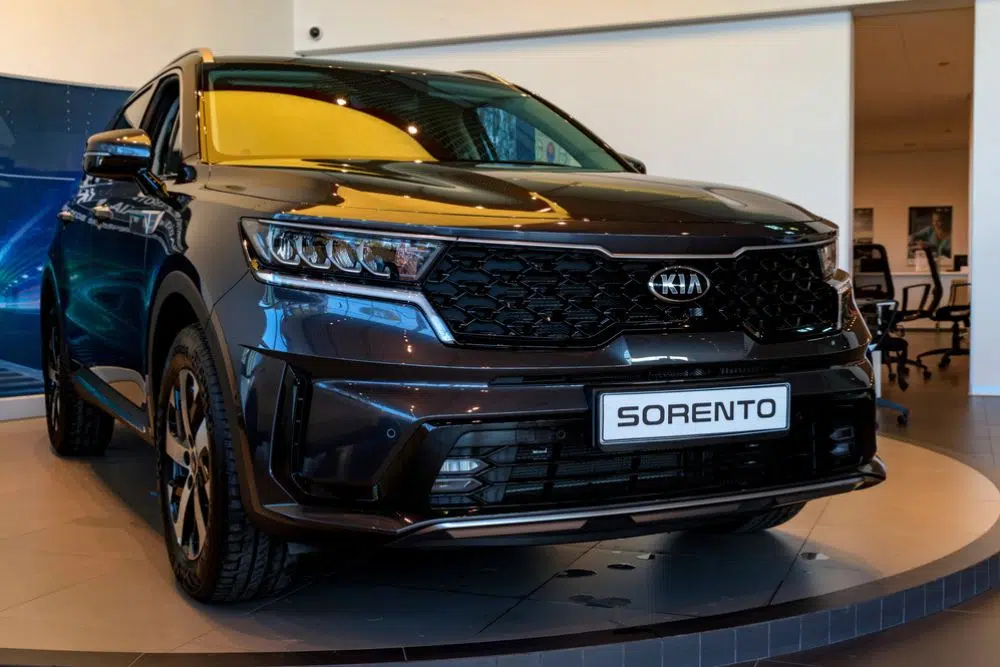 The Kia Sorento is a highly reliable SUV in the market.
It has received above-average ratings for so many of its model years that even you can consider purchasing them because you will surely be able to get the most out of them.
It is worth mentioning that the 2018 Kia Sorento is one of the most reliable SUVs on the market according to the J.D. Power website because it is known to have received 84 out of 100 reliability scores.
That's not all; according to them, the 2021 Kia Sorento also has high-reliability scores, around 82 out of 100.
How Long Do Kia Sorentos Last?
If you treat the Kia Sorento well, it should last for more than 200,000 kilometers. If you go 15,000 miles annually, it should last you for roughly 13 years.
The factory's proposed schedules for maintenance and repairs must be followed, though.
Because of the subpar engineering and low-quality materials used in older versions from the early 2000s, they might not last 200,000 miles.
However, if you immediately take care of small damages, you can significantly extend the current Kia Sorento's lifespan.
Along with that, you must follow the automaker's advice and take your car in for maintenance. By doing this, you'll be able to prevent unforeseen damage to the car's parts.
What To Do To Lengthen The Life Of Your Kia Sorento
Let's discuss here some of the best ways you can try to increase the life of your Kia Sorento easily.
Use high-quality replacement components to fix your broken Kia Sorento parts.
After reaching around 7,500 miles, you should top off the engine oil in your Kia Sorento.
As soon as a warning light appears on your dashboard, consult your auto mechanic to check out your car.
Always have a certified Kia service center work on your Kia Sorento.
Make sure the tires don't wear out too soon.
Keep the engine and transmission healthy and clean.
Well, there you have it; with these tips you can have a longer life of your Sorento. Just make sure to follow them consistently.
Things That Shorten The Lifespan Of Your Kia Sorento
Now, I'll be sharing some factors you might not notice that can affect the life of your Kia Sorento and make it too short.
If you do not use recommended factory parts.
Don't bother changing the fluids when needed.
Poor and difficult driving habits.
Driving in harsh road conditions damages the tires.
Engine system heating up too much or stalling
Not keeping up to date with the services and maintenance.
These factors can ruin your car's performance quickly and leave you with a vehicle that has too many issues to fix, which as a result, ultimately dies soon.
3 Most Kia Sorento Common Problems You Should Know
Let me share some most common issues you are likely to see in your Kia Sorento. However, this will only happen if you do not take care of your car.
1. Engine System
One prevalent reliability concern is Kia Sorento's engine's tendency for failure. Models from 2011 to 2017 were the ones with the highest engine failures.
A head gasket leak was to blame for these. It would occasionally blow the fourth cylinder as well.
The coolant and engine oil subsequently mix as a result. An engine can suffer significant damage from the mixture of these substances.
2. Seat belts And Airbags
Airbag lights persistently illuminate. However, there haven't been many reports of airbags not functioning. That is beneficial.
Additionally, there may be issues with the seats and seat belts. For instance, a seat belt that is tightening or becoming trapped can be quite dangerous.
3. Accessories And Electrical Issues
From 2002 to 2009, hundreds of consumers complained that the headlight bulbs on their Kia Sorentos were prone to prematurely burning out.
Owners of 2011 Kia Sorento account for the majority of complaints.
According to disgruntled owners, the Sorento's doors won't open from the outside, which is more annoying than dangerous.
Owners who use the child-lock functionality also expressed increased dissatisfaction with broken door handles.
Frequently Asked Questions
Q1: Is Kia Sorento A Good Car?
The Kia Sorento is a good car for you, especially if you have a big family. This SUV has many outstanding features, such as an upscale interior, an extremely user-friendly Infotainment system, and a super comfortable and spacious interior.
Q2: Do Kia Sorentos Hold Their Value?
After five years, a Kia Sorento will have lost about 55% of its value. The resale value now ranges from $15,000 to $16,000, depending on the year you purchased it. These numbers imply that the Kia Sorento retains value at a below-average rate.
Q3: How Many Kia Sorentos Have Been Sold?
Kia sold 74,677 Sorentos in 2020. With a 9-10% increase in sales, they sold 7,108 more units in 2021 than they did in 2020. It had the largest sale in 2018, around 107,846 in the US.
Q4: Which Kia Sorento Engine Is The Most Reliable?
Kia Sorento's 2.5T engine system has to be the best and the most reliable out of all the engines.
This engine has most of a sporty vibe while driving on the road and is one of the most powerful and efficient engines that many riders will surely appreciate.
Q5: Is Kia Sorento Expensive To Maintain?
A Kia Sorento will need roughly $7,953 in maintenance and repairs during the first ten years of ownership. This is $1,180 above the market standard for popular SUV models.
A Kia Sorento will also likely need a significant repair within that time, with a 23.71 percent probability. This performs 2.21 percent worse than comparable vehicles in this category.
Conclusion
So finally I am done with the list of best and worst years for Kia Sorento.
If you've read the article this far, you should know which Kia Sorento models are safe to buy and which are reliable.
You must know that most KIA Sorentos are high-quality cars with good reputations. Except for the expensive engine issue, this usually constantly requires to be fixed.
I sincerely hope you choose wisely when buying your car and make sure to avoid the worst years.
References:
https://www.beavertonkia.com/is-the-kia-sorento-a-good-car/
https://www.wapcar.my/collect-faqs/kia-sorento-knee-airbag-1656037936542