The Kia Optima is a sporty sedan that can be fun to drive and has great performance.
It's also very affordable, which makes it a great option for those who don't want to spend too much on their sedan while making sure that that vehicle packs a punch under the hood.
It has been in production since 2000, and Kia has no plans to take it off the assembly line.
The Optima has many fans who praise its reliability and ability to last for years. But there are also some years in which the sporty sedan has had more problems than others.
This article will explore the best and worst years for Kia Optima, so you can decide which model will suit you. Before that, let's list down all of them.
Worst Years for Kia Optima:
2011
2012
2013
2015
2016
Best Years for Kia Optima:
2020
2019
2018
2010
2017
As you can see, there comes a time when the Optima is great, and that trend continues for years. The same thing also happens when the Optima enters a downwards spiral.
Regardless, this article will figure out what is wrong or right with the above models. So, without any further ado, let's get started.
What Are The Worst Years For The Kia Optima? Which Years To Avoid
This is a very important section because knowing what is wrong with specific models will allow you to steer clear of them.
If possible, you'll want to avoid certain years, so this section will help you understand what those years are and why they aren't so great.
1. 2011 Kia Optima
The 2011 Kia Optima is one of the oldest models on this list.
It's also one of the most problematic, it was so bad that I have to say, buying it will be one of the worst decisions ever.
The most common issue with this car is complete engine failure. You can only fix it by replacing the engine, which is no fun.
Even when it doesn't fail, there are still many issues with this model's engine.
It uses too much oil and produces knocking sounds when running, indicating something serious is happening.
Finally, there have been reports of transmission problems locking in third gear and preventing people from changing gears past third gear until they stop and let their car rest for a while before trying again.
2. 2012 Kia Optima
The 2012 Kia Optima is a car you should not consider if you're looking for a reliable car that will last.
The 2012 model had a complete engine failure issue, which resulted in the need for an engine replacement.
The steering wheel was loose and would produce a clicking sound at turns. Reports of sunroof blowing out were also common—a problem I haven't heard of before!
I just explained that engine failure was pretty common with this model. The most serious problem owners faced was that the fuel pump would fail after replacing the engine.
A replacement can only fix it, and the fact that issues continue happening is just unacceptable.
Many owners reported that the 2012 Kia Optima had a problem with the air conditioner blowing hot air. Overall, this model should be steered clear from.
3. 2013 Kia Optima
If you're looking for a reliable, safe, and affordable car, the 2013 Kia Optima might not be your best bet.
The 2013 Kia Optima got many issues. The engine blew for most of the owners, causing them to have to get it replaced.
There was also an issue of the formation of oil sludge, which caused the engine to consume a lot of oil and cause it to fail.
Apart from the engine, other primary sedan functions would also not work correctly. The steering would pull to one side or, in some cases, even stick at high speeds.
Moreover, the paint quality was also pretty poor. It chipped easily, and it got scratched easily as well. The sedan would lose its look within months of normal usage.
Finally, this 2013 model is certainly not one I will recommend to you all.
4. 2015 Kia Optima
The 2015 Kia Optima is a vehicle that should not have had so many issues, but instead of fixing them, Kia released it for consumers to suffer.
The engine problems were highly reported, and engine failure was common. Surprisingly, Kia had not fixed the problem, even after four years.
Yes, that's right. Kia did not address the problem at all. The engine would also consume oil a lot of money, which meant owners, had to top it off, again and again every month.
The steering wheel would stick and make driving difficult.
Even when braking, the vehicle's braking system was imbalanced, which caused owners to lose control when braking.
This means that the driving system was faulty and could not be trusted.
Lastly, the interior would be riddled with dust, making for a less enjoyable driving experience in dusty environments or during inclement weather conditions.
5. 2016 Kia Optima
In 2016, the Optima was still an unfinished product. It still had many issues, making it an unreliable sedan to buy.
Let's see what is wrong with the final model on this list.
The most common issue people had with the car was the window regulator often failed.
This meant the windows could not be rolled down or up. The latter is pretty dangerous as it poses a security risk for consumers.
Engine issues had been mostly resolved, but they were still present. For example, engine failure was not that common, but it still happened to some people.
Some owners also reported that the engine would consume a lot of oil. Regardless, the issue was not widely reported.
There were more issues reported by owners as well. Some complained that the car would hesitate while accelerating.
This could be due to a transmission problem. Even electrical issues were present in this model too.
What Are The Best Years For The Kia Optima? Which Years To Buy
In this section, I will take you through everything you need to know about the best years for Kia Optima models to find the most reliable car with little hassle or fuss.
These models have been extensively researched, so you can rest assured that you cannot go wrong with them.
1. 202 Kia Optima
The 2020 Kia Optima is the first model on our list of best cars, and the least complained about. It has little to no changes as compared to its predecessor.
This is because it's based on the 2019 model, which already implemented all the changes people asked for.
The 2020 Optima is still a fantastic car without all those additional features.
Its base model has many features—like an 8-inch touchscreen, HD Radio, and much more. You'll never get bored while using and exploring it.
Moreover, the 2.0L inline 4-cylinder engine that powers this car can reach 60 mph in 6.9 seconds. That is pretty decent for a midsize family sedan.
The SX variant comes with a sport-tuned suspension for smooth ride quality.
It also has comfortable seats that can be adjusted to your liking. Overall, it is a great vehicle and should certainly be considered.
2. 2019 Kia Optima
The 2019 Kia Optima is a great choice for a midsize family sedan.
It's very popular because it has many features found in much more expensive cars, but it also comes at an affordable price.
It has a 185 HP engine that is more than enough for daily driving, so you can feel safe on the road and not worry about getting stuck behind slower drivers.
Moreover, the 1.6 Turbo engine option gives you better fuel efficiency while providing plenty of power when you need it most.
The Optima SX model can produce up to 245 HP and reach 0 to 60 mph in 6.8 seconds!
The ride quality is great, thanks to a high-quality suspension system. You can glide over bumps on the road like they were never there.
Finally, subtle tweaks to the appearance make this model look even more dashing than its predecessor.
3. 2018 Kia Optima
The 2018 Kia Optima is a great car in many ways. Firstly, it has many new features over the 2017 model, making it a more attractive buy.
There is apple Carplay and android auto on all variants. The same is for driver assist features, such as blind spot monitoring and rear parking sensors.
It also has a five-star crash test rating. This makes it safe and more versatile to use.
The car's cabin is spacious and comfortable, with high-quality materials used for the interior.
Moreover, this model also does not allow road noise for an amazing driver experience!
The cargo space is 15.9 cubic feet, which is great too. This means you can travel with your family with ease.
This car has two engine options: a 1.6L turbo or a 2.0L turbo engine. Both are pretty decent options for performance and fuel economy too!
4. 2010 Kia Optima
The 2010 Kia Optima is a great choice for anyone looking for good value. The model has a lot going for it.
It has a spacious interior, with lots of room for passengers and cargo. It also has an exterior that looks great, though a bit outdated.
This model can be bought with a 2.4-liter four-cylinder engine that can produce up to 175 HP or an option for a 2.7L V6 engine that can produce 194 HP.
The fuel economy isn't bad either: up to 32 mpg, which is incredible.
Regardless of whichever engine you choose, you will not feel like the Optima is underpowered.
Finally, the interior is comfortable enough, and getting used to it won't take long due to its uncomplicated layout.
5. 2017 Kia Optima
The 2017 Kia Optima is a great car with many reasons for its good.
It was not one of the best cars on the market when it was released, but it was still very respectable.
It came seven years later than the previous one on this list, and after many years of a downward spiral, Kia managed to pull it off with this model.
Moving on, this one does not hold back on safety features.
Many of them, such as advanced seat belts and traction control, curtain, knee, and torso airbags, are also included.
This means you will be as safe as you can ever be in this sedan.
The fuel economy of this car is up to 32 mpg. This is great for any family because it allows you to save money on gas every month.
Lastly, I'd like to mention the hybrid option can push up to 46 mpg, which is amazing.
How Reliable Is A Kia Optima?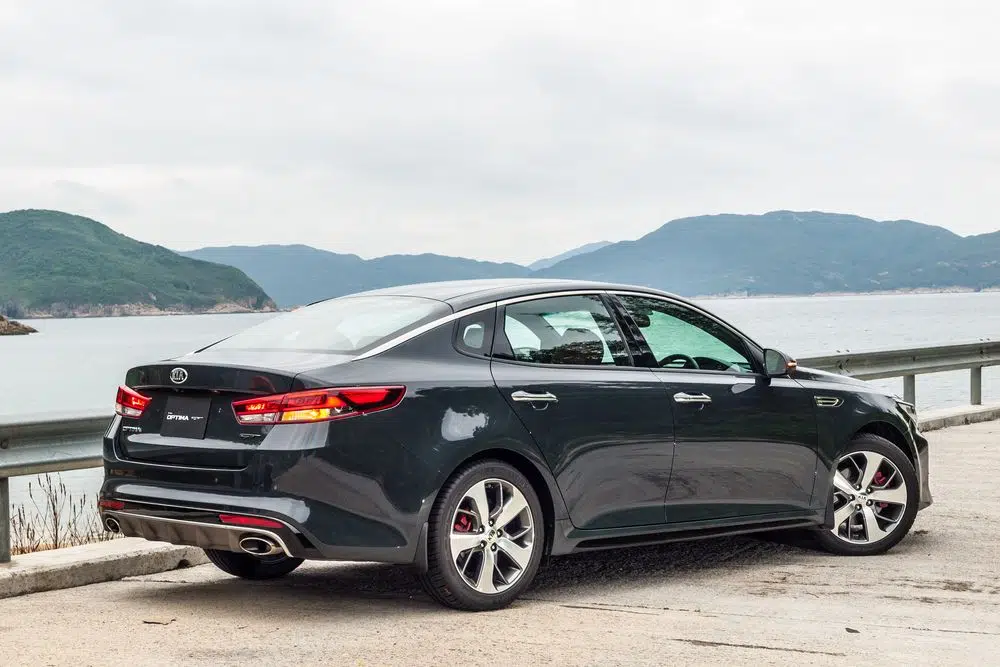 The Kia Optima is a pretty reliable car, but only models released after 2016 and those before 2010.
The newer models are equipped with a lot of advanced technology and have fewer problems than the older ones.
How Long Do Kia Optimas Last?
The average lifespan of a Kia Optima is 200,000 miles. That's a pretty decent amount of mileage.
So, if you're looking for a reliable car that won't die on you any time soon, the Kia Optima is a great choice.
It's not only long-lasting, but it also has some pretty impressive features.
What To Do To Lengthen The Life Of Your Kia Optima
You can do a few things to ensure your Kia Optima lasts as long as possible.
Check tire tread depth regularly and make sure it's at the recommended depth for your car. This will help retain control when braking or accelerating.
Keep the fluids in your car full, including the engine oil, transmission fluid, windshield wiper fluid, and coolant.
Replace spark plugs at recommended intervals to keep your engine running smoothly for as long as possible.
Make sure to follow these tips to ensure your Kia Optima could have a longer life.
Things That Shorten The Lifespan Of Your Kia Optima
There are a few things that can shorten the lifespan of your Kia Optima, and I want to help you avoid them.
Stepping hard on the gas or brakes can cause undue wear on components like your engine and transmission, increasing repair costs.
Missing out on regular inspections will result in catching major problems early, reducing engine lifespan.
Not driving the car enough means that sludge starts to form inside the engine. You need to drive at least 10,000 miles annually.
If you want your Optima to reach that 200,000-mile mark, these practices must be avoided at all costs.
3 Most Common Kia Optima Problems You Should Know
Here are the top three issues that have been affecting Kia Optima since its release. You can find them below.
1. Engine Failure
The problem first appeared in 2011 and affected all models made between 2011 and 2015. The engine would need to be replaced and would cost thousands of dollars.
2. Battery Draining
Many Kia Optima owners have drained their batteries while their cars were off and parked. This was due to a faulty alternator which could not charge the battery efficiently.
3. Loose Steering Wheel
Another common problem with Kia Optima cars is that the steering wheel may become loose or wobbly within months of use. This means Kia used low-quality parts.
Frequently Asked Questions
Q1: Is Kia Optima A Good Car?
The Optima is a fantastic car, but you need to know which model you are buying. Recent models have been great, and models predate 2010 are also good.
Q2: Do Kia Optimas Hold Their Value?
The Optima has a depreciation rate of only 18% in 5 years. This is one of the best rates I have ever seen. This means you will not lose too much value at all.
Q3: How Many Kia Optimas Have Been Sold?
Since 2012, the car has had more than 100,000 sales. 2020 saw a steep drop, and it sold 48,000 vehicles only. Regardless, it is pretty popular and is still in production today.
Q4: Which Kia Optima Engine Is The Most Reliable?
The fourth generation of the sedan had a 2.0L hybrid engine which was fantastic.
It could produce excellent fuel economy while also retaining decent performance and torque.
Q5: Is Kia Optima Expensive To Maintain?
You need only $6000 to maintain the Kia Optima for ten years. That is pretty impressive and is less than the industry average by more than $1100. So it is cheap to maintain.
Conclusion
The Kia Optima is the best car for anyone who wants a reliable, stylish ride that won't break the bank.
It has a sleek exterior and an interior that's comfortable and easy to use, with plenty of space for passengers or cargo.
Moreover, it also has great fuel efficiency and a smooth ride. This is an excellent choice if you're looking for a car that will last you for years without breaking down.
Regarding the best and worst years for Kia Optima, I can guarantee you will not find a more detailed article elsewhere.
I hope you got all the information you were looking for.