Getting into its 5th generation, the Audi A4 was based on the Volkswagen Group B Platform and was assembled in plants worldwide, mostly in Germany.
It is available as Sedan and station wagons and includes convertible versions.
When it comes to years, each one is unique and features a completely new Audi A4, which is why it is great to check out all the available models you can get your hands on.
This however may be tedious. For this reason, I will go over all the best and worst years for Audi A4 to aid you in your quest for the perfect Audi A4.
Here is the list that I was able to compile:
Worst Years for Audi A4:
2009
2011
2013
2008
2006
Best Years for Audi A4:
2019
2018
2020
2015
1998
Since you have seen the models in the above list, I'll write each model in more detail so you can better understand and decide accordingly. Keep on reading!
What Are The Worst Years For The Audi A4? Which Years To Avoid
In this part of the article, I will be going over all the Audi A4 models you should avoid due to their various issues, and the level of complaints users have raised against them.
1. 2009 Audi A4
When it comes to German ingenuity, you think of stout and perfectly capable machines that do not falter for anything.
What you won't be thinking of is the engine for the 2009 Audi A4, which had a variety of different issues to the point that hundreds of complaints reached the developers of the car and the NHTSA.
A major issue available at this frequency, on a component like this very concerning, is why I had to place the 2009 Audi A4 at the first position on this list.
If you dread other issues, the car has them at very low occurrence rates. The major issues lie mostly with the engine; the biggest is excessive oil consumption.
Users would run out of oil constantly and spend a lot to get it topped up. Timing chain failure did not help the situation either.
Moreover, some users complained that their turbo would fail, which a major disappointment is considering that it is a huge selling point.
2. 2011 Audi A4
The 2011 Audi A4 also came with many of the engine-related issues of the 2009 model but was somehow able to expand on them in some aspects.
While the overall amount of engine problems was slightly lower, they were more varied, which, depending on how you look at it, is bad.
If you think issues would slow down two years later, you would be dead wrong. Since they were less common, I placed the model 2nd on this list.
Excessive oil usage was still at the top of the list regarding the 2011 Audi A4.
The owners also reported the car losing power while driving, which is a shame considering the issues with the turbo had finally been resolved.
Other issues included intake manifold failure and timing chain failure. If this was not enough, there was also the chance that the fuel injectors would fail as well.
3. 2013 Audi A4
The 2013 Audi A4 was also struggling with its engine. It had been at least five years of constant engine-related dilemmas, and by the looks of things, they would continue for at least a while.
While the problems were slowly being worked on, the 2013 Audi A4 introduced issues split between the engine and the steering. This is why I have opted to place it in 3rd place.
As you would expect, the engine was still eating up more oil than the user could manage to purchase daily.
This is sad, considering this issue was also accompanied by total engine failure this year.
Not only you'd spend thousands on oil, but you would also have to eventually get the engine replaced.
When it came to the steering, people complained about the power steering getting quite stiff.
4. 2008 Audi A4
Up to this point, I had talked about engine problems as if they did not exist before the 2009 model. Sadly, the Audi A4 has engine-related issues that trace back to 2008.
While I will cover that particular model soon, I will now talk about the 2008 Audi A4, which I placed at 4th place for issues related to its engine and, this time around, the airbags.
If you did not get the memo, I would say it again; excessive oil consumption. It seems that the Audi A4 cannot get enough oil to run properly and is always asking for more.
To make matters worse, this model was also part of the Takata recall, which occurred due to faulty airbags that either did not work or would explode outright.
5. 2006 Audi A4
The final model on this list is the 2006 Audi A4. I will be talking about this particular model at last place simply because of the variety of small yet heavily complained issues this model faced.
As you should expect, engine issues are still a thing, but this time around were accompanied by airbag issues, lighting problems, and fuel-related errors.
All this was mostly harmless, so I decided to discuss this model in 5th place.
Just like 2008 model, this year was also part of the Takata recall which meant that the airbags would sometimes not deploy.
The fuel pumps had various errors, and the lights would flicker on and off. This is the most dangerous issue in this model.
Lastly, the next one is more dangerous since the engine would stop working and would often fail outright. Timing chain issues were a thing here as well.
What Are The Best Years For The Audi A4? Which Years To Buy
In this part of the article, I will be going over all of the models of the Audi A4 that you should be on the lookout for since they are the best the lineup has to offer, featuring little to no issues.
1. 2019 Audi A4
Going strong into the year with various standard features, a good amount of acceleration, and power to boot, the 2019 Audi A4 is the lineup at its finest.
It offers great power and comfort, which is why I have elected to place it at the top of this list.
Additionally, while it may have a few undesirable traits, there is no component-related issue with the car, which is another huge reason why this car should be in the first place.
The car is okay in the handling department but features some strong breaks and a lot of front seat space, making it extremely comfortable to drive and ride in.
Moreover, the back seats are also quite adult-friendly, so you can take the car out for a spin with your friends and have a good time.
This year brought four different trims to the market, and the highlight of these was the high-performance S4 which was only available as a sedan and was filled with quality features.
2. 2018 Audi A4
Since the last model was more geared towards a high-performance variant, I should also talk about a model that excels in its base model.
The base model has so many features and power that it is an easy contender for 2nd place.
This means that I should talk about the 2018 Audi A4, which not only served as the foundation for the 2019 Audi A4 but also fits the topic of discussion.
As with the previous model, the handling is not the best, but it makes up for this with a huge amount of powerful acceleration.
This particular year was available in 9 different trims.
The base model was the standout, as the acceleration was available in the base on top of the heated front seats and collision avoidance systems.
For those who wanted an even more kick, the year also had a performance version.
3. 2020 Audi A4
Coming in with six different trims, 2020 tries to expand on the 2019 model but fails to put in the effort required.
While it can match it in terms of luxury, it had very minimal changes, which made it a significant investment which is why I place it at the 3rd spot on this list.
It would have easily been put first if it had gone the extra mile. If you are in the market for a luxury sports sedan, then the 2020 Audi A4 is perfect for you.
This year's biggest change was a new screen and media system for the interior and a few new trims that screamed luxury.
Do not let the nature of this car fool you either, it can put out great speeds and reach them pretty fast with its swift acceleration.
If speed and luxury are your things, this car is made for you.
4. 2015 Audi A4
The major thing that stood out for the 2015 Audi A4 was that it came with a glass sunroof on its base model.
While this may not be enough for many to be a huge sell, it is always nice to have.
The entire model features many good design elements and components, and it is hard to believe that a car like this was released in 2015.
For all of this, I decided that this model is a perfect fit for 4th place.
As I said, the interior of this car, even at the base trim, is just outstanding. The finish, fit, and quality of the materials all help to amplify the comfort and luxury feel of the car.
The car also moves extremely fast with its torque-rich turbo engine and responsive steering feedback. All of this could help reach insane speeds at 220 hp.
5. 1998 Audi A4
If you are looking for a vintage model, do not worry; this article has you covered.
For the last place on this list, I decided to place an older model which can equally rival the newer ones in terms of quality and luxury while also doing well regarding power.
Small, luxurious, and available in 6 different trims, the 1998 Audi A4 is a car enthusiast's dream come true.
Being a smaller car, it may be a good choice to get this car as a station wagon but for a daily driver, especially in the city, you should check the car out.
It offers a great deal of maneuverability and also can come with a lot of cargo space.
Surprisingly, the car can also push 190 hp, which should provide you with a good amount of speed.
How Reliable Is An Audi A4?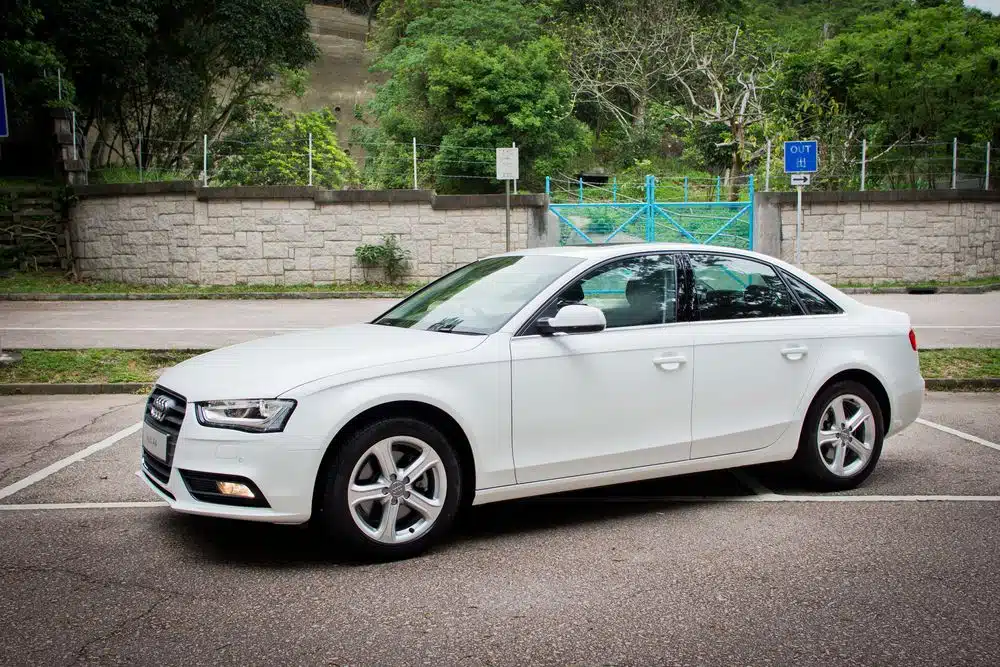 Almost 20% of all Audi vehicles suffer from issues within the first year.
Due to this reason alone, it should be fairly obvious that the Audi A4 may not be as reliable a car as many think.
While it is luxurious and fast, it may not be the car you want, especially if you are looking for a daily driver.
How Long Do Audi A4 Last?
Your Audi A4 should last 300,000 miles over 16 years with good care and protection. On average, it should be well over 200,000 miles, at the very least.
If you want to figure out how to increase the lifespan of your Audi A4, keep reading the article below.
What To Do To Lengthen The Life Of Your Audi A4
Here are 5 different habits that you should develop if you want to make sure Audi A4 lasts for a very long time:
Use quality fuel.
Carry out regular maintenance.
Keep the car's fluid levels at optimal levels.
Use good quality spare parts for replacement.
Getting problems fixed early on.
Once you implement all of these activities, you should feel an increase in your Audi A4's lifespan and performance.
Things That Shorten The Lifespan Of Your Audi A4
Here are 5 different habits that are slowly reducing the life of your Audi A4:
Off-road driving.
Hard braking.
Driving on empty.
Not cleaning the car.
Driving with misaligned tires.
Once you get rid of these nasty habits, your Audi A4 will have better performance and a higher life span.
3 Most Audi A4 Common Problems You Should Know
I have talked extensively about the various issues surrounding the Audi A4.
I will talk about the most common issue in this part of the article to better understand what you are dealing with.
1. Timing Chain Failure
The timing chain is what makes sure all the components of the car are working in unison.
It is an integral part of the engine, but as I have mentioned in the article, the engine has suffered the brunt of the issues, which is why many models have had issues with the timing chain.
2. Takata Recall
The Takata recall was a massive recall that affected many lineups and brands, including the Audi A4. Many models had to be recalled due to their airbags being defective.
They would either not work or have the chance to explode on impact and launch metal fragments toward the users.
3. Engine Failure
Engine failure is the biggest issue any car owner can face, and sadly, this was quite common across the Audi A4.
Once your car has an engine failure, there is nothing you can do about it besides getting a new one.
This can be an expensive endeavor and one that you will almost have to take if you buy a bad model.
Frequently Asked Questions
Q1: Is Audi A4 A Good Car?
If you can get a good model, the Audi A4 can be a very good car, boastful in its luxury and speed.
Q2: Do Audi A4 Hold Their Value?
The Audi A4 does a fine job of holding its value, having a depreciation rate of 31% over five years.
Q3: How Many Audi A4 Have Been Sold?
Since 2005, the Audi A4 has sold well over 600,000 units in the United States.
Q4: Which Audi A4 Engine Is The Most Reliable?
The 2018 2.0-liter four-cylinder engine is, without a doubt, the best engine simply because of the amazing acceleration and the turbocharger.
Q5: Is Audi A4 Expensive To Maintain?
The Audi A4 will cost you around $9k for the first ten years when it comes to maintenance and repair costs.
Conclusion
German engineering has proven itself to be the greatest in the world time and time again, but it seems that it has had its fair share of troubles just as many times as it has succeeded.
If the manufacturing of the various Audi A4 models had been better, I would not have to talk about the best and worst years for Audi A4, but alas, issues can arise for any lineup and brand.
Now that this article is coming to a close, you should know the necessary to avoid the bad models and get yourself the best Audi A4 you can buy.