The Subaru Crosstrek is a great vehicle for the outdoorsy type.
This crossover SUV has all of the practicality and utility of an SUV, but it has a lower center of gravity, which makes it more stable on rough terrain.
It also has a raised ground clearance, making it perfect for driving over mud puddles and deep snow. If you love the outdoors, then this SUV is perfect for you!
The new, redesigned Subaru Crosstrek has been popular with many drivers. But it was not always this way. This article will discuss the best and worst years for Subaru Crosstrek.
If you're looking to buy one, it's important to know which year best suits your needs so that you don't end up with a lemon!
Let's start by discussing the years that will be discussed here.
Worst Years for Subaru Crosstrek:
2013
2018
2014
2016
2019
Best Years for Subaru Crosstrek:
2020
2022
2021
2017
2015
You are in great luck! As there have been ten models of the Crosstrek SUV to be released as of writing this article, it will discuss them all.
So, instead of nitpicking the best or worst, all have been included here, so your decision to choose one can be made even easier.
What Are The Worst Years For The Subaru Crosstrek? Which Years To Avoid
First off, I will be discussing the worst models of the SUV. These five models have been proven to have the most issues and are certainly not recommended buy.
1. 2013 Subaru Crosstrek
The first, arguably worst, model released was the 2013 Subaru Crosstrek. It was called the XV Crosstrek instead of the Crosstrek.
It is the same vehicle as previous models, but the manufacturer has dropped the XV branding since then.
In addition to being called "XV," this model had some significant problems that made it a poor choice for many drivers.
The steering system was unreliable in snowy and icy conditions, making owners lose control of their vehicles. Some also reported that the steering would drift.
Another problem with this model is that it used excessive oil—it would need to top off much more than usual because it was burning through so much at an accelerated pace.
There were also reports of wheel bearing failure prematurely, which is unacceptable.
Overall, the first model of the SUV certainly was not a great one. It left a bad taste for many new and excited owners.
2. 2018 Subaru Crosstrek
The 2018 Subaru Crosstrek was a vehicle designed to appeal to families who wanted something that could handle off-road terrain and be used as a daily driver.
However, after ownership and usage by many drivers, it became clear that this SUV was not a good enough vehicle.
Many owners reported issues with their radios, cameras, and navigation systems.
Their radios would stop working, their camera would freeze, and their navigation system would stop working.
Many also reported issues with their rear suspension being improperly tuned.
The suspension made it hard for owners to track their SUV when making turns, causing many to lose control of it during tight turns.
Other owners reported paint chipping easily and windshields cracking. This meant that the SUV used subpar-quality materials, which was unacceptable.
Even five years after its release, Subaru did not learn from its mistakes. If I were you, I would stay clear of this model.
3. 2014 Subaru Crosstrek
The 2014 Subaru Crosstrek was a step up from the previous two model years, but it still suffers from some serious issues.
The automatic transmission on this SUV was sometimes erratic, causing hesitation while shifting gears.
Although it is not a cause for concern, it makes driving this SUV much less exciting.
Sudden acceleration is a dangerous problem that could cause serious accidents if left unchecked.
This issue is pretty serious and worth mentioning because it's important to know about any issue like this before purchasing a vehicle – especially one that will carry your family!
The issue with wheel bearings also occurred in 2014 models, and high oil consumption was also an issue.
Yes, these two problems were also present in 2013, which means that Subaru did not do anything to fix them.
4. 2016 Subaru Crosstrek
The 2016 Subaru Crosstrek is a good SUV, but it has some issues that make it hard to own.
The first problem is with the 9V adapter. The adapter stopped working, so I could not charge my phone while driving.
That's a big problem for people who use their phones for GPS and communication. Accessories like tire inflation pumps can also not be used.
The second problem occurred when the touchscreen failed to work properly.
Navigation could not be accessed, and other primary functions could not be used. This means that the system could not be used.
The third issue was battery failure—the electrical system was drawing too much power from the battery, causing it to die prematurely.
5. 2019 Subaru Crosstrek
If you're looking for a reliable crossover, then the 2019 Subaru Crosstrek is not for you.
For instance, the radio presets can be frustrating, as you must keep finding your favorite stations repeatedly.
Additionally, the Starlink infotainment system often fails to work properly, making it difficult to access media or other features while driving.
The windshield is another concern: it may not be made of high-quality glass, breaks easily, and is expensive to replace.
In addition, sudden acceleration is another common issue with this model, which is dangerous because drivers cannot predict when it will happen or how fast they're going (which could result in accidents).
Finally, battery life is another cause for concern in this specific model of the Subaru Crosstrek.
It may be due to an alternator issue rather than anything else. But it dying, again and again, is something no one wants.
What Are The Best Years For The Subaru Crosstrek? Which Years To Buy
Now that the article is done with half of the Crosstreks ever released, all that are left are the good ones.
These five models of the Crosstrek are comparatively much better than the ones in the previous list. They are not perfect, but they are still good enough to be daily drivers.
1. 2020 Subaru Crosstrek
The 2020 Subaru Crosstrek is the best model of the SUV to ever be released, and it's easy to see why.
Apart from its outstanding reliability, it has many features which people love. First, it comes with all-wheel drive as standard on all variants.
This means you'll be able to go wherever your heart desires in any weather conditions, confident that you'll make it safely.
Second, this vehicle has many safety features designed to keep you safe and secure when driving.
These include blind spot monitoring, adaptive cruise control, lane departure warning, and more!
Thirdly, this vehicle has a high ground clearance for off-roading, which means it can easily handle rough terrain.
This means you can take it anywhere without worrying about damaging the undercarriage.
The cabin is spacious enough for both adults and children so that everyone can enjoy their time together when going on trips!
Lastly, the quality materials used in the interior make it feel like a luxury vehicle, even though it's not one.
2. 2022 Subaru Crosstrek
The new Subaru Crosstrek comes very close to its 2020 predecessor in terms of reliability and has a few key improvements.
The 2.5L turbo engine can produce up to 182 HP, greatly improving over the base model's 150 HP.
It also has a greatly designed infotainment system that allows you to connect your phone for hands-free calling and music streaming.
In terms of comfort, the cabin is quiet and does not let too much road noise in. The seats are very comfortable and have plenty of room for tall drivers or passengers.
Moreover, the interior design is practical, making it easy to find important controls like the climate control system and radio controls.
The 2022 model also has an optional Harmon Kardon sound system that provides clear sound without being overwhelming or distorted, even at higher volumes.
It also has 8.7-inch ground clearance—better than the 8.5-inch recommended for off-roading. This makes it a fantastic crossover SUV.
3. 2021 Subaru Crosstrek
The 2021 Subaru Crosstrek is a great buy because it brings many changes. The new front grille design and bumper layout improve the SUV's look.
Five trim levels give you plenty of options for customization. The affordable price tag helps make this SUV a great choice for anyone.
The new model also has excellent handling performance and a comfortable ride, thanks to a well-tuned suspension system. This makes driving and riding in it simply great.
It also produces a 33mpg combined fuel economy which is pretty good for an SUV of its size.
The spacious storage space makes it useful for anyone who needs to carry equipment or luggage.
All in all, the 2021 Subaru Crosstrek is a great all-rounder. It is great for families, suitable for off-roading, and does not consume too much fuel. Overall, it is certainly an amazing model.
4. 2017 Subaru Crosstrek
If you're looking for a safe, reliable, and fuel-efficient vehicle that can handle any terrain then the 2017 Subaru Crosstrek is for you.
It's all-wheel drive, so it can handle snow and other inclement weather without a problem.
The suspension system is designed to handle all terrain and road conditions, so you'll never have to worry about getting stuck or getting home safely after an off-road adventure.
The Crosstrek is also great for adventurous people who want to take their kids on outdoor adventures without worrying about safety or reliability.
Its sporty look makes it perfect for exploring nature, while its rugged design ensures that it can go anywhere—even if that means going off-road!
Overall, the 2017 Subaru Crosstrek is an amazing SUV, and this model is perfect for those not looking to empty their pockets on a versatile SUV like this one.
5. 2015 Subaru Crosstrek
The 2015 Subaru Crosstrek is the last model on this list, but it's not the least. This crossover SUV has everything you want!
First of all, it's an all-wheel drive vehicle. That means you'll be safe and secure inside, even if you're driving in rough weather or on a muddy road.
You also don't have to worry about expensive repairs—the Crosstrek has been tested for reliability repeatedly, making it one of the most reliable SUV models today.
And if you're looking for a vehicle with great gas mileage, look no further than this one: up to 33 mpg is possible with this well-designed machine.
The cabin looks great and has a high-quality finish that will make you feel comfortable.
How Reliable Is A Subaru Crosstrek?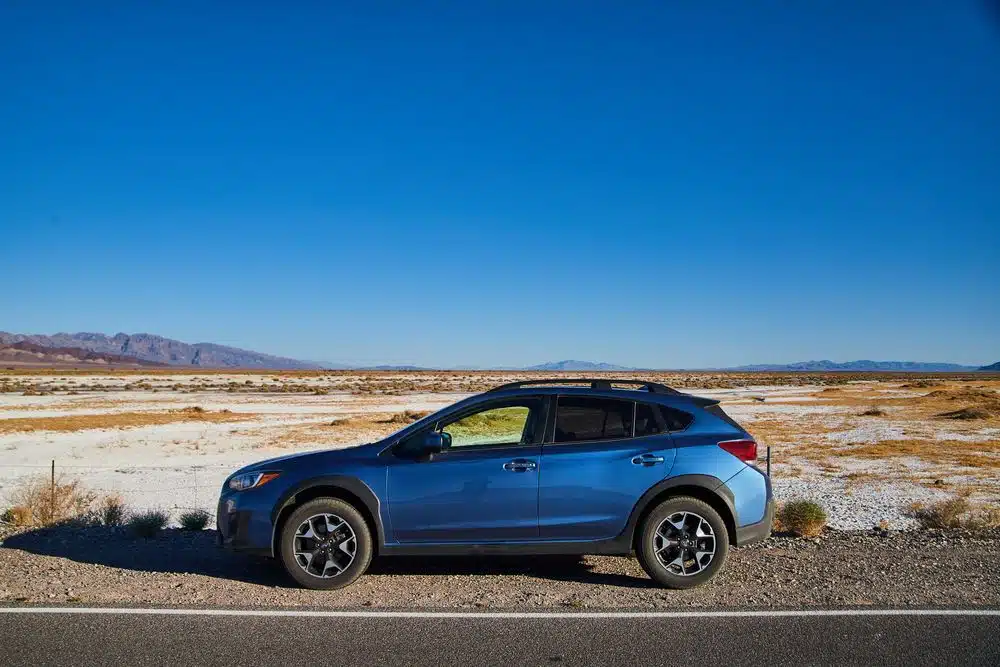 The answer to that question is: it depends on the model. Reliability has been up and down over the years, with some models being great while others not so much.
So, you need to compare the different generations of Crosstreks and see how they stack up regarding reliability.
How Long Do Subaru Crosstreks Last?
That depends on many factors, including how well you take care of your SUV.
But most people agree that 200,000 and 250,000 miles are good for an SUV—and on par with most other SUVs today. It will easily last for around 15 years.
What To Do To Lengthen The Life Of Your Subaru Crosstrek
The Subaru Crosstrek is a great SUV, but it won't last forever. You can do things to ensure your Subaru Crosstrek lasts as long as possible and that it's in good shape for a long time.
Keeping your SUV clean will help you avoid corrosion, leading to expensive repairs down the line.
The best way to extend the life of your Subaru Crosstrek is by following its service schedule. This includes oil changes, tire rotations, and other routine maintenance.
I recommend avoiding heavy acceleration and braking when possible because this puts more stress on internal components.
All these steps will ensure that the SUV will last for as long as possible.
Things That Shorten The Lifespan Of Your Subaru Crosstrek
There are certain factors you should keep in mind for a better life of your Subaru.
If you don't change the oil in your Subaru Crosstrek, its engine can be damaged and wear out much more quickly than if you change it regularly.
The quality of parts can significantly affect how well your SUV performs over time. Low-quality ones can affect functionality greatly.
Driving over potholes (or even small bumps) can damage your Subaru Crosstrek's underside components, leading to costly repairs down the road.
Make sure not to follow any of these things, so your Crosstrek can last for a longer period.
3 Most Common Subaru Crosstrek Problems You Should Know
This section will discuss some of the common problems owners of SUVs have faced over the years.
1. Excessive Oil Consumption
The most common problem with the Subaru Crosstrek is excessive oil consumption.
While this may seem like a minor issue, it can lead to bigger problems if not addressed immediately, including a reduced lifespan.
2. Failure Of The Brake Light Switch
Another common issue with these vehicles is the failure of their brake light switch. This issue can be relatively simple to fix and is not too serious.
3. Premature Rust
Finally, another fairly common problem with the Subaru Crosstrek is rusting. The company did not add adequate coating, which led to premature corrosion.
Frequently Asked Questions
Q1: Is Subaru Crosstrek A Good SUV?
There is no denying that half of Crosstrek's history has been bumpy. It has had many major issues. But it looks like the manufacturer has sorted things out.
Since 2020, the releases have been solid, and that helps the Crosstrek classify as a good SUV.
Q2: Do Subaru Crosstreks Hold Their Value?
The Subaru Crosstrek is undoubtedly one of the best choices on the market for drivers looking for one whose value won't be affected too much.
It has excellent resale value and depreciates by only 18% in five years.
Q3: How Many Subaru Crosstrek Have Been Sold?
The Subaru Crosstrek is a pretty popular SUV. It's sold more than 100,000 units every year for the last five years, and it's on track to do that again in 2022 too!
Q4: Which Subaru Crosstrek Engine Is The Most Reliable?
The latest 2.5L turbocharged engine is the best one yet. It can produce up to 182 HP and has little to no reliability issues.
Q5: Is Subaru Crosstrek Expensive To Maintain?
The SUV needs around $7915 to maintain for a decade. This is better than the average cost for most SUVs, which is $9,000.
Conclusion
The Subaru Crosstrek has had some ups and downs in the past couple of years, but I am optimistic about its future.
It'll be interesting to see what the future holds for this beloved vehicle, but I think it's safe to say it will continue to deliver on its promise of safety, comfort, and reliability.
When talking about the best and worst years for Subaru Crosstrek, I suggest you do your research.
Wait – I already did it for you! You must read this article thoroughly and choose which model will be perfect for you. Hope you can find one in decent condition!