The first model of the Nissan Maxima was put out in 1981 and is currently in its 8th generation.
It originally debuted as the Datsun Maxima but was renamed to what we know it as today in 1985 when the Datsun brand was phased out.
From 1981 to 2022, there have been plenty of models of the Nissan Maxima that people can choose from.
That being said, not all of these models are made equal, which is why I will talk about the best and worst years for Nissan Maxima in this article.
While there have been plenty of good models, there have also been a lot of bad ones, and I will go over them in the following lists:
Worst Years for Nissan Maxima:
2004
2005
2006
2010
2011
Best Years for Nissan Maxima:
2020
2021
2012
2019
2018
I will go over all these models in depth, so make sure you read carefully. If a particular model caught your eye, make sure to check out the other models, as they could also be of value to you.
What Are The Worst Years For The Nissan Maxima? Which Years To Avoid
These models are considered the worst due to the many flaws and issues they bring to the table.
It is my personal opinion that you avoid any of these models for as long as you can.
1. 2004 Nissan Maxima
The simple but prominent reason I have placed the 2004 Nissan Maxima in the first place is that it has so many issues which have received a lot of backlash from fans and car enthusiasts.
It has had the most problems in the entire lineup, so it deserves to be on the first spot on this list.
The most glaring issue this car had was with its transmission. Transmission failure was commonplace; it would slip out and get stuck in gears.
It would also jerk when shifting. Apart from that, the engine was really bad and had problems and so did the car's body.
The car's body was prone to rust and often had its clear coat peel off. The engine would often make a rattling noise, especially when starting.
This would be followed by a loss of power and overall rough running of the engine, which people did not like.
2. 2005 Nissan Maxima
While making general improvements and solving many of the issues in the 2004 Nissan Maxima, the 2005 Nissan Maxima is still widely considered 2nd worst model of the entire lineup.
This is because, despite its best efforts, it still had a lot of issues it needed to fix. The first of these issues was the transmission which still had many problems.
Jerking, difficulty in shifting, and eventually transmission failure were all too common.
Accompanied by this, the engine was also not doing too hot and had many issues in the 2004 Nissan Maxima.
3. 2006 Nissan Maxima
For the 3rd year in a row, Nissan could not figure out why their transmission was not working as intended.
This resulted in the 2006 Nissan Maxima losing its ratings and performance. It would also lead to a huge class action lawsuit against the company for the model.
The situation was still the same; horrible transmission, which would jerk and fail, and a bad engine.
It got to the point where owners of the car were spending upwards of $3,000 to just replace the transmission, which would often occur at the 100,000-mile mark.
4. 2010 Nissan Maxima
Free from all the transmission issues after the 2006 model, the 2010 Nissan Maxima brought forward its own set of problems and issues which had to be solved.
The biggest and most expensive of these issues was the steering lock problem. This issue would prevent the car from starting!
Moreover, the issue was common but grew even more so for the 2010 model. The fix for this problem was also quite expensive, costing over $1,500.
Finally the cause of the problem was a defect in the electronic steering column. This was the result of other electrical issues present in the car.
5. 2011 Nissan Maxima
The final car on this list is the 2011 Nissan Maxima. The 2011 Nissan Maxima is a pretty good car.
I am placing it in last place for the worst years because it had a bad transmission failure, which paralleled the 2006 model.
You would think that by this time, Nissan would no longer be having transmission problems, but that does not seem to be the case.
Instead, you have your transmission failing at around 100,000 miles. As you may be aware, this issue is not cheap to fix and brought down the reputation of the 2011 Nissan Maxima.
What Are The Best Years For The Nissan Maxima? Which Years To Buy
1. 2020 Nissan Maxima
The reason why I am placing the 2020 Nissan Maxima in the first place is simply that it is a very reliable car that has little or no issues.
While this can be said for a lot of models of the Nissan Maxima, the 2020 Nissan Maxima has a lot of modern-day advancements and improvements which give it an edge.
The first thing you will notice about this car immediately is that it has amazing acceleration and is quite responsive.
The power of the V6 engine is felt throughout the ride, and the car has a bold design that people love.
This is packed with more active safety features, such as continuously variable automatic transmission.
Overall, the 2020 Nissan Maxima is a great car, and it deserves to be at the top of this list simply because of what it offers as a whole.
2. 2021 Nissan Maxima
Being released after the 2020 Nissan Maxima, the 2021 Nissan Maxima had a huge pair of shoes to fill, and while it did come close, it just does not have enough going for it to be in the first place.
Despite this, it is a pretty good car and deserves to be in second place on this list.
Coming in with three different trims, the highlight of this year is the 40th-anniversary edition of the Nissan Maxima.
Apart from that, there has not been a whole lot of change. Minor improvements here and there have been noticeable but do not change much in the grand scheme.
3. 2012 Nissan Maxima
Taking a step back in time, I present the 2015 Nissan Maxima, a near flawless model of the Nissan Maxima.
This model fans loved to drive just because of how responsive and fluid it felt. This, paired with the fact that it had almost no issues made the 2015 Nissan Maxima a great fit for 3rd place.
The sheer variety of luxurious options available in 2 different trims was staggering!
It had a revised styling that many people loved and an optional panoramic moon roof, which was widely loved.
4. 2019 Nissan Maxima
Going back into recent times, the next model on this list is the 2019 Nissan Maxima which gets this spot for its snappy steering and good power output via the engine.
This year also brought some good luxury options for people who were interested as well.
The only reason this year is not ranked higher is that the backseat room and the front seat width were not as roomy as they should have been, leading to a tight experience.
This was despite the updated styling and variety of safety features that came with the model.
5. 2018 Nissan Maxima
While the 2019 Nissan Maxima was, by all means, a good car, it was also a good improvement over its successor, the 2018 Nissan Maxima.
The car gave out smooth and effortless power like it was nothing!
This is saying a lot when you notice the aggressive styling and upscaled interior that the 2018 Nissan Maxima brought to the table.
The car's issues that kept it back were the lack of steering feedback without the SR and limited headroom.
If you were lucky to get the 2018 Nissan Maxima SR trim, you would find punchy and good-feeling steering feedback.
How Reliable Is A Nissan Maxima?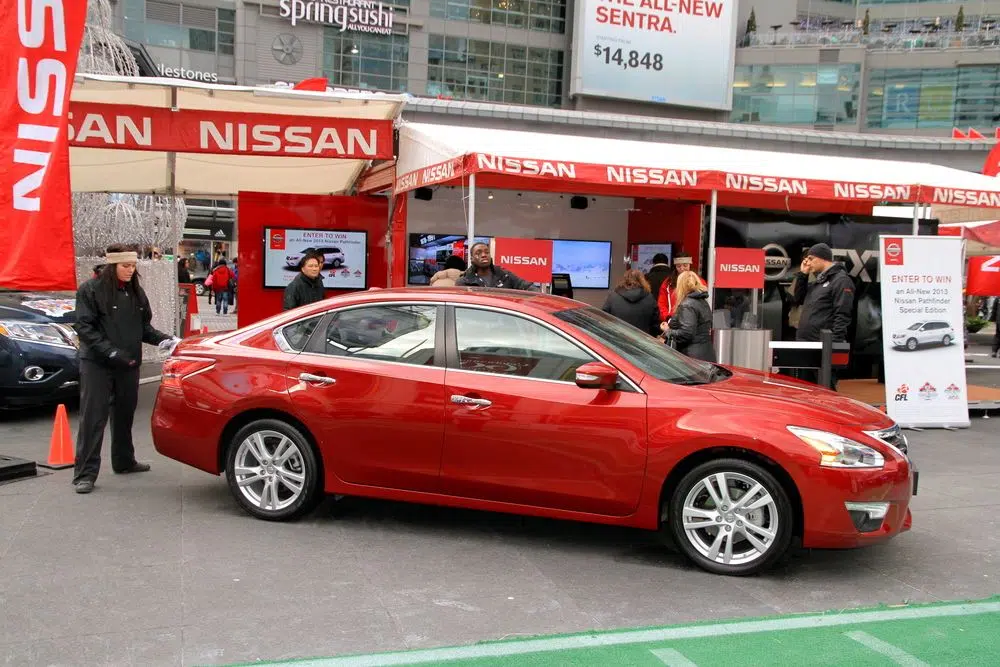 There are a lot of factors that determine whether a car is reliable or not, and by all accounts, the Nissan Maxima is a pretty reliable vehicle brand.
Once you compare it with other competitors, you will see that it can keep up in their regard and beat a few of them, but overall, there are many more reliable options to choose from.
That being said, you should not count out the Nissan Maxima, which remains a very reliable car which you will see as I will discuss it more in the rest of the article.
How Long Do Nissan Maximas Last?
The Nissan Maxima is a very performance-heavy full-sized car.
That said, it should be able to last you over 150,000 miles without breaking a sweat, but at most, you will get a meager 250,000 miles of service.
This means that, on average, you should expect around 200,000 miles from the car, which is around 13 years of service.
What To Do To Lengthen The Life Of Your Nissan Maxima
200,000 miles is relatively low when you compare it to other cars. For this reason, you should do your best to ensure that the Nissan Maxima is kept in tip-top shape.
Here are a few ways you can boost the life of your Nissan Maxima:
Use quality fuel and refuel often.
Keep it away from the elements.
Do not drive on rugged surfaces or off the road.
Visit the mechanic for regular maintenance.
Keep the fluids of the car in check regularly.
Align the tires every 4 to 6 months.
These are just a few activities you have to engage in if you want to boost the life of your Nissan Maxima.
Things That Shorten The Lifespan Of Your Nissan Maxima
On the opposite end of the spectrum, there are a lot of activities that can actively hurt your Nissan Maxima. These activities can range from simple tasks to bad habits.
Here are some of these that you should try your best to avoid:
Driving in the snow.
Not driving at all or driving too much.
Getting repairs from amateur mechanics.
Self-repairing when you lack the experience.
Leaving the car running for too long.
Leaving the interior lights on for too long.
Make sure that you avoid doing any of these activities. This will help your Nissan Maxima reach its full potential in its longevity and allow you to drive it to your heart's content.
3 Most Nissan Maxima Common Problems You Should Know
While I have gone over a lot of issues in the worst year's section of the article, here I will mention the most common issues you can expect in the Nissan Maxima.
1. Transmission Issues
The transmission system is a very important one you have to take care of in a car.
This is something that the Nissan Maxima could not manage to do between the years 2004 and 2006.
The transmission was so faulty that it would slowly start to break down over time. This would replace the entire transmission system, which is not a cheap endeavor.
What is more painful about this issue is that it starts to occur around the halfway point of the car's life. By 100,000 miles, the car's transmission is completely totaled.
2. Engine Problems
The engine is another valued part of the car that needs constant maintenance to stay working properly. But even the most well-maintained engine will have issues if it is not made to last.
Various models of the Nissan Maxima have had poor quality engines that have caused major amounts of stuttering and stalling.
They start to lose power and even leak in some cases. Eventually, the engine just fails and forces the owner to buy a replacement engine which, I am sure you know, does not come cheap.
Luckily for fans of the Nissan Maxima, the latest engines are very reliable.
3. Steering Lock Issue
A well-known issue that has plagued the Nissan Maxima is the defective ESCL locks which affect the steering wheel.
If you are an owner of the Nissan Maxima, you best hope you do not run into this issue simply because the problem prevents your car from starting.
The other major thing about this problem is that it can take up to $1,000 to fix it.
The problem was so widespread that a service campaign was launched for the 2009 and 2010 Nissan Maxima.
Frequently Asked Questions
Q1: Is Nissan Maxima A Good Car?
The Nissan Maxima is a great car with a lot to offer, depending on the model you get.
If you get one of the worst models I have mentioned, you will have a bad time and struggle with repairs.
If you can get a good model, you should have an amazing time riding the Nissan Maxima.
Q2: Do Nissan Maximas Hold Their Value?
Depending on the people you ask, the Nissan Maxima's overall value will vary greatly, with many saying it cannot hold it while others say it has an above-average value holding potential.
I will meet in the middle and say that the Nissan Maxima does a good job in holding its value, coming in with a depreciation value of 34 to 49%.
Q3: How Many Nissan Maximas Have Been Sold?
The Nissan Maxima has been here for a long time, making getting exact figures very difficult.
I can tell you that between 2005 and 2022, the Nissan Maxima sold more than 874,000 units. This is a very good number for a full-sized car.
Q4: Which Nissan Maxima Engine Is The Most Reliable?
The V6 engine you can find in the 2020 Nissan Maxima model is the most reliable engine in the entire lineup.
While previous models have had some engine-related issues, the 2020 Nissan Maxima does not have such issues and remains a great vehicle with a reliable engine.
Q5: Is Nissan Maxima Expensive To Maintain?
The Nissan Maxima will take around $540 per year for you to get fixed and repaired.
When you compare this to other cars of the same body time, you will see that the Nissan Maxima is cheaper to maintain.
It is cheaper by about $50 against competitors and around $100 overall against all cars.
Conclusion
The Nissan Maxima is currently in s stable position and has little or no issues. Even when it has the odd problem, it remains a great car that deserves your attention.
You should avoid the bad models I have listed throughout the article, as they are very problematic.
Now that you know the best and worst years for Nissan Maxima, you should be able to secure yourself a good quality model that should provide you with excellent driving and riding experience for years to come.