Dodge Durango, an SUV launched in 1997, gained positive word of mouth because of its three rows of seating, stylish interior, eye-catching colors, and classy outlook.
This medium-sized SUV also gained attention because of its 5.7L HEMI engines. The size of this pickup truck is ideal. It is not too big and not too small.
Dodge Durango did perform well with some of its models, but that does not mean everything is green on their end.
Many models were launched by Dodge Durango, generation after generation that you must avoid at all costs unless you do not wish to have a smooth driving experience.
Listed below are all the best and worst years for Dodge Durango that have been gathered with the help of ample research.
Worst Years for Dodge Durango:
1999
2000
2004
2005
2007
Best Years for Dodge Durango:
2011
2014
2015
2018
2020
The models mentioned above clearly explain that they had to constantly work hard on making amends. I will expand on all these years individually.
What Are The Worst Years For The Dodge Durango? Which Years To Avoid
I will first discuss the worst years you must avoid for a Dodge Durango.
There are many other models, but these are the ones that would not provide you any benefit and would only bring in a hefty amount of bills.
1. 1999 Dodge Durango
The 1999 Dodge Durango is the poorest model in the range since it has had the most owner complaints and has the most issues overall.
One of the main issues that the users of this car reported was the leakage in its oil tanks.
This, coupled with the fuel tank leak, increased the car's fuel consumption, making it problematic. The fuel economy of this car is already quite low.
When the engine is started, a thumping noise may start to develop. Two or more damaged exhaust manifold bolts are frequently the blame for this.
When necessary, our professionals advise replacing the broken bolts, and they also advise replacing the intake manifold gaskets at this time.
A catastrophic refrigerant failure from the AC compressor is frequently the root cause of poor AC efficiency or no cold air blasting from vents.
Road hazards like rocks or pebbles might harm the condenser tubes. In my opinion, because of these issues, you shouldn't buy a 1999 Dodge Durango.
2. 2000 Dodge Durango
Why would you want to buy a car that has almost 2000 problems in its internal components and external features?
The most prevalent issue in the 2000 Dodge Durango model year is its braking system.
ABS brakes are supposed to be placed in the cars to increase safety in case emergency brakes are required.
However, it only creates more problems for the user. Often, the Dodge Durango is taken to the mechanics and electricians because of engine failure issues.
Oil sludge disrupts the flow of power and fuel in the engine, which does not get nor provide enough charge for the normal working of other associated components of the car.
Knowing this, I am sure you must not purchase the 2000 model of Dodge Durango.
3. 2004 Dodge Durango
The wiper assembly is housed in the cowl panel, which is affixed toward the bottom of the windshield.
Several crucial seals on the windshield cowl prevent moisture from getting into the engine.
The 2nd generation Durango's seals occasionally enable water to accumulate on the upper end of the engine.
Engine components such as the ignition coils or their electrical connections might be impacted by water on the engine's top.
A check engine light or misfires can be brought on by moisture on the ignition coils, influencing combustion.
The hot exhaust fumes often cause the valve and tube to accumulate carbon, reducing the valve's capacity to circulate exhaust.
These are reasons enough for you not to buy the 2004 model of the Dodge Durango.
4. 2005 Dodge Durango
The 2005 model of Dodge Durango had similar issues to the 1999 model of Dodge Durango.
Some of the issues that were not similar will be discussed, e.g., the Check Engine Light can turn on if the thermostat doesn't close.
A new thermostat must be replaced because this issue will keep the engine from achieving standard operating temperature.
The wireless control module (WCM) may have jammed if the engine won't start. Static discharge from the ignition key is to blame for this.
In heavy rain or a car wash, water may pass through the cowl screen (at the foot of the windshield) on automobiles like the Dodge Durango with a 3.7L V6 and 4.7L V8 engine.
When the engine is at fault, it would be in your best interest not to purchase that car. So, I believe that the 2005 model must be avoided as well.
5. 2007 Dodge Durango
The NHTSA recalled the 2007 model year of Dodge Durango 4 times.
This model too had a very low fuel economy to offer. Dodge launched three different 2007 models, but all three had this issue of low fuel economy.
Moreover, the fuel filters also used get contaminated now and then. This further reduced the fuel economy, and the engine's capabilities were hindered.
If the car was exposed to direct heat or any extreme weather conditions, the paint of the car would weather off.
The chances of rusting and corrosion would increase, impacting the entire body and the internal components of the Dodge Durango.
Knowing this, I would suggest you do not purchase this model of Dodge Durango as well.
What Are The Best Years For The Dodge Durango? Which Years To Buy
Not every model is to be avoided in the case of Dodge Durango. Some models are worth your attention and the extra dollar in your pocket.
These have been discussed down below:
1. 2011 Dodge Durango
Before 2011, many models of Dodge Durango had already failed.
In this case, the driving experience was improvised. It was a lot smoother and more peaceful than the previous models.
The leather seats used for this car's interior design are also quite comfortable, which is not true for most SUVs with three-row seating.
Compared to its competitors, this 2011 Dodge Durango model is also quite affordable. Moreover, the car is not that expensive to maintain either.
It has a higher towing ability, and it can also drag an object higher than 25 ft.
The additions of the sunroof and blind-spot monitors are just a few more reasons for you to purchase this car.
I think the 2011 Dodge Durango model is an exceptional car, and you must purchase it.
2. 2014 Dodge Durango
The main feature of the 2014 Dodge Durango model that differentiates it from its competitors is its horsepower.
This car's V6 or V8 engine is easily adaptable and provides 290+ horsepower to its users.
All those who like a strong muscular car that also offers high-speed need to purchase the 2014 model of Dodge Durango.
In addition, the fuel economy of this model of Dodge Durango is better than other models that were launched previously.
It offers 18mpg in the city and even higher on the motorway, which is commendable.
Lastly, the eight-speed automatic transmission of this car makes the driving experience quite smooth.
Due to this, the 2014 model of Dodge Durango needs to be on your bucket list.
3. 2015 Dodge Durango
The midsize SUV category's top three performers in the 2015 Dodge Durango. It has an elegant cabin, a strong lineup of engines, and controlled driving dynamics.
If you're looking for a used three-row SUV, the 2015 Dodge Durango model is a compelling option.
The Durango has a stylish cabin with comfy seats, simple-to-use technology, and a sizable cargo capacity.
This SUV has strong V6 and V8 engine options, offering great towing capabilities. It also drives well.
SXT, Limited, R/T, and Citadel are the four trim levels available for the 2015 Dodge Durango.
A 290-horsepower V6 engine, a 5-inch touch interface, Bluetooth, central locking, tri-zone controlled temperature control, and alloy wheels are all the base Dodge Durango SXT model features.
Considering all of this, it would be best for you to purchase the 2015 model of Dodge Durango.
4. 2018 Dodge Durango
In a 2018 Dodge Durango model year, you get to decide the engine that you want for your car.
You can go for the v6 engine, which has the moderate horsepower, and also a v8 engine which is known for providing high horsepower.
You can make these changes according to your liking and the budget that you have for a new car.
Moreover, the infotainment system is user-friendly, and all the controls are well within reach of the driver.
You would not have to look off the road while trying to control other features of the car. Alongside that, the towing capability of this car is commendable.
It can tow more than 74,000 pounds which is praise-worthy. This is why you should consider purchasing the 2018 model of the Dodge Durango.
5. 2020 Dodge Durango
Did you think that 74,000 pounds worth of towing ability is commendable? Well, the 2020 model of Dodge Durango can tow more than 87,000 pounds.
Now that is what we call commendable. Its competitors are trying hard to beat this without having to compromise on their size.
The material that has been used to make the internal accessories of this car is mostly imported and is of supreme quality.
The infotainment system and other control systems have been improved in the 2020 model as well.
Furthermore, the safety measures such as blind spot monitoring, child locks, airbags, etc. have all been improvised in this version.
So, what is your reason for not buying this 2020 Dodge Durango year model?
How Reliable Is A Dodge Durango?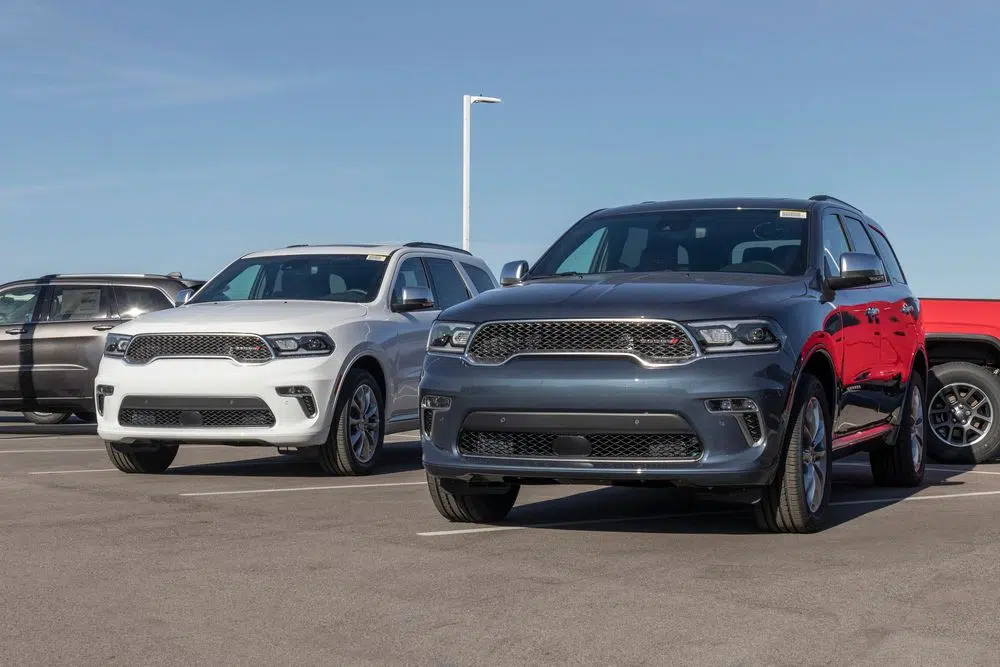 Dodge Durango might not be a terrible car in terms of reliability, but it is also not the best in this case.
With a rating of 3.5 out of 5 stars in terms of reliability, they were unable to increase their reliability score over the period, unlike other cars.
On a scale of 1-100, the Dodge Durango scored 81, which is satisfactory.
How Long Do Dodge Durangos Last?
A healthy 250,000 miles to 300,000 miles are to be expected from a Dodge Durango.
The Dodge Durango is designed to endure up to 16 years, and every year, the Dodge Durango offers 15,000 miles worth of normal driving to be taken into account.
This depends on consistent car maintenance and safe driving practices.
What To Do To Lengthen The Life Of Your Dodge Durango
Considering that Dodge Durango is not the best when it comes to reliability.
If you want to have a normal driving experience with it for 16 or more years, then you need to make sure that you keep the car in good shape.
To make sure of that, consider all the listed measures below:
Impurities frequently clog the tank, ventilation, and fuel filters of the car, so avoid driving in harsh weather or parking in the sun to prevent the paint from fading.
To keep the car operating normally, these must occasionally be cleaned with vacuums.
For your Dodge Durango, try to use premium gasoline. If you take care of your car, you will also reap the benefits.
Don't fail to send your car to the service facility for vital inspections. Your car may occasionally be having problems, but you may not even be aware of them until they cause a failure.
Only integrate high-quality and genuine spare parts when you get your car modified by a mechanic or an electrician.
You will be assisted in keeping your Dodge Durango by all of this. The more you will invest in your car, the happier it will keep you.
Things That Shorten The Lifespan Of Your Dodge Durango
A lot of actions on our end can also reduce the lifespan of a Dodge Durango. Making sure that we do not commit these is important.
To understand what these measures are, take a look down below:
Failing to fix brake system issues and failing to replace the brake pads.
Failing to investigate the cause of your engine's occasional cranking or clicking. If you continue to ignore this problem, your engine can start to stall.
Other issues can arise from failing to monitor your car's average. If it is insufficient, the fuel tank may have problems, such as leaks.
Problems can arise if you don't give your automobile an adequate way to launch before you drive it.
Allow the components in your car to operate normally, and then go about doing your daily chores.
The measures listed above would increase the depreciation rate of your Dodge Durango to a great extent.
Make sure that you do not let that happen to your car by avoiding these steps at all costs.
3 Most Dodge Durango Common Problems You Should Know
These common issues have been handpicked from those models of Dodge Durango that you must avoid.
Take a look at these down below:
1. Low Fuel Economy
We know that a Dodge Durango is a medium-sized SUV, and considering that oil prices are always on a spike, this car has been unable to improve its fuel economy.
The Dodge Durango would offer you a 14mpg fuel economy in the city, which means that you would have to fill the tank twice in one week.
2. Transmission Concerns
Shift delays, acceleration grinding or leaping, road trembling, a burning odor, or whistling noises coming from below the hood are all possible symptoms of a transmission issue with a Dodge Durango.
If you ignore Dodge Durango's transmission issues, you can see a drop in fuel efficiency or possibly find that your Durango is no longer drivable.
3. Overheating Of Car
Overheating is among the worst issues that can occur to your Dodge Durango.
Smoke flowing from behind the hood, a stuck temperature sensor, and a ruptured head gasket are typical signs of overheating.
The engine can sustain a great deal of costly damage from overheating.
Repairing a broken head or block or a blown head gasket will cost far more money than fixing a thermostat.
Frequently Asked Questions
Q1. Is Dodge Durango A Good Car?
Dodge Durango is a good car, but its competitors have better offerings.
Even though they have been working on making the car safer to use, its inability to operate in tight areas and the low fuel economy might make it lose its worth.
If you want a car for its towing ability, then Dodge Durango would be a good car for you.
Q2: Do Dodge Durangos Hold Their Value?
The depreciation rate of a Dodge Durango is 26%, and it tends to hold its value for five years. After that, it would be a wise decision to sell this car.
It would start losing its value after that, considering how high the depreciation rate is. If you sell it after five years, you will be able to earn nearly $40,000 for this car.
Q3: How Many Dodge Durangos Have Been Sold?
In 2021, around 65,935 Dodge Durango were sold in the US market. This is not much considering that in 2019, 74,686 Dodge Durango were sold in the market.
Even the 2018 sales were higher than that of 2021 when the economic activity was high as the lockdowns were lifted.
Q4: Which Dodge Durango Engine Is The Most Reliable?
For quite some time, a 5.2L Magnum V8 engine was being used in the Dodge Durango.
But recently they replaced it with a 5.9L V8 engine, and it increased the worth of the car, increased its horsepower, and also its towing abilities.
Q5: Is Dodge Durango Expensive To Maintain?
Every year, it takes you around $675 to maintain a Dodge Durango.
This is not much considering that its competitor SUVs take more than $1000 to be fixed because of issues with their alternators.
So, we can say that it is not that expensive to maintain.
Conclusion
In light of this article, all the best and worst years for Dodge Durango have been covered in great detail.
It would be fair to conclude that grass was never always greener on the other side of the road for the Dodge Durango.
They experienced a rollercoaster ride rather than a smooth journey up the hill of success.
Keeping everything aside, they have constantly been working on improving their reliability score and safety score and are adapting to new technology as well.
Maybe in 5 or more years, this would outperform its competitors and would be worth your money.
References:
https://blog.1aauto.com/2nd-gen-dodge-durango-problems/
https://www.driverside.com/common-car-problems/dodge-durango-2005-4469-10385-0