The Cummins engine has been the Dodge Ram trucks' major energy source for more than thirty years.
Everything they provide a heavy-duty automobile needs. They possess strength, dependability, durability as well as longevity.
However, the idea of an absolutely good vehicle doesn't exist. This is because some models might be reliable while some quite problematic.
So what are the best and worst years for Dodge Cummins? Well, here are the model years you should be learning about.
Worst Years for Dodge Cummins:
1992
1999
2001
2003
2006
Best Years for Dodge Cummins:
2004
2008
2011
2014
2019
Now that you know the Cummins engine years, it is best to learn about them in detail to decide which year is best for you to purchase.
So without further ado, let's get started with the article.
What Are The Worst Years For The Dodge Cummins? Which Years To Avoid
Although the Cummins engine is powerful and delivers excellent performance, you must know that there are always certain pros and cons that can make you question the model a lot.
Here I will be telling you why these are considered the worst years, so keep reading.
1. 1992 Dodge Cummins
The 1992 Dodge Cummins is a first-generation model year and declared the worst for the Cummins engine system.
The main reason they are said to be the worst is that they are quite old and highly inefficient.
Another reason they are also unreliable is that the horsepower and torque power they deliver are said to be quite low compared to the newer engine models.
Therefore, it is sufficient for you to avoid this model and go for a newer version.
It is also worth mentioning that the older the engine will be, the more problems the driver is likely to face on the road while driving.
2. 1999 Dodge Cummins
Coming over to the 1999 Dodge Cummins, you first must know that this model falls in the second generation of the Cummins engine system.
Although the models were said to be redesigned and were much better than the first generation model years, they still did not impress anyone, which can be possible due to various issues.
The main reason the 1999 Dodge Cummins model is the worst is that it is also quite old.
Other than that, the model is known to have small cabs. It is also more complicated to deal with than the previous model years.
Lastly, it is worth mentioning that the horsepower and the torque are unreliable for this model, which is why you should avoid this model at all costs.
3. 2001 Dodge Cummins
Coming to the third generation of the Cummins engine system, you have the 2001 Dodge Cummins. Another year was the worst for many people due to many reasons.
The major reason it is said to be the worst is that there were few sales in this generation model year.
You must also know that people who did purchase it gave out many negative and concerning reviews on various car reviews websites.
It is worth adding that this vehicle was known to have a problematic injector, and the 53 engine blocks that have been used are known for quickly cracking and are quite thin.
You must also know that comparatively, the price for this model is quite higher than many other models, which is between $3800 and $20,000.
It is better to avoid it than to spend so much money on a problematic model.
4. 2003 Dodge Cummins
The 2003 Dodge Cummins is another third-generation model year. This model also had similar issues to the 2001 Dodge Cummins model year.
This engine model also had the lowest number of sales because of many poor and negative reviews made by various model users.
However, you must know that this model is said to be a lot better than the second-generation models because of various improvements in horsepower and torque power.
But you cannot ignore the fact that it is one of the most unreliable ones, so there is no guarantee if it will deliver excellent horsepower or not.
The model is expensive to purchase and maintain, so you should avoid it.
5. 2006 Dodge Cummins
Lastly, you have the 2006 Dodge Cummins, another model with many issues, which is why it is in the worst years for the Dodge Cummins.
With the 2006 Dodge Cummins model, the air and a heater are the most frequently encountered problem.
It is also worth noting that the air conditioner is also inoperative, as are the composite doors. Vents and other sources of airflow are nonexistent.
Besides that, many have also noticed challenges with suspension and death wobble encounters with rapid rotating of the steering wheel from side to side, which can be quite dangerous if it happens on the road while driving.
Therefore, you must avoid this model year because there are high chances you can end up with serious road accidents that can even risk your life.
What Are The Best Years For The Dodge Cummins? Which Years To Buy
Let's talk about the Dodge Cummins engines that are safe to buy because they are highly reliable and have excellent results.
So if you are planning to purchase one, then these are the models you should look into.
1. 2004 Dodge Cummins
Starting with the 2004 Dodge Cummins, you must know that this was the fourth generation of the Cummins engine.
It is worth mentioning that everything found in it was new as well as highly efficient.
Plus, everything was also newly styled and designed. The suspension was reliable, better interior, a better engine capacity, and so much more.
Starting at 550 pounds per foot and going all the way to 650, that's where the torque power range.
Approximately 3000 RPMs to 3500 RPMs are the governed speeds that they offer.
With 11.4 liters, they also have a good amount of engine oil, so you will surely have a pleasant driving experience.
2. 2008 Dodge Cummins
Now moving on to the 2008 Dodge Cummins, this is yet another reliable year for the Dodge Cummins engine.
You need to know that this model came with increased horsepower along with various modern innovations as well as grand views.
The engine is known to be powerful. Between 350 horsepower to 400 horsepower are available in this model.
Additionally, it also has powerful torque between 850 and 1000.
Along with it, it also has a brand-new four-door cab style that many people will surely enjoy.
If you want a powerful and reliable model, then this model is certainly the right pick for you.
3. 2011 Dodge Cummins
Now you have the 2011 Dodge Cummins, again another reliable model because of its high as well as efficient horsepower, which ranges from around 350 up to 400, as well as torque power that also ranges between 850 to 1000.
Moving on, it is worth mentioning that the 2011 Dodge Cummins delivered a three-pedal manual transmission system that was also highly reliable.
Other than that, you must also know that 2500, as well as 3500 models are equipped with the Electronic Stability Control System that will work smoothly so you can have relaxed as well as controlled driving on the road.
4. 2014 Dodge Cummins
When it comes to the 2014 Dodge Cummins, you need to know that this model is another power as well as a reliable year for the Dodge Cummins engine.
Both the 3500 as well as 2500 had air suspension available in the 2014 Dodge Cummins model. Additionally, there was a keyless ignition option as well.
You must keep in mind that the features have advanced continuously over time, and they are known for making models that are better than previous generations.
Plus, newer models are more reliable and offer a lot more horsepower as well as torque which is why you should always go for newer versions.
5. 2019 Dodge Cummins
Now you have come to the last model on this list, the 2019 Dodge Cummins is in the fifth generation, but you must know that it is not that different from its previous generations.
However, since the trucks are bigger now, they will need extra power as well, which is something the 2019 Dodge Cummins engine provides.
You will be glad to know that this new model includes new trim level options, various upgrades in technology, a new infotainment system, air suspension, keyless ignition, and so much more.
Plus, it will also deliver excellent horsepower, which is more than. 300 and torque power which is more than 800 pounds or so.
How Reliable Is A Dodge Cummins?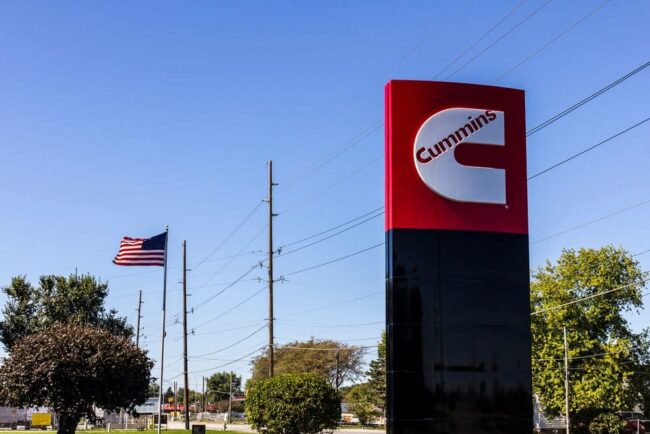 Dodge Cummins engines have established their effectiveness as well as dependability over time.
It is worth mentioning that the Cummins engines are among the greatest light vehicle diesel engines currently available, with sizes ranging from 3.7 to 8.3 liters.
But to keep these engines functioning, just like any other equipment in your truck, frequent maintenance, as well as inspection, is necessary.
So make sure you take extra care of the engine so the vehicle can keep on running.
How Long Do Dodge Cummins Engines Last?
It is said that Dodge Cummins engines can last between 300,000 miles up to 350,000 miles or so.
However, this is only possible if you maintain the engine system and provide it with regular maintenance.
An engine is like the heart of the vehicle that must be well-taken care of. You must also know that not all engines are the same.
The longevity will also depend on which Cummins engine system your vehicle is installed with.
However, make sure that you are cleaning the engine and not letting it heat up too much because it can affect its lifespan more quickly.
What To Do To Lengthen The Life Of Your Dodge Cummins
I am going to share some factors that can help you increase the lifespan of your Dodge Cummins engine system, so make sure to pay close attention to these and try them yourself as well.
Make sure to keep the engine maintained all the time.
Do not let the engine heat up too much.
If your engine is having problems, make sure to repair them quickly and find the diagnosis quickly to treat them.
Provide services to the injectors.
Make sure to deliver maintenance to the turbocharger.
Be sure to clean the DPF.
With these tips, I assure you will be able to notice a big change in your vehicle if you make these tips a habit and follow them at all times.
Things That Shorten The Lifespan Of Your Dodge Cummins
There are some factors that can affect your Dodge Cummins engines to stop working properly, which will also shorten their lifespan.
Read the factors mentioned below so you can fix the problems immediately.
An air filter that is not cleaned regularly.
Not using good quality fuel.
Not changing the fuel filters regularly.
Not using the factory parts for the engine system.
Malfunctioning turbocharger.
Low RPMs as well as highway miles.
I hope you can take notice of these things and if you are facing certain issues, then make sure to pay a visit to the mechanics so they can fix them for you immediately.
3 Most Dodge Cummins Common Problems You Should Know
In this section, I'll detail the most frequent problems that your Dodge Cummins engines might experience.
These problems can create problems if you are going to ignore them, and you may need to spend more money replacing or fixing several parts.
1. Clogged DPF
Dodge trucks with this type of engine frequently have to clog in the (DPF) diesel particulate filter.
If the DPF is not kept clear by diesel exhaust fluid (DEF), a Cummins engine will need to run richer to decrease emissions.
Because of this, the DPF becomes clogged with more particulates. DPF blockage in Cummins engines is on the rise as mileage rises.
As clogging can result in a buildup of back pressure and additional load on the engine; it can be harmful to a turbo-diesel engine.
2. Failing Turbocharger
Turbocharger failure can still occur at any time because they typically experience a lot of stress, even though it happens more frequently on older Cummins engines.
Some indications of a turbocharger issue include whining noises, worn bearings, a slow spool compressor, as well as turbine wheel damage.
Numerous of these symptoms are related to how old your turbocharger is. If left unchecked, worn-out bearings and leaking oil seals can result in a variety of issues with your engine.
These problems become more noticeable once your truck has logged 120,000 kilometers.
3. Fuel Dilution
It is typical for the Cummins engine to experience some fuel dilution. Problems may, however, develop if levels exceed 5 percent.
In the Dodge Cummins engine, fuel dilution does not exhibit any immediately apparent signs.
So it makes sense to perform oil analysis regularly to assess the dilution levels. An additional effective preventive action is creating an oil change calendar after that.
To prevent gasoline dilution, there are a few additional things you can do. To start with, let the engine warm up, and refrain from letting it idle for too long.
Frequently Asked Questions
Q1: Is Dodge Cummins A Good Car?
Yes, the Dodge Cummins engines are reliable, and cars that are installed with this engine are known to be powerful as well as efficient cars. They are also known to run extremely strong and will make sure to tow durable as well.
Q2: Do Dodge Cummins Engines Hold Their Value?
The Dodge Ram equipped with Cummins engine keeps its worth better than others when it comes to comparing trucks.
It also keeps its value. Over the first five years of ownership, the Dodge Cummins engine will depreciate around 42.5 percent.
Q3: How Many Dodge Cummins Engines Have Been Sold?
Almost 1.7 – 1.8 million Cummins engines have been made since 1989 for Dodge trucks. At present, the venerable Cummins Turbo Diesel is chosen by more than 80 percent of Ram Heavy Duty vehicle buyers. So far, 3 million Cummins engines have been sold.
Q4: Which Dodge Cummins Engine Is The Most Reliable?
The 5.9L Cummins 12-Valve 6BT was a diesel engine that is said to be extremely dependable. Million-mile endurance is a feature of the 5.9L 12-Valve.
When it's new, it possessed an inline P7100 injection pump, 230 horsepower, as well as 440-pound feet of torque.
Q5: Is Dodge Cummins Expensive To Maintain?
Dodge Cummins engines are quite expensive to maintain. For owners of Dodge RAM 2500 and 3500 vehicles, the 6.7 Cummins engine is the most potent choice available.
Some are concerned, though, that the cost of this energy might be high. Your 6.7 Cummins engine maintenance costs should range from $850 to $1100 per year on average.
Conclusion
So finally we are almost done with the article on the best and worst years for Dodge Cummins.
Truck powertrains have changed since 1989 thanks to Dodge Cummins engines.
These cars now have different engines, functions, horsepower, and styles. Efficiency has progressively improved throughout the years.
To narrow your selections when buying a Dodge Cummins, it is essential to have a goal as well as objectives in mind.
You may also determine which Dodge Cummins year to purchase and which to avoid based on reviews on various sites or by watching videos.
References:
https://raybuck.com/dodge-diesel-trucks/
https://www.cummins.com/engines/pickup-truck/cummins-ram-history
https://dieselpickuppros.com/how-to-keep-your-dodge-cummins-engine-reliable/