The Mazda3 is one of the most popular compact cars today. It's been around for almost two decades, and thanks to frequent updates to its design, it still looks sharp and drives like a dream.
The Mazda3 is a car that combines style and performance. This is not commonly seen nowadays, so Mazda's offering looks even more attractive.
The Mazda3 has always been a popular choice for drivers looking for something fun and affordable. But with so many years of production, it can be hard to know which ones are worth your time.
This article will discuss the best and worst years for Mazda3, so you can decide what year is right for you! Let's start by listing all the models that will be under the spotlight today.
Worst Years for Mazda3:
2010
2011
2012
2013
2014
Best Years for Mazda3:
2009
2017
2018
2020
2022
You might be tempted to conclude that it would be better to avoid the older models and opt for the newer ones.
You would not be wrong, but getting more information is never a bad decision. So, I suggest that you keep on reading this article.
What Are The Worst Years For The Mazda3? Which Years To Avoid
As you must avoid certain models of Mazda's offering, I have decided to discuss the worst models of the compact car ever released.
Although most of them are not too bad, they are comparatively worse than others that the manufacturer also released. You will know more once I get into the details.
1. 2010 Mazda3
The 2010 Mazda3 is the worst car model to be released by this company.
It had too many complaints, and the most common complaint was that the clutch failed at around 50000 miles. This is simply unacceptable, as it makes the car undrivable.
The dashboard would melt under heat from the sun. This means that low-quality plastic was used.
Moreover, the seat bracket also broke for many users, which caused them to have a very uncomfortable ride.
This means that the quality control for this specific model was nearly non-existent.
Tires wear unevenly due to a negative camber on the wheel slant. This is great for better performance, but it also means that the tires wear out quickly and unevenly.
Some owners had to replace their tires at just 15,000 miles, which is unacceptable.
2. 2011 Mazda3
The 2011 Mazda3 was a decent car, but it still had its issues. The clutch problems present in the 2010 model are still an issue for owners of this car.
Even though the number of complaints about this issue has decreased, it is still present and should be considered when deciding whether or not this is a good car for you.
Another problem with the 2011 Mazda3 is that the dashboard can warp under heat. This is similar to what happened in 2010 and resulted from using low-quality plastic.
If you're looking for a comfortable ride during long trips, you might want to think twice before purchasing this model.
Some owners have reported lower back pain due to poor seat design, which could cause discomfort during long rides.
Some owners also reported that the AC stopped working on their vehicles, which could make driving temperatures very uncomfortable during hot summer days.
3. 2012 Mazda3
The 2012 Mazda3 has a lot of problems that you should be aware of before you buy it.
The major issue is the transmission, which grinds and whines while driving. This can be very uncomfortable, especially if you're on long drives.
Moreover, the engine also loses power while sometimes driving, which is dangerous and could cause an accident if driving at high speeds.
There are also reports of clutch issues, where the clutch wears out prematurely, which is something that haunted previous models of the Mazda3.
It was not that commonly reported by owners of this model, but it was still present. The dashboard will also separate due to poorly designed clips, which can be annoying.
One owner reported that their airbag deployed spontaneously while driving normally—not even in an accident! That is pretty dangerous.
4. 2013 Mazda3
The 2013 Mazda3 is a great car, but it has some issues that make it a less-than-desirable purchase.
The headlights on this model would flicker when brakes were applied, which is a software issue. This can be dangerous if driving around in pitch-black areas.
This can be fixed by a software update from a Mazda dealership. But this is something that never should have gotten through quality checks.
Another issue is with the dashboard separating due to poorly designed clips. This problem was also present in the 2012 model.
Again, this is an annoying problem and needs to be taken to a Mazda dealership to fix it. There were some serious issues present on the 2013 Mazda3 too.
Cruise control on this model would not work properly, which meant that it could not be relied upon on highways.
Some owners have reported that their engine mounts also broke, which can lead to vibrations and engine damage.
5. 2014 Mazda3
When it comes to a car, you want to be able to depend on it. You want to feel like you can trust that the brakes will stop your vehicle when you need them to.
But if you're driving around in a 2014 Mazda3, you may not be able to rely on that trust.
Some car owners have experienced issues with the brakes wearing out prematurely, which can pose serious safety risks for drivers and passengers alike.
The braking system also tends to lock up during use, which could result in an accident that could seriously injure or kill someone.
The infotainment system touchscreen is another component known to fail on this model.
Some owners report that the touchscreen would stop working altogether, while others complained that it would frequently crash.
What Are The Best Years For The Mazda3? Which Years To Buy
I will not leave you hanging with only the worst models of the Mazda3. This section will also spotlight the best ones, showing why they shine compared to the others.
1. 2009 Mazda3
The 2009 Mazda3 is a great buy for anyone looking for a sporty, affordable car.
While the 2010 model was bad, its 2009 predecessor was one of the best sedan models to be released.
The 2009 Mazda3 comes with a 2.0L four-cylinder engine that can produce a decent 148 HP and gets 25 mpg fuel economy.
It also features an optional automatic transmission, which makes it easy to drive.
Moreover, this one has many safety features, such as ABS, airbags, and traction control, so you can feel safe while driving this vehicle. It also has a sports car-like drive.
Lastly, the interior of the Mazda3 is premium looking and easy to get used to since there are no complicated buttons or knobs on the dashboard. The seats are comfortable too!
2. 2017 Mazda3
If you're looking for a compact car, the 2017 Mazda3 is an excellent choice.
It's a much more recent model than the previous one on this list, and it has some great features that make it stand out from other compact cars.
If you want something powerful, there's an option for a powerful 2.5L engine that can produce up to 184 HP and reach 0 to 60 mph in just 7.1 seconds with no problem.
This car also has a great transmission that shifts smoothly and handles well in turns thanks to Mazda's G-Vectoring Control system, which ensures responsive steering and handling.
And while we're talking about handling: this car has five-star crash test ratings, so it's pretty safe too!
There are also many safety features, such as the Smart City Brake Support system and blind spot detection. The latter is included even with the base model!
3. 2018 Mazda3
The 2018 Mazda3 is a great vehicle to consider if you're looking for a more recent sedan model.
There are many reasons it's a good choice, but the top three are.
First, the 2018 Mazda3 has significantly improved over last year's model. For instance, the base sport trim now has low-speed automatic braking as standard equipment.
Also, LED headlights have been added to the Grand Touring model as standard equipment.
Furthermore, you'll get up to 37 mpg fuel economy, which is extremely good for this vehicle class.
The 2.5L engine can produce up to 184 HP and reach 0 to 60 mph in just over 7 seconds—all while getting better gas mileage than most other cars in its class!
4. 2020 Mazda3
The 2020 Mazda3 model did not see any major changes, but it's still a fantastic model to consider. This model has up to 35 mpg fuel economy.
That's slightly less than the 2018 model but far superior to the competition. Thanks to an extremely efficient combustion system, you won't need to take frequent trips to the gas station.
The 8.8-inch infotainment system has been designed to be easy to use. The cabin feels like one from a high-end car and has premium materials throughout its interior.
Lastly, the higher trims have HUD included, which makes it easier for drivers to follow navigation instructions while keeping their eyes on the road.
5. 2022 Mazda3
Mazda played it safe with this model, and that's a good thing. The company did not tinker with an already great formula and instead focused on ironing out existing issues, no matter how minor.
The Carbon Edition has style upgrades and no performance benefits. I am not going to lie; it does look pretty cool!
Furthermore, the standard engine options are 2.0 L or 2.5L engines, while the top-of-the-line option is a 2.5L turbocharged engine that can produce up to 250 HP, which is 100 more than the base variant.
You'll enjoy fast acceleration and responsive handling in all situations.
The 2022 Mazda3 model is also very luxurious inside, with lots of room for passengers and a large trunk space for luggage.
Finally, if safety is important to you, this car offers many features, such as a blind spot monitoring system and radar cruise control.
How Reliable Is A Mazda3?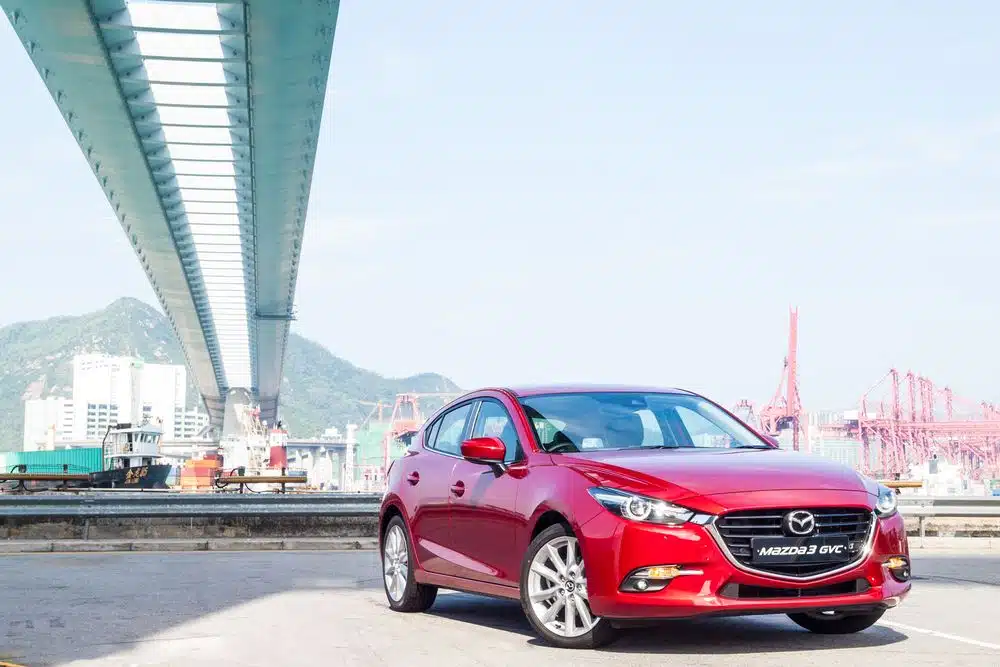 The Mazda3 is a reliable car if you buy a more recent model. Older models had many issues, but the manufacturer has worked them out.
Newer models have not only had little to no complaints, but they have sat at the top of their class almost every single time, which means that they are certainly a great purchase.
How Long Do Mazda3 Last?
The Mazda3 is known for being a long-lasting car. It can last you up to 300,000 miles, which is incredible.
It's also better than most SUVs in terms of longevity. If you drive for 15,000 miles annually, your Mazda3 should last about 20 years!
What To Do To Lengthen The Life Of Your Mazda3
Here are three tips for keeping your Mazda3 running smoothly and extending its life:
Change oil at the correct intervals. If you don't change the oil regularly, the engine will wear out faster and break down. This is important for two reasons.
Make sure to change filters. Filters help your engine run smoother by filtering out dirt and debris that would clog up your fuel system or cause other problems in your engine's various parts.
Rotate tires every 5000 miles. This helps prevent uneven wear on tires, so they all last longer—and saves you money in the long run!
Make sure to follow these tips, so your Mazda3 can last as long as possible.
Things That Shorten The Lifespan Of Your Mazda3
The Mazda3 is a great car, but it's not invincible. There are certain things you can avoid to make sure your Mazda' life.
You should always drive with care and avoid driving on potholes and other obstacles that could harm your car's engine or other components.
When you're driving, you should not strain its parts.
Stepping hard on the gas pedal or breaking too quickly can put unnecessary strain on your engine, which can shorten its lifespan.
Driving with low fuel levels will result in the fuel filter working harder than normal.
This can cause it to fail prematurely.
You need to make sure that these practices are not followed.
3 Most Common Mazda3 Problems You Should Know
The sedan might be one of the best you can buy in a given class, but it is not perfect.
This section will take a look at some of the common problems that owners have had to face over the years.
1. Dashboard Melting
This problem occurs due to low-quality plastic and can be fixed by only replacing the dashboard. Mazda did cover it under its extended warranty, but it is expired now.
2. Clutch Problems
This problem is found in the 2010 and 2011 models of the Mazda3. The clutch would fail quickly, resulting in needing replacement before too long.
3. Infotainment System Issues
Touchscreens on some models of the Mazda3 were prone to malfunctioning or freezing up entirely, leaving drivers unable to use their screens until they fixed them or replaced them altogether.
Frequently Asked Questions
Q1: Is Mazda3 A Good Car?
There is no denying that the Mazda3 is a compact car worth buying. But this statement does come with a big but.
You need to make sure that you steer clear from older models, as those were the ones that had issues.
Q2: Do Mazda3 Hold Their Value?
The car will depreciate by only 27% in 5 years, which is pretty good. It is one of the lowest numbers I have seen, and that's a good thing.
Q3: How Many Mazda3 Have Been Sold?
Up till 2016, sales hovered around the 100000 mark. But in more recent years, sales surprisingly dropped as the models got more reliable. 2020 saw only 30,000 sales, which is pretty bad.
Q4: Which Mazda3 Engine Is The Most Reliable?
The 2.5L turbocharged engine, found in the most recent models of the sedan, is the best. It is powerful and does not have many issues, making it the most reliable one.
Q5: Is Mazda3 Expensive To Maintain?
The sedan is cheaper to maintain than other vehicles, in the same class, by around $1700. You will need to invest only $5400 for the first ten years of owning it, which is not bad at all.
Conclusion
With this article finally coming to a conclusion, I think it can be safely said the Mazda3 is an amazing compact car.
Its sporty vibe and practical nature have made sure that anyone will be satisfied with it.
Although Mazda was not on its A Game for the entirety of the vehicle's lifespan, there were and still are models which can be bought without any risk.
Those models have been discussed in detail here, so you don't have to spend hours of time on research.
Finally, that concludes my take on the best and worst years for Mazda3, and I hope that you can find a model of the car that is perfect for your usage.