A midsize crossover SUV, the Lexus RX 350 was brought to the American market in 2007. It has an exciting package of unique features to offer to its customers.
A 295 horsepower for a midsize crossover SUV is enough to catch the attention of many car lovers.
This has been made possible with the help of a v6 engine. This is just one of the many exciting offerings of Lexus RX 350.
While there are so many pros to buying a Lexus RX 350, there are some issues with a few of its models, due to which the car has been recalled a few times to make amendments.
This is unavoidable, no matter how big of a company we are talking about, to have some poor-performing models.
For your ease, I have researched this topic and separated the best and worst years for Lexus RX 350.
All of these have been segregated down below:
Worst Years for Lexus RX350:
2007
2008
2009
2010
2016
Best Years for Lexus RX350:
2011
2013
2015
2018
2022
Each model of Lexus RX 350 has a different story to tell. If you are curious to find out more about this, keep reading.
What Are The Worst Years For The Lexus RX 350? Which Years To Avoid
Who says that if a car has an exciting package of offerings for its customers, it cannot attract negative word of mouth?
There certainly are some models of Lexus RX 350 that you need to avoid.
These have been explained in detail down below:
1. 2007 Lexus RX 350
The 2007 model was one of the worst performing models of Lexus RX 350.
It received the greatest number of complaints out of all the models of this car. The first main issue was concerned with the safety of this car.
Moreover, the infotainment system would show an airbag warning light, and that meant that you could not rely on this model in case of an emergency.
The second most prevalent issue with the 2007 Lexus RX 350 model was its air conditioning system.
No matter how appealing from the outside, this car was not keeping its users satisfied through the internal features.
It can get hot quickly in the United States, making it impossible to commute if the air conditioning is not working well.
In addition, the third most common issue with the 2007 model revolved around the engine.
This was mainly due to an error with the valve timing system. The engine used to fail repeatedly, and the car would stop or stall.
Constant warning signs asking to check the engine light used to appear in this model.
This car has many other issues as well. Due to this, you should not purchase the 2007 model.
2. 2008 Lexus RX 350
The main issue with this car was that none of the issues in the 2007 model were fixed in the 2008 Lexus RX 350 model.
This model combined its new issues with the issues in the 2007 model. The users of this car were not satisfied at all.
Moreover, the engine of the 2008 model of Lexus RX 350 not only had issues with its variable valve timing system but also used to overheat.
Due to excessive heat, the engine and other related components would not work properly. There was a high chance of explosion associated with it as well.
Controlling the vehicle's speed with a 2008 Lexus RX 350 was extremely difficult, and the driver could not exceed the speed more than a certain limit.
Due to these reasons, it would be best for you to avoid the 2008 model.
3. 2009 Lexus RX 350
An oil leak is one of the most common problems in the Lexus RX 350 models.
The 2009 model initiated this problem. The main issue was that the oil pressure used to be relatively lower because of oil leakage.
This meant that the engine used to receive lesser oil and eventually used to dry up when it was not provided with an adequate amount.
Other issues, such as the airbag warning lights, engine failure, and faulty air conditioning system, persisted in the 2009 year model.
A new problem, besides oil leakage, was with the navigation system of this car. Often the screen used to freeze, or the users were misdirected.
This could be fixed with new software upgrades, but those upgrades sometimes took time to develop.
Considering these issues, you must avoid the 2009 model of Lexus RX 350 as well.
4. 2010 Lexus RX 350
They haven't fixed major issues such as airbag warning lights, engine failures, damaged air conditioning, and misdirecting navigation for four consecutive years. These issues persisted in Lexus RX 350.
It goes without saying that for all these models, the reliability score would also be low because the car is neither dependable nor safe to drive.
Every car has certain sensors that send messages to the car's computer. This computer then runs the car accordingly.
The sensors of the 2010 model are not of good quality as they require constant maintenance and cleaning.
Knowing this, you should not purchase the 2010 Lexus RX 350 model year.
5. 2016 Lexus RX 350
The first main issue with the 2016 Lexus RX 350 is the body integrity. While driving this car, you will hear multiple sounds such as clicking, cracking, and grumbling.
Some of these might be from the engine of this car, while others are from random small components.
This would distract the driver constantly. You might find the foot mats of this car soaked in water because of the leakage in different pipes of this car.
Air and water leaks are quite common in these models, and these are also not easy to fix because finding the leakage is a task in itself.
So, you should avoid the 2016 model of Lexus RX 350 as well. It is not worth your money.
A car that created its brand name and brand value on its strong V8 engine went against its morals with this model.
The engine of the 2016 model was just not up to the mark. It is not suitable for anyone, no matter how cheap you get the car.
What Are The Best Years For The Lexus RX 350? Which Years To Buy
I believe that enough has been said about the years you should avoid.
I shall now talk about all the models you need to buy because of the amazing offerings. These offerings might range from high reliability to high horsepower etc.
The best years for Lexus RX 350 have been explained down below:
1. 2011 Lexus RX 350
The first thing to praise about the 2011 Lexus RX350 model is its luxurious interior and sleek exterior.
It is what you call "beautiful inside and out". The internal accessories of this car, such as the comfortable leather seats, cannot be ignored.
Another thing that deserves to be appreciated is the high fuel economy of this car. The 2011 model has 20 MPG to offer to its users.
Considering it is an SUV and many SUVs are known for being heavy on fuel, this is a differentiating factor for Lexus.
This is because of its v6 engine entirely. So, you must consider purchasing the 2011 model of Lexus RX 350.
2. 2013 Lexus RX 350
If you have ever wanted to isolate yourself from everyone and everything around you, you can count on the 2013 Lexus RX350 model for it.
The sound insulation of this car is commendable, and you would not have to listen to the worldly noises around you.
When many models of Lexus RX 350 were reported to have engine issues, this model is quite the opposite.
This car's 3.5 L v6 engine would not make any clicking or cranking noises. You can enjoy a quiet and comfortable ride with this car.
So finally because of these reasons and the luxurious aura of this car, the 2013 model of Lexus RX 350 is worth your money.
3. 2015 Lexus RX 350
If you want a family car, you must consider purchasing the 2015 Lexus RX350 model year.
The cargo space it has to offer, along with the roomy seats, are enough reasons for you to take this car out for your next family trip.
The 2015 model is relatively safer than most models. Moreover, the 2015 Lexus RX 350 would act as a quiet cabin for you, just like the 2013 model. This car also is quite safe to drive.
For many years, Lexus has been blamed for not providing its customers or equipping its cars with the necessary tools required for the safety of its users.
Considering that, you should purchase the 2015 model of Lexus RX 350.
4. 2018 Lexus RX 350
Most of the users of Lexus RX 350 were reported to have praised the sound system of this car.
It already offers isolation from the outside world, which, coupled with a good sound range from its speakers, makes it a great car.
Moreover, the driver of this car would have the entire control system well within their reach. Be it for safety purposes or for making changes in the infotainment system.
The controls are driver-friendly. The driver would not have to take their eyes off the road for too long. The 2018 model has a luxurious interior to offer its customers.
You might not want to come out once you get inside the 2018 Lexus RX 350. So, I believe you should invest in the 2018 year model.
5. 2022 Lexus RX 350
All apple users would be extremely satisfied with this 2022 Lexus RX 350 because of the Apple Car Play that has been finely integrated into its system.
This gained attention because Apple users could easily control their phones on the mini-LCD without having to use their phones while driving.
Listening to songs cannot get easier than this for Apple users. Your entire driving experience will be much safer because of the Lexus RX 350.
This is due to the Lexus Safety System, a program integrated for safekeeping.
Be it cruise control to ensure you are warned about sudden curves or the distance of your vehicle from the cars ahead of you, besides you, and behind you, Lexus RX 350 has fully covered you.
You can blindly trust it to provide you with an accident-free driving experience.
How Reliable Is A Lexus RX 350?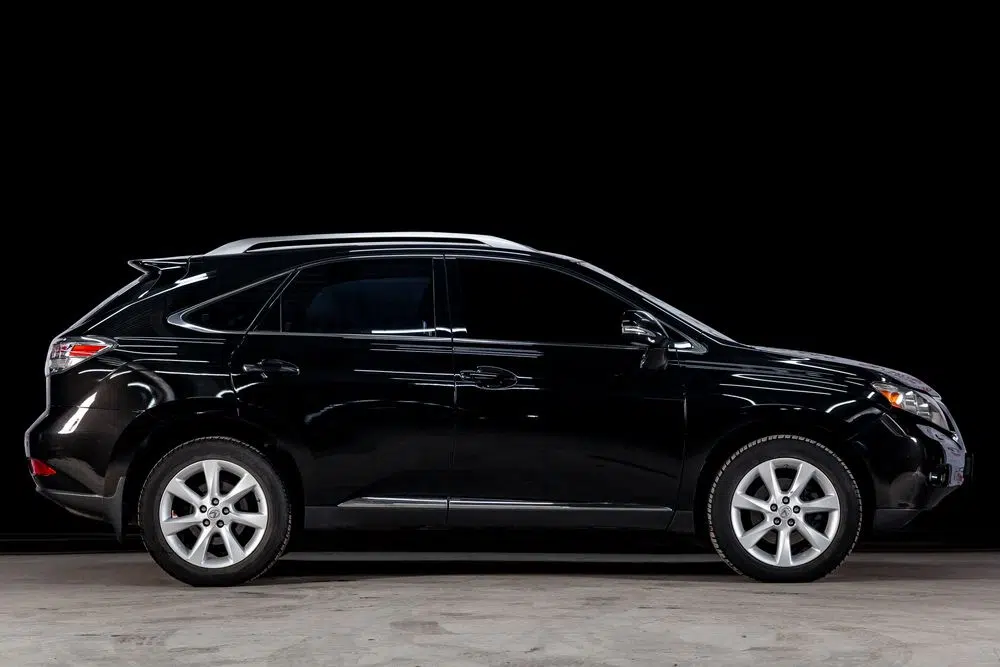 Lexus RX 350 is a very reliable car, and I can back that up with the fact that this car achieved a J.D Power Award for being the most reliable car.
They have not received this award only once. Their reliability score is 85 out of a total of 100.
How Long Do Lexus RX 350 Last?
If, on average, you drive a Lexus RX 350 for 15,000 miles in one year, it would easily last you for the next 15 to 16 years.
This means that you can drive a Lexus RX 350 from 250,000 miles to 300,000 miles, if you maintain your car well enough.
What To Do To Lengthen The Life Of Your Lexus RX 350
You can make certain moves on your end to lengthen the life of your Lexus RX 350 and ensure that you can drive your car for more than 250,000 miles.
These measures are quite easy to follow and have been elaborated on below:
When driving more than 50,000 miles on your car, inspect the important components that keep the engine going, e.g., the spark plugs.
Whenever you take your car out for maintenance, ensure you provide surveillance. Only provide oil replacement in your car with synthetic oils.
After rotating your tires, ensure you balance the car's weight equally on all four wheels. This would make the driving experience smoother.
After every month or two, inspect your car's filters for debris or other pollutants and replace the filters if the contamination gets out of hand.
These few activities, if focused on, would provide great results in maintaining your car and increasing its lifespan.
Make sure that you do not skip these activities. Provide your car with the attention and care it seeks, and it will provide you with a smooth driving experience.
Things That Shorten The Lifespan Of Your Lexus RX 350
There is no doubt that if you show negligence towards your Lexus RX 350, sooner or later, it will start to depreciate faster.
You must avoid certain activities to ensure you do not shorten the lifespan of your car.
A few of these have been discussed below:
Speeding your car on a bumpy road and driving over big deep bumps. This can ruin the tires and also the balance of your car.
Not covering your car when storms hit or driving your car in flooded areas when the rainy season has taken over. Water can enter your car's internal components and disrupt your engine's performance.
A car needs to have its brake pads replaced, or it can affect the entire braking system. This directly impacts the safety of the users.
Avoiding the inspection of important components such as your car's ignition coil might lead to your engine stalling or car stopping.
These few activities can directly impact the lifespan of your Lexus RX 350 by shortening it.
You must ensure that you are not conducting any of these activities and are not being neglectful towards your car.
3 Most Lexus RX 350 Common Problems You Should Know
There are a few issues that prevailed in many models of Lexus RX 350. Many customers were seen complaining about the same issues.
After ample research, I collected the most common problems of Lexus RX350.
Take a look at these down below:
1. Impaired Infotainment System
Users of several Lexus RX 350 vehicles have grumbled about a faulty radio, Bluetooth functionality, and GPS.
However, these issues typically do not necessitate the components to be replaced.
Searching for the most recent software upgrades can typically address and solve these problems.
2. Ruptured Oil Line
A damaged variable valve timing with intelligence (VVT-I) oil line has also been observed by some drivers.
This defective component can also cause the insufficient engine oil signal and oil pressure warning lights to illuminate.
If left untreated, it might cause full damage to the engine due to oil deprivation.
3. Faulty Engine
There have been complaints of Lexus RX 350s about their malfunctioning engines.
While trying to keep up with their cars' maintenance schedules, owners of the concerned models stated that their SUVs stopped unexpectedly.
Excessive heat, oil leakage, combustion, and inadequate lubrication are all potential causes of engine failure.
Frequently Asked Questions
Q1: Is Lexus RX 350 A Good Car?
Yes, the Lexus RX 350 is a good car. This statement can be supported by the fact that Lexus has constantly been working on improving its reliability and security systems.
Additionally, the combination of an aesthetic interior with a versatile exterior helps it attract a lot of gaze towards itself.
Q2: Do Lexus RX 350 Hold Their Value?
If you purchase a Lexus RX 350 today and decide to sell it after ten years, your car would be able to retain almost 33% of its total value. You will be able to sell your Lexus RX 350 for around $18,000.
Q3: How many Lexus RX 350 Have Been Sold?
According to the latest statistics, in 2022, 53,769 Lexus RX 350 were sold. In 2021, 115,320 Lexus RX350 were sold. This tells us that in 2022, the sales of Lexus RX350 dropped considerably.
Q4: Which Lexus RX 350 Engine Is The Most Reliable?
Out of all the different engines integrated into Lexus RX 350, the 3.5L v6 engine was of the top tier.
This engine not only provides a high horsepower but also tends to subject you to good value for money.
Q5: Is Lexus RX 350 Expensive To Maintain?
In 10 years, Lexus RX 350 would require an amount of $7,398 to be fixed. This is below the industry average of $8,316. So, we can say that maintaining a Lexus is not as expensive as other SUVs.
Conclusion
So, we know that even though Lexus RX 350 is a top-tier midsize crossover SUV, it has traveled on a bumpy road.
There were many best and worst years for Lexus RX 350, and they have been tapped in this article so that you can make a wiser purchase decision about which model to buy shortly.
Even if you buy the best model of Lexus RX 350, it will deteriorate the day you stop maintaining it.
Do not follow the steps mentioned above that shorten the lifespan of your car.
Lastly, I hope the FAQs would help in developing more knowledge about this car as well.
References:
https://www.edmunds.com/lexus/rx-350/2013/review/
https://www.consumerreports.org/cars/lexus/RX/2016/reliability/