There have been seven iterations of the Subaru Outback since the brand's production began in 1997. The automobile is still being built and doing well today in the market.
However, before you decide on purchasing the Subaru Outback, you must know that there are some unreliable Subaru Outback models as some models are difficult to use, while others are more trustworthy.
This is why you need to learn about the best and worst years for Subaru Outback.
So without further ado, here is the list:
Worst Years for Subaru Outback:
2010
2011
2013
2014
2019
Best Years for Subaru Outback:
2005
2009
2017
2020
2021
Now that the list is pretty clear to you, read the article to find out what makes them the best and worst.
This will also assist you in the decision-making process because without relevant information. You can end up making wrong choices, so be sure to read until the end of this article.
What Are The Worst Years For The Subaru Outback? Which Years To Avoid
Here I will begin with the worst list so we can get these models out of the way quickly. I will explain why they're the worst and why you should avoid them.
But do keep in mind that no matter how small the issue may look, in the end, they can cause various serious issues while driving on the road, which is why they are advised to be avoided.
1. 2010 Subaru Outback
The 2010 Subaru Outback is one of the most problematic vehicles in the market because it has been recalled multiple times.
It is known to be recalled more than 18 times, which is a lot for one vehicle.
You need to remember that the main reason the vehicle has been recalled so many times is because of the airbags issue.
It seems as if the airbags do not inflate as they should be in the car, which can be quite dangerous because it will not be able to protect you while driving.
Another major reason why the vehicle has been recalled so many times is due to the engine system and the transmission system failing to function.
This issue can already be too expensive to repair. But worst of all, if these components fail to work, the vehicle would become useless and wouldn't last long.
2. 2011 Subaru Outback
Now moving to the 2011 Subaru Outback, this vehicle is also known to have many recalls. This is also because of the inflation issue with the airbags.
You would not be protected in the car without the proper airbags during an accident. This is why many say to avoid this vehicle.
According to the National Highway Traffic Safety Administration, this vehicle has been recalled 16 times by them because of concerning issues that you shouldn't ignore.
It is also worth mentioning that the vehicle also faced extra oil consumption issues. This mainly happens because of the worn-out piston rings in the engine system.
Besides that, the transmission issue caused many issues in the vehicle, including non-stop noises, hard shifting, and the transmission failing altogether.
3. 2013 Subaru Outback
An automobile is largely made of oil. It keeps everything greased and keeps everything moving smoothly.
You probably know that every car requires a lot because it makes the engine system work smoothly.
But, the 2013 Subaru Outback had defective piston rings, which caused oil to flow inside the combustion chamber and cause more serious issues and making it difficult to drive on the road.
Since the oil cannot filter to the proper location, it seemed to be gathered in a different location and started to develop carbon residues.
This caused various owners to replace the oil more frequently than usual in some cases, every 2000 miles, due to the loss of oil.
Other than that, another reason for the high engine oil consumption is a leaky head gasket.
The head gasket seals the cylinder head and the engine block, but in this vehicle, it happens so frequently that it causes various problems for drivers.
4. 2014 Subaru Outback
There were numerous complaints about the 2014 Subaru Outback model year's substantial acceleration hesitancy issue.
Besides that, the vehicle also had a few faults with the engine system. According to the reports, the 2014 model year is also one of the models to receive the most user complaints.
It had countless issues which were expensive to repair and would happen so soon that various legal actions had to be taken.
It is important to note that the 2014 model year received over 349 complaints by drivers.
It was also recalled about ten times because of the frontal airbags issue as they, instead of inflating accurately, tend to explode, which can be harmful and even cause death.
This issue is also known to have affected around 258,813 automobiles.
5. 2019 Subaru Outback
On the car complaints website, the 2019 Subaru Outback is known to have the most complaints by the owner of its generation. It is said that this vehicle had over 816 complaints altogether from disappointed customers.
Do keep in mind that the most common problem faced by this vehicle was related to the windshield as well as the battery of the vehicle.
Now the battery problem can be more concerning because it can cost a lot to replace, and once the battery dies, the vehicle becomes useless as it will not be able to run longer anymore.
Besides the battery draining or dying issue, this vehicle would also have random cracks on the windshield. It happened so frequently, and the cracks would appear out of nowhere that many people thought it wasn't a safe vehicle to drive at all.
Therefore, you should avoid purchasing the 2019 Subaru Outback due to these problems alone.
What Are The Best Years For The Subaru Outback? Which Years To Buy
Now that the worst model years are out of the way, you should put all your focus into the best model years list of the Subaru Outback that I will be discussing in detail down below.
If there is something about any of the automobiles above that appeal to you, you should buy it because they are all reliable years to buy in, and each model has a distinctive quality that you will adore.
So without further ado, let's get into it.
1. 2005 Subaru Outback
The 2005 Subaru Outback is from the third generation of the Subaru lineup and is also one of the most famous model years.
It is said that there was an addition made in this vehicle with the XT turbo engine and various interior updates that made it stand out so much.
It was mainly loved because of the powerful 250 horsepower that the 2.5 liters engine may generate.
It is worth mentioning that the engine was taken from the Subaru WRX STI, which produced 100 more horsepower than the standard engine system.
Owners of the 2005 Subaru Outback are typically delighted with the construction condition and the amount of light from the panoramic sunroof.
Its safety measures have saved individuals, and the fuel efficiency is often adequate for people. People continue to buy Subaru vehicles because of the standard all-wheel drive.
2. 2009 Subaru Outback
Compared to the previous model years of the Subaru Outback, the 2009 model year was loved by many people.
This is mainly because many of the issues from the previous model years and generations were fixed.
There was an upgrade done on the design of this model year, and in this generation, a Turbocharger XT was introduced, which was able to produce up to 250 horsepower only at 6000 PM.
Another great thing about this vehicle is that it could last longer than other model years and was also the one to receive the least amount of complaints.
This is something that many people are concerned about.
Well, you shouldn't be worried about this model gear anymore because it will be safe to purchase and drive on the road and enjoy its efficient, high-quality features and road capabilities.
3. 2017 Subaru Outback
The 2017 Subaru Outback has been recognized with the Insurance Institute for Highway Safety's (IIHS) Top Safety Pick distinction as well as has received a 5-star overall safety rating from the National Highway Traffic Safety Administration, making it the perfect choice for purchasers seeking an optimum blend of dependability as well as safety.
It is also one of the vehicles to receive top reliability and safety ratings from various websites like Edmunds, Car and Driver, and Kelly Blue Books.
According to these websites, this vehicle is known to be the most practical, competent, and careful choice in the market.
It is also known for having a long life expectancy as it can easily last more than 250,000 miles.
However, it is only possible if proper care and maintenance are provided, so be sure to do that.
4. 2020 Subaru Outback
Now coming over to the 2020 Subaru Outback, you must know that this falls in the latest category, so it has many more advanced and unique features to offer car enthusiasts.
According to various reports, this vehicle is mainly loved because of its safety features. After all, safety is one of the most important things in a vehicle.
Additionally, Consumer Reports has rated the 2020 Subaru Outback for reliability as 3 out of 5 and its owner satisfaction as 4 out of 5.
The National Highway Traffic Safety Administration has also given the 2020 Subaru Outback five-star safety certifications.
5. 2021 Subaru Outback
The 2021 Subaru Outback is known to be free from all the previous model years' issues, such as engine issues, poor acceleration, and so on and on.
This is why it is one of the safest and best model years in the market.
According to the National Highway Traffic Safety Administration, this model revived safety ratings of 5 out of 5, which is quite rare.
Besides that, it also received a reliability score of 4 out of 5 as well as an owner comfort rating of 4 out of 5 by the Consumer Report website.
How Reliable Is A Subaru Outback?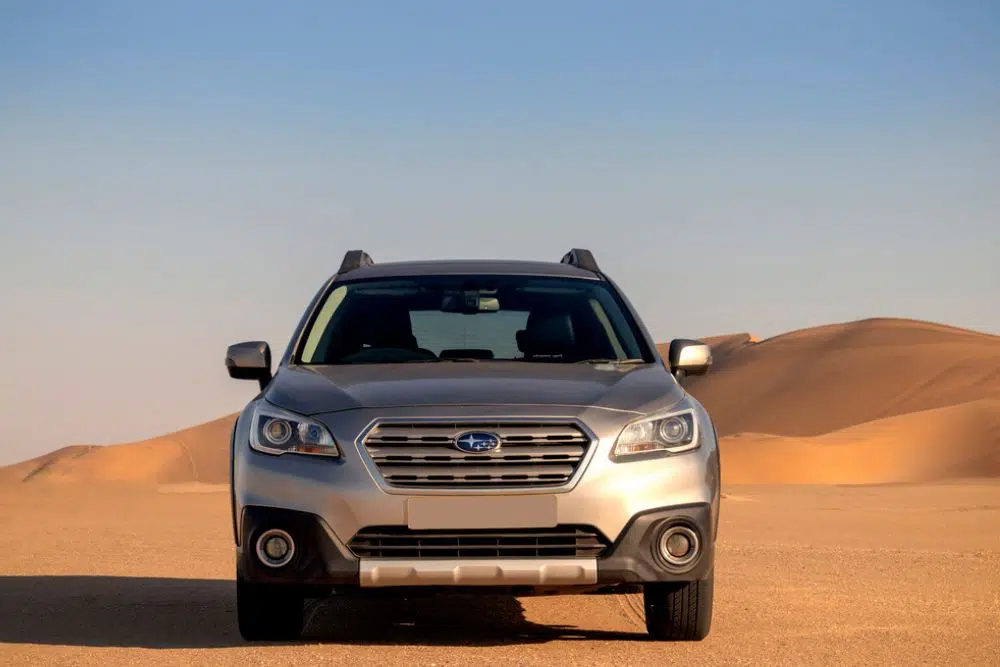 Yes, the Subaru Outback is one of the most reliable vehicles out in the industry.
It is also known to be one of the safest options. It also has the most affordable price tag, so if you consider buying it, it's your choice.
Plus, you will also be able to enjoy its finest features in many trim levels as it has a lot to offer, from high quality inferior to efficient car components so the driver can have the best road capabilities.
It's worth mentioning that, according to reports, before the car needs major maintenance or begins to malfunction, typical users can anticipate around 16 to 20 years of operation.
How Long Do Subaru Outbacks Last?
The Subaru Outback may endure between 250,000 miles and 300,000 miles on average when properly maintained, according to various reliable sources.
It is also said that if a driver rides the vehicle for 13,500 miles per year, the vehicle will be able to survive around 18 to 22 years maximum.
Though not necessarily that it is always the case, it is said that a Subaru Outback with more than 120,000 miles on the odometer could be viewed as a dangerous investment.
You need to make sure that if you are buying a used model, the vehicle has been properly maintained by the previous owners.
You can see that by doing a careful inspection.
According to various Subaru Outback drivers, it is said that if the vehicle is still operating with an original engine as well as a transmission system, the vehicle can last up to 300,000 miles easily.
What To Do To Lengthen The Life Of Your Subaru Outback
If you own a Subaru Outback and want to make sure the vehicle lasts for a long time, then read this section and prepare yourself to attend them regularly to see a difference.
For information on maintenance plans and services, always read the owner's manual and assistance manual.
To prevent rust from forming on the paint as well as undercarriage, scrub your Subaru Outback frequently to remove dirt and mud.
Review the statuses of engine oil, coolant, brakes as well as transmission fluids, and finish them off as necessary.
Although the Subaru Outback can manage both snowy and gravelly terrain, you should always proceed off-road with caution.
Before you start the engine, give it 30 seconds for the warm-up period.
The weather factors can be lessened by sheltering the Subaru Outback in a garage.
Well, with these tips you will certainly see a big change. If it's too hard for you to follow all of them at the same time, then it's fine for you to start slow and one step at a time.
Things That Shorten The Lifespan Of Your Subaru Outback
Many drivers do not realize that there can be some things they are doing wrong, which can shorten the life of their vehicle.
Well, worry not because here I will list down some things that you should avoid to protect your vehicle.
Failing to change the fluid levels on time.
Not rotating the tires can cause serious road accidents and cause the tires to wear out quickly. (Check if you look for the best tires for Subaru Outback).
Not cleaning and washing the vehicle regularly.
Starting and driving the vehicle right away without letting it warm up.
Driving as well as using the components too aggressively and not changing the driving habits.
Not following the guidelines and advice set in the vehicle's manual.
If you start taking extra care of the car and always keep up with the maintenance, then you will not see the issuer that I have just mentioned above.
3 Most Subaru Outback Common Problems You Should Know
By now, you probably know the most common issues found in the Subaru Outback because I have mentioned them in the worst model years.
But here, I will be explaining them in better detail, so keep on reading.
1. Vibration While Accelerating
This Subaru Outback issue has been brought up by 283 different people. Drivers were encountering a severe shudder when speeding up, which was related to the acceleration problem.
2. A/C And Heater Problems
It is said that the A/C system had the most severe issue in the Subaru Outback because a lot of people mentioned the same issues over and over again.
It is also said that this issue mainly starts happening when the vehicle is around 100,000 miles or more.
3. O2 Sensor Problem
The front O2 sensor was the third most frequently mentioned Subaru problem. This problem was registered by 257 people, who said it had existed for a long time.
Even though not all models or years have this specific issue, many individuals are continually reporting it.
Frequently Asked Questions
Q1: Is Subaru Outback A Good Car?
Yes, the Subaru Outback is one of the good cars on the market.
It is mainly because of its high-quality features, known for holding their value, last for a long time as well as being known quite well for its fuel efficiency and so much more.
Now, if you are someone planning to purchase one, then it is a perfect choice.
Q2: Do Subaru Outbacks Hold Their Value?
It is said that the predicted resale value of the Subaru Outback after five years is around 41.3 percent.
The Subaru Outback maintains its importance better than any midsize two-row crossover SUV for the year 2021 thanks to its sturdy build quality, superb safety suite, turbocharged or normally aspirated flat-four engine, and alluring go-anywhere attitude.
Q3: How Many Subaru Outbacks Have Been Sold?
The number of Subaru outback sold varies depending on different countries.
However, in the US, in 2018, it has sold over 178,854, in 2019, around 181,178, in 2020, around 153,290, and in 2021, about 154,623.
Q4: Which Subaru Outback Engine Is The Most Reliable?
For daily use, the basic 2.5-liter engine is sufficient, but the turbocharged 2.4 liters engine system in the Subaru Outback is the ideal option if you want to have some enjoyment.
It is pretty similar to the standard V6 offered by the competitors. This engine will give the Outback its model name of XT.
Q5: Is Subaru Outback Expensive To Maintain?
The Subaru Outback is not exactly expensive to maintain.
The Subaru Outback's annual maintenance expenditures are approximately around $607. This is a bit more expensive than the $573 national average for midsize SUVs.
Conclusion
When it comes to acquiring a Subaru Outback, every person must go through the best and worst years for Subaru Outback before deciding which year to go for.
Even though most of the Outbacks are excellent and have a great reputation in the market, it is still highly advised that you stay away from the worst model years, especially the 2013 and 2024 model years.
It is a great choice to own this vehicle because they guarantee the driver to last for a long time as you will easily be getting around 250,000 miles to 300,000 miles with proper maintenance.
Plus, it is also one of the safest cars to drive around town.
Reference:
https://www.hotcars.com/heres-everything-you-need-to-know-before-buying-a-used-subaru-outback/