For many years, Toyota Corolla has been known to be the best-selling vehicle in the industry. That's not all. It is also well known for being one of the most affordable vehicles.
Buying it is, without a doubt, a fantastic idea, but you can't do so unless you have a comprehensive understanding of its history.
This is why you need to learn about the best and worst years for Toyota corolla, as it will help you decide which model to buy.
Here is the list:
Worst Years for Toyota Corolla:
2001
2002
2003
2009
2014
Best Years for Toyota Corolla:
2013
2015
2018
2019
2020
Let's discuss the worst and best model years list in further detail in this article. You can find out the reasons why you should avoid certain models and why you should buy from the best years.
What Are The Worst Years For The Toyota Corolla? Which Years To Avoid
I will start this article with a list of the worst model years for the Toyota Corolla. I will be explaining in detail why they are listed as the worst and why you must avoid them.
Read this section carefully to discover the issues these model years have, so without further ado, let's get started.
1. 2001 Toyota Corolla
One of the most common reasons the 2001 Toyota Corolla is considered the worst year is its extra oil consumption in the engine system.
Other than that, it also faced many problems, such as worn-out piston rings, which can result in the engine system failing to function.
This made people dislike the model year so much and advised others not to purchase it. Plus, the issues mentioned above are something that can be taken lightly.
The cost of repairing depends on how serious and big the issue is, but you must know that fixing an engine system can be quite expensive.
That's not all. You might even end up replacing certain parts because they can wear out along with the engine.
Lastly, excessive oil consumption will make you refill over and over again, which can also be expensive.
2. 2002 Toyota Corolla
The 2002 Toyota Corolla also had over oil consumption in the engine system, but this was more severe than the previous model year.
It is said that over a three years course, the 2002 model year received over 100 complaints only because of this specific issue.
This isn't something you should be taking lightly because there are many other complaints on various parts of the vehicle as well.
The model had engine issues, brakes and door handle failing, clutch as well as A/C and heater problems, and so on.
It is worth mentioning that most of the drawbacks this model year faced started occurring early, around 80,000 miles or so. It is also not cheap to fix the issues as they cost more than $3000.
The engine system is the most expensive because, in this case, it tends to fail, so owners are left with no choice but to replace it.
3. 2003 Toyota Corolla
The transmission is the biggest source of worry for the 2003 Toyota Corolla, with people complaining the most about it and the seat belts and airbags receiving the most complaints from National Highway Traffic Safety Administration.
The most common problems owners see are transmission failure, transmission and differential downfall, a loud transaxle in the transmission system, and scraping sounds.
The cost of repairing the flunking transmission is around $2,830, and it arises at approximately 116,000 miles.
The National Highway Traffic Safety Administration received over 300 complaints about seat belts and airbags, with 42 crashes, 44 traumas, and average mileage of roughly 72,000 miles.
The airbag notifying signal remains luminous, the automobile airbags do not activate when a crash, and the airbag light flashes on and off while driving, according to users.
4. 2009 Toyota Corolla
After two years of very few issues, the 2009 Toyota Corolla model year saw the most owners and NHTSA complaints, with the engine receiving the maximum complaints and the seat belts and airbag system receiving 555 complaints from the National Highway Traffic Safety Administration.
Other than that, unnecessary oil consumption, loud engine noises, the check engine light turning on, the vehicle surging, the vehicle not starting, rapid power loss, and the vehicle's accelerator becoming stuck have all been reported by owners as engine issues.
In addition, the entire rehabilitation cost to address the high oil consumption is roughly $4,570, and it happens at approximately 100,000 miles.
According to the NHTSA, the front side airbags, side and window airbags, back side seat belts, and buckle assembly are the most common complaints concerning seat belts and airbags.
It's worth noting that these problems have resulted in 48 collisions, one fire, 40 injuries, and one death across a distance of 16,000 miles.
5. 2014 Toyota Corolla
During the 2012 through 2015 generation years, most of the problems discussed earlier dropped dramatically. However, they weren't gone exactly.
The 2014 Toyota Corolla model year also faced many issues with oil exemption which can cause issues to the engine system. Repairing the part would cost owners more than $3000.
The vehicle also faced problems with the transmission system as it is likely to fail to function.
It is worth mentioning that the repair cost for this issue is more than $1000. However, this will vary depending on how serious the problem is.
You must know that people have different opinions on this model year, which is why you'll see many posts talking about its benefits whereas the others will talk about its issues.
You should do the proper research and see the serious issues when they arise to decide better.
Related: Where Are Toyota Corollas Made?
What Are The Best Years For The Toyota Corolla? Which Years To Buy
Now coming over to the best years for the Toyota Corolla, you will be glad to know that there are various outstanding models you can choose from.
But here, I have listed the top five, so making the decision will be easier. Read this section to find out what makes them the best models.
1. 2013 Toyota Corolla
2013 Toyota Corolla is part of the 10th generation model year for Corolla. According to various owners, it is one of the best delivering vehicles in the market.
Another amazing thing about this vehicle is that it has many great features to offer its customers at a very low price, which is around $10,000 up to $12,000.
Another reason you should consider buying this vehicle is its excellent gas mileage, which is known to be 27 mpg in the city and 34 mpg on the highway.
Moreover, due to its fast performance and amazing features, the vehicle received great reliability and safety scores from various drivers, so you do not have much to worry about.
Lastly, it is also worth mentioning that some modifications have been done and certain features added in the 10th generation model year that make it quite easy for drivers to use.
This includes features like an AUX jack, Bluetooth proficiency, and a keyless entry system.
2. 2015 Toyota Corolla
Even though the 2015 Toyota Corolla is one of the expensive options, it still has so much to offer its users that many people are ready to pay the price.
It is said that the trims it offers can cost roughly around $20,000 or more.
This is one of the newer models, and according to the reports, this model year is remarkably well in holding its value in the market.
The main reason it is so famous and loved is its excellent features, top-tier safety features, connectivity technology, and high fuel economy, which is around 30 mpg in the city and 40 mpg on the highway.
3. 2018 Toyota Corolla
The 2018 Toyota Corolla has a lot of modern safety features. Therefore it's the ideal year for many users to buy and drive on the road.
The IIHS has named it a Top Safety Pick, and the National Highway Traffic Safety Administration has given it a 5-star safety rating.
Another great factor about this vehicle is that it is long-lasting and offers a smooth and comfortable ride. In addition, this model obtains high marks for dependability.
The 2018 Corolla is a fantastic alternative for anyone searching for a compact vehicle on a budget, with a large cabin and amenities that are simple to comprehend and use.
It's secure, convenient, and productive.
When driving on the road, the vehicle has decent acceleration power and doesn't feel underpowered. The CVT is set up to maintain the engine spinning at high rpm for extended periods.
However, the automobile has decent soundproofing, protecting the engine system's growl from entering the interior. Overall, it is a comfortable vehicle to drive.
4. 2019 Toyota Corolla
The 2019 Toyota Corolla is a car lover's favorite vehicle due to its high anticipated dependability rating.
It is worth mentioning that steering assist, lane departure indication, front collision warning, and the emergency braking are among the features that set it apart from the competition.
Moreover, according to Motor & Wheels, this vehicle has outstanding trustworthiness and comfy seating mainly because of its large cabin space.
The 2019 Toyota Corolla has a 13.2-gallon fuel tank with a 32 mpg fuel economy according to an EPA-estimated when coupled with the 1.8L engine and CVT.
Commuters and adventurers likewise enjoy the freedom to go without worrying about where and when to refuel.
So, if you have a long journey ahead of you, you'll feel more prepared in this vehicle.
5. 2020 Toyota Corolla
Now coming over to the 2020 Toyota Corolla, firstly, you must know that it has various trim levels to offer that customers can choose from.
However, according to various reports, most trims offer efficient and reliable performance.
One of the best things about this vehicle is its fuel economy because it can produce up to 139 horsepower from the 1.8-liter four-cylinder engine.
It is also worth adding that the base model of this vehicle can achieve more than 38 mpg on the highway.
You should know that this vehicle is one of the expensive options, but it has a lot to offer, from a high-quality exterior, improved interior design, advanced comfort amenities, and so much more drivers would love about this vehicle.
How Reliable Is A Toyota Corolla?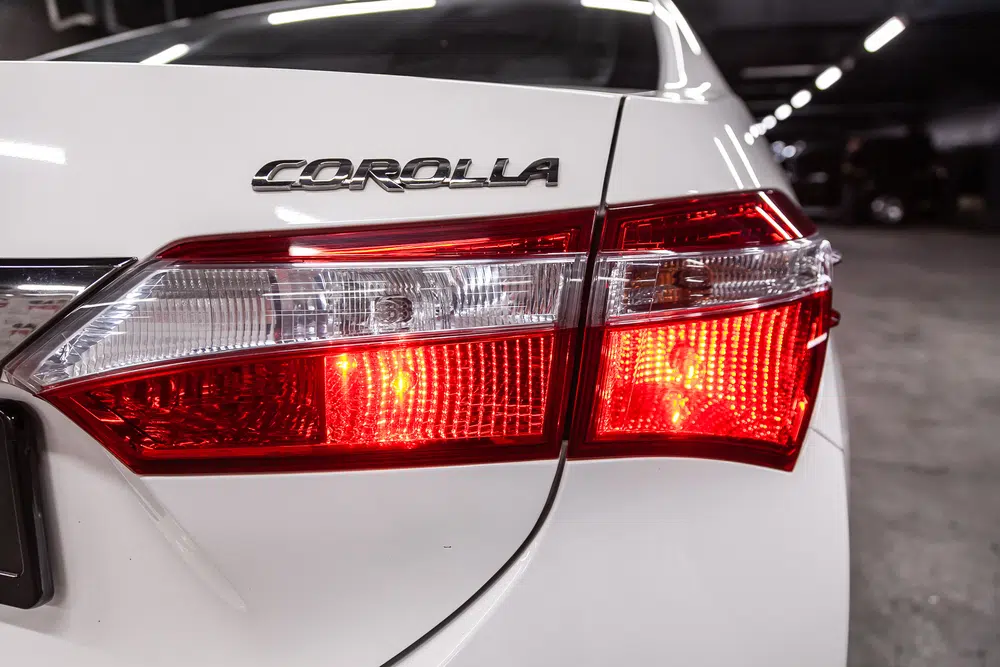 The Toyota Corolla is one of the most reliable vehicles manufactured by the Toyota Company.
According to various reports, the overall reliability of this car is 4.5 out of 5.0. Another great thing about this vehicle is that it ranks first out of 36 compact vehicles.
Moreover, its features make it stand out so much more, especially from the safety point of view. It is known for lasting for a long time and is known to have outstanding build quality as well.
So overall, it is worth investing in a Toyota Corolla.
How Long Do Toyota Corollas Last?
Most Toyota Corolla vehicles are known for their reliability and excellent features.
The Toyota Corolla is known to last for more than ten years or up to 300,000 miles on the odometer. However, this is only possible if the owner provides regular maintenance and extra care.
The vehicle is also equipped with the most high-quality components, such as the engine system and the transmission that will guarantee to offer outstanding performance, keep the vehicle durable, and extend its life expectancy.
Just ensure you take extra care of all its parts, so they don't wear out quickly.
What To Do To Lengthen The Life Of Your Toyota Corolla
There are many things one can do to lengthen the life of their Toyota Corolla.
Here I will list down some ways you can achieve that, so be sure to read them all and try your best to follow them regularly.
Change your driving style to get the most mileage out of your vehicle.
Periodic maintenance services at a qualified repair provider are essential to keep your vehicle functioning properly.
Keep track of check-ins and make an appointment for routine maintenance at the suggested interval of 8,000 kilometers.
Changing fluids regularly is critical for maintaining the transmission and brakes in top shape. This varies by vehicle, so contact your local dealer for more information.
To maintain your vehicle's engine operating smoothly, you should regularly change the oil, fuel, and air filter.
These are some of the important tips you can try for your vehicle and see a huge difference in the performance and help the vehicle last longer.
Things That Shorten The Lifespan Of Your Toyota Corolla
If you miss out on maintenance, it can affect the lifespan of the Toyota Corolla.
So here are some things that you should know about that can affect your vehicle negatively.
If you do not rotate the tires of your vehicle. It is said that after every 5000 miles, the tires must be rotated, so they do not wear out.
It is highly recommended to inspect the brakes and coolant system. This should be done every 15,000 miles. And make sure to fill them up whenever required.
If you do not inspect the fuel system, it can cause the engine air filter to be clogged. Be sure to check and clean after every 30,000 miles.
After every 60,000 miles, it is your responsibility to check the transmission system. Change the fluids, and be sure to inspect every drive belt as well.
Well, these things might seem small, but they can have a bigger impact if not taken care of, so be sure to check them as advised.
3 Most Toyota Corolla Common Problems You Should Know
Here I will be discussing the top three most common problems that drivers face when riding in the Toyota Corolla.
1. Over Oil Consumption
The issue is usually caused by worn-out oil pistons as well as piston rings. To prevent more damage to your Toyota Corolla's engine, you can replace a faulty oil piston or piston ring.
2. The Engine System Is Not Cranking
Between 100,000 and 120,000 miles, this problem arises. It is sometimes just the starter solenoid that is affected, but it is more typically the entire starter, including the solenoid.
From 1990 through 2015, the issue was extremely widespread in Toyota Corollas.
3. Transmission Issues
To guarantee long-term performance, the transmission system requires adequate supervision and maintenance. Transmission sliding is one of the most typical problems.
Without the driver's involvement, a sliding transmission system can automatically shift from a higher to a lower gear. This will cause a rapid deceleration, which will be noticeable on the highway.
Frequently Asked Questions
Q1: Is Toyota Corolla A Good Car?
Yes, Toyota Corolla is a great compact vehicle because of its various trim level options, reliability scores, as well as great features, and safety. It is also quite affordable.
Q2: Do Toyota Corollas Hold Their Value?
Toyota tops the list, with automobiles depreciating at a rate of only 42.3 percent after five years of possession. This is less than the national average of 49.6%.
Because of the brand's reputation for dependability, Toyota vehicles retain their value throughout all vehicle sectors, and Corolla is one of them.
Q3: How Many Toyota Corollas Have Been Sold?
50 million Corollas have been sold. Toyota Corolla surpassed the Volkswagen Beetle to become the best-selling brand in the world in the year 1997.
In 2021, Toyota will have sold 50 million Corollas throughout 12 generations.
Q4: Which Toyota Corolla Engine Is The Most Reliable?
For Toyota Corolla, the A-series was a very light as well as powerful engine, and the 4A-FE has to be the pinnacle of its sort.
It can't compete with the 4A-GE or the supercharged 4A-GZE in terms of performance. It's not loud, but it's a rock-solid performer that's also dependable.
Q5: Is Toyota Corolla Expensive To Maintain?
According to several professionals, the durable Toyota Corolla is the most cost-effective car on the road in terms of annual maintenance.
The annual maintenance expenditures for Corolla are estimated to be around $350, though this figure is expected to climb over time.
Conclusion
Here we come to an end to the topic of best and worst years for Toyota Corolla.
I hope that this article has provided you with all of the information you need to make an informed decision on which model year to buy.
The Toyota Corolla is one of the best choices for a compact car because of its durability, excellent and high-quality components, and various safety features that makes it stand out a lot from its competitors.
It is also one of the most cost-effective vehicles to own, with the ability to endure a long time and provide you with the best driving experience possible.
Reference:
https://www.cashcarsbuyer.com/toyota-corolla-problems/