There is no denying that the Ford F-series has been one of the most famous pickup trucks on the market since it was first introduced in 1948.
It has continued selling successfully for more than six decades, and there are no signs of slowing down.
The F150 is the most popular model of all. It has been bought and loved by hundreds of thousands of people.
Although this article will be taking a very deep look into the best and worst years for Ford F150, I think it will be better to list all of the first:
Worst Years for Ford F150:
2004
2005
2013
2010
2015
Best Years for Ford F150:
2021
2020
2019
2009
2017
I suggest you keep reading this article because all of the models listed above will be discussed in detail. So, without any further ado, let's get straight into it.
What Are The Worst Years For The Ford F-150?: Which Years To Avoid
The Ford F150 has been a beloved truck for decades, but there have been some low points in the history of this legendary vehicle.
I thought I'd take this opportunity to look back at the worst years for Ford F150s and see if any patterns emerge.
1. 2004 Ford F-F150
The 2004 F150 had issues with the engine, transmission, and paint. Engine problems included complete failure. Ford's 5.4-liter V8 is known to cause shaking when the accelerator is used.
The truck was also not too great while driving, with its acceleration feeling, delayed, even with the beefier V8 engine.
Transmission issues included complete failure or slipping gears. The paint on this model wasn't up to par either: the paint was prone to peeling off after only a few years of use.
There were also reports of the frame being exposed to extreme oxidation, resulting in a significant loss of lifespan.
2. 2005 Ford F-150
The 2005 Ford F150 was another model year plagued by the same problems as 2004, including broken spark plugs, complete engine failure, and transmission failures.
However, several other issues can occur with this particular truck year.
There were also reports that failure of the power window regulator would make it impossible to roll down or up your windows while driving.
There was also the issue of spark plugs breaking when pulled out. The shards are not easy to remove. If the engine is started with those shards remaining, there can be some serious damage.
3. 2010 Ford F-150
The 2010 Ford F150 is also considered to be one of the worst models that have ever been released.
The most common problem that owners reported was a cracked rear window. The glass would fracture unexpectedly, and there was no apparent reason for it.
It was also a bad year for shifting gears. Owners reported that shifting from second to first gear was nearly impossible.
This is a pretty annoying problem. Some unfortunate owners of the 2010 F150 also complained about the truck vibrating too much when driving.
4. 2013 Ford F-150
One of the more recent models that have been prone to various issues is 2013 one. There were severe problems, resulting in it ending on this list.
Owners reported that the engine would shudder or even lose power. There can be many reasons for this, from a faulty fuel injection system.
There were reports of the brake system malfunctioning. The brakes would lock up, which can result in a serious accident.
The transmission of this model was also not known for its reliability. It would act erratically, which is pretty dangerous.
The model is also pretty old now, which means the electronics don't feel up to date.
5. 2015 Ford F-150
2015 was a tough year for the Ford F150. The transmission issues came from hard downshifting, which caused drivers to lose control of their trucks.
This is a pretty serious issue and should not be taken lightly.
But probably one of the most annoying things about this year's model was related to the engine. Some trucks would stall out or enter "limp mode," which means they can't drive above ten mph.
This is a cause of concern, especially if you are on a highway. This model also did not have a telescoping steering wheel, which was strange and not appreciated.
Related: Where Are Ford F-150 Made?
What Are The Best Years For Ford The F1-50?: Which Years To Buy
It's an exciting time to be a Ford F150 owner! With so many great models available, it can be hard to choose which one is right for you.
I have rounded up the best models for Ford F150 so that you can make an informed decision about which one is best for your needs.
1. 2021 Ford F-150
The 2021 Ford F150 is one of the best models of Ford F150. It has many features that make it reliable and easy to use.
The interior is comfortable and spacious, and the exterior is made from high-quality materials. It comes in many different engine options, including V8 or V6 engines.
The comfort level of this model is pretty high too. With adjustable lumbar support and a high-quality suspension system, you will be enjoying long rides like never before.
Combine all of this with superior technology, which is packed with controls. You will never feel like you are missing something.
2. 2020 Ford F-150
The 2020 Ford F150 is a great choice for anyone looking for a vehicle with high towing capacity but also wants a comfortable ride.
With it being able to tow up to 13000 pounds, you will certainly have no issues taking anything with you.
The F150 also comes with various safety features that are sure to protect you on the road.
It is a bit old now, so it can be bought at a much lower price than a new one. This is another reason to consider it over the newer models.
3. 2019 Ford F-150
The Ford F-150 is a truck that's designed for work and play. The 2019 model has several trim options, including the Lariat, XLT, King Ranch, Platinum, and Raptor.
It has an excellent towing capacity, making it a great choice for those who need to haul heavy loads.
It also has plenty of roomy interior space to comfortably fit your family or friends.
And with its comfortable ride quality, you'll feel like you're riding in luxury while driving this pickup on the highway!
The model is older than the others on this list, but it deserves a spot here, especially due to its excellent reliability.
4. 2009 FordF-150
The 2009 Ford F150 is a great choice for drivers looking for excellent drive quality and comfort in their vehicle.
This model is ten years older than the previous one, but it's still an excellent choice for those who want to buy a used F150 but still get all the benefits of an amazing truck.
The 2004 to 2008 models were plagued with issues, but the 2009 Ford F150 turned things around.
It has an excellent drive quality, so you will never feel too tired of driving around in it. If you are on a budget and are looking for something great, you will not find anything better than this model.
5. 2017 Ford F-150
The 2017 Ford F-150 Raptor is also one of the best models today.
It's a stunning look and can be found cheaply, which means it's perfect for those of us who want to get in on the F-150 action without breaking the bank.
It also has a decent towing capacity, so you can easily tow your boat or trailer.
And lastly, it has a Raptor trim, which is great if you want to go off-roading but doesn't want to spend too much on it!
All variants are spacious and are great for families and friends.
How Reliable Is A Ford F-150?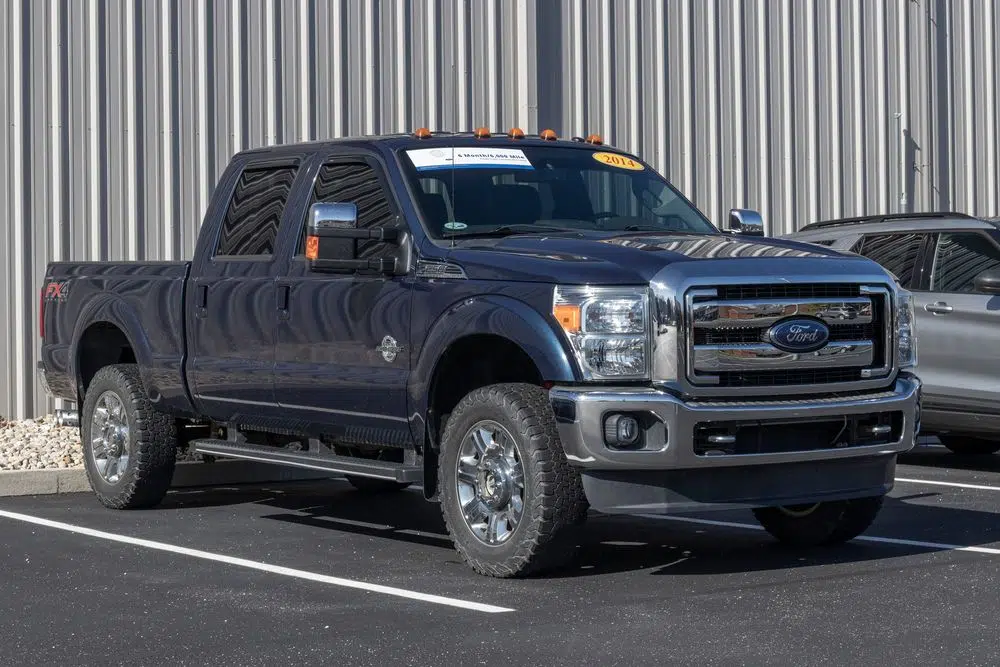 The Ford F-150 is a well-rounded and reliable truck. You should be wary of a few models, but overall, it's an excellent pick.
Ford has been making the F-150 for years; over time, they've learned how to make it better and more reliable.
This can be seen in the list above. The more recent models have ended up on the best year list rather than the other one.
However, the Ford F-150 is an excellent choice if you're looking for a reliable vehicle that will last for years and years without breaking down or requiring major repairs.
Related: Ford F-150 Towing Capacity
How Long Do Ford F-150s Last?
The Ford F150 is known for its durability, which means you can expect it to last a while.
How long the F150 lasts depends on several factors. Your driving style and your driving conditions will affect how long your truck lasts.
Some people drive aggressively and accelerate quickly, while others drive conservatively and avoid hard braking.
The type of roads you drive on and whether or not you live in an area with harsh winters or hot summers also impact how long your car will last.
The good news is that most F150 owners report that they are still driving their vehicles after 150000 to 300000 miles on the odometer.
What To Do To Lengthen The Life Of Your Ford F-150
I'm here to ensure you're getting the most out of your Ford F-150. You might not be a mechanic, but there are some things you can do to make sure it keeps running smoothly.
Oil changes are essential, but how often should you change them? The answer depends on how much you drive and how hard the engine works.
You'll want to change your oil every 7,500 miles or six months, whichever comes first. This will help keep your engine running as smoothly as possible and prevent corrosion from building up on your engine's internals.
Changing your air filter is another important maintenance step that can help keep your car running smoothly and efficiently.
Changing it out once a year will help keep dust and other debris from getting into the engine's parts and causing damage.
Rotating your tires every 5,000 miles helps maintain their shape and keeps them from wearing unevenly.
These are some of the many tips that can be utilized to make sure your F150 can be driven for as long as possible.
Things That Shorten The Lifespan Of Your Ford F-150
Although the F150 is a durable truck, it is not indestructible. There are issues that can arise, which can result in a reduced lifespan.
The tires on your Ford F-150 are important for a variety of reasons, but one of the most important is that they help you steer your vehicle safely.
If the alignment is off, it can result in dangerous driving conditions and increased wear and tear on other parts of your car.
You might not think about it, but the condition of the ground you drive over every day can have a huge impact on how much wear and tear occurs to your tires.
If you live in an area with lots of potholes or bumpy roads, it's important to keep an eye on how much wear and tear those areas are causing on the truck's parts so that you can replace them before they become unsafe.
Replacing old parts with new ones is one way to extend the life of your car, but if you don't do it right or with high-quality parts from a trusted supplier, then you might end up doing more harm than good!
The parts may affect the functioning of other dependent ones. You really don't want to risk it.
These are important things to note. You should make sure to drive safely and carefully while keeping the truck's condition in check.
3 Most Ford F-150 Common Problems You Should Know
It is no secret that the Ford F150 is not a perfect truck. It has had its issues, but this article has chosen three of the most common ones, which were reported by users.
1. Failure Of The Alternator
The alternator is responsible for charging your battery and providing power to your engine while you drive.
If it fails, you'll notice that your headlights dim when you accelerate and that your headlights are dim when you're idling. Many unfortunate owners of the truck had to face this issue.
2. Spark Plugs Breaking
The spark plugs are responsible for igniting fuel in your engine so that it can combust properly and create enough power to drive your vehicle forward or backward (depending on how you're driving).
This was a common problem with the models of the truck that were manufactured from 2004 to 2008.
3. Frozen Door Latch
This is a common problem for Ford F150 owners. The latch that holds the door closed has become frozen in place, and you can't open or close your door.
In most cases, this problem is caused by corrosion on the latch's internal parts. There was a large-scale recall by Ford due to this issue being too widespread.
Although it is not as serious as the previous two issues, it is common enough to be a part of this list.
Frequently Asked Questions
Q1: Is Ford F-150 A Good Truck?
The Ford F150 is a great truck. It's got tons of power, and it can tow anything you need to. The interior of the car is very spacious and comfortable.
The exterior looks sharp and sleek. If you're looking for a truck that will last you for years and years, then this is your best bet!
Q2: Do Ford F-150s Hold Their Value?
The Ford F150 has been a pretty decent vehicle for holding its value. In fact, it retains about 36% of its original value after five years.
That's not bad for a full-size pickup truck. So, you don't have to worry about the price falling too much, even after a few years of use.
Q3: How Many Ford F-150s Have Been Sold?
The Ford F-150 is one of the most popular trucks ever made. It's sold 26 million times as of 2017, and it's still going strong. 2021 sales alone almost touched 2 million.
The average rate of the truck purchase is 100 units every hour, which is simply unbelievable. It has been the highest-selling truck in the USA for a long time.
Q4: Which Ford F-150 Engine Is The Most Reliable?
If you're looking for the most reliable Ford F150 engine, you might want to consider the 3.5L Ecoboost V6.
This engine has been used in a variety of F150s since 2010, and it's still going strong today. It's a six-cylinder engine that produces 365 horsepower and 420 lb. ft of torque.
Q5: Is Ford F-150 Expensive To Maintain?
The good news is that this truck beats the industry average for pickup trucks and is actually on the lower end when it comes to maintenance costs, but not by a huge margin.
Still, $10245 is pretty good for a decade worth of maintenance. To answer your question, the F150 is not expensive to maintain.
Conclusion
Ford's F150 has a history of providing consumers with a cost-effective option for a pickup truck that can be used for both work and play.
In the best years for Ford F150, the company was able to provide consumers with affordable trucks that offered great value.
However, there have also been some years when the quality of the vehicle wasn't up to par with what consumers expect from Ford.
All of the best and worst years for Ford F150 were discussed above.
I hope you got all the information you needed before you can make a decision about purchasing this amazing truck.
References:
https://www.edmunds.com/ford/f-150/2021/review
https://caredge.com/ford/f-150/maintenance
https://en.wikipedia.org/wiki/Ford_EcoBoost_engine#3.5_L_(first_generation)
https://www.motorbiscuit.com/ford-f-150-the-most-common-problems-after-100000-miles/