Honda is a well-known brand in the market, and only a couple of manufacturers have a better reputation than the Honda Pilot. It is a popular and loved SUV.
However, if you are committed to purchasing a durable SUV, in this situation, you need to be aware of the Honda Pilot model years you can buy and the model years to stay away from, and the reasons why.
So now you are probably wondering what the best and worst years for Honda Pilot are.
Well, here is the complete list below:
Worst Years for Honda Pilot:
2003
2005
2009
2013
2016
Best Years for Honda Pilot:
2015
2017
2018
2020
2021
Now that you know the complete list continue reading this article to find out why they are considered the best and worst years for the Honda Pilot.
I will also discuss how you can lengthen the vehicle's lifespan and the problems that can affect its longevity.
What Are The Worst Years For The Honda Pilots? Which Years To Avoid
When it was first introduced in 2003, the Honda Pilot had a difficult time, and the term has unluckily lingered around for a while.
Some model years are significantly more dependable than others, and vice versa. So, here are some model years of Honda Pilot you need to avoid.
1. 2003 Honda Pilot
There is a long-range of complaints about the 2003 Honda Pilot, making it the least dependable model in the market.
The most frequent problems are electrical ones, such as malfunctioning door locks and failed ignition switches.
Transmission malfunctions, however, are the main problem plaguing this model year.
A noisy torque converter is one of these malfunctions that affect transmission hauls.
It is said that the repairs for the transmission system issue can cause you more than $1000.
It is highly advised that people avoid buying the 2003 Honda Pilot, particularly if it has driven more than 100,000 kilometers.
After that, mileage, transmission problems, and ignition switch disappointments are more frequent.
2. 2005 Honda Pilot
One of the worst model years is the 2005 Honda Pilot because it had many problems that made driving on the road difficult.
These included serious issues, including transmission malfunctions. This vehicle frequently experiences transmission fluid leaks, particularly after 120,000 miles.
Faulty torque converters frequently cause the 2005 Honda Pilot's erratic and unexpected stopping.
If the defective component unintentionally applies the brakes, this is a serious hazard that may result in serious accidents.
Because of its continuous disappointments, Takata Airbag Inflators were used in the Honda 2005, which was recalled.
Because of how serious the problem was, the United States had its largest vehicle recall.
Another typical concern with the 2005 Honda Pilot is peeling paint, but this is only an insignificant situation unless you live somewhere with a lot of rain.
3. 2009 Honda Pilot
A 3.5 liters V6 arrangement powered the 2009 Honda Pilot. It has an automatic 5-speed transmission engine system with fewer problems than the older variants.
This model's deformed rotors, which generate vibration when braking the pedals, are the primary objection.
This problem requires the machining or replacing of rotors, which results in pricey repairs.
Other than that, electrical problems also occur frequently, and in many instances, overheated wire harnesses are to blame, which can lead to the failure of the low beams.
Moreover, it is also said that when the MAP light does not turn on when the door is unlocked is a little additional problem in the 2009 Honda Pilot.
4. 2013 Honda Pilot
A common problem with the 2013 Honda Pilot model is peeling paint. Before whole coat sheets start peeling off, there is discoloration.
Honda utilized inferior primer and paint, which is related to the issue.
However, it is also said that owners of the blue, black, and red models tend to experience the paint peeling problem the most frequently.
Other than that, warped brake rotors are the most common problems that result in vibrations when braking.
There may be clunking sounds in addition to the high-speed vibrations when braking.
Many point out that the brake pad shims, which only cost around $30 up to $80, are the primary culprit.
But the brake rotors could be the problem, necessitating pricey repairs that would run at least $150 to $200 for every rotor or $60 to $800 for four.
5. 2016 Honda Pilot
For the 2016 Honda Pilot model, the National Highway Traffic Safety Administration received over 370 reports of electrical problems, more than 125 drivetrain difficulties, as well as 250 other engine-related complaints, were also received.
Once the car has more than 59,000 miles, fuel injector problems are also frequent and expensive to repair.
And it has been informed that fixing this problem can cost more than $1000. One of the most expensive auto repairs is a transmission replacement.
After the vehicle reaches around 42,000 miles, the 2016 Honda Pilot frequently has transmission problems, a problem with a typical repair cost of $700.
Moreover, transmission problems are risky on the road because they impair vehicle control and could result in an accident.
Related: Where Are Honda Pilots Made?
What Are The Best Years For The Honda Pilots? Which Years To Buy
After clearly understanding the Honda Pilot's worst years, it is time for you to also look into the best years.
They are one of the most reliable vehicles that will ensure the best performance. But let's find out what truly makes them so special.
1. 2015 Honda Pilot
Although the most recent Honda Pilot models are the best, the 2015 Honda Pilot is generally regarded as the Honda Pilot's best year.
Holders of the 2015 model have voiced fewer grievances than in previous years. Compared to contemporary models, it is far less expensive and offers all the top features.
In addition, the 2015 model is equipped with one of the most advanced airbag innovations in the last 20 years. By using an inbuilt tire pressure sensor, the level of safety was raised.
For fans of the Honda Pilot, it's a great option thanks to improvements like electronic strength control and a more sensitive steering system.
2. 2017 Honda Pilot
One of the most trustworthy vehicles is the 2017 Honda Pilot. A potent V6 engine system with a 3.5 liters displacement is featured in the 2017 Honda Pilot.
A functional and roomy cabin with 16 big cupholders is included with the six-speed automatic transmission system in the vehicle.
It is also well known for being one of the most reliable vehicles, and the way to prove this is by looking at various websites because they have the best reliability ratings.
Plus, it barely has any issues and is also considered a safe car.
3. 2018 Honda Pilot
The dependability of the 2017 Honda Pilot we're said to be carried through in the 2018 Honda Pilot.
The most frequent issue is a few instances of transmission slippage as well as jerky shifting, and they rarely have any safety hazards.
There has only been one recall, and that one is for faulty rivets used to hold the chairs in place.
In all the rollover as well as frontal crash and side-impact tests, the National Highway Traffic Safety Administration awarded the 2018 model a 5 out of 5 stars.
This model stands out for its developed safety features, which include collision mitigation braking, lane-keeping assistance, adaptive cruise control, frontal collision warning, as well as blind-spot monitoring.
4. 2020 Honda Pilot
The Honda Pilot expanded in 2020 with the introduction of a Black Edition trim level. The infotainment system-related problems are merely common minor ones.
For overall safety, the National Highway Traffic Safety Administration gives it a rating of 5 out of 5 stars.
There have been great additions to the vehicle, such as Android auto as well as CarPlay, ventilated front seats, heated steering wheels as well as high reliability and safety ratings from various car reviews websites.
5. 2021 Honda Pilot
Of all the Honda Pilot models, the 2021 Honda Pilot is the most dependable.
The 9-speed transmission is excellent, and there haven't been many complaints made about it.
The car also has cutting-edge airbags as well as Honda Sensing technology, which improves road awareness.
It is also known to have the best fuel economy, so the vehicle will not cause any issues while driving or in the engine system.
How Reliable Is A Honda Pilot?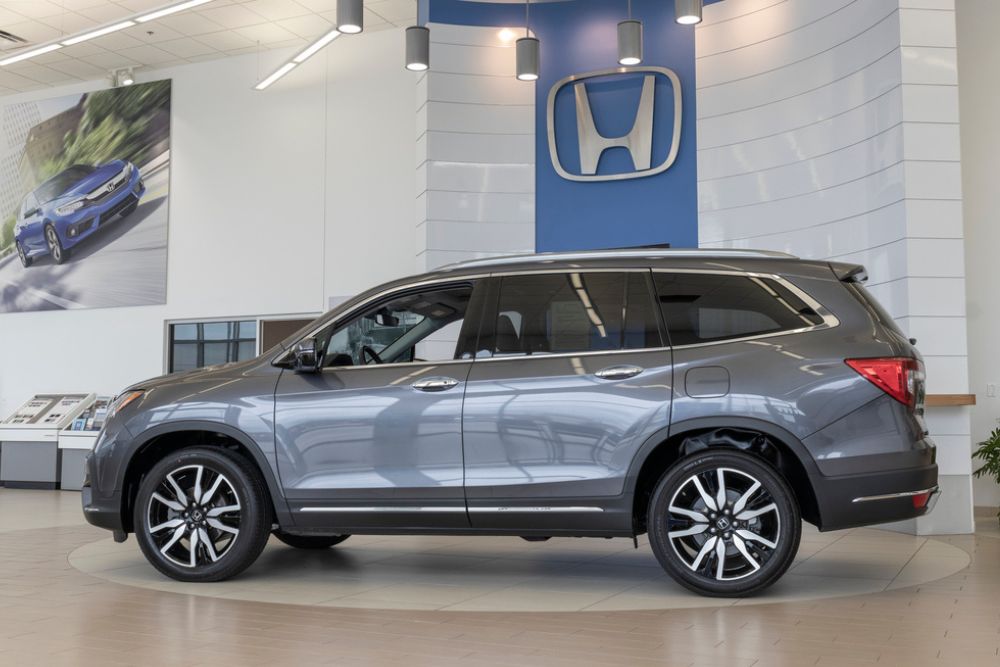 Honda Pilot is one of the most reliable vehicles in the market.
However, you must know that not all of the model years are built equally and will all be reliable.
According to various reports, the vehicle is known to have an overall reliability rating of 4.5 out of 5.
It is also said to last for a long period, plus many model years are likely to have fewer issues and will deliver the best mileage and so much more.
It is also one of the most affordable vehicles, so you will be getting a lot for the best price.
How Long Do Honda Pilots Last?
Honda Pilots should endure anywhere between 250,0000 miles up to 300,000 miles if they are used appropriately and receive routine maintenance.
If you drive an average of 15,000 miles each year, like most Americans, it translates to 16 years to 20 years of dependable service.
However, you need to keep in mind that you will only be able to reach high mileage if you take extra care of the vehicle as well as make sure to deliver the regular maintenance it requires.
What To Do To Lengthen The Life Of Your Honda Pilot
Here I will be listing down the best tips to lengthen the life of your Honda Pilot, so make sure to read so carefully as well as accomplish them as they should.
For the engine system to last as well as to increase the lifespan of the car, owners instruct using synthetic engine oil, more particularly Mobil 1.
Every 15,000 miles, you ought to replace the transmission filter as well as flush the fluid.
If it's an older model, think about replacing the radiator. If it malfunctions, coolant and transmission fluid may combine and harm the transmission.
If the transmission malfunctions, you might have to give up on your car because a replacement is so costly.
The transmission as well as engine will only be harmed if you haul more than the allowed amount.
Make sure you do Honda Pilot maintenance by the timetable provided in your service handbook.
With that being said, I hope you can understand all of these tips and make sure to follow them so you can save your Honda Pilot from dying so early.
Things That Shorten The Lifespan Of Your Honda Pilot
Now here I will be discussing the factors that can shorten the lifespan of the Honda Pilot. You need to be very careful with your car so make sure to follow these.
One of the main factors that can harm your Honda Pilot is the environment in your location, for instance.
Your Pilot's lifespan may be significantly shortened if you reside anywhere that experiences extreme winter temperatures.
It is highly advised to replace the components that are getting close to damage.
Rotate the tires after every 5000 miles or so.
Changing the fluids in the transmission system on time is high advised because, without the proper maintenance, the transmission can get damaged.
It is highly advised that people keep their vehicles inside the garage because if the car is sitting in the sun for too long, the exterior of the vehicle, such as the paint, can wear out quickly.
The tips mentioned above can affect the life of the Honda Pilot quite easily and quickly.
If you start following the tips, then there will be a big difference, and you will have the best-performing vehicle.
Related: Top 3 Best Batteries For Honda Pilot
3 Most Honda Pilot Common Problems You Should Know
Here I will be discussing the problems with the Honda Pilot so you can have a broad understanding of the vehicle and will know how to deal with the issues if they start to happen in your vehicle.
So without further ado, let's get started.
1. Transmission Issues
The most serious issue affecting Honda Pilots is likely the transmission breakdown issue. Thankfully, the 2003 model is the only one with this issue.
In other Honda Pilot models, there have been a few isolated occurrences of transmission problems.
It's a big commitment to work on a car that has a known problem with the transmission because it's one of the priciest fixes a car can have.
Even worse, a car's inability to regulate itself in heavy traffic may cause a collision.
2. Fuel Injector Failing
Another frequent issue with Honda Pilots is fuel injector failure, which can be costly to correct.
In contrast to other faults that are more prevalent in early-generation cars, this problem is more prevalent in contemporary Honda Pilot models, particularly the 2016 model.
Given that this problem normally manifests itself around 60,000 miles, which makes it an initial component failure for most cars, it can be extremely problematic.
3. Electrical Issues
Electrical troubles are somewhat typical with the 2020 Honda Pilot while not being as widespread as other Honda Pilot faults.
Owners of the 2020 model year have complained of electrical issues that led to broken navigation systems, instrument panels as well as entertainment systems.
According to several accounts, these problems came before the popping or thumping sound coming from the dashboard.
Frequently Asked Questions
Q1: Is Honda Pilot A Good Car?
Absolutely, the Honda Pilot is a top-notch midsize SUV. It consists of three rows of comfortable seats, a sizable load area, and a nice interior design; it performs admirably on almost all counts.
Its powerful base V6 engine and well-balanced handling prowess, as well as riding comfort, ensure that driving it is anything but boring.
Q2: Do Honda Pilots Hold Their Value?
Most Honda vehicles are known to hold their value. However, you must know that after five years, the value of a Honda Pilot at resale will be $32,882, having depreciated by 27%.
The general performance of pilots has been excellent.
Q3: How Many Honda Pilots Have Been Sold?
On average, it is said that more than 2,252,139 units. However, this will vary from country to country. In the US alone, in the year 2021, the vehicle has been sold around 143,062.
Q4: Which Honda Pilot Engine Is The Most Reliable?
It is said that the 3.5 liters V6 engine system is the most reliable engine system in the Honda Pilot because it delivers the best horsepower as well as torque while driving.
Q5: Is Honda Pilot Expensive To Maintain?
In the first ten years of ownership, a Honda Pilot will need roughly $7,373 in maintenance as well as repairs.
By $1,760, this is better than the industry standard for well-known SUV models. A Pilot will also have a 21.05 percent probability of needing a significant repair during that time.
Conclusion
There you have it; if you have made it this far, then I hope this article on the best and worst years for Honda Pilot has helped you decide what move you should make next.
If you do decide to buy the Honda Pilot, then the best model has to be the 2010 Honda Pilot.
It has many of the contemporary conveniences added to the 2010 model year, but dependability improvements make it a superior long-term investment.
You can even purchase the recent model because they have the least problems but just make sure to avoid the 2016 model year.